John ♥ Paige
Get ready to swoon over every little personal detail this bride and groom incorporated into their wedding day! Located in Republic Missouri at Peabody's Farm, the ceremony took place in a secluded green area on an elevated platform in front of family and friends. Paige and John, here is to making a wish and having it come true – congratulations on your new life together!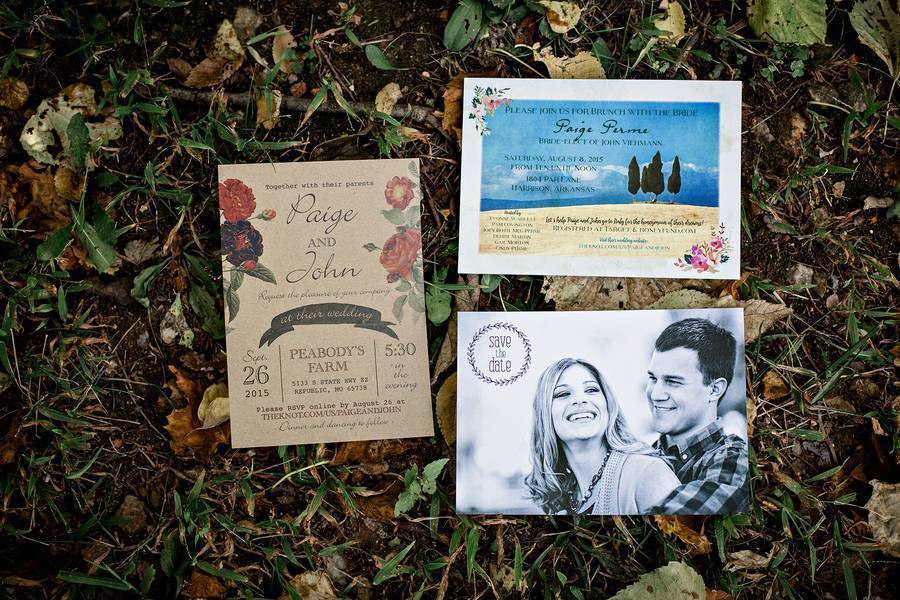 The Happily Ever After
Extra Special Wedding Details
The theme. Fall was in the air, and small touches were added to the decor. A color scheme filled with jewel tones and decor sprinkled with their own DIY touches (especially their love of University of Arkansas)!
The preparation. The couple took ballroom dance lessons leading up to their wedding and their first dance as husband and wife was amazing!
The reception. John and Paige had an outdoor reception under the stars and an oversized white reception tent surrounded by trees lit by shabby chic lighting. It gave a feeling of elegance in the middle of a field. The evening was lit up by hundreds of small clear lights and chandeliers hanging from the trees. The historic barn was used as the bar area and the gathering point for discussion of the big game.
The Photographer's Advice
Have a vision of how you would like your day to look when choosing your venue. Work with your photographer in planning a timeline for the day. Trust your vendors, we are all here to make your day amazing.
Money Matters
$10,000 – $20,000
Vendors
Photographer: mandy evans photography
Makeup Artist: Airbrush by Andie
DJ: BSharp Entertainment
Event Venue: Peabody's Farm