Come forth ye comic aficionados for this wedding feature is worth the read. Rebecca and Justin, who are avid comic readers, stayed true to their hobby and made it their wedding theme. It's always fun to see couples taking a unique route on their weddings. These two had everything planned even down to tiny details like their funko pop inspired cake topper. Even their shoes were made to look like decoupage with comic pages. And it doesn't stop there, the bouquets were also comic fabrics that were shaped into flowers. The guestbook was even a framed Marvel poster!
Here's a story of the couple from the photographer, Amanda Muschlitz:
When I heard that my dear friends Rebecca and Justin were engaged, I was so excited for them. The engagement had been a long time coming; it's not every day that you meet a couple who clicks as much as Rebecca and Justin. But when I heard that they were planning a Marvel Comic Book Inspired Wedding, I could barely contain my excitement!
It's hard not to have fun with a theme like this! Rebecca and Justin's love of the comic book world go way back. For years, they have both enjoyed reading comics, collecting Marvel collectibles, and watching the comic book movies. Since it's been a shared interest for a long time; the two actually got engaged at the local comic book store. At Comic Town, where they would go once a week to pick up the latest comics. Rebecca is incredibly creative with a unique, classy style. Justin had suggested that they use a Marvel Comic Theme, and Rebecca thought that would be a neat idea. As she was planning the wedding, she stressed that she wanted it to be fun with a Marvel Comic Flair, but she still wanted it to be classy and romantic. When the big day came, their wedding day was everything they had imagined and more.
The couple wanted a different feel for their wedding and exchanged vows at Landoll's Mohican Castle in Loudonville, Ohio near Mohican State Park.They held an outdoor ceremony with the reception following in the Castle's reception/event center. We were blessed with the perfect summer day in Ohio- blue skies, puffy clouds, and a lovely 75-degree day. The Castle grounds are beautiful, and we enjoyed using them for their portraits. To achieve the classic comic book look they were going for, they received a lot of help from their families and friends in making the decorations. From the comic book origami flower bouquets and boutonnieres to the tasteful decoupaged wedding shoes and centerpieces, no detail was overlooked. Peanut brittle favors for guests were decorated with a custom 8-bit Hulk and She-Hulk sticker, and the wedding cake featured the Hulk peeking out from under it as if he were "squished".
One of my favorite details was Rebecca's Captain America veil and Avenger headband. Their wedding was one to remember. Not only was their theme fun and memorable, but the family was such an important part of their day, and the couple enjoyed lots of time with family and friends. All who attended had a wonderful time and I know that it will be a wedding they'll talk about for years to come! I am so excited for them both and wish them all the best in this next chapter of their lives together! Enjoy some of my favorites from their wedding!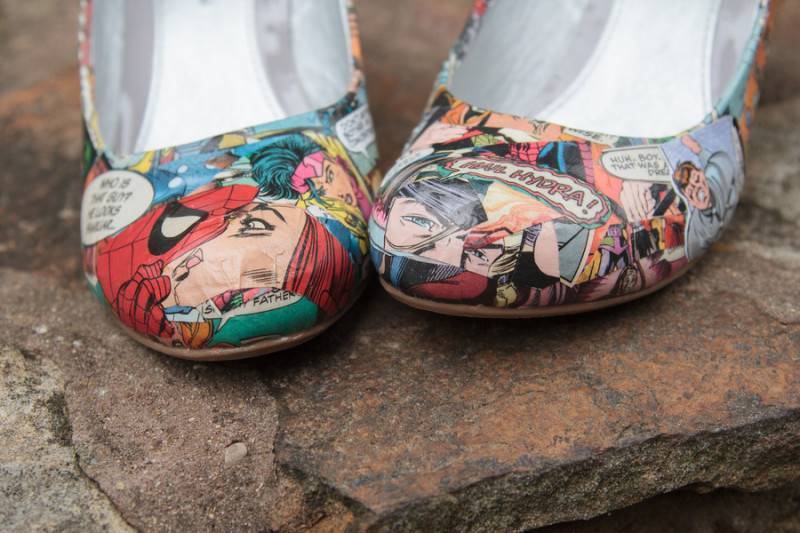 What inspired the wedding day outfits?
One of the couple's shared interests in comic books. They enjoy Marvel Comics in particular. The groom thought that a Marvel Comic Inspired Wedding would be an excellent theme, and they creatively and classically incorporated the theme in the outfits and decorations. The outfits included comic book shoes, bouquets, boutonnieres, and a Captain America Veil!
 What was your favorite part of the day?
This was one of the unique weddings that I photographed, and I was amazed at how thoughtfully they incorporated comic books into their day while still keeping it classy and romantic.
Was there any Do it Yourself (DIY) projects? If so, can you describe them in detail?
All of the wedding decorations and some of the apparel was DIY. Justin's mother played a large role in helping execute the creative vision for their day. Becky, her sister, Justin's sister, and the mothers all made their decoupaged wedding shoes using old comic books. Justin's mother Betty made the bride and bridesmaids bouquets and boutonnieres out of comic books too! A close friend of Becky's made the Captain America shield veil. Becky, her sister, and the mothers also got the flowers for the centerpieces and sweetheart table from the flower wholesaler the Flowerman in Columbus, OH and put them together themselves. Justin's mom went above and beyond and created the centerpiece boxes by using a tissue box holder and decoupaging it with comic books. She also made the props for the couple's very own DIY photobooth.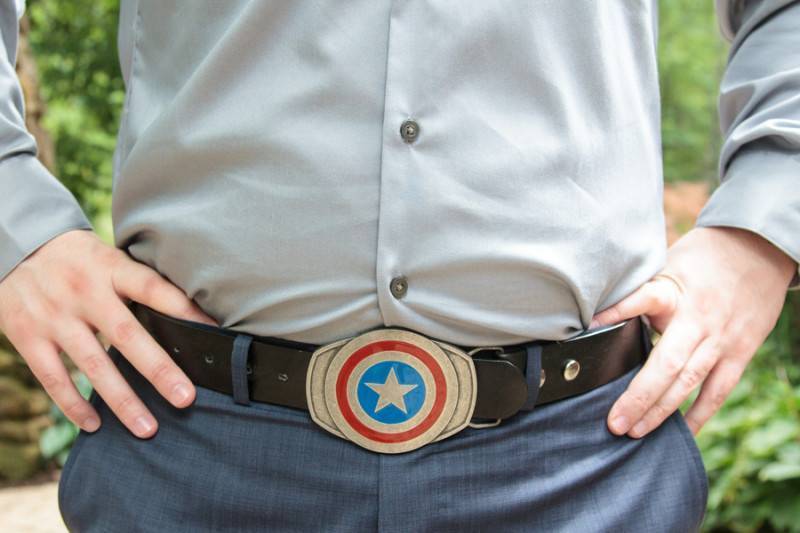 What were the highlights from the ceremony & reception?
The Marvel Comic Book Inspired theme was a highlight for the entire day. Also, the couple's venue choice of Landoll's Mochican Castle was a huge highlight for both the ceremony and reception. The "castle" is a very large and elaborate bed and breakfast, and the castle grounds were the perfect setting for portraits. I especially loved the stone walls where we could take some portraits.
Was there a theme for the ceremony and reception?
Marvel Comic Book Inspired Theme. See details above.
What part of the ceremonies do you think was the most memorable for the bride and groom?
Both the bride and groom walked down the aisle with both parents. The choice in the theme was very memorable, and it was very well received by all!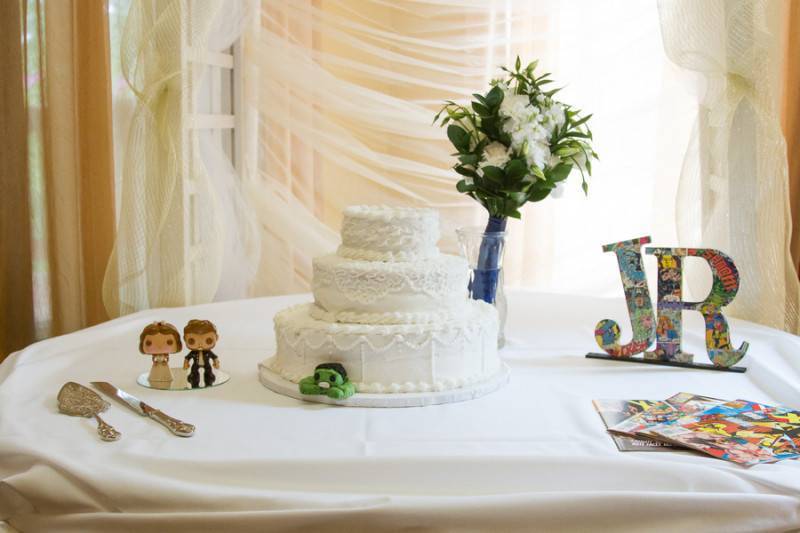 VENDORS
Photographer: Muschlitz Photography LLC
Dress Store: David's Bridal
Event Venue: Landoll's Mohican Castle
Floral Designer: The Flowerman Columbus
Vantage: Inhouse Productions