Who would ever think that Kayla and Chris who went to the same high school but never knew each other back would say wedding vows to each other? Now that they have taken one of the greatest milestones in their life, both made sure that everything went according to how they wanted it – The off-season Winter Wonderland Theme. Yup! You read it right, off season. Kayla specified that an off- season wedding will help you save loads! (Wise move, huh?) They even had a DIY invite and chocolate covered pretzels as their wedding favor, ahh yummy!
All black, white, and silver accents, especially their cake surrounded by glitters, you will feel the elegance of winter. Mr. and Mrs. Alger, your photos and everything in it are beautiful! Cheers to your married life! *party poppers*
Our Story
While we grew up in the same small town in Rhode Island and went to the same high school, Chris and I didn't meet until we were in college at the University of Rhode Island. We ended up being in the same group of friends early on in our college years but only got close during my junior year and Chris's senior year. Our friendship only evolved into a relationship after Chris graduated, got a grown up job in Boston, and was missing the college life. He would visit every me every weekend and that's when it became "official."
We Are A Perfect Match
Chris and I complete opposites, yet totally the same. We balance each other or complement each other whenever we need to. When I am a dramatic, stressed lunatic, Chris is calm and composed. He helps me stay sane and grounded in even the craziest of circumstances. When it's not a balancing act, we are actually the same person. We listen to the same hip-hop and pop music, watch the same trashy reality tv, and love to play with our amazing dog, Dozer. We really are each other's best friend and couldn't imagine being without the other.
The Proposal
The chaos of the holidays was in full swing. There were only three days until Christmas and the only thing on my agenda was to finish shopping wrap presents, and start baking. Chris, though had other plans. Chris quickly realized that getting me to change my plan wasn't going to be easy. He came up to me, put his hands on my shoulders and said, "We're going out for dinner. Dress nice. We're leaving in 10 minutes." I immediately got butterflies in my stomach. Chris and I had been dating for over 5 years and I knew that a proposal might be coming soon. My head started spinning… Is this really happening? Is he going to propose tonight? This might really be happening. Holy smokes… GO GET DRESSED! In a matter of 10 minutes I got dressed, brushed my teeth, curled my hair, and did my makeup. It had to be record timing. I got into Chris's car and could only think about what was going to happen next. The beginning of our car ride was the most awkward one of our relationship. I didn't want Chris to know that I knew what he was up to. But, Chris knew that I knew what he was up to. So we sat… in silence… for about 10 minutes. Music thankfully broke the silence and we began singing and laughing like usual, all the way to Narragansett (where our relationship all began).
Chris pulled into the parking lot of Spain Restaurant (one of my favorites). We had an amazing dinner, delicious sangria, and pretty normal conversation. After dinner ended we got back in the car and Chris drove to Narragansett Beach. Though December, it was a warm, record-breaking, 65 degree day! We walked on the beach, listened to the waves, and took in the salty air. Chris began talking about the beginning of our relationship and that he decided to bring me to Narragansett to "make up for the first date we never had." I told him that it was absolutely perfect. He got down on one knee and asked me to marry him. I immediately said, "YES!" When we got back to the car Chris put in a homemade CD and Knock You Down (our favorite car ride song) came through the speakers. He also told me that he wanted to propose early because he knew I would want to be able to share the news with our friends and family in person. So, we spent the rest of the night traveling to our parents and grandparents houses celebrating with the best family ever!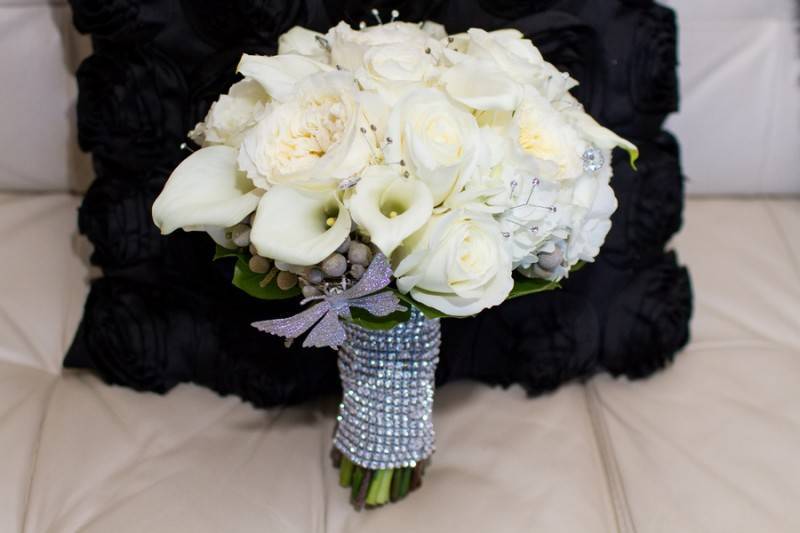 The Planning Process
We had 13 months to plan. It was plenty of time for us. We were having a winter wedding, which is off season in New England so we didn't have to compete with many other couples for our favorite venues and vendors.
The Best Advice We Received
ENJOY EVERY MINUTE. It is so easy to get wrapped up in the planning process and get stressed, overwhelmed, etc. But, the whole process should be fun and exciting that you and your fiancé can share together.
Tips & Tricks For Future Brides
Having an off-season wedding saves you lots of money!
The Challenges We Faced
Communication was our biggest challenge. While we wanted our families to be involved, we wanted the planning and the day to be about us. So, unfortunately, there were some hurt feelings along the way. We had to remind people many times that as much as we value their opinion and want them to be a part of the planning process, the ultimate decision is ours because we want our wedding day to reflect who we are as individuals and as a couple. Thankfully, the day turned out to be exactly what we envisioned and everyone had a great time.
Wedding Decor Inspiration
I have always wanted to get married in the winter and have a true "winter wonderland" wedding, full of sparkle and shine. That is exactly what we had. Our color scheme was black, white, and silver. The bouquets were full of roses, peonies, calla lilies, and crystal accents. The boutonnieres were calla lilies. There were three different arrangements at the reception. The first were tall, white manzanita branches nestled in a box of hydrangeas and roses. There were long crystals and candles hanging from the branches. The second were tall glass cylinder vases with hydrangeas around the top. Coming out of the flowers were tall, silver curly willow with crystal accents. The last arrangements were short table vases filled with the same flowers and crystal accents.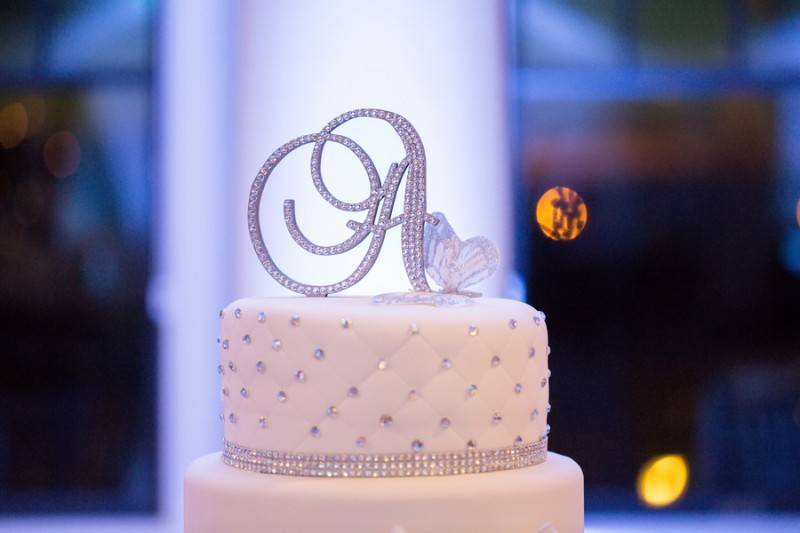 Wedding Outfit Inspiration
We wanted our fashions to fit the overall theme of our wedding. We also wanted to pick more traditional looks so that we wouldn't look back on our pictures in 20 years and wonder what we were thinking. I wore a light ivory fit and flare dress by Maggie Sotero. It was so flattering and comfortable that I was able to stay in it from 12:30-2:30am! The bridesmaids wore long, black , strapless, chiffon dresses by Bill Levkoff. The maid of honor's dress had one shoulder. Each of us had faux-fur wraps to wear in church and while moving from place to place. The groom and groomsmen wore traditional black tuxedos with white shirts and black bowties. It was a classic look that will never go out of style.
Our Do-It-Yourself (DIY) Projects
With the help of Chris's aunt, we made the invitations ourselves. She is very crafty and we were able to pull off the look that we wanted for a fraction of the cost. They were black script on white cardstock (very elegant). We attached a silver glitter background and wrapped the entire invitation and all of the additional pieces (reception card, response card, hotel info, etc.) with a silver glitter band and monogram embellishment. They were absolutely beautiful! There were some other little things, too. I made the favors – little bags of chocolate covered pretzels to go with cups of hot chocolate as our guests were leaving the reception. Bathroom baskets and signs that read (Ladies/Gentlemen, You look gorgeous/handsome. Now get out there and dance!)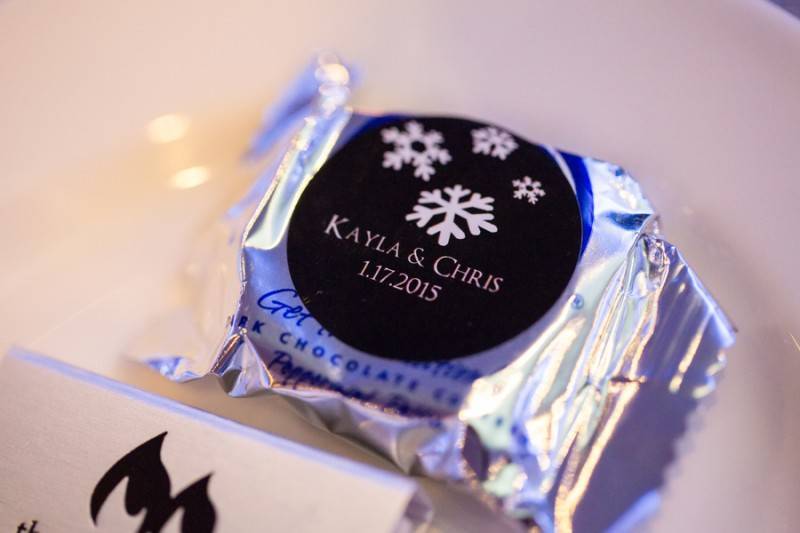 Money Matters
Our budget was 35,000.00. Having an off-season wedding saved us money with the venue and many of our vendors. We could not have afforded the wedding we had if it was in the spring, summer, or fall seasons. However, we spent the most on catering.
The Guest List
We invited 204 guests but we narrowed it down to 180.
The Songs
Jeremiah Clarke – Trumpet Voluntary
Andrea Boccelli – The Prayer
Pachelbel – Canon in D
John Lennon – Grow Old with Me
Feel this moment – Christina Aguileira and Pitbull
The Honeymoon
Thailand – Going in the summer.
The Next Step
As cliché as it may sound, spending the rest of my life with my best friend. Most people say that you have the most fun in your twenties, but I know that we have so much more to look forward to and so many more memories to share in the years to come.
Planning Advice For Couples
Same advice we were given. Enjoy every second!
Favorite Part of the Day
Walking into the reception. Celebrating one of the most exciting milestones in our lives while surrounded by our closest friends and family was amazing. We danced into the song "Feel this Moment" by Christina Aguileira and Pitbull. It was high energy and everyone joined us on the dance floor! It set the tone and excitement for the rest of the reception.
A Memorable Moment
The whole day was memorable for me. We put so much thought and hard work into the day that it was so amazing to see it all come together (without a hitch). We wanted our guests to have an amazing time. We definitely put ourselves in their perspective while we were planning our wedding to ensure that it would be a wedding to remember for everyone!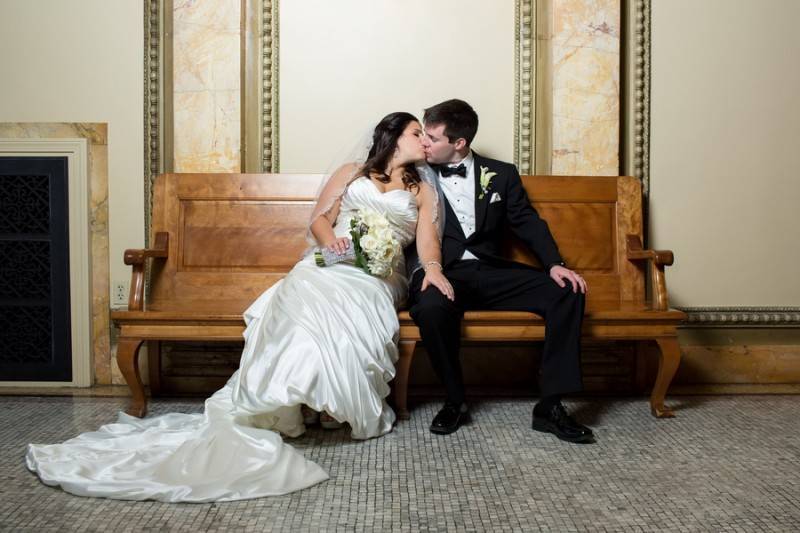 VENDORS
Photographer:  Nicole Lopez Photography
Dress Designer: Maggie Sottero
Bridesmaid Dresses: Bill Levkoff
Ceremony Location: The Historic St. Joseph Church
Tuxedo and Mens Attire: Carl Anthony Tuxedo
DJ: Chris Saraiva – DJ Entertainment & Lighting
Floral Designer: Golden Gate Studios
Event Venue: Harbor Lights Marina and Country Club
Caterer: Pranzi Catering & Events
Hair Stylist: Salon KG