Happy New Year Elegant Wedding readers! Why don't we start off 2015 with an amazing wedding feature?
Sporadic rain showers can be a bride's worst nightmare or if she's equipped with the right mindset and awesome people who knows their way around an unpredictable occurrence, rain can become an asset for unique and amazing wedding photos. But even without the rain, Mallory & Brent's wedding was already awesome on it's own. With deep purple, grey, and white accents, it looked elegant and chic. Our bride wanted her wedding to stand out and it did so in the best ways. Then you add in the rain effect in the equation and we have quite an outstanding event. Congratulations Mallory & Brent!
Bride:
What is your story as a couple, how did you meet & fall in love?
We met in college when we were 18, went on a few dates and became good friends over the years. After I graduated college Brent was living in Outer Banks, NC and helped me find a job out there. After I moved up there from Ga it was like magic and it was a perfect fit.
What makes the two of you a perfect match?
We even each other out- we are complete opposites and it works. He is more of a beach bum and I am more of a city girl.
How did he (or you) propose?
Brent and I were visiting GA and our families and we were headed back to Outer Banks during hurricane Sandy. He wanted to get a picture of us in the middle of a hurricane just to say that we did it. Well, we jumped out of the car getting ready to take a picture when we got down on one knee- in the pouring rain and crazy wind. He asked me to marry him!
How long was the planning process? Did you think it was enough time?
We got engaged in October and got married the following September. It was plenty of time, just very difficult for us planning a wedding in GA from NC. My parents had to meet our planner and I had to send a LOT of emails and make a LOT of phone calls because I was not able to be there. One GREAT thing was our photographer Andie, came up to Outer Banks for our engagement session at Cape Hatteras Light House- that was amazing.
What was the best advice you received when you were planning your wedding?
Do what is going to make you happy- it is your day and no one else's.
What tips & tricks (can we use "hacks"?) can you share future brides that you yourself have learned during and after your wedding?
Always always have a backup plan!! Our ceremony was supposed to be outside but it poured rain! We were able to move everything inside and it was still beautiful. We got amazing pictures because of the rain.
What were some challenges you faced while planning your wedding & what did you do to address them?
The biggest challenge was not being there for a lot of the meetings we needed to have with the wedding planner or the caterer. I made two trips home to meet with the wedding planner and the owner of the venue, but it was difficult to plan and send emails all the time instead of meeting. Even the food, we knew what we wanted, but had to send my parents to go test it out for us- they didn't mind
What inspired your wedding décor? Why did you choose the things that you did?
Purple is one of my favorite colors, and I wanted something that was different- so I chose gray. I didn't know anyone who had ever used those colors. My dress was very different than what I had ever seen, there was a unique bow on the side of the dress and I planned on wearing my great grandmothers broach and it worked out perfect! My Bridesmaids dresses were different as well, I didn't know anyone who had a one shoulder dress in a wedding and the color purple we had looked great on all my girls. Brent made his different by wearing Vans and all his groomsmen had Vans as well. We wanted to keep it fun but still make it us. We had a French chandelier theme which was related to my broach.
What was the wedding budget?
My dad will not tell me to this day
Where did you save the most money?
Probably having the reception and the ceremony at the same place.
What was the biggest expense?
The venue
How many guests were invited in your wedding and what was the final guest count?
100 were invited, 75 showed up. We wanted to keep it pretty small.
How did you narrow down your list?
Close friends and family we STILL keep in touch with to this day
What songs did you use during the ceremony?
Grooving slowly- John Butler Trio, our first dance, a lot of Tony Bennett and Frank Sinatra- old school songs everyone enjoys
Where did you go on your honeymoon?
We went to Baltimore, MD. We had been talking about going there and decided to make the trip! We didn't have a lot of money left over from the wedding expenses and we made it work.
What are you most excited about for the future?
Spending the rest of my life with my husband and making memories we can share with our family and friends.
Do you have advice for couples still in the planning process?
Do what is going to make you happy, if you don't you will regret it. Spend the extra money on a photographer its the one thing you can look back on and keep for a lifetime.
What is the overall story for this album?
French Rustic Wedding
What inspired the wedding day outfits?
A little piece of something from our family and to make us original
What was your favorite part of the day?
Getting ready and getting excited- and of course the ceremony
What were the highlights from the ceremony & reception?
Everyone having a good time and dancing and being happy. Everyone of my girls was crying during the ceremony and even our preacher shed a tear
What part of the ceremonies do you think was the most memorable for you? (& your guests?)
Dancing and seeing all of our family and friends in one place
Anything else you would like to add ?
We tried to keep our wedding as original and as unique as possible. We wanted it to be different than other weddings we had been to, help make it memorable.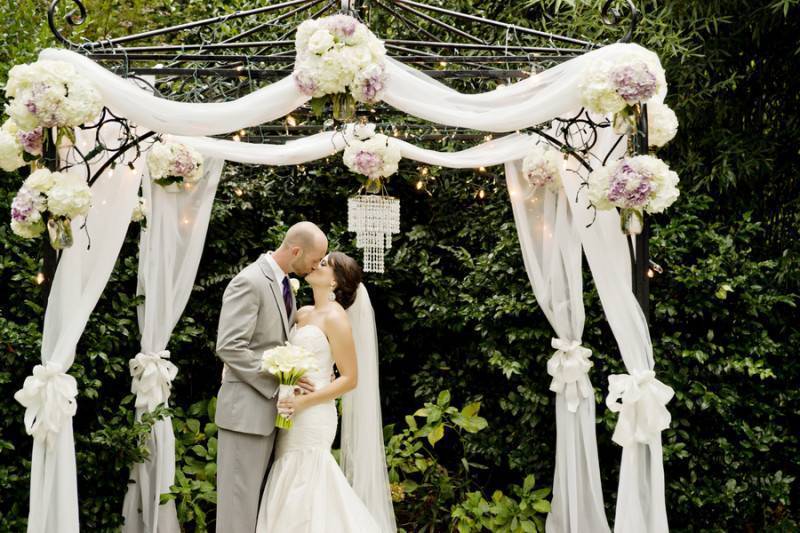 Photographer
What would you say, the overall story for this album?
Mallory had been planning a beautiful purple and white outdoor fall wedding. Unfortunately, on the day of the wedding, it was pouring the rain. And it did for most of the day. But even though everything didn't go perfectly, it
was the perfect day. Mallory and Brent had a beautiful indoor wedding and we got to use the rain to our benefit for beautiful pictures.
What was your favorite part of the day?
I really enjoyed being able to use the rain to our advantage. So many brides are scared of rain on their wedding day. But with the right venue, planner, and photographer, they don't have to be. The rain can create beautiful and unique wedding photographs.
What were the highlights from the ceremony & reception?
My favorite part was just after the ceremony. I love to follow the bride and groom away from the ceremony and capture those first few moments of them together as husband and wife. These guys were kissing like crazy and the their bridal party came in and we got a great shot of them celebrating their nuptials with their friends.
Was there a theme for the ceremony and reception?
Chandeliers and lots of purple.
What part of the ceremonies do you think was the most memorable for the bride and groom?Guests?
I think it would be that even though it rained, it was still a great wedding. And we had a beautiful sunset.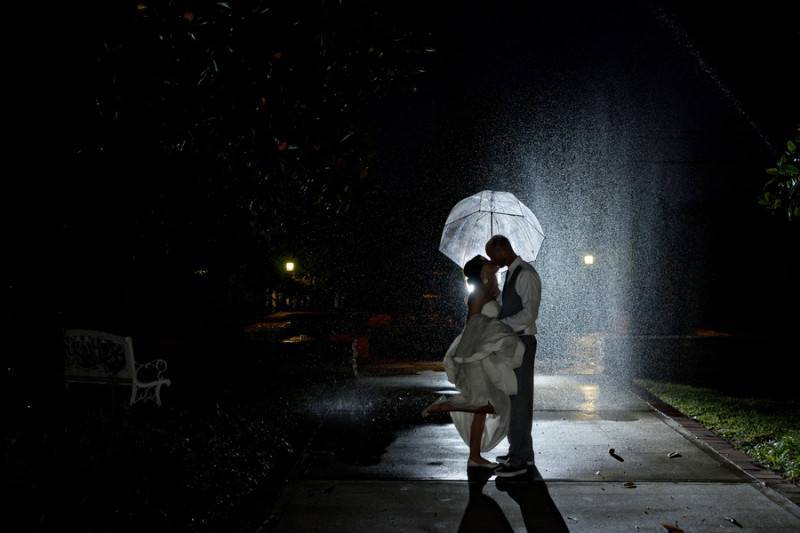 Vendors
Photographer:  Andie Freeman Photography
Caterer:  Bleu House Cafe
Makeup Artist:  Bombshell Creations
DJ:  Dynamite Entertainment
Event Planner:  Southern Sophistication Designs
Floral Designer:  Wedding Flowers by On
Reception Venue:  Thompson House and gardens