Disneyland is where dreams come true. This wedding is when our couple's dreams had.
Marissa is passionate with all things Disney so she and her hubby, Richie decided to add a Disney detail to their beautiful October autumn wedding! And her love for this entertainment company is further warranted because one of their most important moment as a couple happened right in Disney World – when Richie proposed to Marissa right in front Cinderella's castle. So what Disney detail did they use? The infamous "D" from Walt Disney's handwriting. It was a good coincidence too because after their official union as husband and wife, our couple finally shared a surname that started with D, so it was hitting two birds in one stone. Congratulations Marissa & Richie!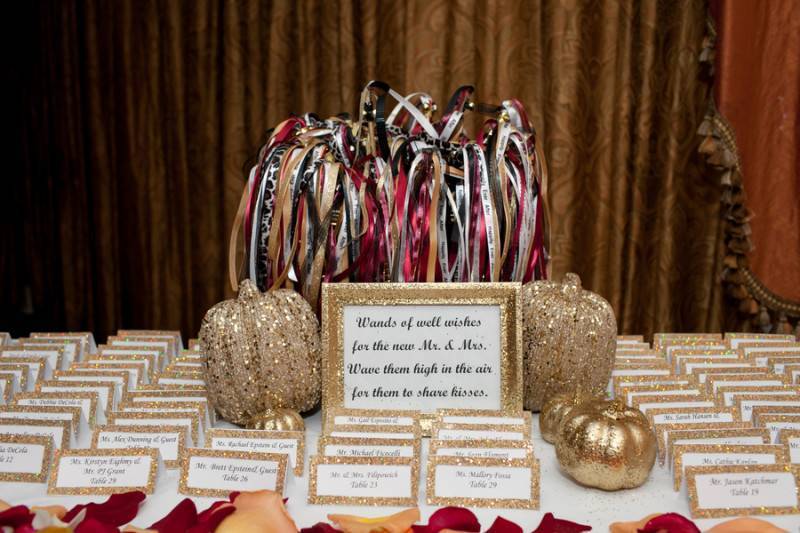 From the bride:
He proposed to me in Disney World, of course. I knew we were on the trip to get engaged, I just didn't know when it was happening. He dragged me out of bed to get to the park when it opened at 8:00AM, I thought he would do it first thing in the morning as we talked down a nearly empty Main Street USA, but he didn't around 4 hours later we were taking pictures in front of the castle, he laughed and said I know you know this is coming, got down on one knee and asked me to marry him, we were swarmed by Disney photographers and everyone was clapping and crying. Funny thing is I had my hand out before his hand was out of his pocket, there is a GREAT picture of it!
My Disney obsession is fairly new, I didn't love Disney until I was already in my 20s, but on our first date (after he saw all my Disney pics on facebook) he asked if I really loved Disney as much as it seemed, I laughed it off, he told me he'd been there over 20 times. It knew I met my soul mate. We also created our own DeCola "D" from the "D" in Disney, it had to be done by a graphic designer to follow copyright laws, we used the "D" on our wedding invites, on our dance floor, our favors, and our cake topper!

Vendors
Photographer:  Kelly Kirkland Photography
Reception Venue:  The Inn at Villa Bianca