Every relationship all started with a charming hello — or perhaps a "Howdy"? Isn't it romantic how a few heart-stopping words could eventually lead to one's happily ever after? And maybe they didn't even know it then, but after that first moment together, Katelyn and Joseph were on their way to this elegant ranch wedding. Well, it was at the Historic Rice Mill, but you get the idea. Haha!
I love how they built upon the Southern vibes that beautiful Charleston already provides. From their lovely wedding invites, to the creative boutonnières, to the DIY clutches the bridesmaids had – everything looked exquisitely rustic that it brings you right back to the old days of the pioneers. Let their gallery below transport you to a time of true Southern elegance!
Our Story:
We met through mutual friends 6.5 years ago and have been inseparable ever since. I was home on a break from nursing school, and Joe had just moved back home from San Diego where he had lived for several years while in the Marine Corps. Joe continued to visit me while I finished nursing school, we fell more and more in love every time we saw each other.
We Are A Perfect Match:
Our personalities are perfectly balanced. We both have strong and passionate personalities that many of our friends and family thought would clash initially, but instead they just mesh, balance each other, and keep things exciting.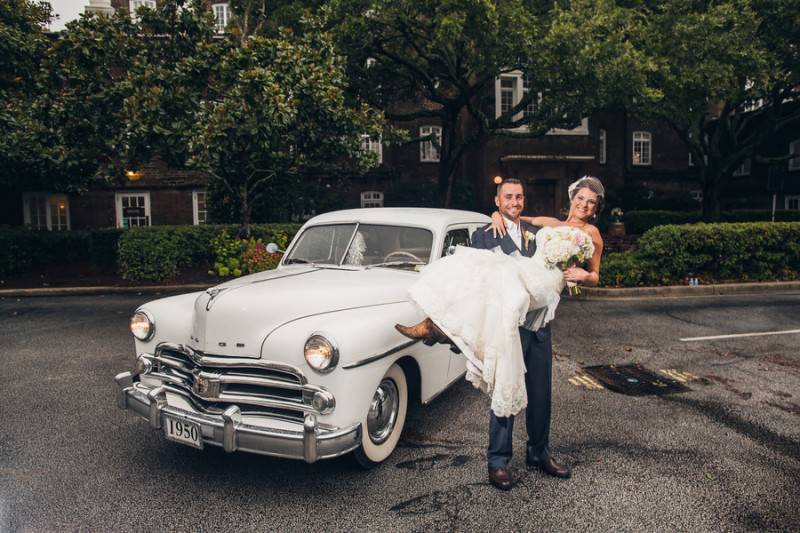 The Proposal:
Joe proposed on a cruise to the Caribbean. He had planned it for over a year, without me knowing. He involved both of our families and some close friends. While our family watched eagerly he proposed on the balcony at sunset on the first night of the cruise. It was perfect.
The Planning Process:
I planned our wedding with the help of my mother in law, step mother, and mother. With all of their help and hard work it took only a few months to plan. We were married 15 months after Joe proposed, but it took me about 4 months to plan, which was plenty of time! I was very easy going about a lot of the decisions and details (that wasn't what was important to me). I just knew I wanted a fabulous photographer, location, DJ, lots of food and open bar – that didn't take long to find in Charleston!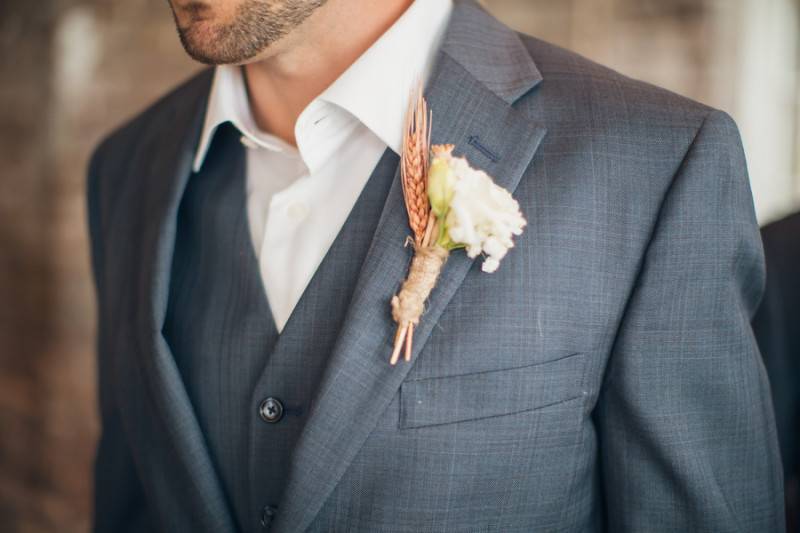 The Challenges We Faced:
Luckily, I did not have any challenges while planning, if there was something that needed to be addressed, I had enough time to do so. I think it helped to have a lot of the planning done early, any glitches or issues that came up could be dealt with before they become a problem.
THE ONLY PROBLEM: The day of our wedding there was a HUGE storm – the power was out in my hotel (while getting ready) and throughout downtown, streets were flooded and my driver was about 30 minutes late… I had a conversation with my dad that I will cherish forever, and at the end of the day I married the man of my dreams – I guess it wasn't really a problem after all.
The Best Advice We Received:
"Don't stress out on the day of your wedding; no matter what, just enjoy it! At the end of the day you are going to be married to the man of your dreams -that's all that really matters"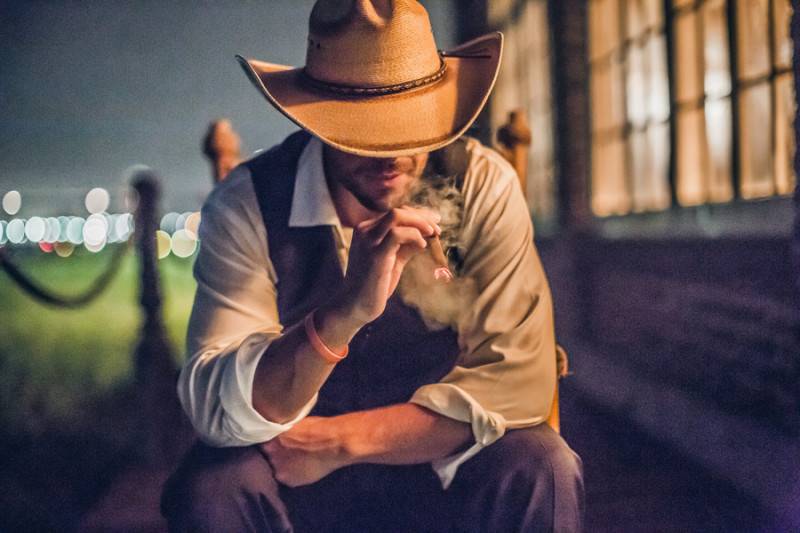 Tips & Tricks For Future Brides:
Find a photographer and/or DJ that are willing to become your "day-of coordinator" & save yourself a fortune! Both my DJ and photographer took charge and helped my whole ceremony and reception to go smoothly without being asked – they were truly amazing.
The Theme:
Rustic elegance
Wedding Décor Inspiration:
I really only knew that I wanted rustic elegant decor. I wanted my bridesmaids to be able to pick out their own dresses (that they actually might be able to wear again), I just gave them a color palette. I had a lot of inspiration from Pinterest (I'm not sure how anyone planned a wedding before Pinterest).
Our Do-It-Yourself (DIY) Projects:
The placemats (part of the centerpieces) at all the tables were personally stamped with an "M" by my father. The favors were put together by my mother and step mother. I painted & personalized the cornhole game & some of the signs we used.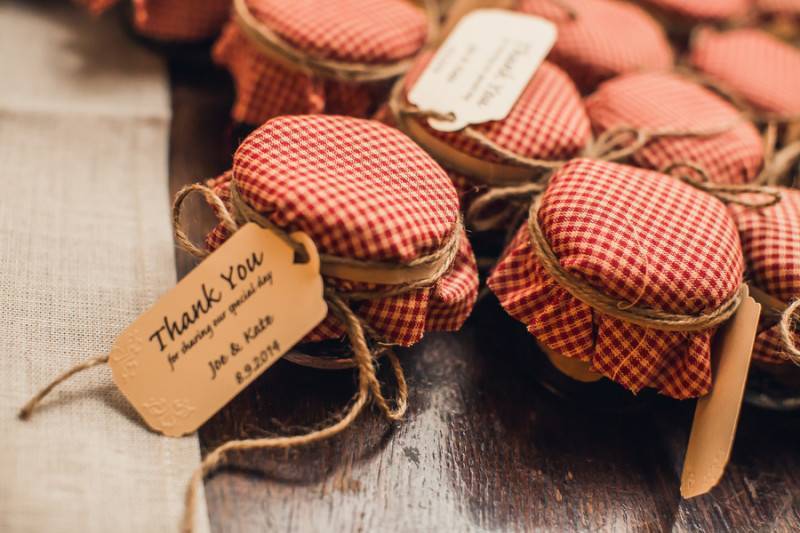 Money Matters:
Our wedding budget was $35,000. Having our wedding out of "peak-season" saved us a ton of money (which we learned after setting the date) – bonus! Doing a lot of the decorations myself, with the help of my "mothers" also saved a lot. The entire desert bar and our wedding cake was made by my sister (Christie Capwell) who attended the Culinary Institute of America. We spent the most on food and alcohol.
The Guest List:
200 were invited and the final count was about 130. A lot of our family and friends don't live in Charleston so that narrowed down the list for us.
The Songs:
Processional: "Kisses and Cake" by John Powell
Bride's Entrance: Canon in D
Recessional: "Crush" by Dave Matthews Band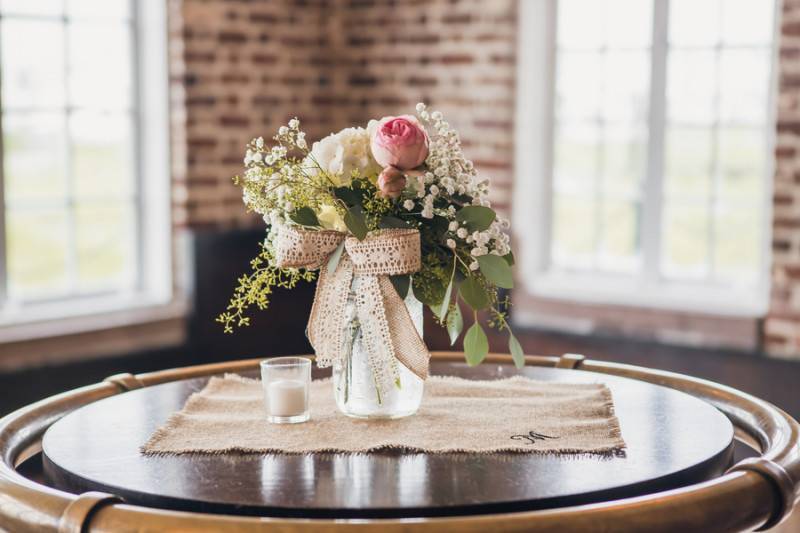 Planning Advice For Couples:
Enjoy it! There shouldn't be anything stressful about planning the happiest day of your life.
The Honeymoon:
Unfortunately, I am currently earning my Masters in Anesthesiology, so we have postponed our honeymoon until May 2016 when I graduate. We will be taking a LONG and tropical honeymoon at that time.
We Are Excited About:
I am just excited for our future in general – every part of it. Buying a house, having children, watching our children grow, travelling, growing old together, you name it.
Favorite Part of the Day:
Marrying the man of my dreams (Obviously!)
Highlights From the Ceremony and the Reception:
Our self-written vows, the speeches, the food, and the dancing.


VENDORS:
Photographer: Richard Bell Photography
Equipment Rentals: Snyder Events
Floral Designer: Anna Bella Florals
DJ: Ascend Entertainment
Reception Venue: The Historic Rice Mill