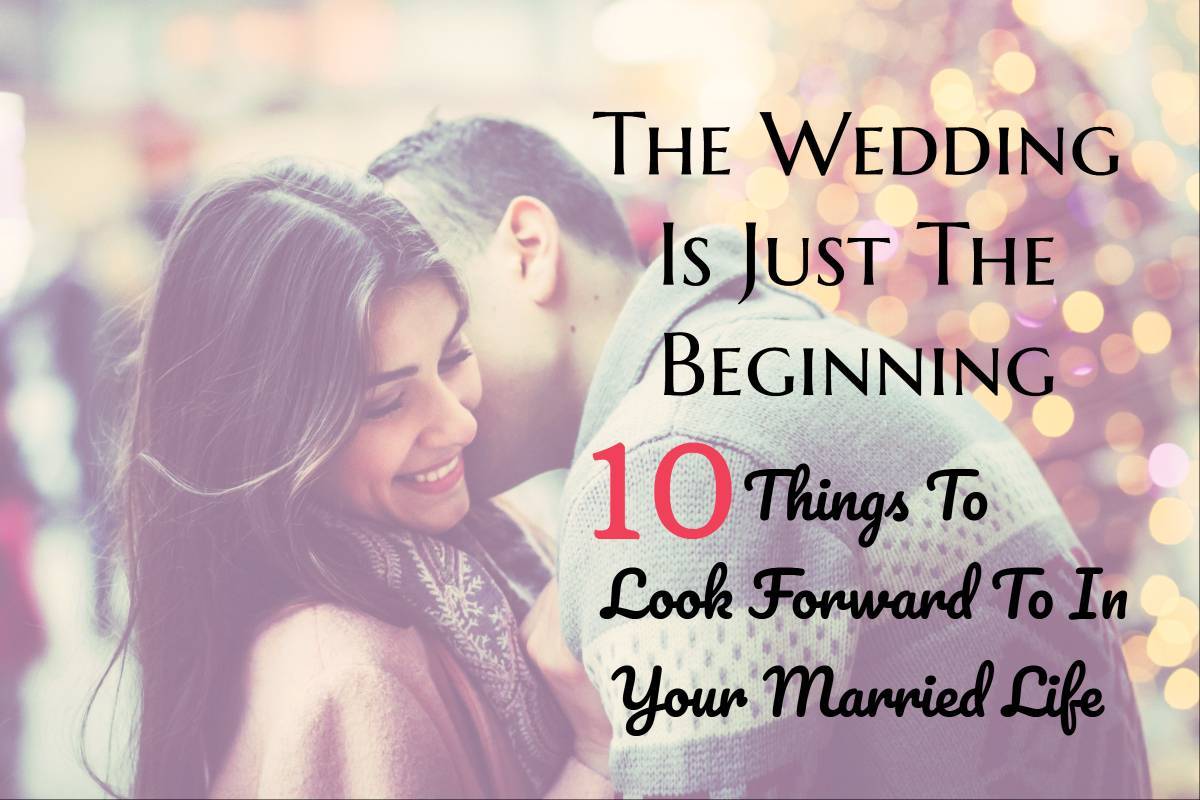 Your wedding is like a doorway into a beautiful new life for you and your husband! When you are in the midst of planning your elegant wedding day, it can seem like the end-all, be-all. To add to the joy and excitement that you have about your wedding day, think about the years that will come afterwards! A wedding is just the beginning. Here are ten things that you can look forward to in your married life!
1. A Shoulder To Cry On
These items aren't in order, but it is not a coincidence that this is number one! A partner is there for you in the good times and in the bad. In the good times, you might be okay anyways! But in those sad, lonely, frightening moments it can mean the world to have someone at your side, passing you tissues and rubbing your back.
2. Inside Jokes
One of the best things about married life is all of the little moments you experience together. Shared memories add up, and soon all it will take is seeing a little trigger to get both of you laughing! Inside jokes last a lifetime and keep getting better with age.
3. A Partner To Grow With
One you get married, you don't stop growing as a person, and neither does your spouse. It can be so thrilling to support each other in pursuing dreams, taking classes, and developing talents and skills.
4. Someone To Tell You, "You Got This" When Challenges Come Up
Life has many obstacles, and it pays to have a cheerleader court-side! When you are heading off to a job interview that's got your knees shaking, or when you are dreading a difficult conversation or daunting event, encouraging words make all the difference. Instead of slumping off with dread in your heart, you can face your fears with a spring in your step, knowing someone believes in you!
5. Develop New Abilities
Before getting married, I never knew that I could cut hair (even if it is just a buzz cut!), drive a truck, play golf, or back country ski. But when you have someone at your side who invites you to try new things, and teaches you how to do them, the abilities just pile on!
6. Spending The First Night At New Homes
You know that feeling when you move into a new home, and it's just so… empty? Say goodbye to that forever!
7. A Travel Partner
You and your spouse will get good at booking flights, navigating new cities, and finding the little gem restaurant at the very end of the street. It is fun to have someone to explore with!
8. What's Yours Is Mine and What's Mine Is Yours
When you join in union you start to share all of your personal items. If one car goes to the shop, you know where to find a car to borrow! If you need a big cozy sweatshirt to wear on a chilly night, you've got your pick.
9. Talking To Someone Who Cares
An amazing benefit of marriage is always having someone to talk to. As you and your spouse grow together, you will learn more and more about their emotional side. Mutual understanding deepens, and the fruits of this are special indeed. A loving partner will always care how you feel.
10. Becoming A Pack
Instead of just you, you are now a part of a pack! Your little crew will grow if you adopt fur babies, or start a family together!
There are countless benefits to tying the knot!
What is it about marriage that you are especially looking forward to?
Share your thoughts in the comments below! I have been married for three years, and I could think of a million more advantages if I tried. Dreamy weddings ceremonies are the beginning of a beautiful journey!