Matthew and Elizabeth were born adventurers and most especially fun-loving people. Their personalities inspired their wedding hugely. The university where the two met also gave hints in terms of colors.You can see how these two are fun with the wacky shots they took. Who says weddings should always be formal? Where's the fun in that? hehe. Anyhoo read Matthew and Elizabeth's wedding story below so you can get an insight.
Our Story:
Matt & I met as Penn State students at a party at his fraternity house. We met towards the end of the spring semester in 2005, so we only hung out a few times before summer break. We kept in touch on instant messenger over the summer and spent time one weekend we both went back up to Penn State. Once we came back to school in the fall, we found ourselves spending more and more time together, and we started dating the end of September.
We Are A Perfect Match:
We are both very laid back and have the same sense of humor. We are both very fun-loving and adventurous, and we are best friends.
The Proposal:
Matt sent me flowers at work one Friday in November 2012. The note said 'Happy Early birthday (my birthday was in 10 days). There is another surprise. There will be a car waiting to pick you up at 4:30. It was around 11 AM, so I had to wait all day at work with my friends and I wondering if I was getting engaged or if it was a birthday surprise. The car was late because the driver had my phone number wrong, which just made me more anxious. The car took me to the Art Museum (the one with the famous Rocky steps), where Matt proposed on the steps.
The Planning Period:
We got married a year and seven months after we got engaged, which I felt was the perfect amount of time for planning. We lived in Philadelphia and got married in my hometown on Long Island, so it would have been hard to plan in a year or less because we had to travel to book everything.
Wedding Outfit Inspiration:
Our colors were inspired by our alma mater – Penn State. Other than that, we wanted outfits that were elegant but not too stuffy. I wanted my dress to be classic – something that I could look back on in 50 years and love.
Wedding Décor Inspiration:
The one thing that influenced our decor and style was where we met – Penn State. We are huge Penn State fans, so our wedding colors were navy and white. Our table numbers were also pictures of our favorite places at Penn State. Other than that, our venue already had a lot of beautiful decors, so we chose things that would fit into the venue.
Our Do-It-Yourself (DIY) Projects:
I am not very crafty, so I enlisted crafty girlfriends to help with several signs that I put up at the reception – signs for the bar, signs for the ice cream we served, and a sign for the bathroom: "You look oh-so-pretty, now get out and dance!"
The Best Advice We Received:
The best advice I received while planning was to do whatever made Matt & I happy. Everyone has advice and opinions, but at the end of the day, it's your wedding, and you want the day to reflect you as a couple.
The Challenges We Faced:
We paid for a lot of our wedding ourselves, so setting up a budget at the beginning of planning was scary. My husband set up a budget spreadsheet in Excel, which helped a lot. It showed what we're putting into our account every month and what was coming out every month – everything from vendor payments to shoes or décor. It helped because we knew we'd have enough money to cover everything as long as we stuck to our savings plan.
Money Matters:
Our budget was around $30,000. We saved a lot on attire. My dress was about $1500 less than I budgeted for. We also bought the groomsmen's suits at the Banana Republic, and I waited for a sale to buy them. They ended up being about $200 each. We also saved a lot on the invitations by having them designed on Etsy and printed locally, with cardstock from Cardsandpockets.com. The biggest expense was the venue, which included the open bar and the catering.
The Guest Count:
We invited about 190 and had 162, including ourselves and twelve kids. We only cut people that only one of us knew, or that we hadn't seen in a very long time. You don't want to be meeting too many people at your wedding.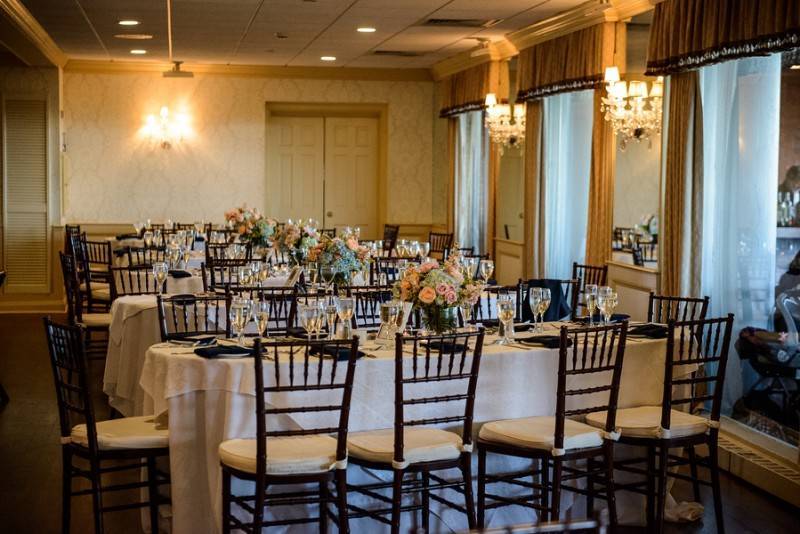 The Songs:
Processional – Canon in D; Bride's entrance – Here Comes the Bride
Recessional – "Lovely Day" by Bill Withers
The Honeymoon:
We went on a mini-moon to Cancun, because my husband had to get back to his MBA program the week after the wedding. We did go on a two-week trip to Thailand 6 months after the wedding, which we considered our real honeymoon.
Tips & Tricks For Future Brides:
Everything is negotiable! If you have a budget, and a vendor you want to use is over your budget, just ask them if they can work with you, and they usually will. I also bought a lot of wedding items, such as my invitations, on Etsy. I bought the files from a designer; she emailed them to me, and I had them printed locally on cardstock. It saved me a ton of money, and they came out beautiful. I bought so much on Etsy – my garter, my hair piece, my jewelry, parents and bridesmaids gifts, and so much more.
Planning Advice For Couples:
Do what makes you happy! It's your wedding – make sure it reflects you as a couple. And get a videographer – it will be a complete blur, and it's really nice to be able to re-live it.
We Are Excited About:
I'm excited about travelling and enjoying life together, and starting a family!
Highlights from the Ceremony and the Reception:
The ceremony was exactly as we wanted it to be – short, sweet, and light-hearted. The funniest part of the ceremony was that our ring-bearer – Matt's five-year old cousin Isaac – stood right in front of us the whole time. It was adorable. As far as the ceremony – the limbo and the 'WE ARE PENN STATE' cheer we all did as a group were both so much fun.
Favorite Part of the Day:
I have a few – first, getting ready at my childhood home in the morning with my family and all of my bridesmaids. It was so much fun. Also, we did a first look, with only our bridal party there. It was such an awesome, emotional moment, and to have those special people there was wonderful. And of course, the big party that the reception was!
A Memorable Moment:
Probably Isaac standing with us at the altar!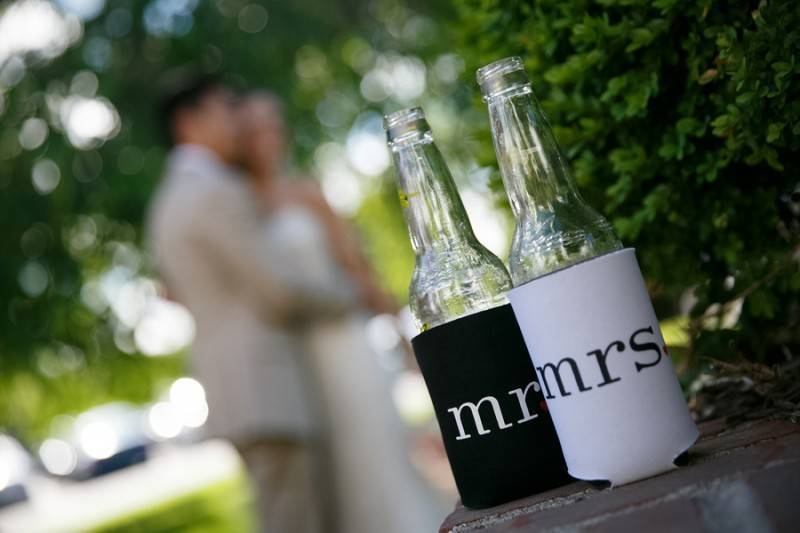 VENDORS:
Photographer: Lana Rowe photography
Event Planner: Debbie Minarik
Cake Designer: Rolling Pin Bakery
Floral Designer: Sayville Florist
Reception Venue: The Mansion at Timber Point