I have always thought of tranquility and elegance as the perfect pair. Although I need to point out that these two are not limited to each other since I've seen weddings that were full of buzz but still managed to become elegant. But moving back to our feature, I love the calmness and bliss that surrounded that day. Their venue was on point when it comes to what they wanted to achieve – serenity – and it also complemented the details and decors of the event. There's also a hint of vintage styling which was the cherry on top of this lovely sundae of a wedding. Congratulations Rachel & Frank!

Bride
The first time we met was really special. We both had this feeling when we first met. And as corny and cliche as it sounds when he turned and looked at me coming in I really felt like time stopped for a moment and I was caught in this freeze frame with sun coming through the window and Frank looking up at me with that classic smile…it really did take my breath away. His smile is so infectious and warm. It melts my heart every time.
Frank and I both wanted something off of – let's just call it wedding row -something more secluded and by itself. Finding a place on the water was very important to me. I wanted the beauty and tranquility from the water. So naturally, we chose Glen Island. Plus, their guest service is excellent and you truly don't have to worry about anything. Hands down they get the job.
Our wedding was unique to us because we chose what we wanted and didn't really follow the "cookie cutter" option A or B. We wanted our friends and family to really feel as comfortable and special as we did and enjoy in each part of the day from the venue, to the food, the music, the drinks, and all the other little details that went into making the day special.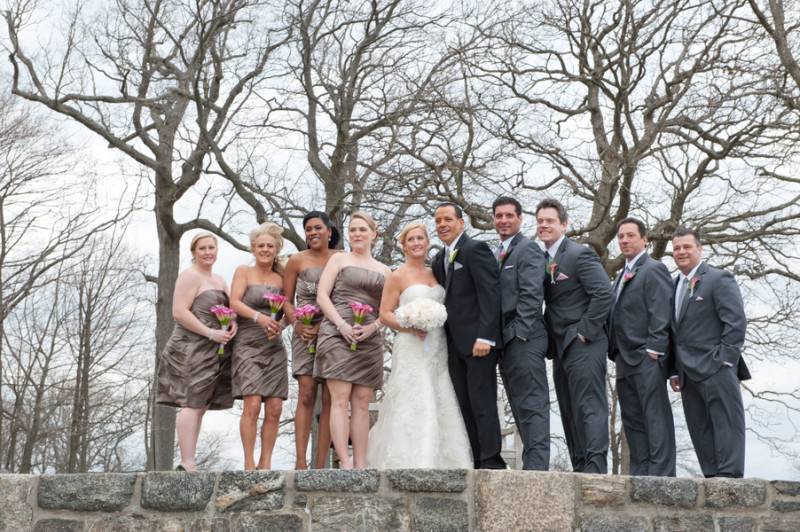 Vendors
Photographer:  Kelly Kirkland Photography
Reception Venue:  Glen Island Harbor Club