This moody, vintage infused boho elopement styled shoot was planned and styled by White Rabbit Events. Sandy Anger Studios captured the gorgeous photos and Amaros Media put together a sweet and romantic video highlight reel. What followed this event was a heartwarming twist.
We're All About the Details!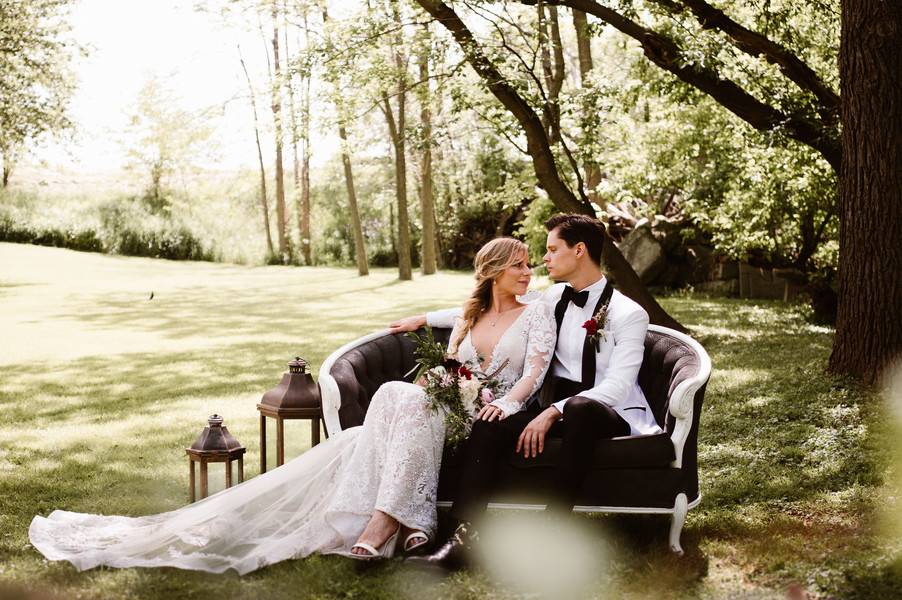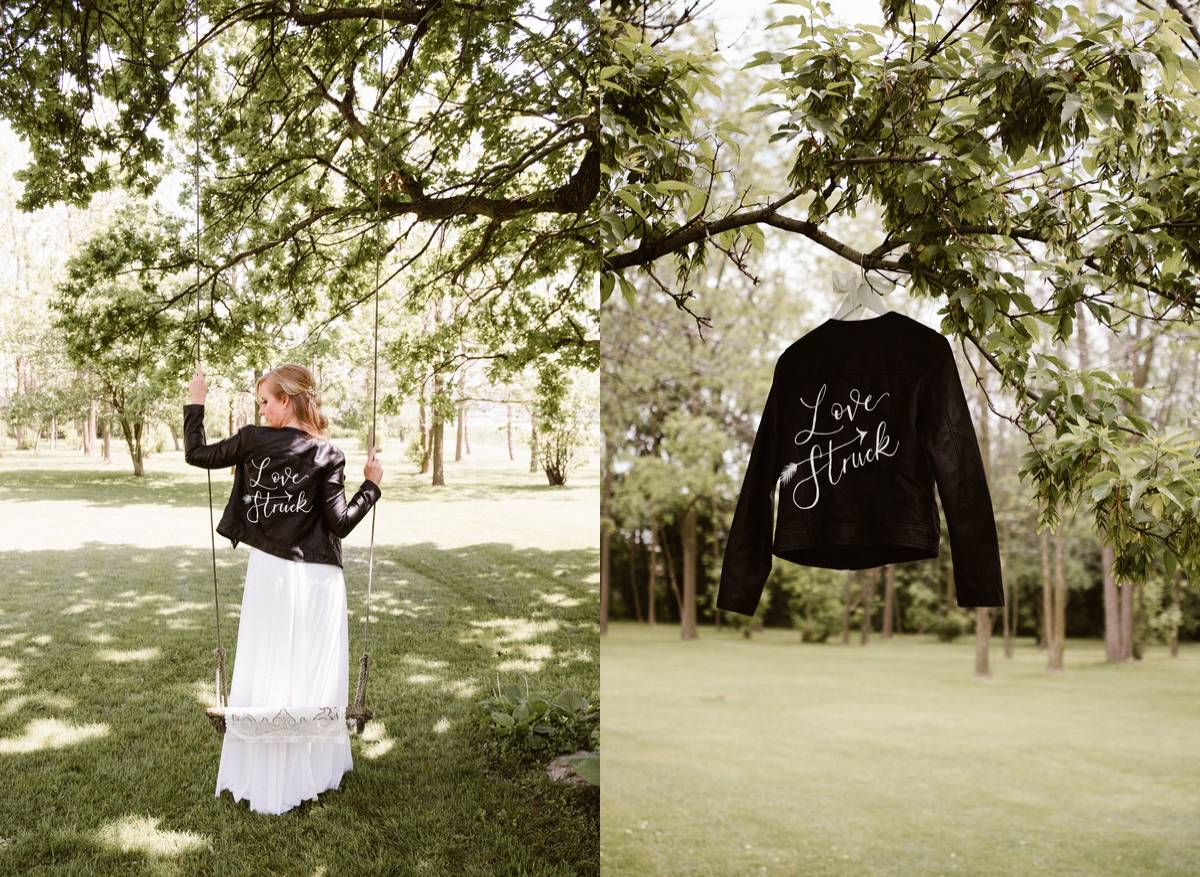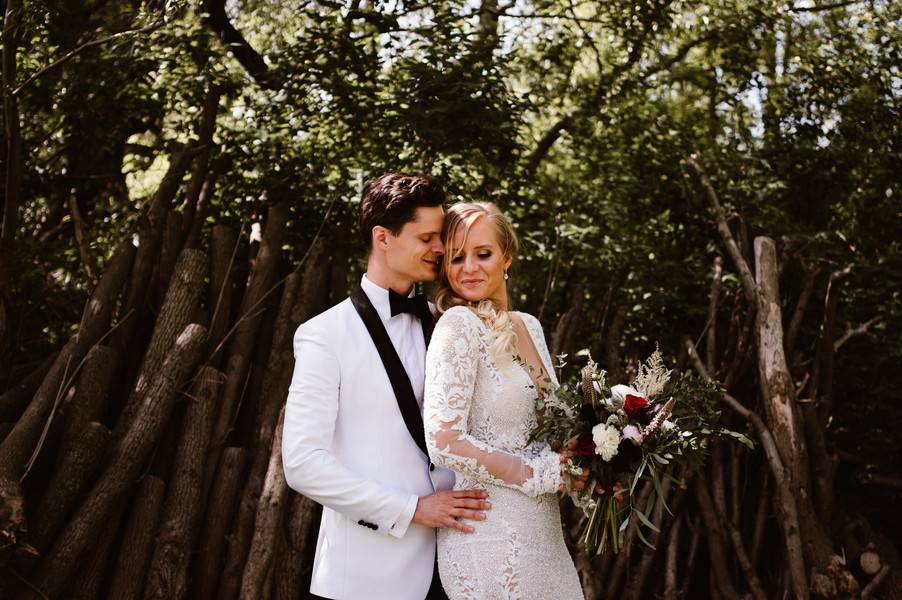 Cailey and Brendan originally held their dream wedding ceremony in the mountainous Sonoran Desert of cacti filled, Tucson, Arizona. When their videographers asked the striking pair if they'd like to model for an elopement themed styled shoot back home in Ontario, Canada, the couple readily agreed. They even offered the use of Brendan's father's sprawling, 3-acre, creek-lined homestead in Stoney Creek as a setting. Numerous trees punctuate the grounds of the large colonial style home as well as a rustic, wooden swing. The barn style garage houses a collection of vintage cars, including a 1988 Pontiac Fiero and a 1929 Ford Model A as depicted in the photos.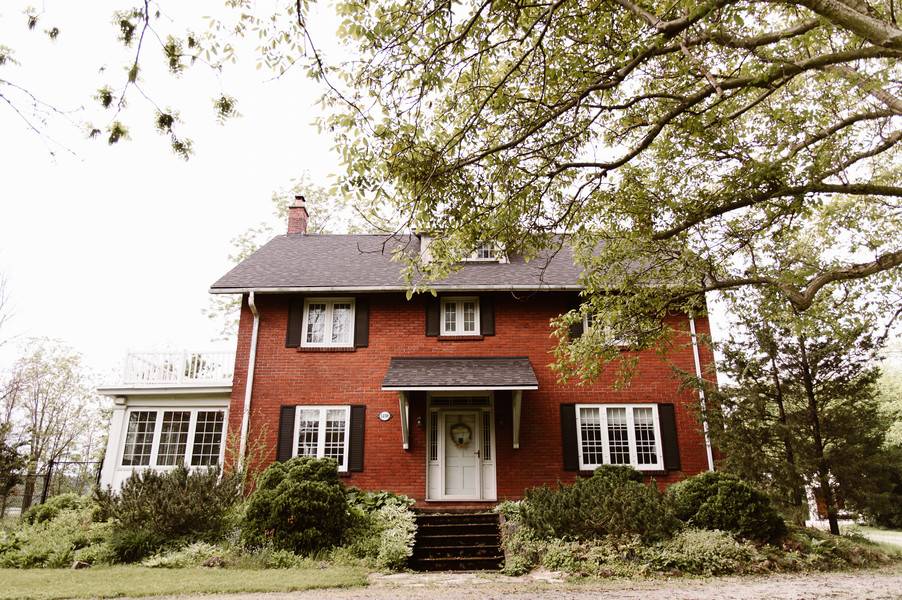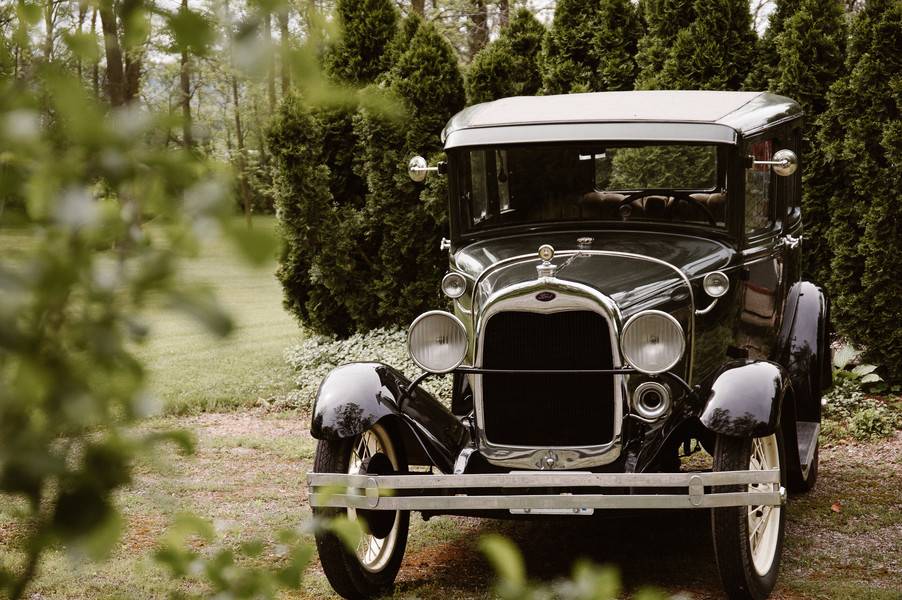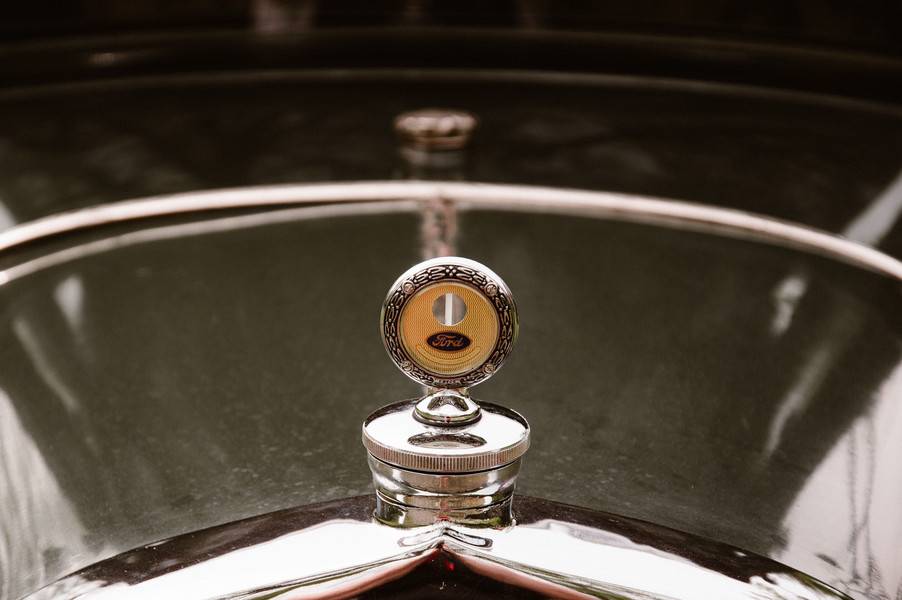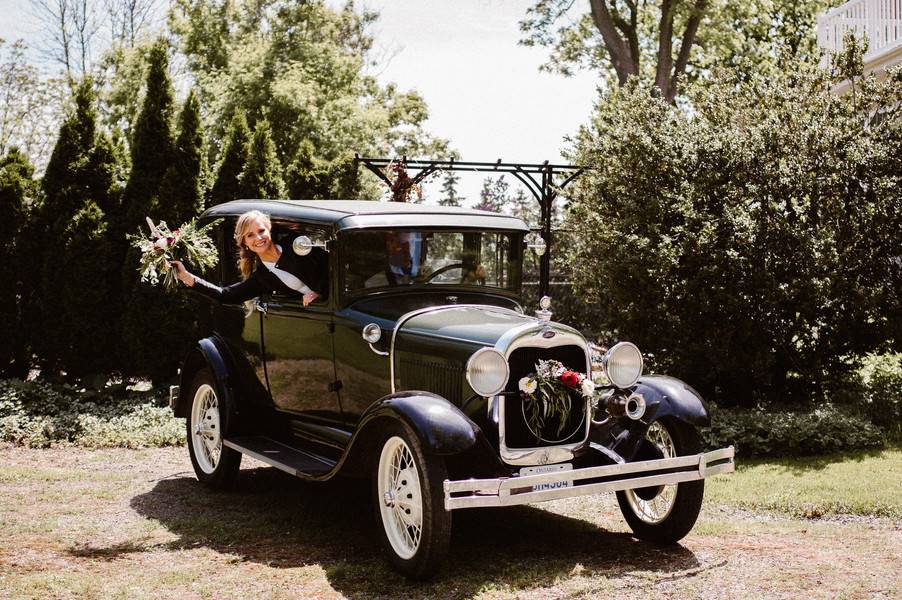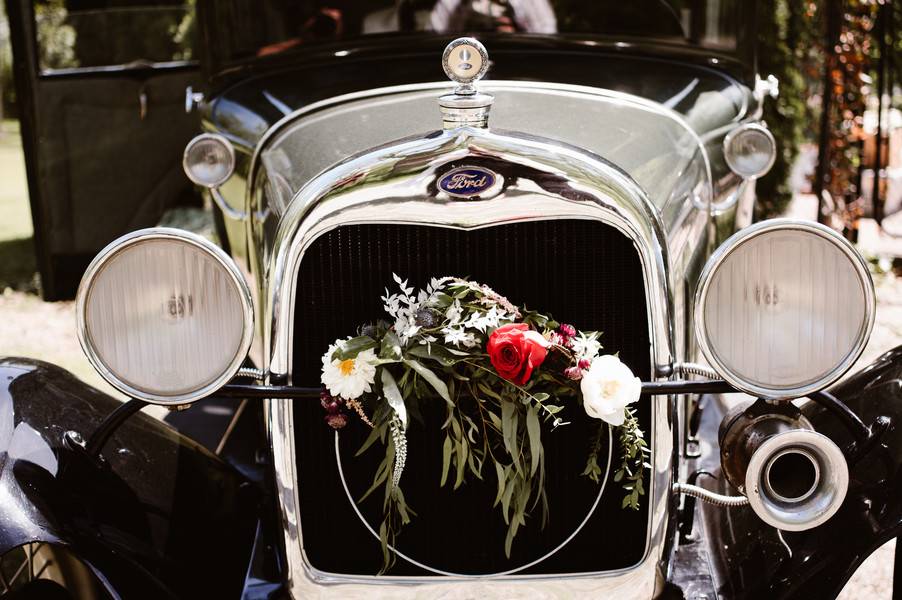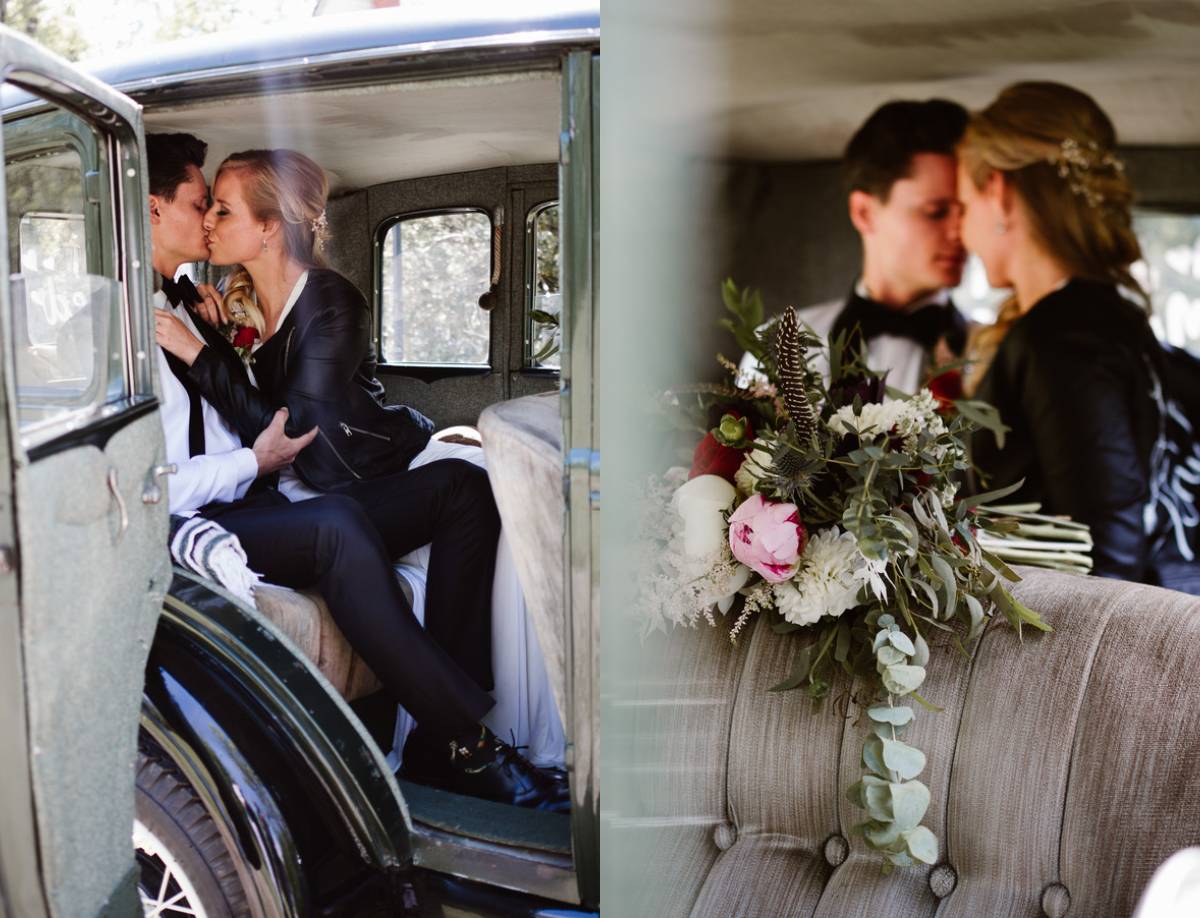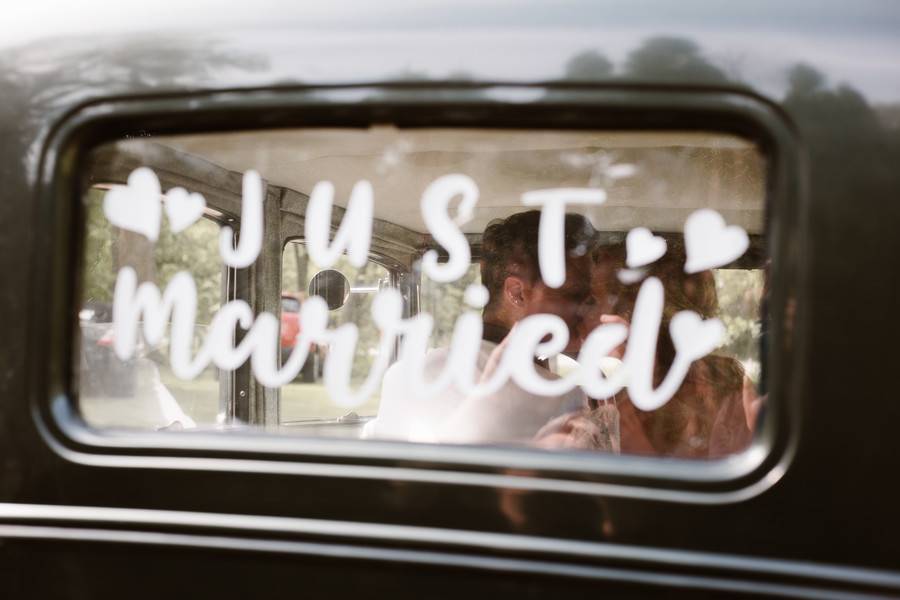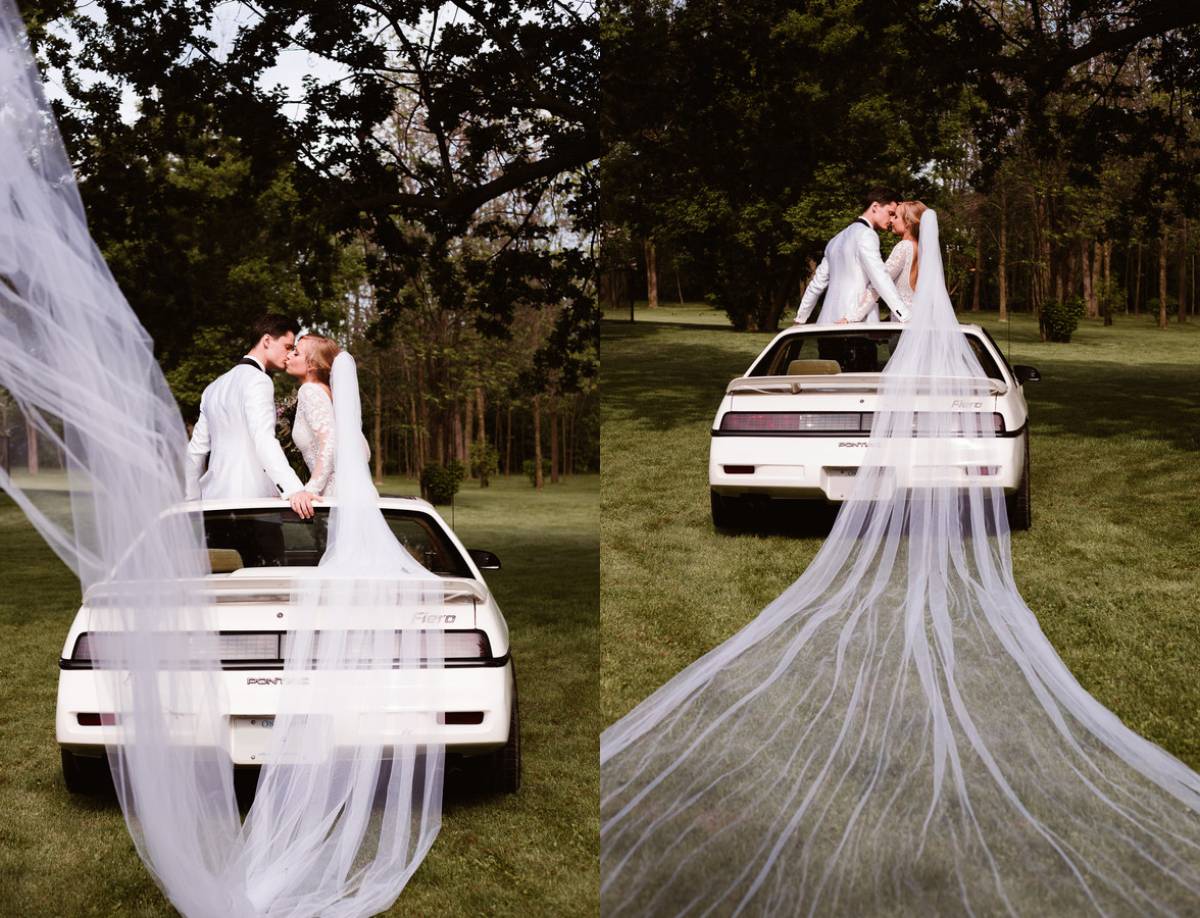 A romantic, white vintage sweetheart table with turned legs was paired with wooden antique chairs from Vintage Rentals Caledon and adorned with gold candleholders and embossed goblets. Mikasa plates, gold flatware and ornate chargers brought elegance atop rose gold and black linens. Geodes rocks with crystal cavities added natural and unexpected beauty to the tablescape. Beautiful, hand-calligraphed circular menus, table runner and ribbon place markers were created by the gifted, Jaye Designs. The lush centrepiece was artfully designed by Touchstone Florals with Peonies, Dahlias, Roses, Weeping Willow and Eucalyptus. These gorgeous blooms in rich hues of ruby red, pink, cream and green were echoed in the bridal bouquet, boutonnière, arch, registry and cake table arrangements, also accenting the grill of the vintage Ford.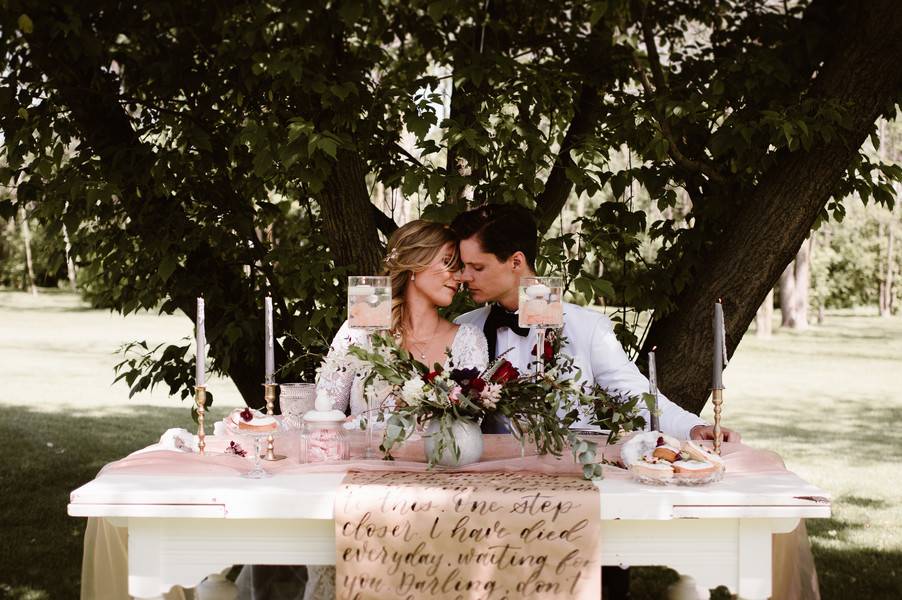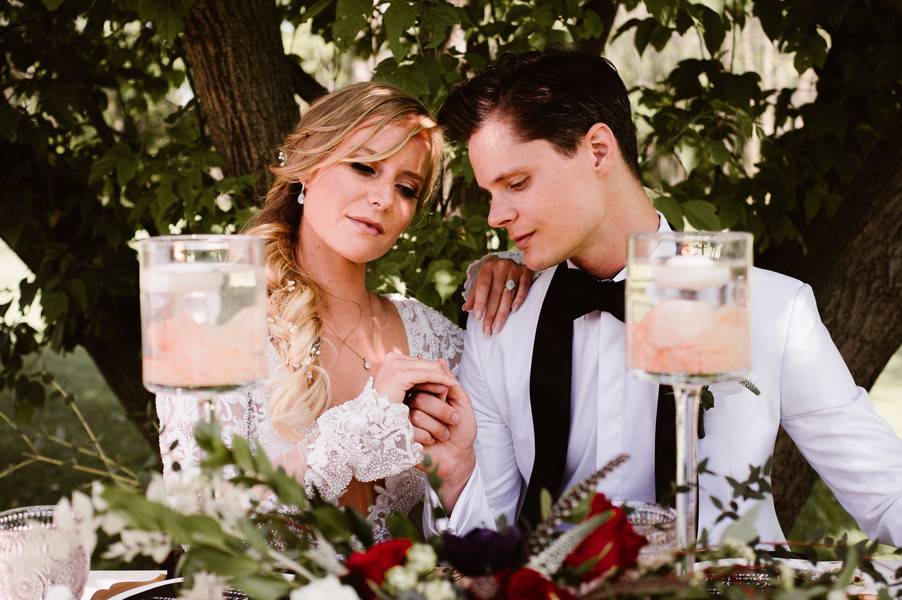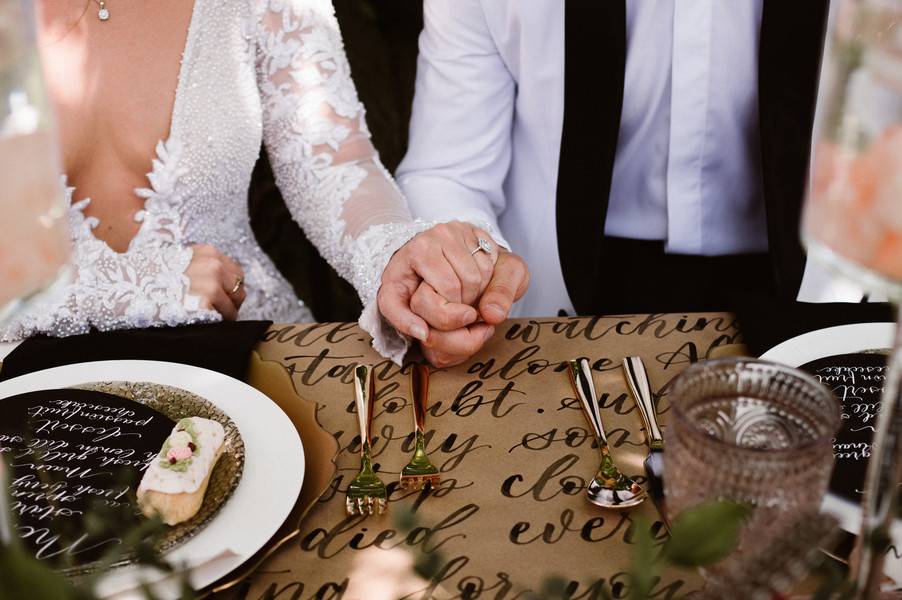 Exquisite donuts and mini cream puffs with a gold harlequin pattern and miniature roses were made by Occassions Treats Parlour. With an antique gold frame looming above, their three-layer, marbled and moody-hued cake with flawless flowers was fit for royalty, topping a charming antique sewing table with florals spilling from wooden drawers.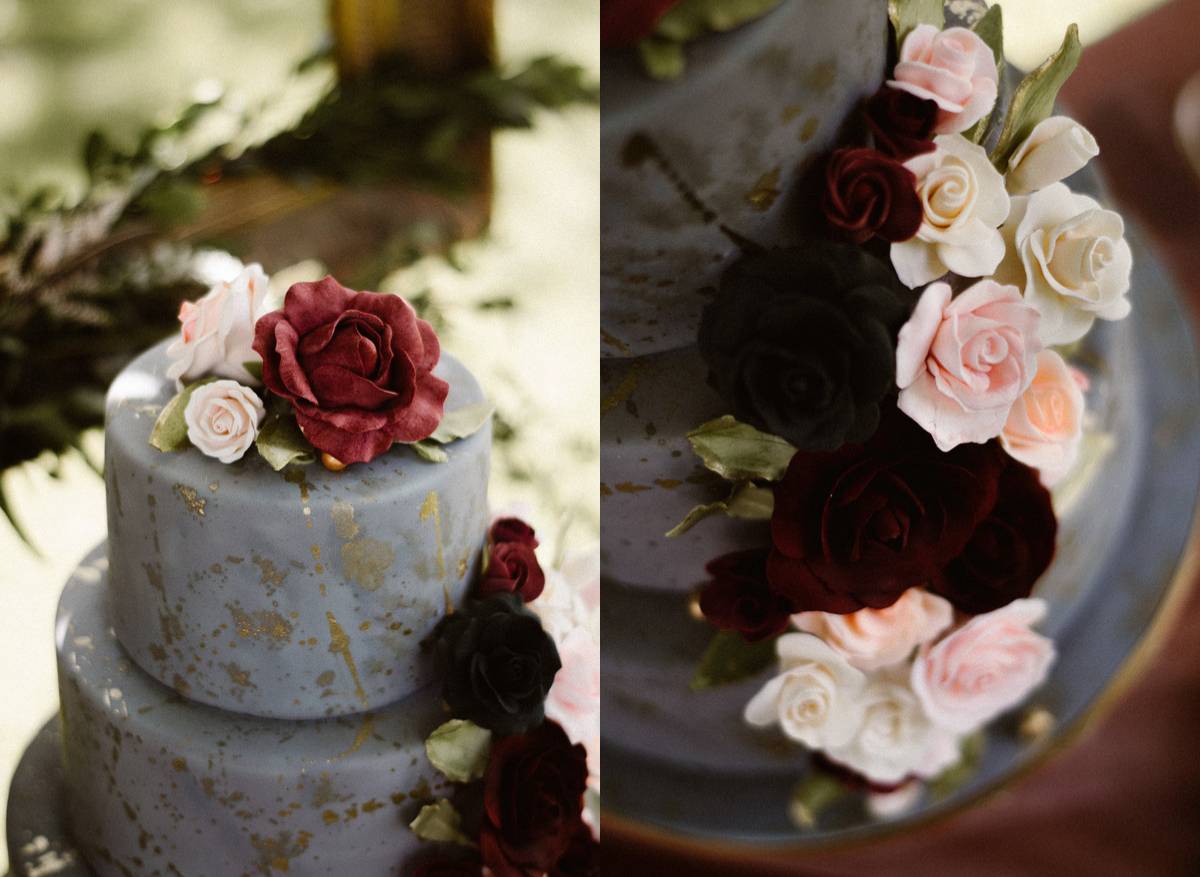 The beautiful cabinet turned sweet table was one of many wonderful vintage and antique items sourced from Joani Wedding Rentals. Their copper arch crowned with florals in front of the stream served as a gorgeous backdrop for the ceremony. A charcoal tufted settee provided lush seating, and an ornate white desk served as a registry table. A romantic teepee tent with vintage accessories, cozy textiles, rustic wood signs depicting "Mr", "Mrs", and "Happily Ever After" created the perfect setting for a cuddle and some strumming on the acoustic guitar.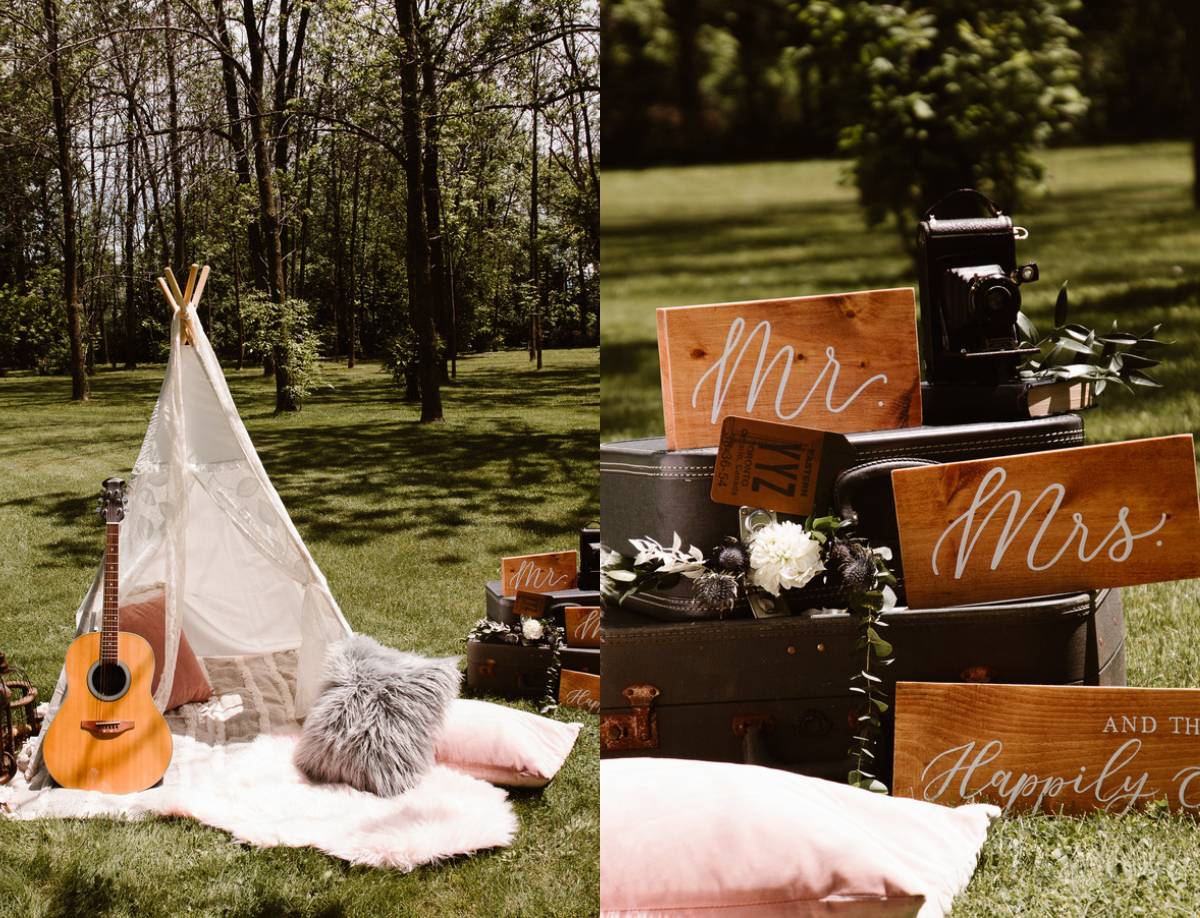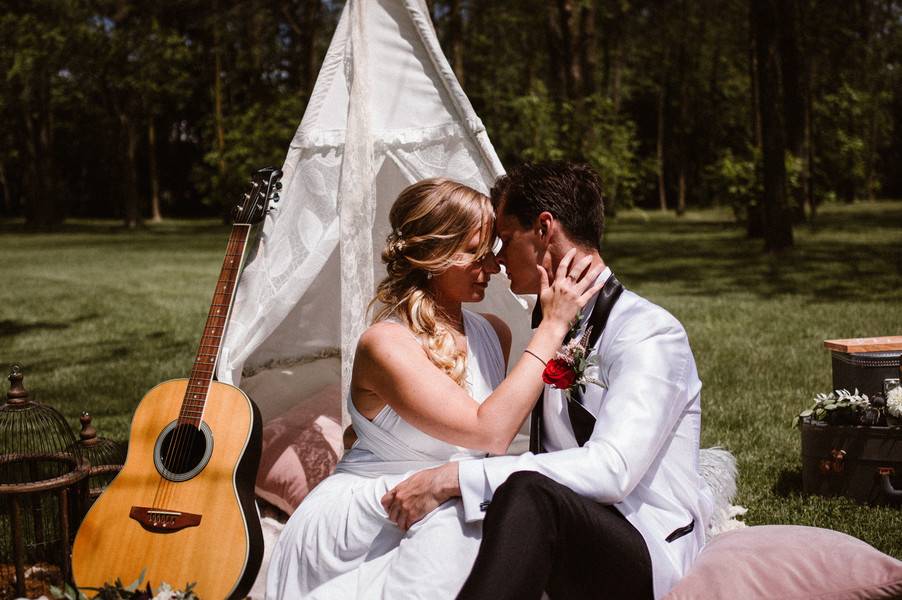 Calligraphy was delightfully prominent in this shoot. In addition to the tablescape creations and wood signs, Jaye Designs scribe inscribed "Love Struck" onto the back of a leather jacket worn by Cailey. Another fabric quote which read: "And so the adventure begins" was fastened to a copper arch. The stunning invitation suite was infused with shades of copper, gold, blush and black, depicting beautiful country roses and a map.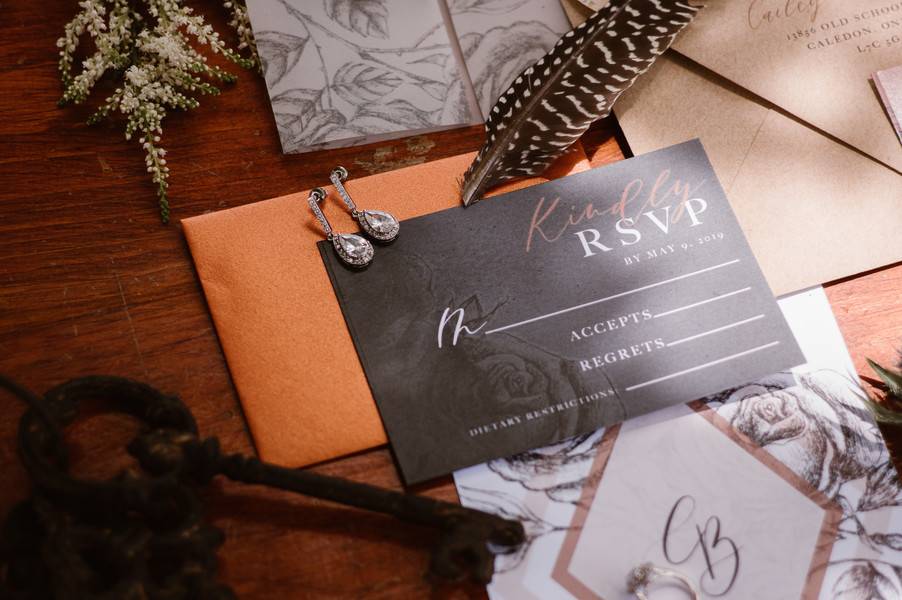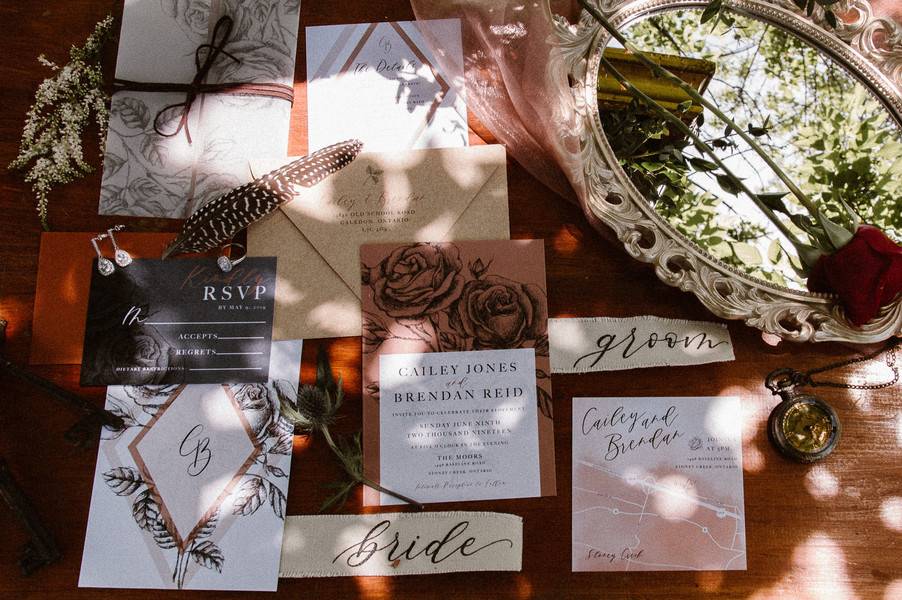 Makeup by Lubu was flawless with warm cocao shades and rose gold glitter accentuating Cailey's eyes, and shimmery pink lips with a dash of gold. She also created a romantic and beautiful side swept braid in Cailey's hair, interwoven with a delicate hair vine embellished with pearls and crystal from Blush Bridal.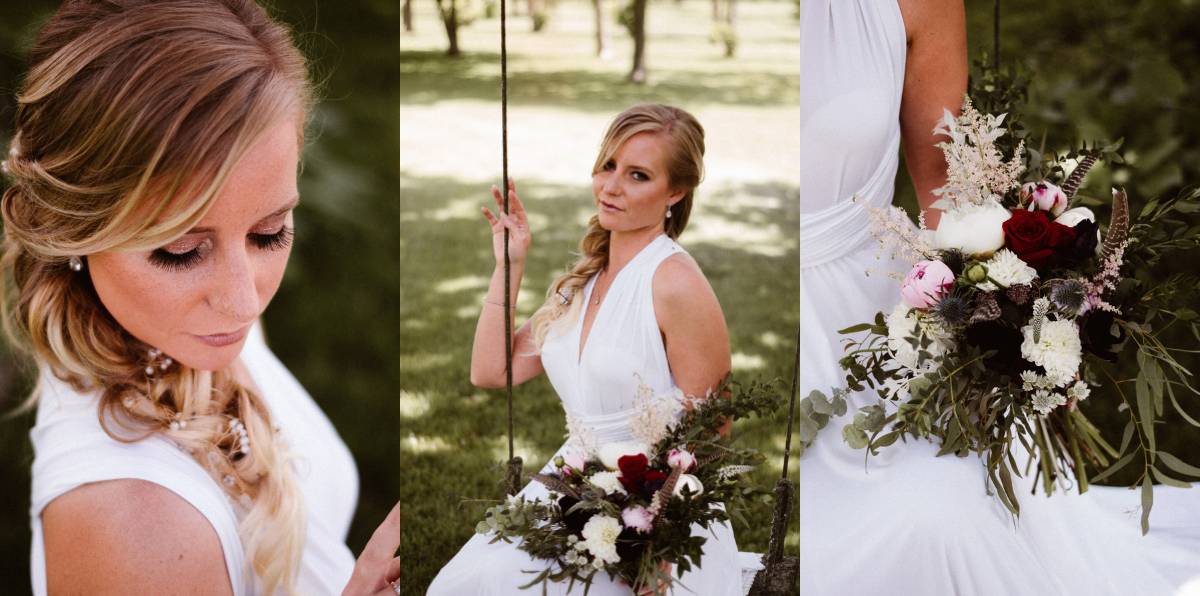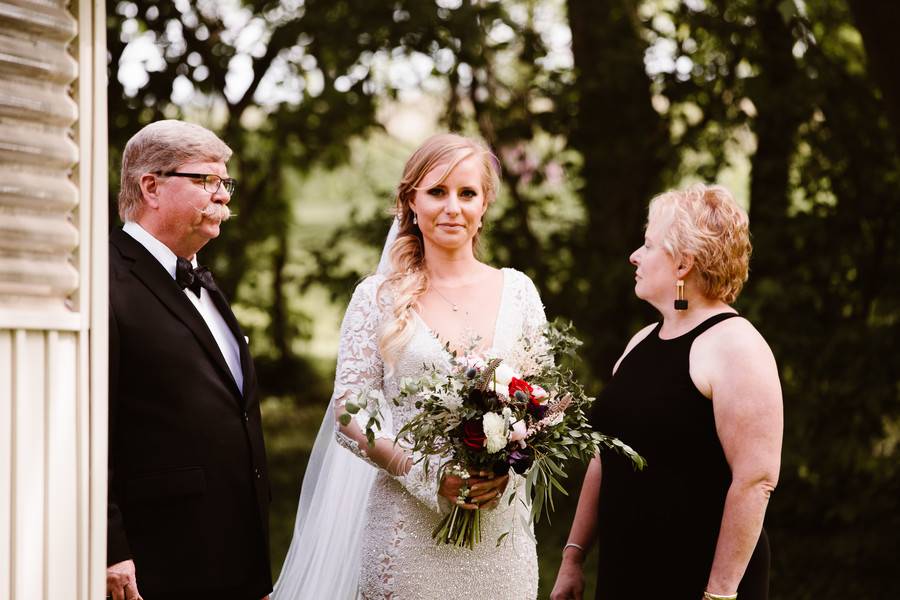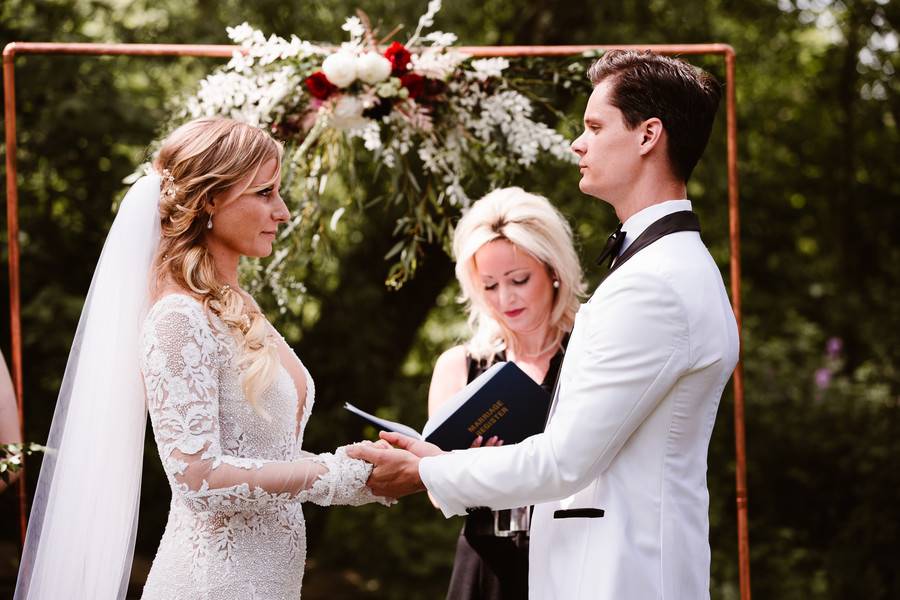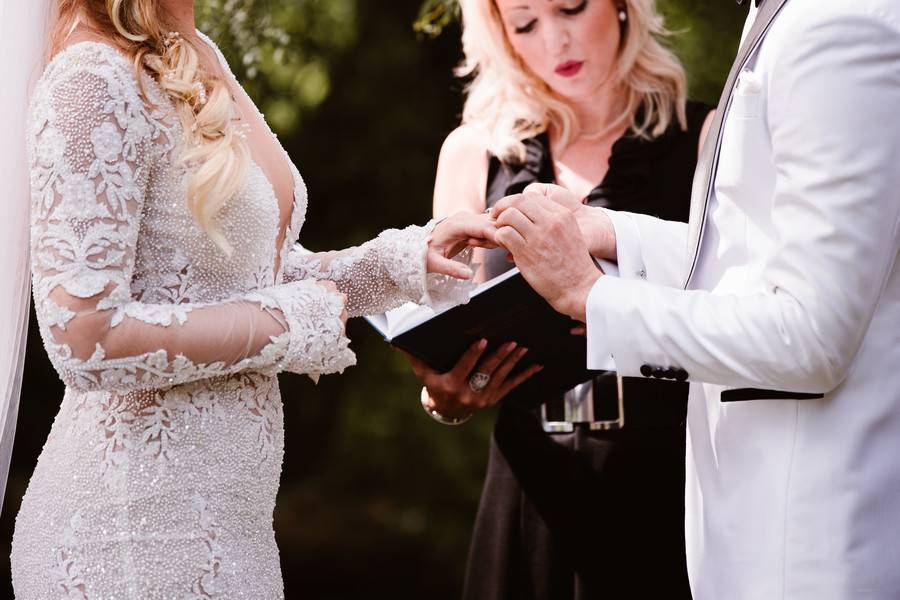 Cailey wore two exquisite dresses. The first, a beautiful and convertible Henkaa Sakura gown that can effortlessly be worn 21+ different ways. So pretty and perfect for an elopement as it can easily be rolled up into your suitcase, it's comfortable and takes up little space. Her second dress by Berta was a stunning lace, deep v-neck gown with embellished bodice, long sleeves and flared, mermaid skirting. The magnificent, 23 foot veil was handmade by Cailey and her mother. Brendan was debonair in his black and white Tolo Tuxedo. The marquis cut engagement ring Cailey wore was breathtaking. This beauty came from Michael Hill Jewelers who also supplied Brendan's wedding band. Cailey's wedding ring and necklace were both sourced from Khan's Custom Jewellery. Written by Michelle Leroux, White Rabbit Events.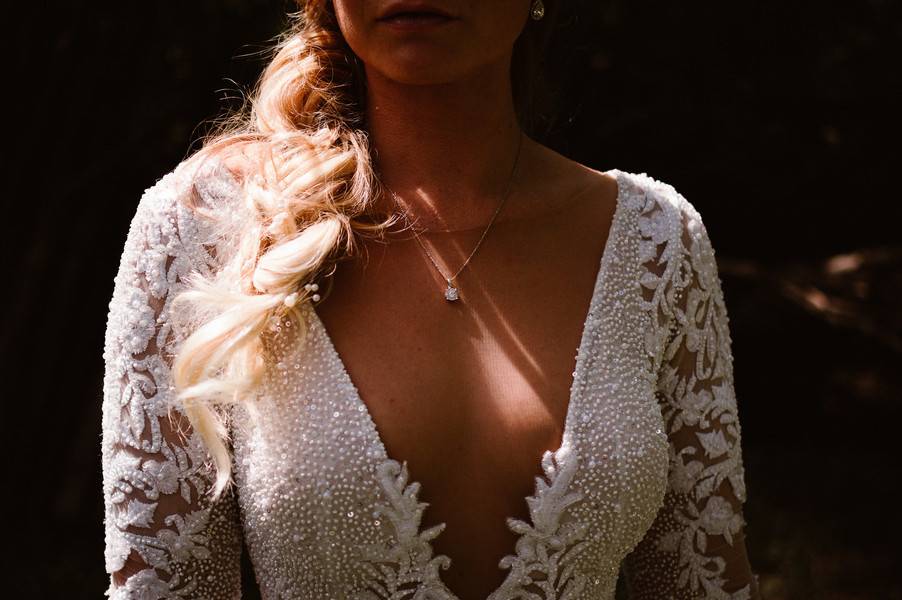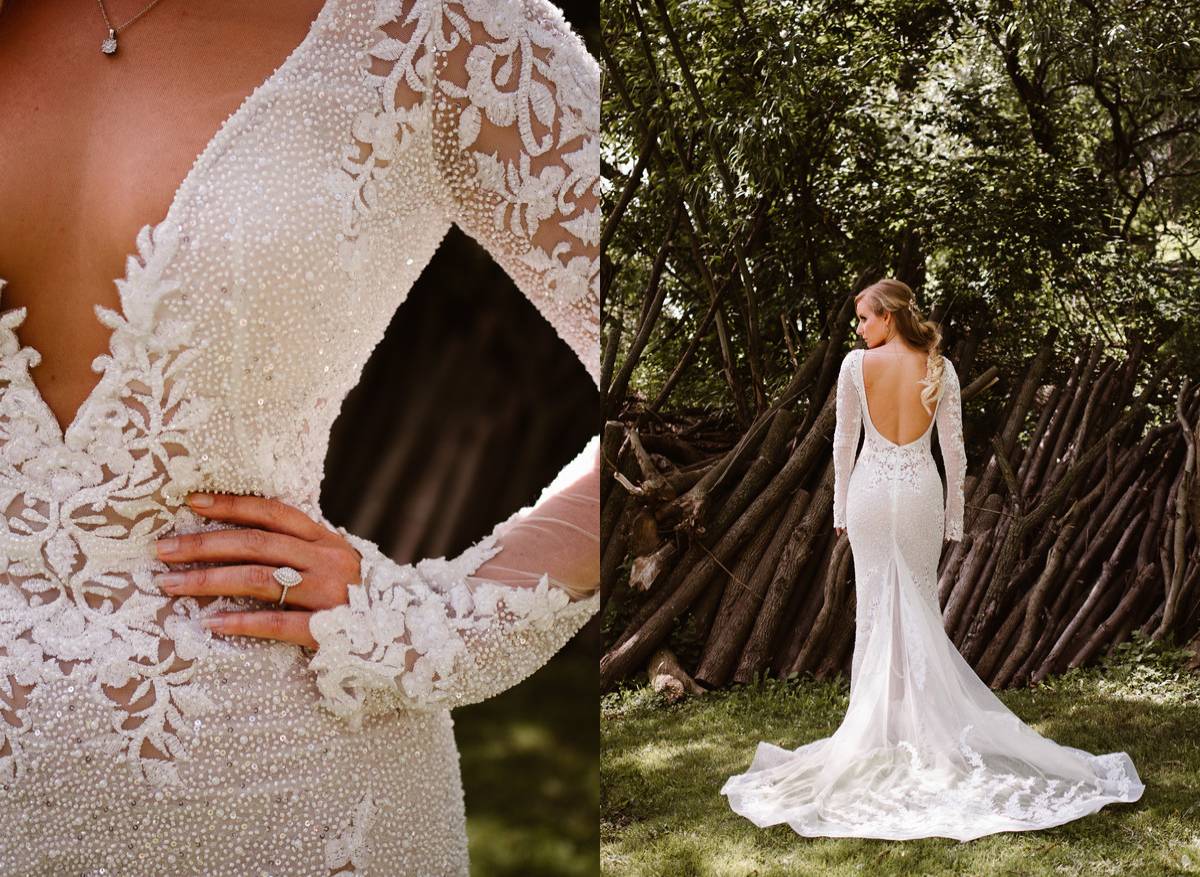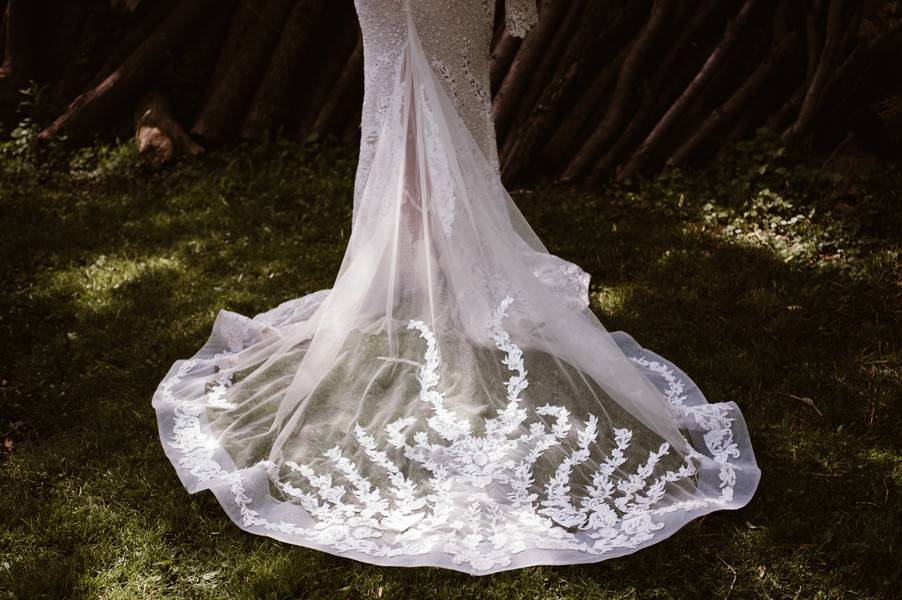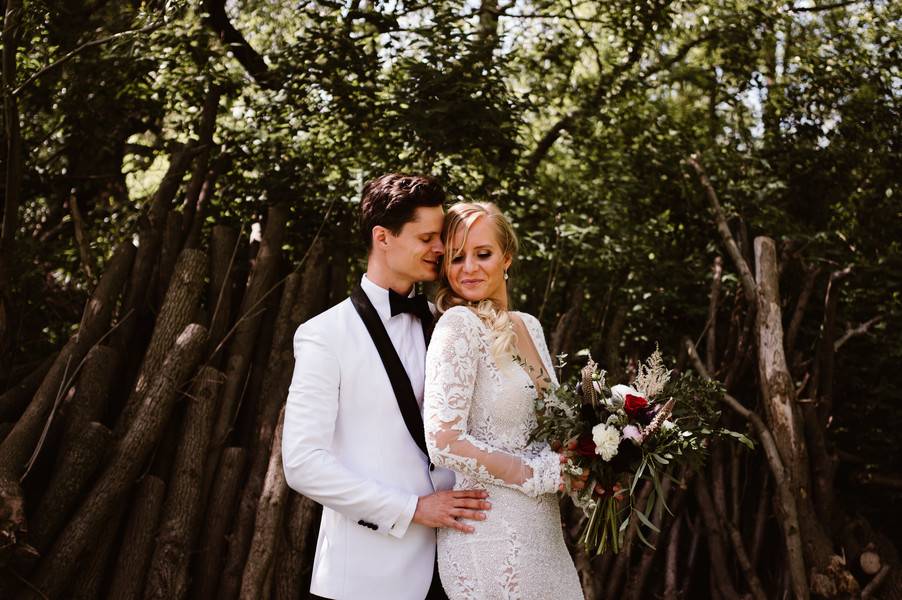 Vendors
Dress Designer: Henkaa Inc.
Model: Cailey Hambelton (Bradshaw)
Makeup Artist: Lubu
Hair Stylist: Lubu
Event Designer: White Rabbit Events
Signage: Jaye Designs
Event Planner: White Rabbit Events
Veils and headpieces: Blush Bridal
Invitation Designer: Jaye Designs
Equipment Rentals: Vintage Rentals
Design and Decor: Joani Wedding Decor
Second Shooter: Stephanie Vizi Videography
Floral Designer: Touchstone Florals
Bakery: Occassions Treats Parlour
Cinema and Video: Amaros Media
Photographer: Sandy Anger Studios