Tina and David are a beautiful couple who found love while traveling. They got married on a building top on a fine evening with many family and close friends around. In those city lights, there were nothing else but candid smiles celebrating these two wonderful people. Congratulations, Tina and David! So much love lays ahead of you, and the best is yet to come!
How It All Started
The story of how Tina and David met stands out as one of the most unique love stories we've ever heard. Many people didn't believe it would last, but both of them had a doubt. As the bride shares,
I was traveling around the world alone for a 6 months and as much as I loved discovering new places and seeing beautiful landscapes, I missed being with fluent English speakers and people I knew and could be comfortable with. I met David through a friend I worked with who happened to be in Thailand on a business school trip. I liked David, but we had so little time together, but I still had many more months on my trip and was sure I wouldn't see him again. I invited him to join me on any part of my trip and he accepted! He met me in Argentina and we traveled together for almost a month. We traveled Argentina by bus and if anyone can love each other after 24 hour bus rides, then it is meant to be!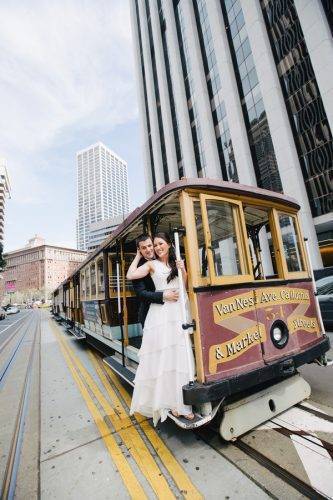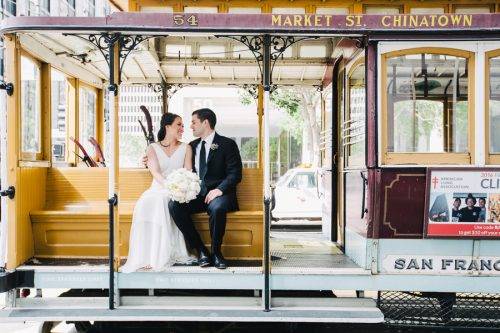 The Proposal
We both knew we wanted to marry each other fairly early in our relationship. We are both more mature and have learned enough relationship lessons to realize what we want. Our vows were written to each other in emails from the first year we met. Although David casually asked me many times to marry him and I said yes we will, it wasn't until one day at home with Mia, our fur baby, that he had a ring and I said yes.
The Wedding
It was so much fun! We enjoyed every minute of it and it couldn't have gone better. We didn't do any traditional things like speeches, first dances, bouquet throwing. We had just had great food, lots of alcohol and an amazing 7 piece band to have fun through the night. Most importantly we had so many close friends and family fly in from around the country to spend time with us and share our day. We wanted an iconic, San Francisco wedding for many of the attendees who had never been and the ceremony views couldn't have been more perfect.
VENDORS
Photographer:  IQphoto Studio