If you're starting to plan your wedding but you don't have any concrete ideas yet, then you've come to the right place. These beautiful and elegant wedding cake photos are taken from Pinterest, and may give you some wonderful inspiration when it comes to planning your own wedding and ordering your cake.
The Catty-Corner Square Cake
This beautiful cake is white fondant with gold ribbon and peach and raspberry-colored roses. It's very elegant and not too traditional. This would work perfectly for a summer wedding!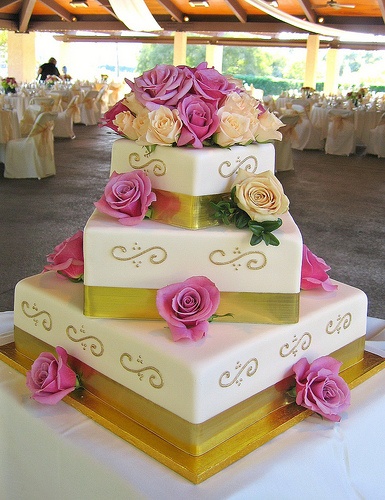 Simple Magnolia Flower Cake
This stunning cake features 3 tiers in white and soft gray fondant. The top is covered with large, beautiful magnolia flowers and the bottom tier is covered in flower petals as well. It has an elegant black and gray ribbon that really polishes the cake. This one would work well for any season.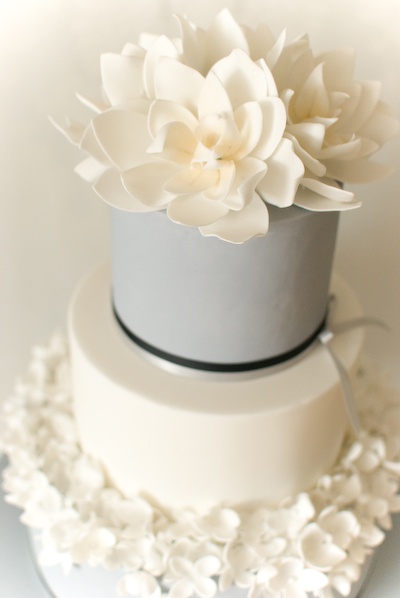 Gold Square Wedding Cake
Talk about elegance! This wedding cake is absolutely breathtaking. It features 4 square tiers in a muted gold, with large flower embellishments on the side. Those are also dusted in gold, tying the entire cake together.
Textured, 2-Tier Cake
This beautiful 2-tier cake is textured to look like lace and cloth, and features black lace embellishments, black ribbon, a small bit of bling and blush-colored roses on top. It's very elegant and would work well with a traditional or non-traditional wedding.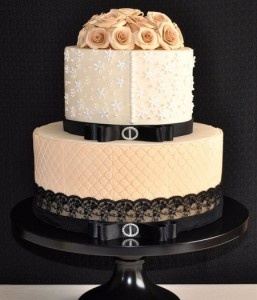 3 Tier Cake with Bow
This cake takes simplicity to a new level. It's a 3-tier cake featuring a damask design that's just a shade lighter than the cake. The whole thing is finished off with a giant, navy bow that includes a little bling for some extra sparkle.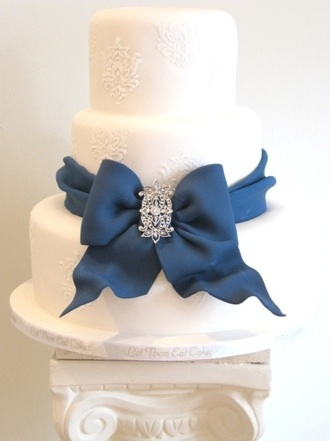 Even if these cakes aren't necessarily your style, they can certainly inspire you to choose a beautiful and elegant cake that you and your guests will love.