Romantic and contemporary is how I would describe James and Pamela's wedding. The white linens and brown accents gave off a neat style that conveyed a chic side of the wedding. And the soft touches like flowers, motif, and tiny wood stumps as table decors gave a romantic and rustic vibe. The couple looked like models in their ensembles. Definitely elegant and chic along with their entourage. And the photos were taken beautifully — timeless.
Album Story:
Our wedding album begins with James and I getting ready at our parents' houses. The photography and video captured those precious moment of us getting ready to perfection. It then flows onto the ceremony, followed by our portrait session around South Melbourne and the Abbotsford Convent. It is then followed by the reception and captured so many moments there from our cake cutting, to our first dance, speeches and dancing. For us, our album accompanied by our video are beautiful memories of an amazing day.
The Proposal:
The proposal was at The Fairfield Boathouse on New Year's Eve. James took me there for an impromptu picnic in the late afternoon, with our favourite food and drinks in tow; camembert, blue vein and champagne! We love the boathouse and often visit to escape our crazy busy lives – so it was a perfect place for James to pop the question. James rowed a boat down to a little jetty and got down on one knee! He is quite the traditionalist. I said YES about 30 minutes after he proposed as I was so caught up at the moment that I completely forgot to say it!
Wedding Outfit Inspiration:
James and I had a clear vision for our wedding outfits. The boys wore a classic single-breasted black suit, with a white wing tipped shirt and a black bow tie. The bridesmaid's wore a soft grey/lilac coloured gown; each gown was designed to suit the style and figure type of each girl. My dress had a structured bodice with lace and trimming contouring my body shape; the base was a soft whimsical layering of silk organza.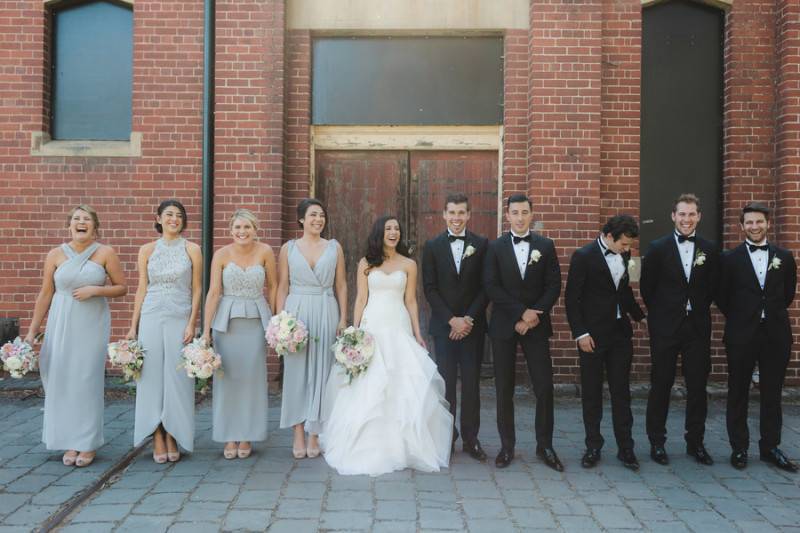 The Planning Time:
James and I had nearly two years of our engagement and wedding, plenty of time to plan our special day. This was more than enough time to plan the wedding however in saying that the time does fly!
The Best Advice We Received:
The best advice we received was in regards to selecting suppliers. Someone once told us to choose suppliers who we felt we could be friends with and connect with on a personal level. This was something we took on board. We selected suppliers who were young, fresh, and energetic and shared similar passions with us. It then enabled us to trust really them to do their 'thing' without needing to direct them too much.
Wedding Décor Inspiration:
The theme of our wedding was 'chic, rustic, elegance' as some of our guests described. We became inspired by wedding blogs and magazines and created a day that truly represented us. Elegant but informal. We wanted to create a lasting memory for ourselves and our guests of a day that entwined details of our lives into every aspect. Something from the heart.
The Do-It-Yourself (DIY) Projects:
Yes! James and I are very hands on. We love entwining detail into everything we do; if it hasn't got our touch on it, we somehow find a way to add it! James hacked away at his backyard for birch tree branches and cut, sanded and varnished 200 tree slices for place name holders. We also sourced olive trees from QLD and repotted them into terracotta pots to suit our styling. I designed and with the help of friends and family assembled all of the little details from the save the dates, invites, church booklets, cookie tags, olive tree tags, table numbers, menus the list goes on!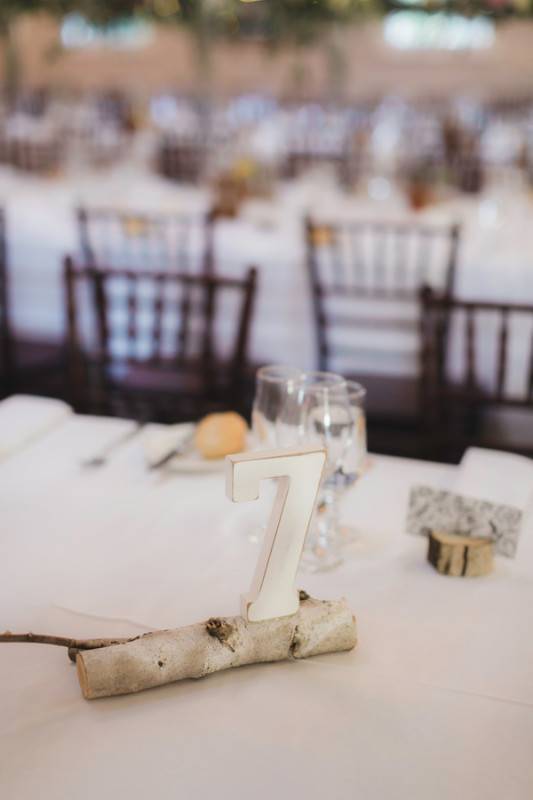 Tips & Tricks For Future Brides:
Be organised from the get go! That way as the day approaches you won't feel too much pressure when completing last minute tasks. Choosing suppliers you trust is also important – we tried to go by personal recommendations. You can do all the planning and organising you like for the months leading up the big day, however on the day, it's up to your suppliers to pull it all together. So choose carefully!
Planning Advice For Couples:
Stay calm! It may all seem too much at one point or another however once the day comes it is amazing how everything falls into place.
Money Matters:
Our venue was our biggest expense (followed by my dress!) We wanted something unique and rustic but still quite central to the Melbourne CBD. That is why we chose the Abbotsford Convent, it feels rustic although it is located in the heart of Melbourne. We fell instantly in love with the untraditional wedding menu and the amazing service provided by the caterer, Bursaria.
The Guest List:
In total, we invited just over 200 guests, family and friends from both sides. The final count however, was around the 180-190 mark.
After having a large engagement party of 280 people, it was rather difficult to narrow the list down. This task was probably the hardest we encountered in the whole planning process. We had however agreed that we would have a large engagement and a much smaller wedding, therefore, the task was inevitable! We tried to invite to the wedding those who touch our everyday lives. People we may see or at least hear from on a relatively regular basis.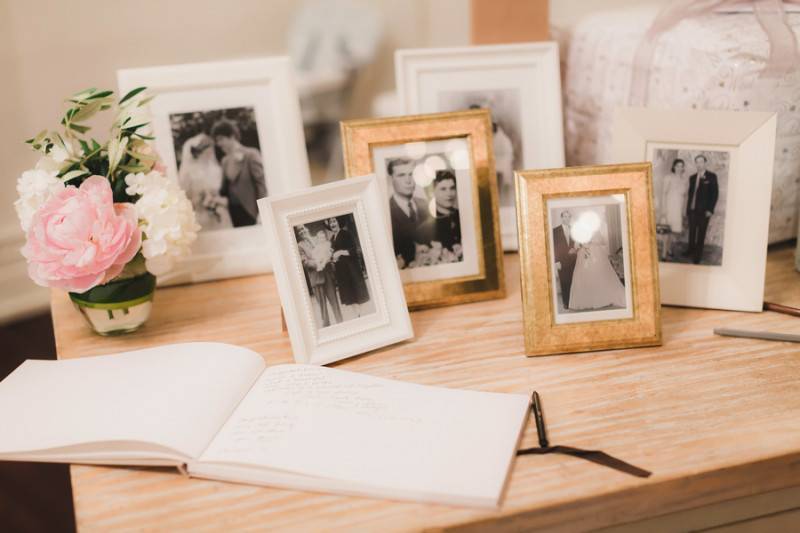 The Songs:
As James and I married in a Greek Orthodox Church we were unable to have any songs playing during the ceremony. Traditionally in an Orthodox Church the only music permitted is the most purest of tones; the human voice. As James and I both love music and culture we had a violinist playing outside of the church as guests entered and exited, creating an enriched vibe from the onset of the day.
Our Honeymoon:
James booked our honeymoon as a surprise! He planned it all on his own and about a week before told me it was Hawaii! It was incredible. Our favourite part was our 5-night stay at the Andaz Resort, Maui. A brand new 5-star resort on the island of Maui. As James and I both love Japanese cuisine the best part of the Andaz resort was the on site Morimoto Japanese Restaurant. We dined there 2 out of the 5 nights!
Excited About:
Now that the wedding is done and dusted James and I are moving onto our next project – a big house renovation! We are both creative people and love a good project to pour our energy into.
Favourite Part Of The Day:
We had MANY favourite moments and it is so hard to choose just one! So here are a few! Our venue styling was a huge highlight for us. Our florist/stylist Botanics was given free creativity to create for us a floral masterpiece. Knowing their working style, we completely entrusted Shane and his team. On the night, walking into that room and seeing his floral wonderland for the very first time, only moments before our guests, was and unforgettable moment.
The Highlights From The Ceremony & Reception:
There were two moments that stood out for us. One – Our floral styling was somewhat of a surprise to us – meaning that we gave Shane of Botanics freedom to explore and create. The details of the bouquets, buttonholes and venue were unknown to us. Walking into our venue at the Abbotsford Convent to reveal a 'Floral Wonderland' was like a fairytale. We still remember the feeling of shock and relief when we entered the room and absolutely LOVED what we saw. Two – When our photographer Eric whisked us away from our reception into a dark derelict stairwell and allowed us to embrace the moment whilst he snapped away.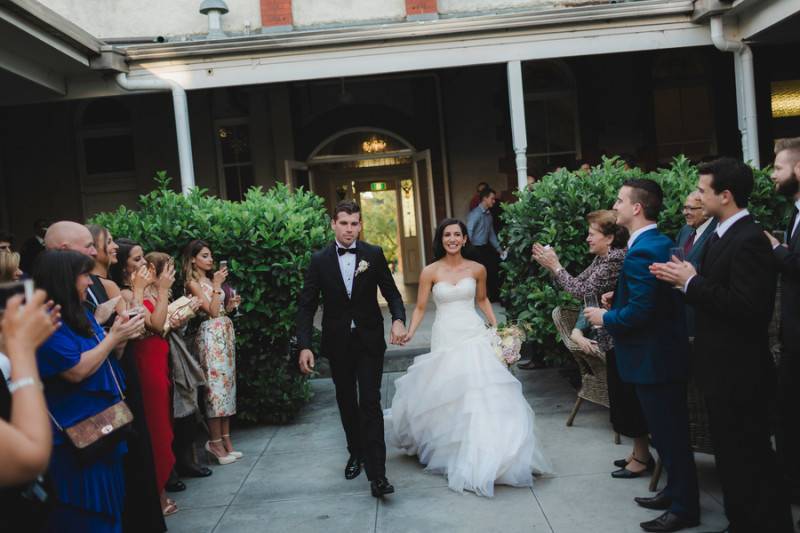 VENDORS
Photographer: Eric Ronald
Ceremony Location: South Melbourne Greek Orthodox Church
Event Venue: Abbotsford Convent
Dress Designer: Andrea Gorrie
Cake Designer: Bill's Farm
Floral Designer: Botanics of Melbourne
Caterer: Bursaria
Groomsman Attire: Expedition Apparel
Shoes: Jimmy Choo
Cinema and Video: Purple Ribbon Weddings