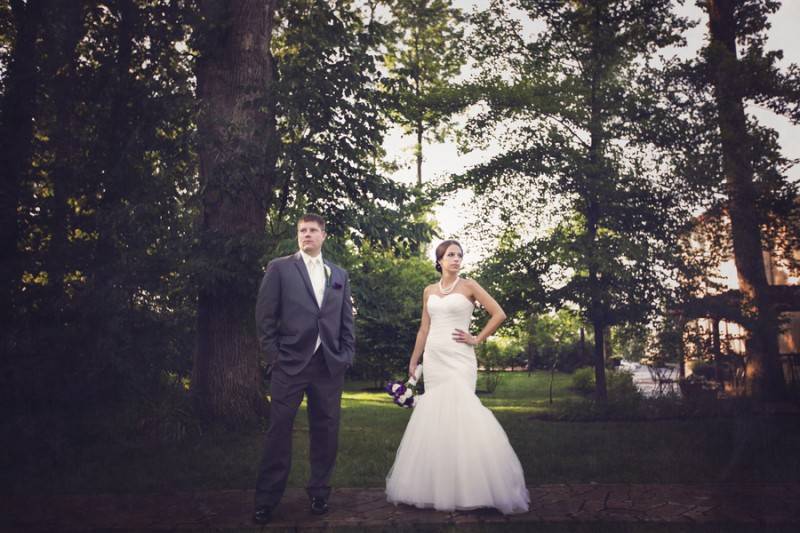 I totally love this picture (above) of our couple because it looks so editorial and chic. But anyway, this wedding is just timeless and classic – the details, the outfits and the pictures say so themselves. Our bride wore a lovely mermaid wedding dress with her hair up in a chignon to showcase her beautiful pearl necklace. If that doesn't read timeless to you then I don't know what will. Congratulations Rachel & Michael!
Photographer:
Their wedding day was beautiful! We arrived at Fairfield Inn & Suites Columbus Polaris. Both of them were very relaxed, not nervous at all. The ceremony was short and sweet, which fit the couple perfectly. Rachel and Michael don't require a lot of attention and want everybody around them to enjoy themselves. Upon leaving the church, dark clouds started to form and we drove into a big storm as we headed to Brookshire for their reception. It was a miracle that as soon as we entered the parking lot, the rain stopped and the pretty sun returned. Brookshire has a ton of safe places for the couple to have pictures taken considering the grass was soaking wet. I am in love with their images and can't wait to share them with you.
Bride:
How did the couple met:
We met through my sister's (Anna) friend who is also Mike's sister in law (Amy). Mike just came back from the air force and the both of them thought we would hit it off! We met at Mike's brothers and sister in laws house for brunch one Sunday after church, and he asked me out to dinner then. From there it's history.
How he proposed:
On vacation in Miami. I went to the beach that morning and came back to the hotel room to meet him for lunch and he was on his knee when I came in. He had a dozens red roses and rose petals all over the floor along with champagne.
Vendors
Photographer: Harvest of Memories
Ceremony Location: Brookshire