Everything was  rustic and chic at Evan and Taylor's wedding. The venue was already stunning and  adding pale and neutral colors gave it more romance. The rustic and elegant vibe that came out from this combination is truly inspiring. It makes you want to swoon and feel elated. Taylor's wedding dress was playful and modest at the same time — two things combined that only some can pull off. We wish you a beautiful journey together Mr. & Mrs. Felvey!
Our Story:
Evan and I met at a Dustin Lynch concert in the autumn of 2013. I should have known then that our love for country music would bring us together! From that day on we spent our free time talking on the phone, and all of our weekends dining together and watching movies. It wasn't until Hurricane Sandy hit, which we fell in love. Evan spent three days stuck with me and my family. We slept on the floor in my Aunts basement and spent most of the days talking and laughing. I knew from that moment on that I didn't want to live without him. Plus if he didn't run after that weekend – I knew he'd be around forever. We chose Nashville as our wedding location because it is a favorite city for both of us, plus meeting at a country concert it made sense!
We Are A Perfect Match:
Evan and I complement each other completely. He's so laid back, whereas I have to be in control. He makes me more relaxed, and I make sure he's always prepared for things. Since Evan is in the Navy, the time we do spend together we truly value. We never go to bed angry and always tell each other 'I love you'.
The Proposal:
We got engaged on our year anniversary. Evan and I went to lunch at our favorite breakfast spot. As we were leaving, Evan turned to me and asked me if I wanted to marry him one day. I told him of course I did, and he was crazy for asking me that. When I looked up he had a ring is his hand (he just had surgery on his MCL, and ACL which was why he wasn't down on one know) and said' Then will you marry me?" I, of course, said yes and began to cry!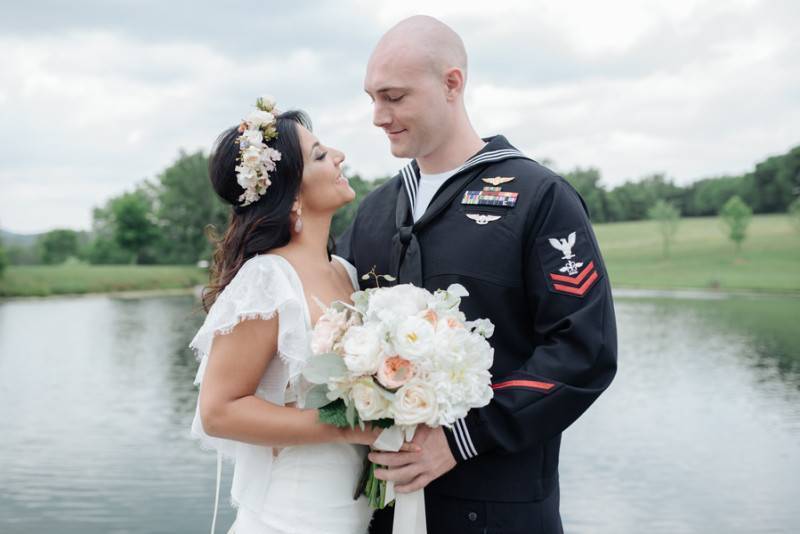 The Theme:
Memories – that was definitely the theme for the ceremony, reception and weekend! Being that the wedding was on Memorial Day weekend we wanted everyone to embrace memories. Memories they made over the past weekend. Memories of those who have passed on and to remember those who served and continue to serve our country.
Wedding Décor Inspiration:
Mint Springs Farm is a remarkable venue. Its beauty is timeless, and I wanted that to be highlighted more than any decor. I'd always dreamed of a wedding with pale colors and one that had a very natural look. We chose to play off different textures – metal planters, driftwood, and soft fabrics. I wanted a bohemian outdoor wonderland.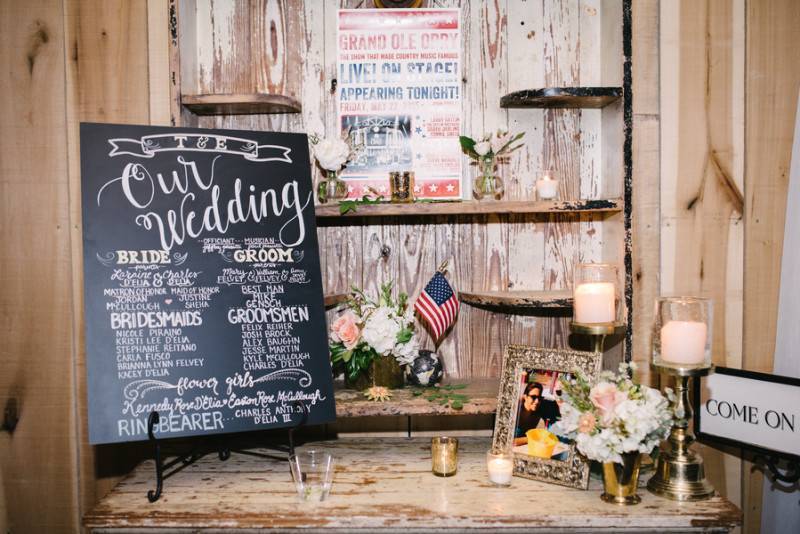 The Do-It-Yourself (DIY) Projects:
I decided to make 'Red-Neck Wine glasses for my bridesmaids. I just thought they were the perfect touch. I used Purple Ball Mason Jars from Walmart and bought candlestick holders from The Dollar Tree and used C3000 glue to put them together. I've actually gotten requests from other friends to make them some!
Wedding Day Outfit Inspiration:
For me, I had become obsessed with the designer Katie May. Her style compliments exactly what I had in mind. Bohemian and a little sexy – I fell in love with it the second I put in on. The most important thing for me was wearing my mother's crown and veil from her wedding It was such an honor.
Being Memorial Day, Evan wore his uniform for the ceremony – he comes from a Military family, and I know it meant a lot to his family. I had decided early on that I didn't want the traditional bridesmaid dresses for my girls. I have a bohemian style I really wanted to come through so I chose the Jarlo Lace Maxi dress in peach from Asos.com.
Our groomsmen wore Blazers from Men's Warehouse and Chinos from Kohls – no ties! I wanted them to be comfortable and relaxed and I think that came through. I knew everyone was spending a lot to come to Nashville – we wanted to keep the outfits as inexpensive as we could.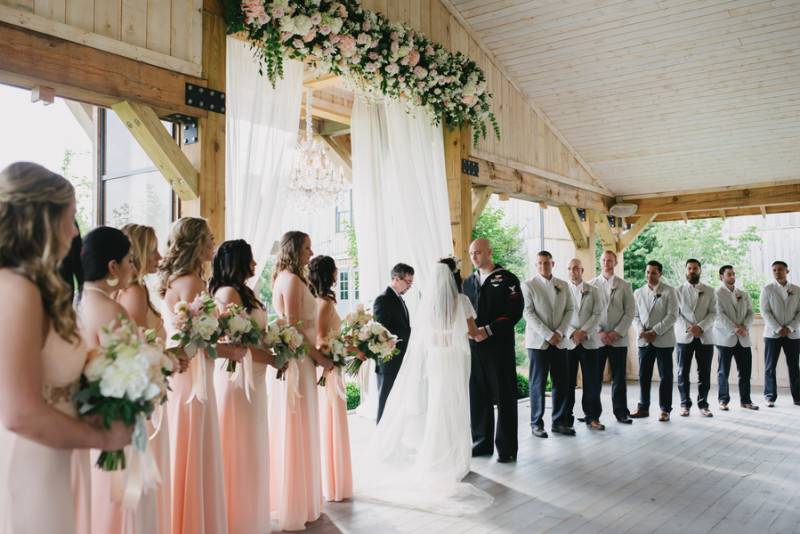 The Challenges We Faced:
As I previously mentioned, Evan was overseas for a lot of the planning. When we did get to talk, I didn't want to waste our conversations on wedding planning, so I did do the majority of the planning alone. I was lucky enough to have an incredible wedding planner who is also a military wife
The Best Advice We Received:
Let other people help you! Don't take it all on yourself. I was lucky enough to cousins and Aunts who wanted to help me any way possible. They called hotels for me, gave me advice on prices and let me know when I was in over my head.
Tips & Tricks For Future Brides:
Live in the moment on the day of the wedding. Turn your cell phone off – I was swamped with texts and Facebook messages, but thanks to my sister, I didn't have my phone once I was getting ready – so I was able to enjoy each second. As for after the wedding – keep your phone off – and REST!!! You'll be surprised how exhausted you are the day after.
The Planning Process:
We had a 17-month engagement – I knew exactly the type of wedding we wanted, and between deployments and saving enough money, I do believe it was that perfect time. We got to enjoy our time together, and we weren't rushed with planning. I got to do a lot of the planning while Evan was away.
Planning Advice For Couples:
Personally I would say talk about what is most important to you. Would you rather spend more on flowers or the photographer? Cake or desserts? I know for me that was easy – I had lost all of my childhood photos and videos in Hurricane Sandy. So spending more on a photographer and videographer was something Evan and I knew we wanted. The memories we made our wedding weekend are ones we want to look at forever! Plus it never gets old seeing Evan in his dress blues :)
Money Matters:
Being that it was a destination wedding we knew we'd have to spend a little more. Evan and I had a $15,000 budget, and I was lucky enough that my parents had a $30,000 budget to help us.
In retrospect, we saved the most money on the venue. Living in New Jersey, we looked at barn venues that would've cost us twice as much as in Tennessee. Mint Springs Farm is also an all-inclusive venue – flowers, desserts, and cake are all included in the rate.
Well planning a destination wedding we knew the biggest expense would be the burden on our guest for hotels, flights, cars, etc… So we decided to invest the most money into a 'Welcome Party'. We rented the rooftop of Bailey's Bar and Grille in Downtown Nashville – provided unlimited cocktails, a taco bar, games, and had an amazing band play through the night.
The Guest List:
Our final list was for 246 people. We knew that we wouldn't get everyone, and we ended up with 102 people at the wedding.
Luckily we didn't have to narrow it down – it being a destination wedding we knew that many of our invitees simply wouldn't be able to attend, and that would cut our list down significantly.
The Songs:
The song choices were probably my favorite part of wedding planning. I am a music junkie – I love finding new artists and sharing them with family and friends. I had my talented cousin Paul Pessutti play his guitar for my ceremony. I chose the inspiring Patti Griffin's 'Heavenly Day' for the Processional and the amazing Marc Broussard's 'Perfect to Me' as the Recessional. 'Heavenly Day' left tears in everyone's eyes – and 'Perfect to Me' started the celebration of our union perfectly!
Our Honeymoon:
Evan and I still have yet to figure that out! We feel as though the week in Nashville, TN with friends and family was a short honeymoon. However, Evan had to get back to work a few days after the wedding was over – we are hoping we can head to the Bahamas in the next six months!
Excited About:
I'm most excited for the experiences to come with Evan. We are set to be re-stationed April 2016, and I am truly looking forward to that. Although it will be a big change for me (I am close to my family who lives in NY) I know. We are also looking forward to expanding our family in the next year!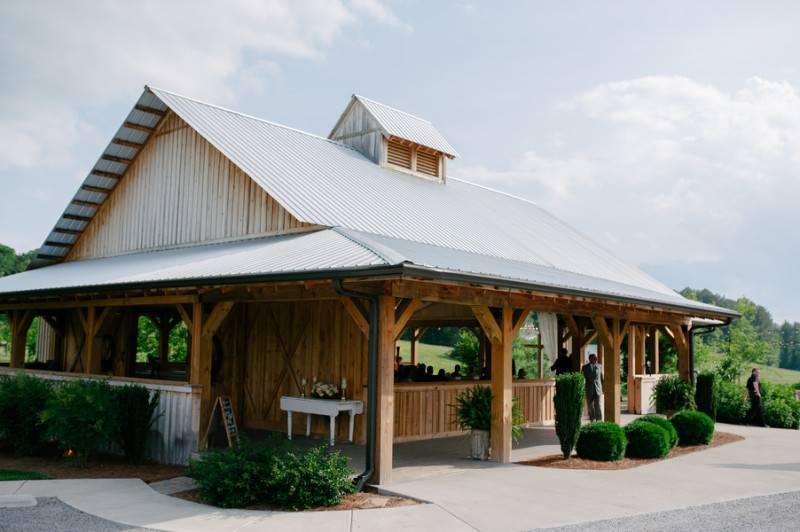 Favorite Part Of The Day:
I would have to say walking up to Evan for our First Looks. I remember having butterflies in my stomach as I was walking up to him. In my head I was wondering what he was thinking – was he nervous? Would he like my dress? When I finally tapped him on the shoulder and he turned around and smiled – it all washed away.
The Highlights From The Ceremony & Reception:
We tried to include as many family members in our ceremony as we could. My cousin Jeffrey was our officiant. My cousin Paul played the guitar and my best friend and cousin read during the ceremony. The biggest highlight for Evan and I, was looking over during the ceremony to see a picture of Aedan, Evans son from a previous relationship. It just reminded us that not only were we marrying each other, but that we were becoming a family of three.
Most Memorable Moment:
The highlight for me was watching my nieces, Easton and Kennedy, and nephew, Charlie, walk down the isle. There was months of begging and bribing (Charlie wouldn't go down the isle without cowboys boots and a bolo tie a la Woody from Toy Story) but it all paid off. The best part of the reception for me was dancing with my dad – and mom. I chose a song by musician Ernie Halter, who like my dad, has twin daughters, its titled "Daddys Little Girl". I dare anyone to listen to it and not cry! I picked Mama's Song, by Carrie Underwood to dance with mom to. In it Carrie Underwood sings to her mom not to worry, that the man she is marrying will take care of her now. My mom has always taken care of me, and selflessly given anything she could – it was the best tribute to such an amazing woman. It was the moment where I just sobbed!
In Addition:
When I planned this destination wedding in Nashville, TN, I know a lot of my family and friends though I was crazy. They weren't sure traveling during Memorial Weekend would be financially feasible and frankly thought it would be a pain in the butt. But what Evan and I wanted was to share some time in the city we loved, with the people that mean the most to us. It only took a few honky tonks, and a night at the Grand Ole Opry for them to see what we loved about Music City. In fact in the weeks since I have received phone calls and texts from my guests thanking Evan and I for the best few days of their lives. We experienced my Uncle playing guitar in a downtown honky tonk , got to celebrate a new engagement and of course finally our wedding. But possibly the best thing we did was – we made memories!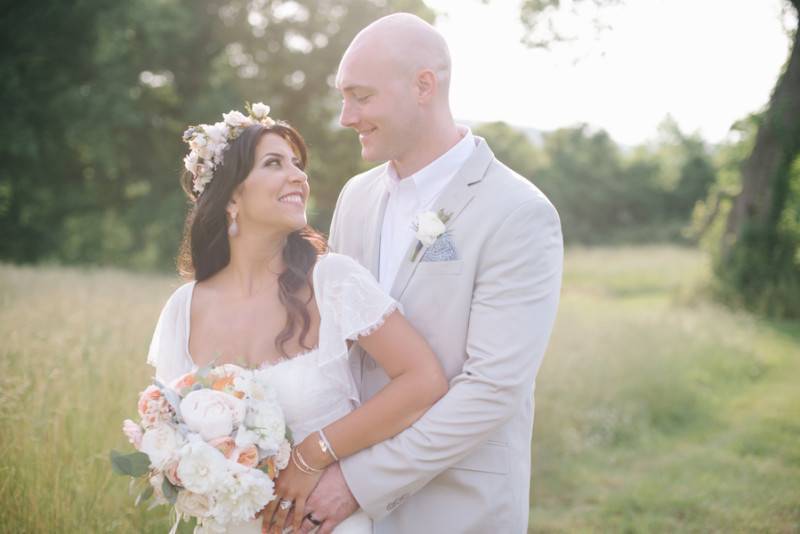 VENDORS
Photographer: Rae Marshall Weddings
Caterer: Chef Penelope's Catering
Location: Mint Springs Farm
Lighting: Snyder Entertainment