A wedding truly made for royals. Nicole and Eric's big day was glamorous as it can be. From their venue, decors, down to the outfit — all were breathtaking. Nicole was a stunner in her structured wedding dress that had a modern vintage style, and she looked regal in her red gown for the outfit change. Amidst all of the luxury and glamor would you believe that Nicole did a DIY for her wedding? Read more to know what she did to personalize a part of their big day.
Our Story:
Eric and I met in high school. We were both on the chapel worship team together (we went to a private school). He played the guitar, and I sang. We were also on the worship team together at church for the high school ministry. We started off as friends and soon became best friends. This eventually evolved into us dating (these things are just bound to happen, you know?). We dated for 4 and a half years (and went to the same college together, both majoring in music), and both agreed that we wanted to wait to get married until we were both out of college, although we both knew early on in our relationship that we wanted to get married. Throughout our relationship, a tradition evolved: every year, a couple of days after Christmas and through New Years, Eric would vacation with my family and me in Santa Cruz, CA. This had been a tradition of my family's, and he jumped in and started going. It was a great way for him to be with my family and to be around them.
We Are A Perfect Match:
We were best friends who fell in love. I think that is how great relationships start. When you are just friends, you develop a different kind of relationship. You see things from a different perspective and learn to see the person in a different light other than a romantic relationship. Our friendship grew into romance, and we knew we were perfect for each other. We had already seen each other at the best and worst times. I think that when you know, you know, and that's what makes each person perfect for each other.
The Theme:
Glamorous and formal
The Outfit Inspiration:
I wanted black dresses because I believe they are formal and elegant. I fell in love with the dresses when my girls tried them on. I knew they were the ones! I wanted a dress that complimented mine and fit the overall glamorous theme. They also hinted at the fitted gown I would change into for the reception!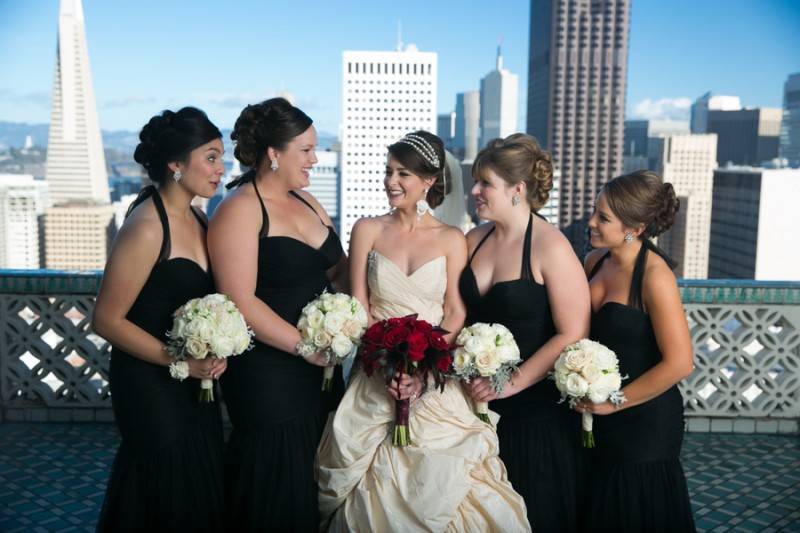 The Planning Process:
We were engaged for 11 months. I think that was a perfect amount of time. We had a glitch with our original venue four months into the planning process, which forced us to switch sites. I think that since we had enough time, we were able to work things out and switch venues in enough time.
The Best Advice We Received:
Enjoy the process! People told me that it would go by fast and I just kind of brushed it off and thought nothing of it. But it does go by fast! It may be stressful at times, but try to enjoy it!
Wedding Decor Inspiration:
I had always wanted a formal wedding. The Fairmont just fit my dream and vision. The room itself was so ornate that we didn't need many decors, but I wanted to keep it glamorous without overdoing it. I went with creams, golds, and neutral colors all around to keep the formal feel. The only pop of color I had been my red bouquet and my red reception dress. Red is my favorite color and I had to have it somewhere!
The Do-It-Yourself (DIY) Projects:
We made the programs ourselves. They were simple, one-sided on pearlescent paper. We tied different fabrics and colors of ribbon to the tops of them (red, black and gold). We also assembled the favors ourselves. They were Ghiradelli chocolates in gold boxes tied with a black ribbon and a thank you tag. Another thing my mom and I did was assemble half of the centerpieces (the florist did the low flower centerpieces). We put fresh curly willow in tall Eiffel tower vases and twisted wire crystals on the branches. They looked great in the gold room!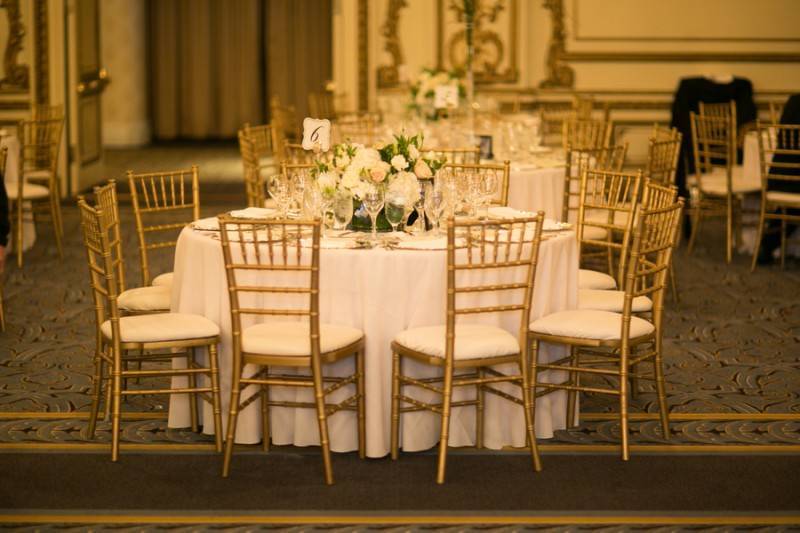 Tips & Tricks for Future Brides:
Hire a "day of coordinator", if not a wedding coordinator. It takes a lot of stress off of you the day of, emphasize that you shouldn't have on your wedding day! Leave some room in your budget for this, or if you have a friend or relative that is willing to do that for you, it's a very good idea. I didn't have to worry about a thing! Even when I asked to make sure something was done, my coordinator would tell me that it was done and not to worry about it. My wedding day was stress-free, and if there was a problem, I didn't know about it!
The Challenges We Faced:
At the venue we originally booked, something happened to where we were not able to get married there anymore. We were pretty far into the planning process at this time, but there was nothing we could do. So, we moved to the Fairmont (which was my dream venue anyway!). I was stressed initially, but I calmed down and realized that things happen, and you just have to go with it. I was a pretty laid back bride and was able to keep my cool through most of the planning. It helps to think about the fact that planning the wedding is a special time and should be enjoyable!
Money Matters:
$75,000 was the budget
We saved the most money on the flowers and decor. We brought columns we had from our house and put them at the entry of the aisle. We (my mom and I) also did half of the centerpieces ourselves. We already had tall vases, and we made curly willow trees and twisted crystals onto them. It was fun to do, and we enjoyed doing it!
The venue as a whole was our biggest expense (they included linens, place settings, tables and chairs, cake and the dance floor in our contract). Second to that, probably my ensemble!
The Guest List:
There were about 365 guests invited. 215 was our final count at the wedding.
We didn't invite kids. There are a lot of little kids in my immediate family, and a lot of our guests had children. This allowed us to invite more adults and have an enjoyable evening that was fun! Not that you can't have fun without kids, but you know what I mean!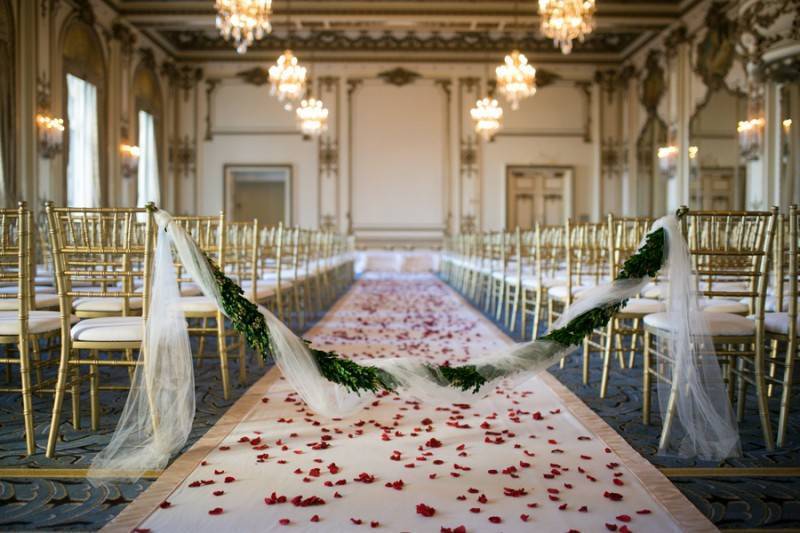 The Songs:
We had a string quartet playing various songs while the guests entered.
The seating of the parents and grandparents was "Married Life" from the movie "Up".
The bridal party song was "All I Ask of You" from "Phantom of the Opera."
Bride's entrance was "A Thousand Years by Christina Perri" (This was not the quartet that played our wedding).
The recessional was "Love Never Felt So Good" by Michael Jackson and Justin Timberlake (not played on strings; the DJ played the song as we were announced).
The Honeymoon:
We went to Cancun, Mexico! It was so nice to get away. We went to an adults-only, all-inclusive. Also, one of my dreams was fulfilled: we got to swim with the dolphins! It was amazing.
What Awaits Us:
I am most excited just to do life with Eric. It's so fun to have someone to come home to and to share everything with. We know we will always have each other, and I am so glad that we do!
Planning Advice For Couples:
Relax. It's not the end of the world if your groomsmen don't get their hair cut, if you have to switch venues or if you don't get a piece of cake on your wedding day (we didn't, so we are waiting for November 22, 2015, to come around!). Your day will turn out perfect because you are with the one you love, and that is all that matters. Of course, plan it the way you want and have always dreamed of, but don't stress out if something bad happens. Things will work out! Enjoy the process. Also, include the groom! What is the overall story for this album? Simple love. We were best friends who fell in love. Our wedding was filled with the love we have for each other, and that showed.
Favorite Part Of The Day:
Eric giving a toast at the reception. He was emotional, and it was so sweet! Also, the vows. I had no idea he was so eloquent with his words! Both his and mine are framed and hanging in our house.
The Highlights from the Ceremony & Reception:
The vows were the highlight of the ceremony. They were personalized, and we were able to express our love for each other. The highlight of the reception was probably when I revealed my change of dress and just the extreme party we had on the dance floor! There were so much energy and excitement.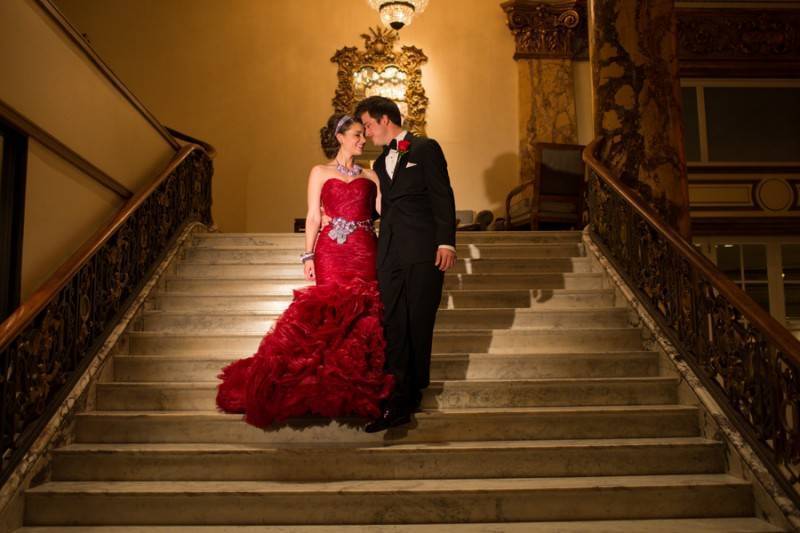 VENDORS
Photographer: Bogdan Condor Photography
Shoes: Christian Louboutin
Musicians: Golden Gate Music
Cinema and Video: Iammoment Productions
Cake Designer: inticing creations
Makeup Artist: Josephine Houlihan
Event Planner: Krishana  Thomas
Tuxedo and Mens Attire: Men's Wearhouse
Dress Store: Mira Bridal Couture
Event Planners: Nicole Taylor & Sandy Newman
DJ: Sounds in Motion
Dress Designer: St. Pucchi
Dress Store: St. Pucchi Flagship Salon
Officiant: Stuart Fisher
Ceremony, Reception Venue, and Caterer: The Fairmont San Francisco
Invitation Designer: The Paper Habit
Hair Stylist: Transformations 12:2 Salon and Spa
Floral Designer: Twigs and Stems
Bridesmaid Dresses: Wtoo – Watters
Ring Designer: Yates & Co.