Joseph and Meghan's black and white wedding just prove to us that having black as a motif is certainly elegant and classy. Together with the right elements and decors one can certainly achieve the timelessness you want in a wedding. Just like these two their wedding was a exquisite balance between romance and formal. You should learn a thing or two from Joseph and Meghan's wedding by reading the details down below. While you're at it, leave us a comment and let us know what you think. Good Luck!
Their Story:
Meghan and Joe share a love for their alma mater Penn State and baseball. On the evening of the Philadelphia Phillies' final game of the World Series in 2008, both were watching at Bill Pickles Tap Room in State College, PA. Joe had staked out his spot since the bar had opened that day while Meghan and friends entered the bar just moments before the first pitch. Our best man, Sam, who was bartending that evening, is a mutual friend. He convinced Joe that the game would be best viewed with some pretty "blondes" in his company. After hearing of Joe's credentials as an ex-Philadelphia Phillie, she quickly called "dibs" on him. Fast forward to more than four years later.
We Are A Perfect Match:
The balance. We're exponentially better as one.
The Proposal:
It was cold, she was hungry, they were late. The triple threat. There was no time to spare before joining their families for dinner at Marsha Brown's in New Hope, Pennsylvania. Christmas was just around the corner and the blustery weather that so often accompanies the wonderful holiday season had arrived. After parking just across the street from the restaurant, Meghan approached the front steps as Joe fed the meter. Joe quickly caught up with Meghan just in time to prevent her from entering the building and asked her to join him on a walk. Naturally, given the triple threat was in effect, she kindly declined.
After a significant amount of coaxing, including the clincher, "It's a German tradition to cross a bridge before a holiday meal with family", she begrudgingly agreed. After a brief walk that included some stomping, crossed arms, and several comments under the breath, they crossed the bridge and were making their way back to the restaurant. Joe added another stop to the walk to admire the Christmas tree situated in the center of New Hope. Before she could comprehend what was occurring, Meghan spun around to find Joe on one knee sharing his love and admiration and intent to spend the rest of his life with her. They joined their families for a very special and private celebration. It was unexpected, intimate, and perfect.
Our Wedding:
We selected Christ Church in Philadelphia for our ceremony. Located in the Old City neighborhood of Philadelphia, Christ Church was a historic Episcopal church founded in 1695. The current building dates back to 1744. Ceremony guests were seated in pews previously shared by the Washington, Penn, and Franklin families, among other Revolutionary figures. It was important for us to be married in a traditional church setting and immediately upon entering for our first visit and meeting with Reverend Safford, we knew this would be the place we'd share our vows. Our most memorable moment was turning to the audience and feeling all of the joy in the room celebrating our union.
Wedding Day Outfits:
The bride purchased her gown at Nicole Bridal in Jenkintown, PA. Designer, Eugenia Couture, was kind enough to design a custom gown. Opposite from Meghan's original intentions of wearing a lace gown, she and Eugenia created a one of a kind fitted silk dress with beautiful beadwork throughout the illusion top and deep open back. To keep with the classic theme, the groom and groomsmen wore black tuxedos, and the bridesmaids wore long, fitted black lace dresses.

The Planning Process:
We were engaged for 21 months. This allowed us plenty of time to plan, and we did not feel rushed. It also allowed us to book all of the vendors that we wanted.
The Bes Advice We Received:
Forget about the details. Enjoy the special time together. Enjoy every moment of it. Soak in all the love and happiness of the day. Take a step back as it is very infrequently that you'll find all of your closest friends and family together in one place.
The Wedding Décor Inspiration:
Our intent was to keep a classic look–black and white, accented with subdued gold and silver metallic. This was evident in our flowers, décor and stationery. Our florist, Donna, of Beautiful Blooms was able to capture and enhance the precise look we were aiming for. We wished to imitate florals you might find in a quaint French garden. Meghan's bouquet was a stunning arrangement of many textures–varying greens, berries, and flowers, with a floor-length cascade of greenery. The bridesmaids were similar, and the two flower girls carried flower wands. The groom and groomsmen wore coordinating boutonnieres.
The theme carried through to the reception venue. Two long tables flanked the entire length of the dance floor and had a runner of greenery and flowers from one end to the other. Tall candelabras with cascading garden flowers lined these tables. All other décor was kept simple. In the cocktail room, we framed wedding photos of our parents and grandparents. Our stationary was purchased at The Paper Unicorn in Doylestown, PA. Gold letterpress and edging were highlighted on soft, heavy paper. Envelopes were sealed with gold wax and a custom stamp, addressed in gold calligraphy, and mailed out of the oldest Post Office in Philadelphia where they were hand stamped with Ben Franklin's signature.
The Guest List:
Invited: 230 Attended: 200
Our Honeymoon:
We were off to the new Sandals Resort in Grenada just days after our wedding. We stayed in a Rondoval Suite and took advantage of every amenity offered! We saw the beautiful island during numerous excursion via boat. It was an unforgettable trip that will be tough to top!
Excited About:
Starting a family of our own!
Planning Advice for Couples:
Don't stress over the minor details! Do as much as you can in advance. Often you'll have friends and family traveling great distances for your wedding, so they'll appreciate any effort to make their visit a special one. We were fortunate enough to have guests traveling from near and far for our wedding. No matter the distance, we wanted each to enjoy the city of Brotherly Love.
On the eve of our wedding and following our Rehearsal Dinner at Amada, we reserved the top floor of Buffalo Billiards for everyone to gather, meet one another and enjoy a night of cocktails and games. Guests staying at our hotel, the Omni Independence Park, were given a welcome box at check-in, which included an itinerary and recommendations for fun activities in the city. Following the reception, we reserved Cooperage, a wine and whiskey bar for everyone to enjoy a nightcap, or two to wrap up the evening. We closed off the weekend with a brunch at the hotel.
Favorite Part of the Day:
We had zero worries the day of our wedding. Our vendors took care of absolutely every last detail. So that allowed us to relax and enjoy every minute of the day. We ate A LOT and danced all night, celebrating with our closest friends and family.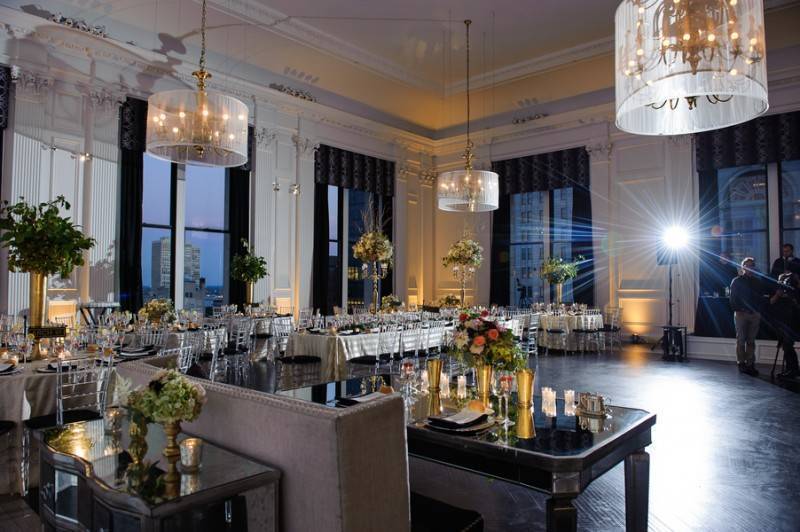 The Highlights From The Ceremony & Reception:
Ceremony:
Christ Church served as an absolutely stunning backdrop to our ceremony. The paned glass windows, candlelit chandelier, and beautiful gardens exude the historical nature of the church.
Reception:
We selected The Downtown Club, owned and operated by Cescaphe, for our reception. After visiting numerous venues, we were certain that it would be impossible to match or top Cescaphe's offering. The Downtown Club exudes class by maintaining original elements of the historical location, such as the marble floors, with beautiful renovations still fitting to the Industrial Revolution era. However, what sold us was the cityscapes. We wanted a timeless look in the center of historical Philadelphia and this venue fit the bill. One of the primary reasons that we selected Cescaphe is their top-notch reputation for fabulous food and extravagant selections.

The list of menu items was endless. Guests were greeted at the entrance of The Downtown Club with champagne and later offered the couple's signature drink, a fresh combination of Meghan's favorite Prosecco, Joe's favorite bourbon , and a secret combination of other ingredients to include freshly pureed strawberries. The appetizers included but were by no means limited to a chilled seafood station with crab, oysters and clams, a hot station with pasta, meatballs, and mussels, and a wide range of antipasti, fruits, vegetables, cheeses, meats and specialty items. Over 30 hot hors d'oeuvres, including mini-Philly cheese steaks, kobe beef sliders, and salmon and asparagus en croute were buttlered. If guests saved room after cocktail hour, they were able to select from Filet Mignon, Chilean Sea Bass, or a Rack of Lamb for an entree.

The desserts were as over-the-top as the earlier food selections. The cakes, brownies, tarts and other sweet delicacies were endless. Guests were able to enjoy made-to-order crepes prepared for each individual. The custom wedding cake featured swiss dots on alternating layers and a beautiful monogram. At the end of the evening guests were offered a combination of mini french fries and milkshakes. The two most important elements of the reception were food and music. Entertainment throughout the night was provided by Synergetic Sounds. We had steep expectations for our DJ, Matt, and he exceeded those tenfold. He managed to keep everyone, young and old, on the dance floor for the entirety of the night.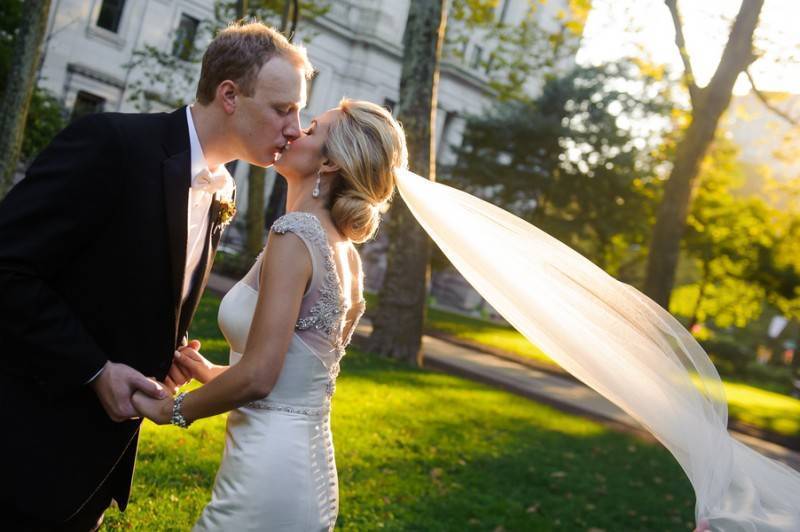 VENDORS
Photographer: Rebecca Barger Photography
Hair Stylist: Amanda D'Andrea Hair
Shoes: Badgley Mischka
Floral Designer: Beautiful Blooms Events
Makeup Artist: Beke Beau
Ceremony Location: Christ Church
Dress Designer: Eugenia Couture
Tuxedo and Mens Attire: Joseph A Banks
Calligrapher: Linda Carol Arts
Bridesmaid Dreses: Morilee
Dress Store: Nicole Bridal & Formal Shoppe
DJ: Synergetic Sounds
Reception Venue and Caterer: The Downtown Club
Invitation Designer: The Paper Unicorn
Cinema and Video: Well Spun Weddings