We may be used to the phrase  statement "Opposites attract", but it is true we are all wired that way. Just like how Liza, who grew up in the city, fell in love with Luke, a country boy. It's the differences that are the most intriguing in a person. And just like them their theme Rustic Glam, two opposite styles combined, made for a beautiful outcome. Such a lovely metaphor for their love, don't you think?
Our Story:
It was the luck of the Irish. We met on St. Patrick's Day, at a famous blues bar in Atlanta. I was out with friends distracting myself from a recently ended long-term relationship, and Luke was out with new friends–he had just moved to Atlanta. On a dare, I walked up to Luke on the way to the restroom yelled "You're hot!" and kept walking. I made my way back to the bar with friends and Luke came up and introduced himself. I gave him my number with no intention of seeing him again. After some persistence from Luke — I agreed to meet for a drink a couple weeks later. We met and talked for hours. The connection was undeniable. The rest is history. Three years later and with the addition of a beautiful daughter — we finally decided to make it official.
We Are A Perfect Match:
We just get one another; it is like we have known each other our whole lives. We always respect one another, and our personalities complement each other. Luke's strengths are Liza's weaknesses, and Liza's strengths are Luke's weaknesses.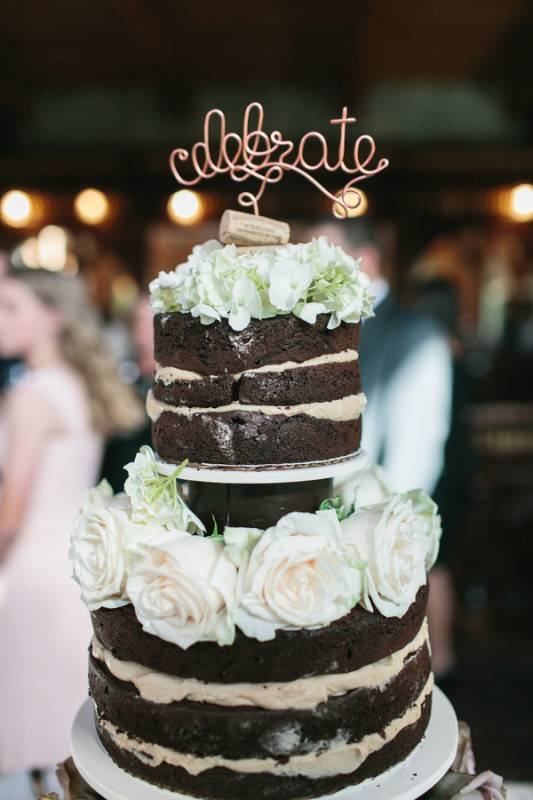 The Proposal:
I had a favorite spot at Callaway Garden's Resort from a summer internship that I always told Luke about. It is a secret garden on the lake. I had decided to take him to Callaway Gardens for the day and when we got to the "special spot" he got down on one knee and asked me to marry him.
The Planning Process:
I started planning one year out. I think it was the perfect amount of time to plan.
The Theme:
The theme was rustic glam!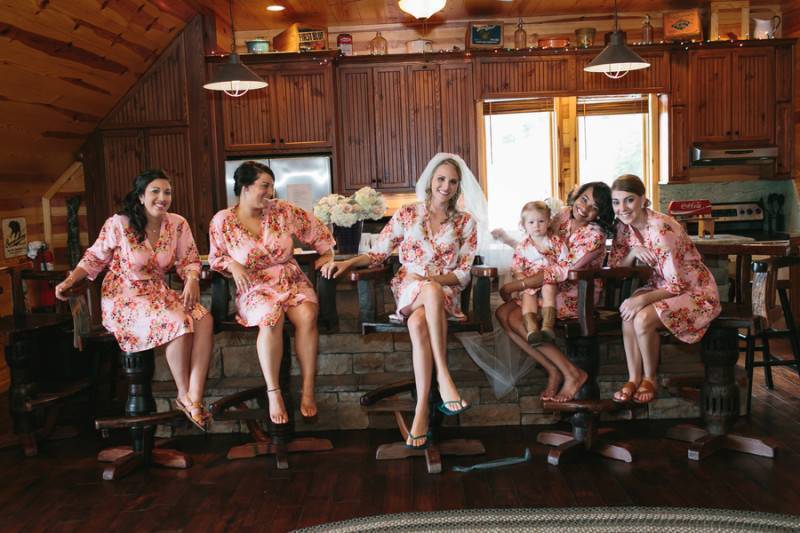 Best Advice We Received:
Someone told me to "just have fun with it" and that stuck with me. I tried to make sure that I enjoyed all of the processes to the fullest. This is your one chance to have a day that is truly all about you so make sure to enjoy and not let the stress get in the way.
Tips & Tricks For Future Brides:
For DIY brides, there are so much that you can do to cut costs. Visit a local wholesale flower and find an independent designer to work with you on floral and decor. The people at small paper stores can help with designing a custom invitation at a much lower cost. Doing things like this adds character to your events and cuts costs.
Wedding Outfit Inspiration:
Rustic glam and classic. Nothing too over the top, but definitely memorable.
Wedding Décor Inspiration:
Our wedding decor was what I like to call "Rustic Glam." I love the clash of outdoorsy antique things with more elegant modern things. It is also a good representation of Luke and I. I am from the city and he's from the country. Sometimes things collide that are opposite, and they just work.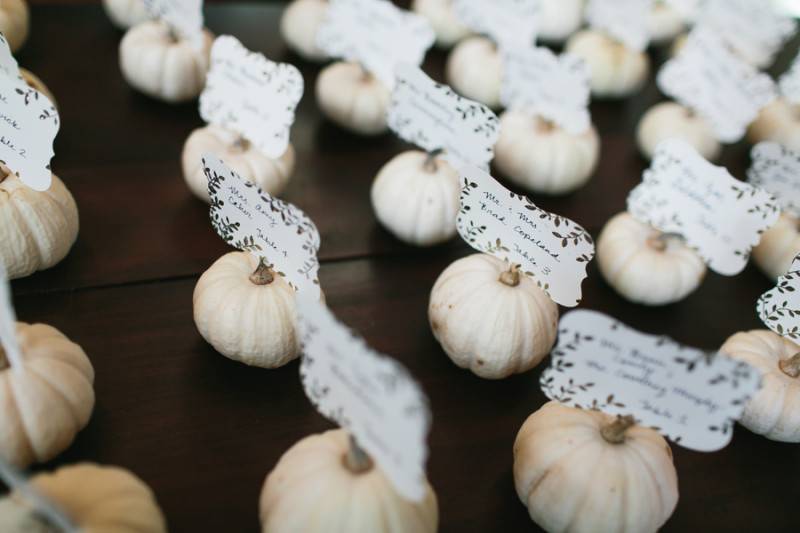 Money Matters:
The budget was $32000 including EVERYTHING. I saved the most money by doing a lot of things myself. The biggest expense was the rental of the venue and the food.
The Guest List:
We invited 120 people and ended up with 90 people. We wanted to invite only close family and friends.
The Songs:
Planning Advice For Couples:
Enjoy every second and don't sweat the small stuff. At the end of it all, and regardless of the little details of the day, you will still be married. And that is the most important thing. Remember what the day is all about–a celebration of your love!
The Challenges We Faced:
We had a semi-destination wedding and a lot of out of town guests. It was difficult to coordinate a lot of the details with travel plans and timing of everything for the weekend. I made a lot of lists and detailed schedules.
Favorite Part Of The Day:
The best part of the day was after we came back down the aisle as man and wife and had our first moment of alone time. It was an amazing feeling!
The Do-It-Yourself (DIY) Projects:
I designed the table decor–found lanterns and votives at Michaels, wired on table numbers made of address numbers (from Home Depot), and went through pictures on Pinterest for floral ideas. I made the favors for the table. Jars of trail mix with notes tied on that said "Made With Love". I made signs for gifts, guestbook, favors, etc. from pumpkins. I cut a slit in the stem of the pumpkins and made signs with stamps and embossed them to stick in the slit.
The Highlights From The Ceremony & Reception:
We wrote our own vows which was very special to us. Our officiant also wrote a poem of our love story to read to everyone which was funny and entertaining to everyone. Dancing the night away was awesome! And our German drinking cup tradition was so much fun.
What Awaits Us:
I am excited to continue to watch our family grow and to continue on this journey through life with my best friend by my side.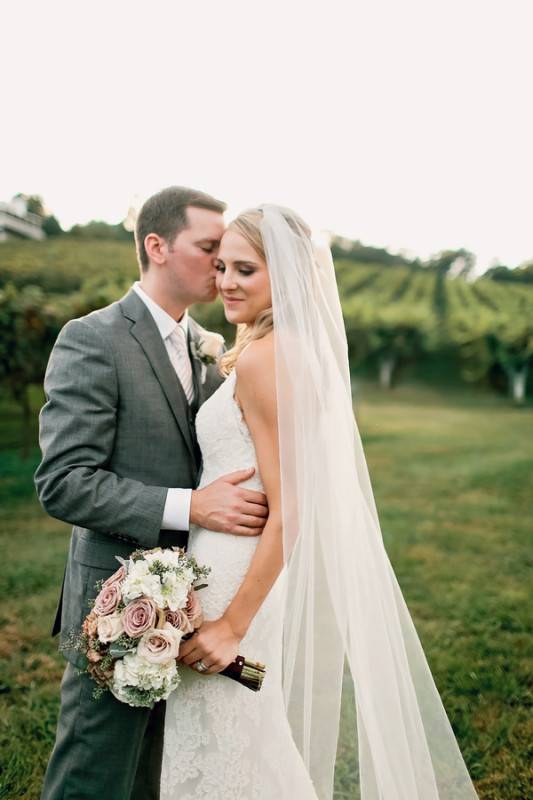 VENDORS
Photographer: Barbara B Covington Photography
Bridesmaid Dresses: Atlanta Bella Bridesmaids
Shoes: Badgley Mischka
Bridesmaid Dresses: Ceremony by Joanna August
Veils and headpieces: Enchanted Atelier
Caterer: Frogtown Cellars
Cake Designer: Frosted Pumpkin Gourmet Inc.
Cake Designer: Frosted Pumpkin Gourmet, Inc.
Dress Designer: Justina McCaffrey
Tuxedo and Mens Attire: Men's Wearhouse and Tux
DJ: EuroAndy Events Entertainment Service
Makeup Artist: Formal Faces
Dress Store: Le Raine's Bridal Boutique
Event Venue: Frogtown Cellars LLLP