The 50's era is a perfect fit for this venue — complete with all the classic and timeless interior. With that, they were able to showcase the talent of the vendors that were also behind this creation. This styled shoot is for those brides who are keen with the sophistication of the 50's and are interested in a vintage wedding. Read more to know how to get that vintage vibe with impeccable class and elegance.
The Theme:
We wanted to not only showcase the talent of our spectacular vendors but to let the emotion shine through this 50's era inspired shoot. I appreciate the perfect poses professional models brought to a shoot as much as any photographer but did not want to miss out on the real story of every wedding …. Love. Our models are dating each other, and it's pretty obvious they are both smitten with each other. Every time Amy and Arturo looked at each other they started to glow. Snowbasin Resort is simply gorgeous. Nestled in the mountains of Huntsville, Utah there is more than just skiing to be found here. Perfect for a summer wedding, the outdoor locations are breathtaking, and the lodges are elegant while still complimenting their wild surroundings.
Our couple started with a ride in a tricked out gondola car to the Needles Lodge. Complete with leather seats, sound system, tinted windows and a mini bar. Snowbasin knows how to treat the man and woman of the hour. We showcased the amazing patio view at the Needles Lodge for the ceremony. Imagine attending a wedding ceremony that overlooks mountain tops from your seat on the open-air patio. After the ceremony, the lodge is set up for a seated meal and yes, you are still on top of the world with views to die for. After freshening up in Snowbasin's award winning restrooms, we rode the gondola down to Earl's Lodge for some socializing and danced under the red Murano crystal chandelier. The "Grace" dress is convertible and gives multiple looks for the bride to choose from. The suit is a summerweight gray wool custom suit.
The Challenges We Faced:
Finding the perfect models with chemistry was the hardest part. You can't fake chemistry. The easy part was shooting. A setting like this is a photographer's dream.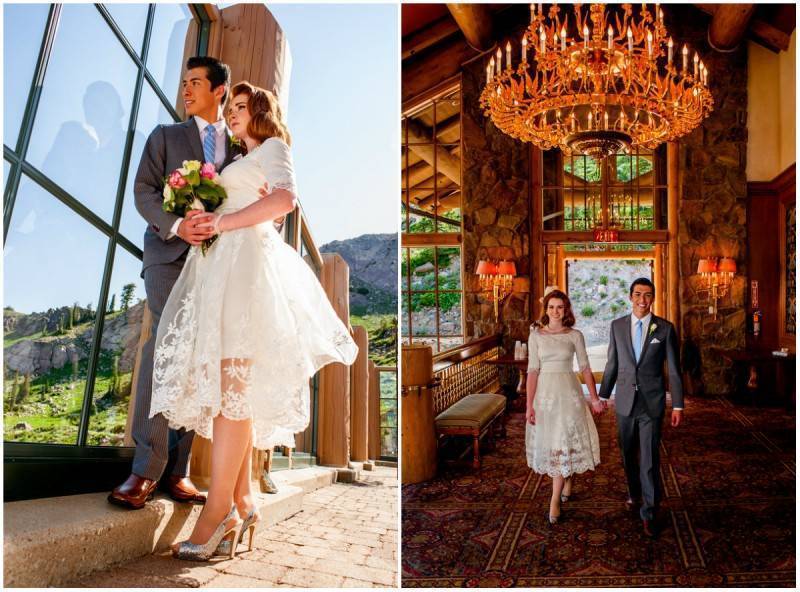 The Details:
All details were custom made and tailored for our shoot.
Ideal For Couples That Are:
Polished, adventurous, playful.
In Addition:
I wouldn't push a vintage style on anybody, you either like it, or you don't. I would push a wedding in the mountains. The mountains are magical and set such a great mood for your event.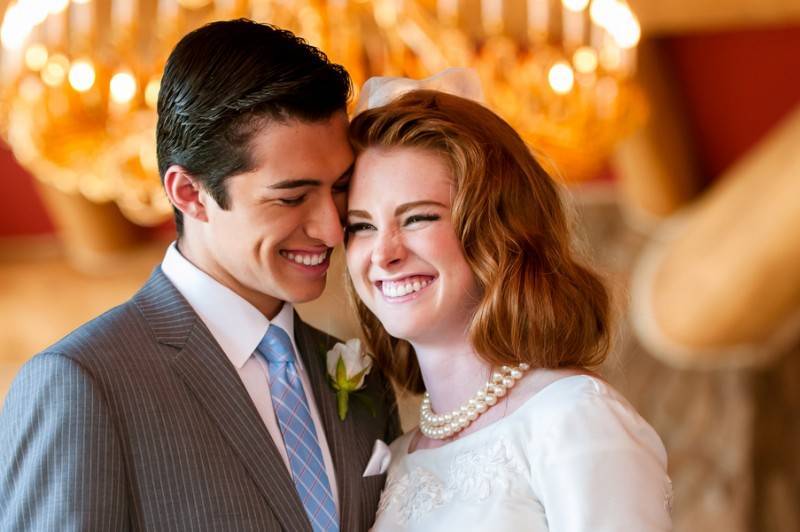 VENDORS
Photographer: Smyer Image
Dress Designer: Betsy Couture
Floral Designer: Crowning Edge
Bakery: Curtis-C-Cakes
Groomsman Attire: Haberdasher
Makeup Artist: Red Scarlett Makeup Artistry
Event Venue: Snowbasin Resort