With blush as their color choice, Jennifer and Alex's wedding gave off that extra romantic vibe. They were subtly elegant and chic in their ensembles. They also thought that candlelit tables would also bring out more of the romance! Experience the beauty of their wedding through the words of Jennifer herself. Kudos to their photographer, Brittany Kushner, for capturing the details of this sweet wedding. Congratulations Jennifer and Alex!
The overall story that our photos provide, is a story of love, family, and faith. The photos of our wedding day show so much happiness between Alex and I, and how much time and effort we put into planning our wedding day. We wanted to capture all the details! Jenn Wagner, our photographer, really went above and beyond to catch the small details, along with all the big moments of the day. The story of this album really is the story of an absolutely perfect day!
The Theme:
There wasn't a particular theme for our wedding. We concentrated on our color scheme, the use of candles and making sure we had greenery incorporated into the decor and flowers. I highly recommend the use of many candles for decor. Nothing is more romantic than the look of tons of candles everywhere, and it helps the overall budget! We both wanted up-lighting added to the ballroom and Chiavari chairs. If planned correctly, the Chiavari chairs and up-lighting can be added to the decor of the room, and it gives the room a classy and elegant vibe.
The Do-It-Yourself (DIY) Projects:
For our wedding, the only "DIY" project we had been our cigar bar. I don't know if that is even considered a DIY project, but we provided all the cigars, and found these cute little white and black gentlemen tuxedo BIC lighters to hand out, which were hard to find! Although my dad thought I was crazy, I didn't want yellow, orange and red lighters handed out to guests; those colors would not have matched well! I provided some wooden cigar boxes for the display, but our venue set the cigar bar up with everything we needed and made it look exquisite! Also, our mother Cindy brought us the cutest M&M's with our colors and wedding date on them to put at each table setting. I wish I could take credit for making the seating chart, but my florist went above and beyond in creating that for us. We both had the idea, and she put all the effort in to make it look one of a kind and gorgeous!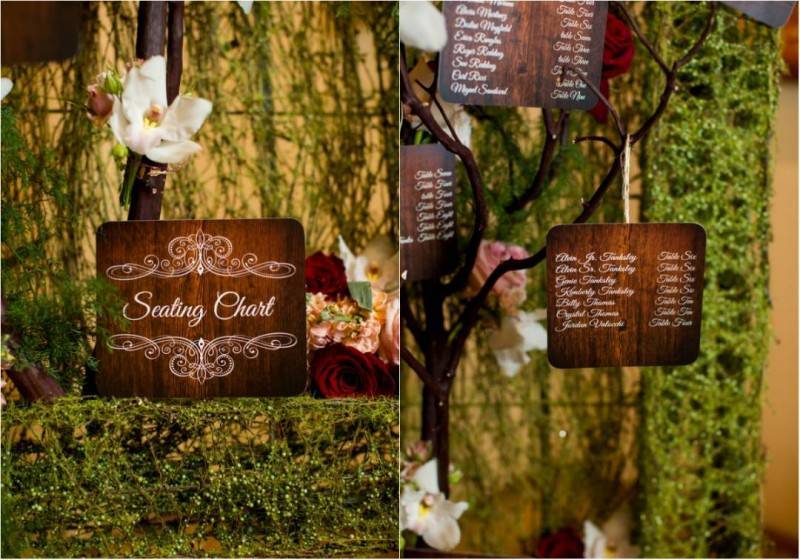 The Outfit Inspiration:
The inspiration behind our wedding day outfits started with Alex and I wanting to be subtle, but also unique and elegant. Finding my perfect wedding dress was the part of the wedding planning process that I was most excited and nervous about. Growing up, I never had that "perfect" dress in my head and I never really knew what I would want when the time would come for me to find my wedding gown finally. That is until I started planning my wedding and I stumbled upon some Berta Bridal gowns and fell in love with the lace long sleeve dresses. That was my inspiration; I wanted a delicate lace sleeve and a somewhat long train, lace mermaid type fit. Then I saw Kim Kardashian's Givenchy gown, and I fell in love again, with a dress that was still unattainable. I finally noticed an Allure gown while browsing through a few amazing blogs, and I couldn't wait to find it and try it on.
It was love at first sight, for the second time in my life! It is hard to find the perfect lace, long sleeved style dress. It was a huge relief when I finally found what I was looking for! For Alex, he wanted a tux that stood out from the rest of the groomsmen. Alex wanted to be unique, and he chose a gray tux with a black lapel, which still matched perfectly with the groomsmen who wore black tuxes. For the bridesmaids, light pink was a perfect choice. It can be a standard color in a lot of weddings, but it always seems to tie in with wedding colors very well, and it isn't too bold. Sometimes bridesmaid dresses can have a lot going on, color wise, and we didn't want that. Light pink is a classic color that looks elegant and subtle at the same time. It helped give the feel of a traditional wedding look and tied in with our other colors very well. Our bridesmaids looked gorgeous and classy! We wanted our groomsmen to look sleek, and classic and their black tuxes were a perfect choice.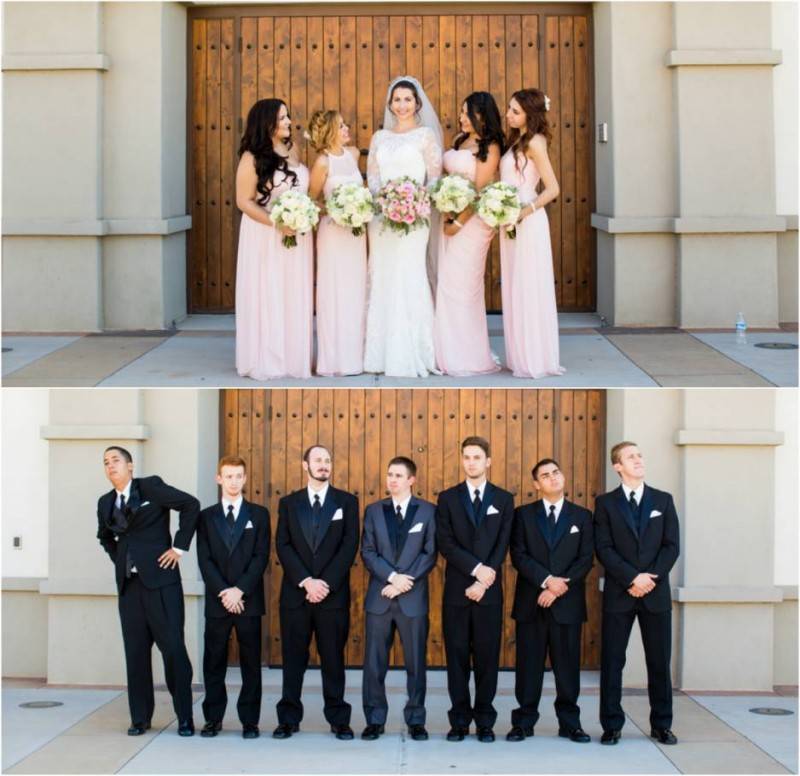 Favorite Part of the Day:
Our favorite part of the day was saying "I Do" and reciting our wedding vows! However, our first look was also just an amazing component of the day for the both of us. We were both so excited and nervous as the morning passed by, that seeing each other before the ceremony put what nerves we had at ease. We will never forget the moment we saw each other for the first time. I walked out of the church and tapped on Alex's back, and he turned around to see me in my dress, we both immediately smiled and felt like we were right where we were supposed to be. All the last minute jitters and nerves quickly faded away! That was our favorite moment.
The Highlights from the Ceremony & Reception:
The highlight of the ceremony was saying our wedding vows! We loved saying "I do" and making it official!!! Also, as we walked down the aisle as man and wife, it was so nice to see all of our family and friends smiling, and clapping for us. There were several highlights from the reception, one of which being the cake cutting. Alex was dared by my Godfathers daughter to get cake all over my face, in which he succeeded. My sister-in-law did my makeup for the big day; she rushed by my side to help fix the mess! It was hilarious.
The speeches were also such a great highlight to our night. My dad gave an amazing speech, as did Alex's dad. Both made us tear up… and then our bridal party. The best man gave one of the best speeches we have ever heard. Both the best man and maid of honor gave great speeches, they both had the guests laughing and crying with us. Our DJ did a fantastic job entertaining our guests and keeping everyone engaged. The up-lighting our DJ provided for us just added to the beautiful decor in the ballroom as well. Then, of course, the cigar bar was a hit. I loved seeing the pictures of all the guys, and even some of the ladies enjoying themselves outside with a cigar and glass of whiskey in hand.
Most Memorable Moment:
The most significant part of our ceremony was reciting our vows in front of our family and friends. Having a Catholic mass was imperative for Alex and me, and we loved the readings we chose, as well as the music that our church provided. After our ceremony, we had classic Rolls-Royce takes us to our reception. We loved it because we had those few moments alone together, and we were riding in style! For the reception, one of the most memorable parts for Alex and I were the dances with our parents. The day went by so quickly, Alex and I loved our father/daughter and mother/son dances because we were able to share those few moments with our parents. It made our night that much more special for us. Alex also went up to the bar to have a celebratory glass of whiskey with his dad, Alex Sr. We love our parents, and we were glad that we were able to spend those moments with them on our special day.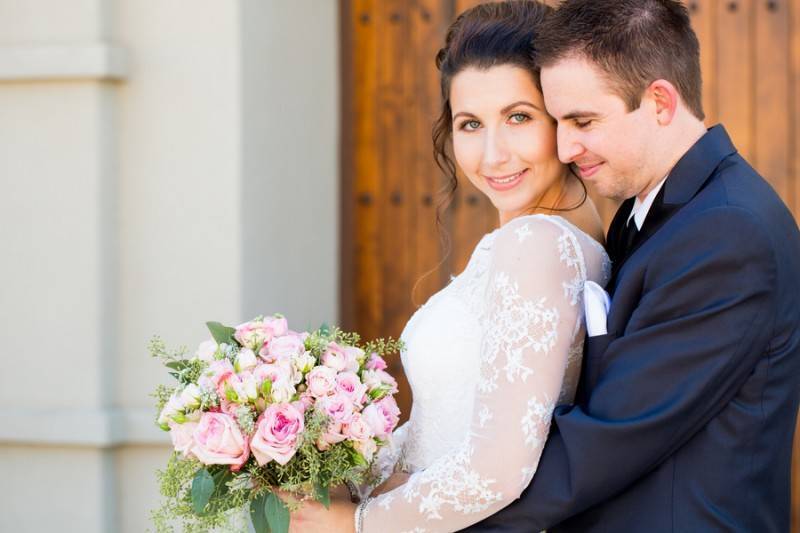 VENDORS
Photographer: Jennifer Wagner
Dress Store: Allure Bridals
Dress Store: Lillian Lottie Couture
Reception Venue: Pebble Creek Country Club
DJ: Push Play Entertainment
Dress Store: Sukie's Bridal
Event Designer: Thee wedding warehouse
Veils and headpieces: Urban Veils Couture