Hi, pretties! We're bringing to you today a styled wedding inspired by blue and gold hues. If you are planning for a spring or an early summer event, this color scheme is perfect! Fall in love with this shoot by Jeannine Marie Photography!
The Venue
The Hyatt Regency Bloomington offers one of the best avenues. Detailed to every nook and cranny, this hotel is styled to give you the finest scene for your dream wedding.
The Decors
The gold and blue color palette is beautifully incorporated to every detail of the wedding decorations. The sky blue table cloth with the gold skimmed show plate frames the porcelain plate and the blue table napkin. Even the inscribed menu on top adds glitz to the arrangement. Everything that the linen designer associated with this table arrangement matches the warm and cool color scheme perfectly!
The Wardrobe
The black tuxedo and ruffled floral white 2-way wedding dress matched seamlessly! The balance of sophistication and elegance simply added personality to this already intimate and romantic event.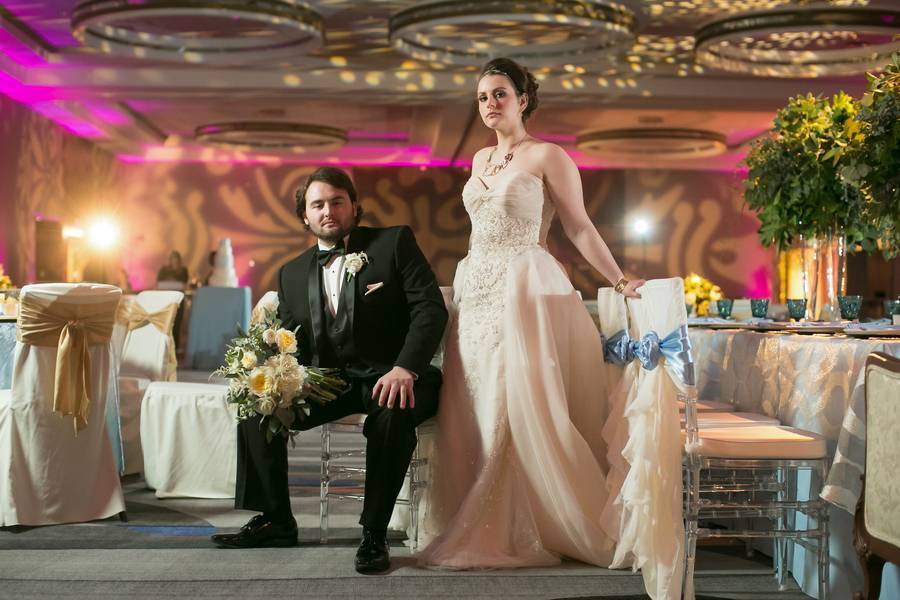 The Bouquet
What better way to add style to that already perfect dress than a complimentary bouquet. Bel Fiore really made a wonderful arrangement with these white rose sprays and quinces arranged with green foliage. Simple, elegant and yours!
Vendors
Photographer:  Jeannine Marie Photography
Jewelry: Style by Cia Chloe Isabel
Floral Designer: Bel Fiore
Event Venue: Hyatt Regency Bloomington
Lighting: Ignite Lighting & Entertainment
Hair Stylist: Jen Santoro Rotty Makeup + Hair
Bakery: Miss Sara's Cakery
Specialty Foods: Nikkolette's Macarons
Dress Store: Our Shop
Equipment Rentals: Rudy's Event Rentals
Invitation Designer:T. Aletta
Others: Teeny Bee Boutique
Linen and Coverings: We've Got It Covered