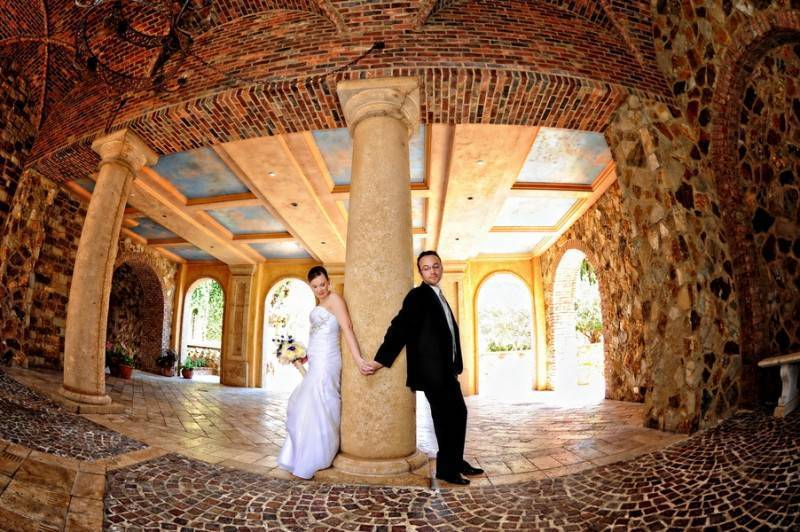 Prior to reading Staci & Brett's account of their special day, looking at their photos constantly reminded me of the words "magical" and "fantastical". There was something so charming about their pictures but I cannot lay my finger as to why. I figured it must be the backdrop since old rock textured structures and blue skies reminds me of fairytale castles but then I read a tidbit of our couple's love story and how Staci got the idea of choosing a Disney Princess inspired wedding gown and I knew that even if the magical description of the event wasn't planned, it surely wasn't done in complete ignorance. Our couple met in one of the world's magical place, Disneyland! I hope you can see what I meant, and even though I know every wedding day is supposed to be magical but this one very much nailed that description.
Congratulations Staci & Brett!



What inspired the wedding day outfits?
We first met while working at Walt Disney World so that played a part in the choosing of the wedding gown. We didn't want a Disney wedding but I wanted to pay homage to the start of our story together. I knew of the Alfred Angelo Disney Wedding Collection and started there. I fell in love with one of their Sleeping Beauty style dresses and thought it was the perfect hint of Disney to add to the wedding. For Brett we wanted something classic and clean and the Vera Wang tuxedo was the perfect mix of comfortable and good-looking.
What was your favorite part of the day?
The first look was probably the most exciting part of the day for both of us. Also while a lot of time was devoted to our pictures it was an amazing opportunity for us to get time together before the ceremony and the reception started.
Was there any Do it Yourself (DIY) projects? If so, can you describe them in detail?
We decided to incorporate hand fasting into our ceremony so we took the time to find the right color and texture of the 4 different colored cords we wanted to use. We also had to take the time to practice how we would wrap the cords around our hands before the ceremony
What were the highlights from the ceremony & reception?
Highlights from the ceremony were the small nontraditional elements we added such as the hand fasting, passing of coins and the breaking of the glass. Highlights from the reception included all the fun dancing and the serenading of the bride by her husband and his fraternity brothers
Was there a theme for the ceremony and reception?
There was not a specific theme but we wanted the overall feel to convey a sense of family while being relaxed with elegant touches.
Wedding Videos
Staci + Brett's at Bella Collina Florida from Alucinarte Films Weddings on Vimeo.
Vendors
Photographer:  Regina Hyman Photography|
Linens and Coverings: BBJ Linen
Musicians: Beautiful Music & Paint It Black Quartet
Event Planner: Down The Aisle Weddings & Events
Lighting:Get Lit Lighting
Cake Designer: It's Tasty Too!
Floral Designer:Lee Forest Designs