Let us altogether raise our champagne glasses for Lorena and Cisco's wedding day in the beautiful Spanish Costa Brava. With the already breathtaking ocean view and relaxing atmosphere, minimalist decorations were essential. Spring flowers on rustic tables, sitting board wine boxes, and candles with olive leaves and white flowers were all over, screaming some Mediterranean vibe. My thumbs up on this one! Felicidades, Señor y la Señorita!
Our Story
Cisco and I met each other in a dinner party on San Juan's night. (summer solstice and a important festive in Cataluña). I had left Lima to do my masters in Barcelona and was enjoying everything about it. The week end of San Juan, some friends and I decided to go to Llafranc, at the Costa Brava and we were invited to a dinner party at Cisco's best friends house.
He says It was love at first sight for me and that the moment I saw him dancing I knew he was the one! Hahaha! But the real story is we just laugh so much that night, we knew there was something special about us, we just needed time to discover all the magic. We dated for 4 years before getting married at the Costa Brava and on the same weekend we met.
We Are A Perfect Match
Cisco and I come from different countries and kind of different cultures. This was an obstacle sometimes so we learned to respect each other's forms and embrace our differences.
We grew together as a couple and didn't let anyone or anything come between us. We are best friends, lovers and partners in crime, there is not a single day Im not laughing my head off, we just enjoy our time together. But what really brought us together was good food and wine! Cisco is a wine lover and a good eater and im a food lover and good drinker. Its the perfect combination! We enjoy live around the table.
The Proposal
He propose on a friday night in November. That day we were having lunch at home like we always do and he told me to choose a restaurant to have dinner that night. I knew imediatly that he was planning something beacuse normally this is a topic of discussion. That afternoon I paint my nails, choose a nice outfit and even put on some makeup, that I normally don't.
When he arrived home, he had a quick shower and put on the same clothes that he worn all day and told me to choose a restaurant nearby that he wanted to go to bed early that night! I was so disappointed, I tought, tonight is not THE night.
When we were on our way to dinner and he told me he had to pick up a painting from a cabin that is on a piece of land where we are building our future home. I was so upset because now we were late for our reservation and I don't like being late. It was dark and cold, I didn't want to get out of the car and even less going in the cabin with no lights on, but he was very persuasive. He had locked all the doors and windows, so I couldn't see inside, when he opened the door I was so in shocked I start laughing and couldn't stop. He had turn on the fire in the chimney, put some candles, prepared my favorite apettizers and of course a very nice bottle of champagne! After very beautiful words he popped the question.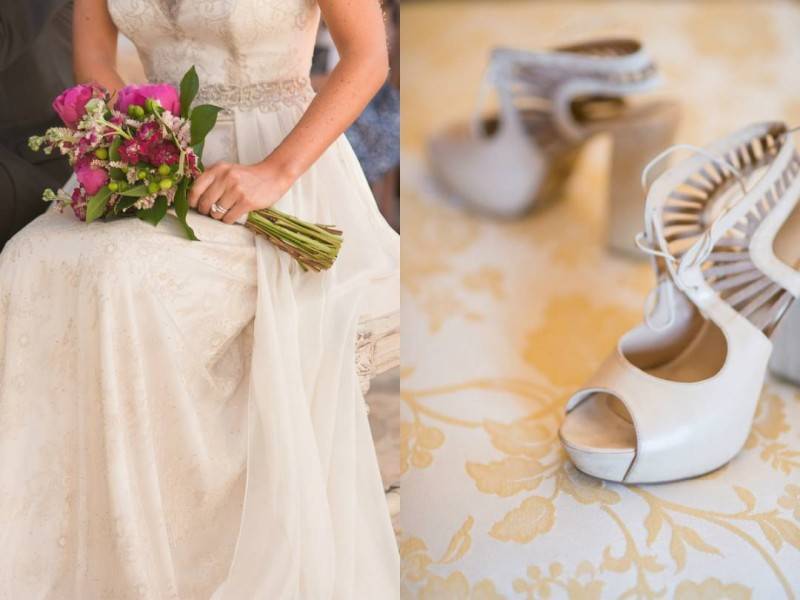 The Planning Process
We had to get married before september because of Cisco's job, and we decided to have 2 weddings one in Lima and the other one at Costa Brava. June was chosen for all the celebrations. We only had 6 months to plan 2 weddings but I think we did a good job, everything was as planned. The trick is to organize and not stress.
The Best Advice We Received
The best tip I received was not to fight about budgets and enjoy every moment. We decided that preparing for our big day should be a joyful experience and it was. There's a lot of stressful moments, but as everything in life, is just a moment, don't make a big deal of small problems.
Tips & Tricks For Future Brides
I will advice every bride to enjoy everything about preparing that day, listen to other people's advice and don't try to do everything by yourselves, no one is super-bride!
The best way I found of organizing my wedding was to make an excel with all subjects and details about everything. I put on timings, pictures, phone numbers, etc that way I had everything I needed in one file. Start with the most important subjects: Venue, catering, flowers, photos, video, music. Once you have them all, start to think about details and every day tried to finish one. It's important to start closing subjects to feel you're going forward.
Something I didn't do and I regret was thinking about the important stuff I wanted to do on my wedding day, I decided to go with the flow but then I forgot to take pictures with my friends and cousins, or enjoying the coctail before the party, or interact more with people that came from far away.
The Challenges We Faced
The only advice I could give other brides about facing challenges is not to stress, at the end everything goes perfect.
On my wedding day the DJ was stuck on an accident on the highway. I could enter the ceremony with no music and there was nothing we could do, so we relaxed, had a glass of champagne. At the end, it was great to have some moment to relax before all of the excitement.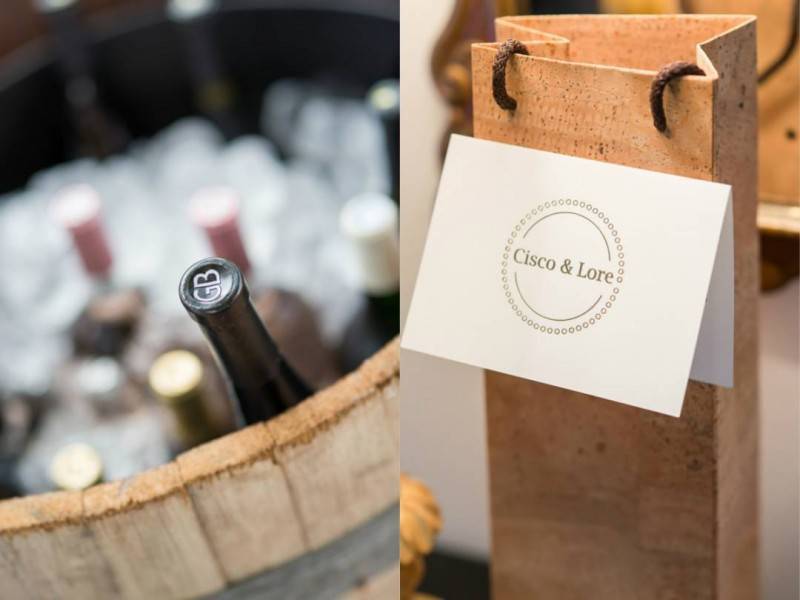 The Theme
There was no theme for the ceremony or reception but I wanted to do something fun for the party, so I bought Peruvian theme party accesories, like hats, skirts, crowns, it was great seeing everyone dressed up as the Incas!
Wedding Decor Inspiration
We decided that we didn't want to decor to much, because the venue was amazing, so we wanted it to talk by itself. We had some spring flowers on rustic tables for the aperitive, and wine boxes for the sitting board. For dinner tables we choose a candle centre piece surrounded by olive leaves and white flowers, very mediterranean. What make it special was that every person who make our wedding happened were friends.
Wedding Outfit Inspiration
My wedding dress was inspired by the venue. The designer was a very close friend of mine, Yahel Waisman, so she knew me very well and had been with me to the Costa Brava that special weekend when I met Cisco.
Our Do-It-Yourself (DIY) Projects
We wanted to make the name tag of the tables with cork taps, so we printed our wedding logo and write each name on them. I also made souvenirs bags which were filled with bottles of olive oil and local chocolates, these were left on the hotel rooms for the guests.
The Guest List
We invited 280 guests, at the end we were 248. For us it was too big, I would have prefered a smaller intimate wedding.
The Songs
We enter the ceremony with A Thousand Years of Jasmine Thompson.
The entrance for the dinner was Espacio Cideral of Jesse and Joy.
And our bride and groom dance was The Way You Look Tonight by Frank Sinatra.
The Honeymoon
We went 10 day to Japan, where we visit Tokyo, Kyoto and Osaka. Then we went 4 day in a Catamaran just the two of us, to French Polynesia, we visited Raiatea, Tahaa and Huahine and finish our trip with 5 days in Bora Bora at the St. Regis Hotel.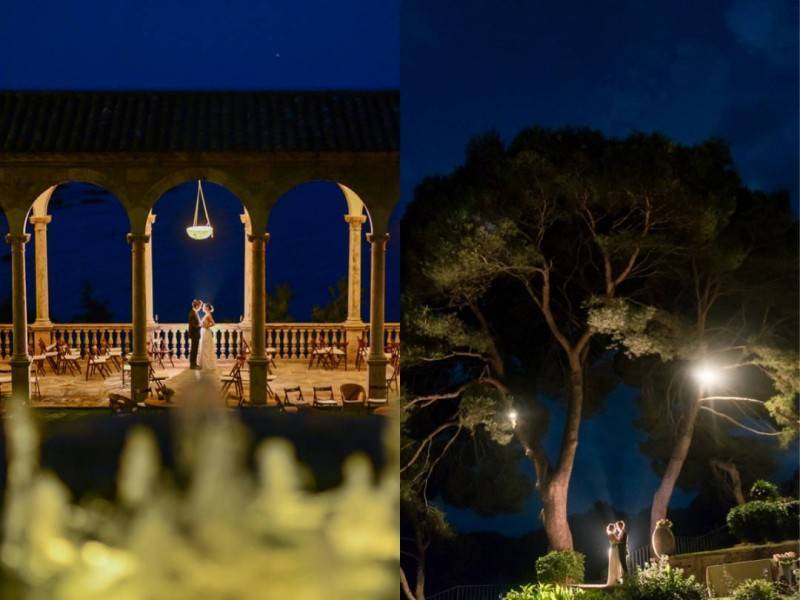 The Next Step
I'm excited to continue to grow as a couple as we have been doing this past 4 years. If we are so happy now imagine what could life bring ahead.
Planning Advice For Couples
Trust and respect each other, talk about everything, laugh like there's no tomorrow and enjoy food and wine together.
Highlights from the Ceremony and the Reception
The highlights from the ceremony was Cisco's speach, he made us all cry, specially me.
Favorite Part of the Day
My favorite part of the day was when we did the pictures. We have so much fun with Maik and was a pause from all the crazyness of that day. We felt like were just the two of us.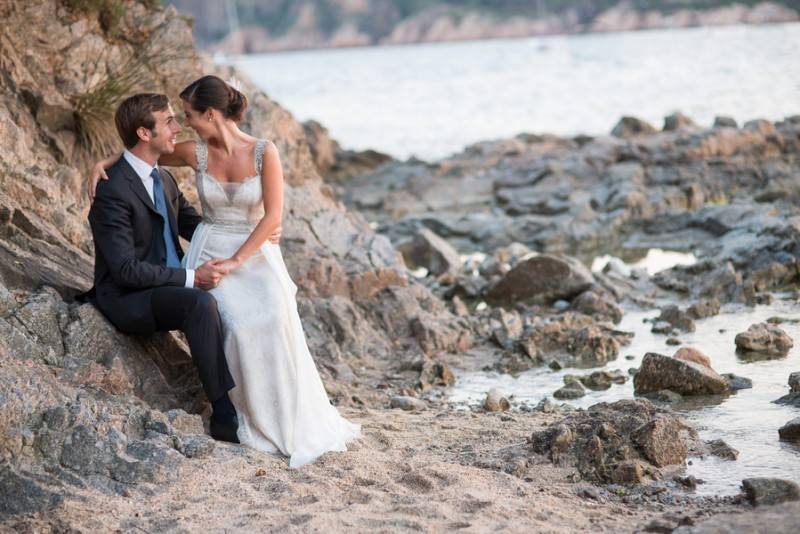 VENDORS
Photographer:  Maik Dobiey Wedding Photography
Event Venue: Hostal La Gavina