Sydney ♥ Thomas
Sydney and Thomas envisioned their wedding as an intimate affair with touches of garden fresh floral, southern charm, and vintage decor mixed with traditional elegance. It was important to them that their wedding and reception tell their love story to their guests by incorporating personal details into their design work. This wedding was full of personality and romance was felt in the air, which is what the couple had hoped for. Congratulations, Sydney and Thomas, on your new life together!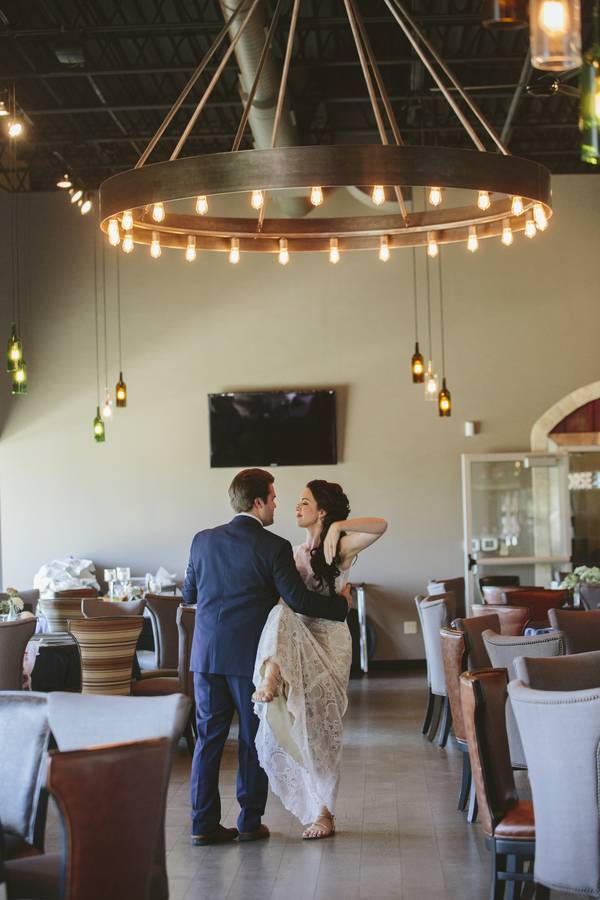 A bit about the wedding from the bride herself:
My husband and I were lucky enough to get married in the city where we met and fell in love – Kansas City. Every detail was planned with two things in mind: our story and our guests. There were a lot of ups and downs in the planning process, but at the end of it all was a beautiful day filled with love. That made it worth it. We had a unique, vintage-inspired wedding with just enough chic elements and intimate details to really make it a day worth remembering for us, our families, and our guests.
The Happily Ever After
Extra Special Details
The theme. The overall design of the event was an intersection of vintage-chic and romance sprinkled with intimate details and moments that allowed their guests to really connect with the couple. They were really consistent with pulling pieces of their story out throughout the day and infused it with just enough luxury to make it feel timeless and elegant.
The reception venue. Union Horse (formerly Dark Horse) had a masculinity about it that is refreshing in the sometimes ultra-fem world of weddings. The main space allowed for the usual dancing and debauchery, but also these more intimate spaces for guests to mingle and relax.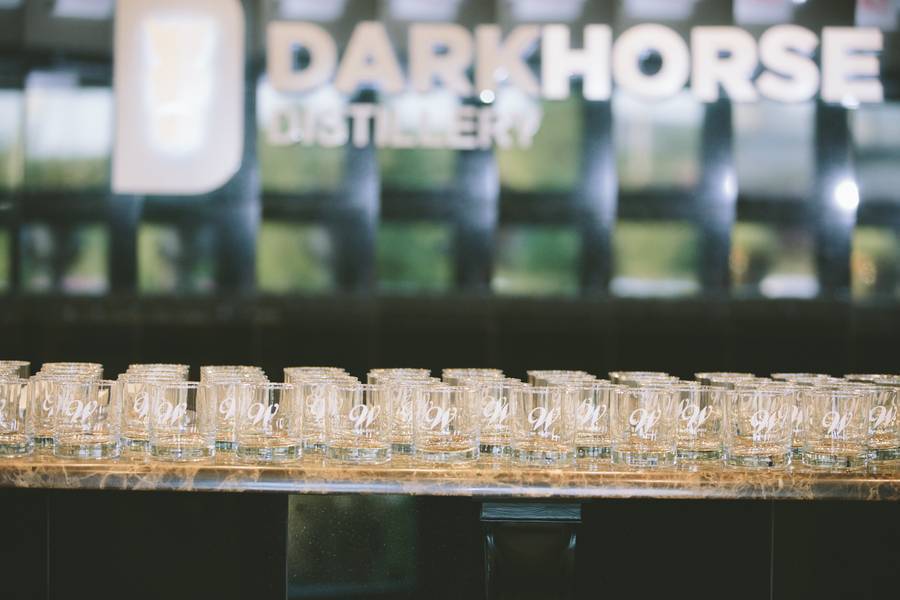 The best decision. The couple opted to do a first look before the ceremony. What was really special about it is that it was time that they stole away for just both of them to talk about how excited they were, practice their first dance, and stare dreamily into each other's eyes – and it made for some great photos!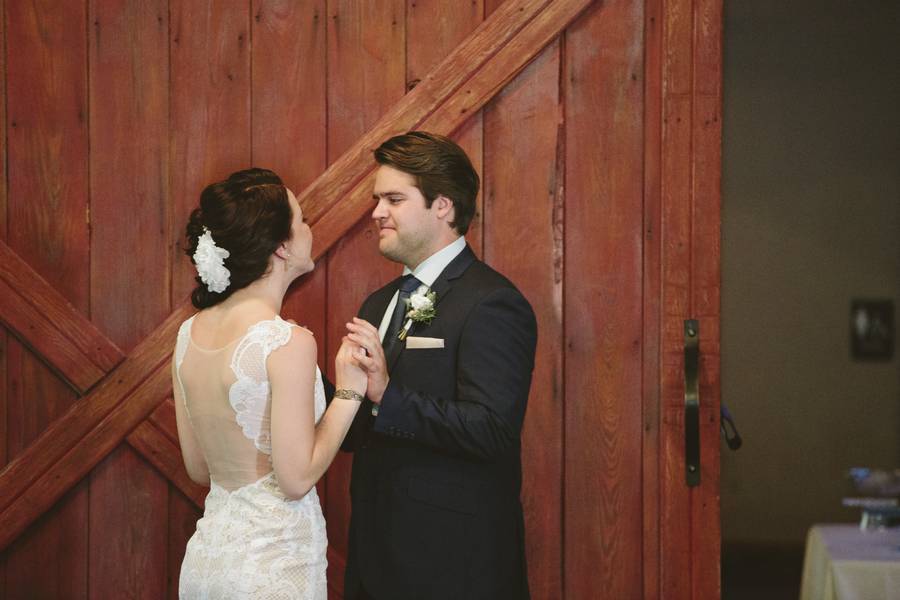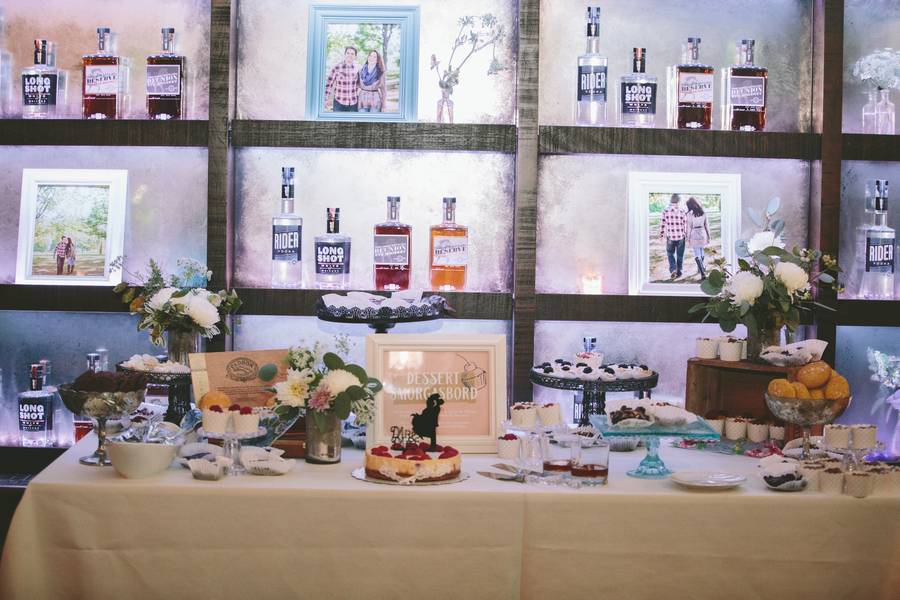 The food. Stations of seemingly random foods were around the venue – ranging from comfort food to slightly exotic. At each station was a card explaining how that particular food was part of the couple's story. The anecdotes were sometimes sweet, sometimes funny, sometimes romantic, but all offered another window into Sydney and Thomas' lives together that their guests could engage with will mingling and moving about the venue.
Sydney's Pieces of Advice
♥ Before you even start planning a theme or a budget or anything, have a conversation with your fiance about what is most important to you. Whether it's the ceremony location or a rockin' DJ or the opinions of your families, really distilling the things that are actually important at the beginning will make it so much easier to make decisions along the way because you'll know what's worth splurging on and what you can do without.

♥ The whole day goes by so fast, steal away time to be together with your spouse just the two of you. Carve it out in your schedule for the day and don't let anything keep you from it.

♥ Hire a planner. I have yet to meet a bride who regretted hiring a planner or coordinator of some kind. We did a lot of things ourselves, but in terms of managing all the vendors and making everything come together and run smoothly the day of, it is 100% worth it.
Money Matters
$10,000 – $20,000
VENDORS
Photographer: Crystal Liepa Photography
Equipment Rentals: Accent Special Event Rental
Dress Store: Bella Bridesmaids KC
Tuxedo and Mens Attire: Combat Gentlemen
Event Venue: Dark Horse Distillery
Caterer: Delish Catering
Dress Store: Emily Hart Bridal
Event Planner: Events by Elle
DJ: KC Mobile DJ
Beauty: L. Louise Hair and Nail Studio
Makeup Artist: Makeup by Angela
Transportation: Pech Limousine, Inc.
Floral Designer: Poppy & Clover Floral Design
Bakery: Whimsy Cheesecakes
Signage: Yellow Brick Graphics