Aya's bouquet definitely caught my attention. Since it was the fall season, it was only apt to have a branch decorated with beads. Be creative ladies!  It's your day and you can have it your way. I can't stress enough how she looked amazing in her vintage inspired wedding dress with faux sleeves. Elegant, just elegant. Richard and Aya looked like legit models as they posed for the camera. And their wedding venue is just as photogenic as they are. See for yourself!
Our Story:
We met at a party on the 4th of July in NYC. I was a guest; Rich was the bartender. As soon as I saw him I was smitten by his good looks and found excuses to go up to the bar so that I could talk to him throughout the night. He served me several jell-O shots, and we watched the fireworks together from the balcony. He gave me his business card at the end of the night, and I didn't hesitate to reach out! After a very fun summer romance, we decided the timing wasn't right (Rich was in acting school, and I had a great deal of upcoming travel for work) and that we would stay in touch as friends. Three years later, I remembered Rich's birthday (our birthdays are two days apart) and decided to wish him a happy one. The timing then was certainly right because he immediately responded we should get together and catch up, and I agreed….A few years later, we were engaged.
We Are A Perfect Match:
Rich and I have the same interests that originally brought us together – family, friends, our love of food, music, travel and everything about our home, NYC. We are great communicators and make sure always to talk things through with one another. It's a balance that is maintained through compromise, and we work hard at it. Our first apartment together was a 500 square foot studio where we lived for 3+ years, and we managed to still love one another which says a lot! We are not only husband and wife but best friends above all.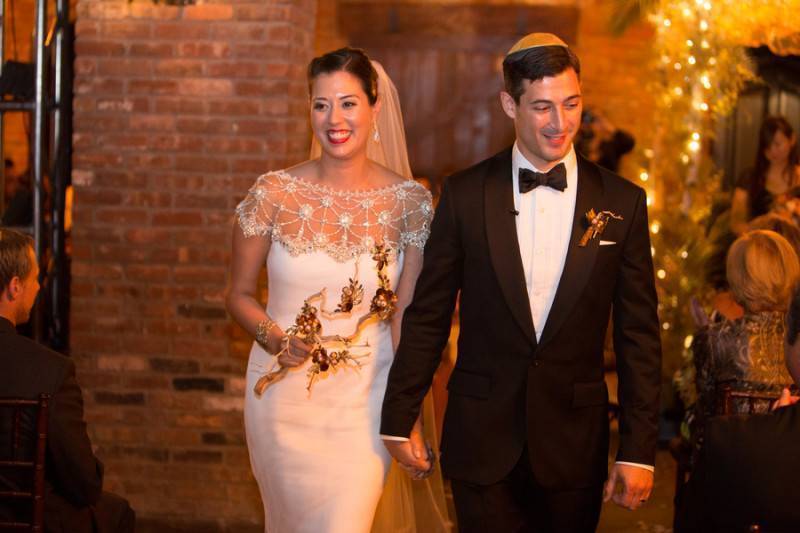 The Proposal:
We took a trip to San Diego to celebrate New Years with our friends who live there. Rich had in his mind that we would go wine tasting in Temecula on New Years Day and pop the question there. His plans quickly had to change when the group decided we didn't want to go wine tasting so he instead proposed on New Years Eve at a house party. He brought me outside to the front yard and proposed, then we went to the backyard into a party with our friends for an instant celebration! I was completely shocked, he didn't tell a soul there, so it was a big and very welcomed surprise.
The Planning Process
Almost two years – 1 year ten months. Taking a year to enjoy fully our engagement was a great decision. It's such a fun time; everyone wants to celebrate with you all the time!
Wedding Outfit Inspiration:
My engagement ring is an antique from the 1920s that set the initial tone for our wedding. We wanted to be classic. Fashion that won't go out of style but be seen as elegant through the years.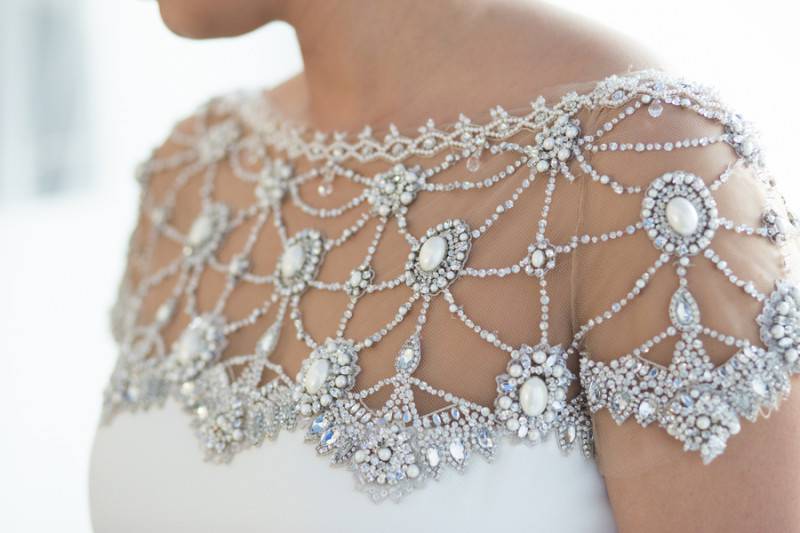 Favorite Part Of The Day:
Our first look was the highlight. As soon as we saw each other I felt a sense of relief and comfort. The reality of why we went through all the planning, the stress and money shone through – I was marrying my best friend that day and couldn't wait!
The Do-It-Yourself (DIY) Projects:
There were some DIY elements – Christian made/sewed all of our linens out of fabric shower curtains! Including the beautiful gold shimmer fabric for our chuppah. Much more economical than purchasing yards of fabric and a lot to choose from at discount stores. Also, we purchased several frames from the dollar store to frame bar menus, reserved signs, guestbook info all which we printed at home.
Tips & Tricks For Future Brides:
Spreadsheets are your best planning tool. Your wedding guest list becomes your invitation list, becomes your RSVP list, then your gift/Thank you card tracker and finally your holiday card list that you can continue to build on for years to come. Also, save pictures of things that you like, visuals are always great when conveying your vision for your big day.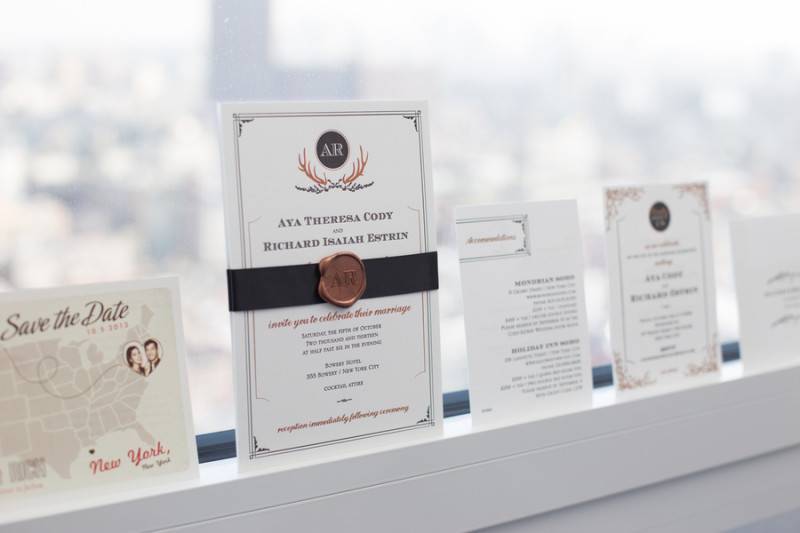 Wedding Décor Inspiration:
The venue, The Bowery Hotel inspired our decor. When Rich and I saw the two deer heads, we immediately knew it was where we would get married. Rich's grandfather on his mother's side was a taxidermist so taxidermy, in general, has always been of interest as far as decor. We also loved the layout of the Bowery – separate areas that could be revealed throughout the course of the night. The overall theme was a "Post Hunt Renaissance Banquet" which worked so well at the Bowery, designed to look like an old hunting lodge. Our genius designer Christian Faster up worked with what the Bowery already had in place and elevated it so much so that guests thought the design elements were there all along. There were so many details around ever corner, on every surface, each themed room revealed for ceremony, cocktails, dinner and dancing.
The Highlights From The Ceremony & Reception:
Highlights from the ceremony include lighting a memorial candle for those who have passed which was a very special moment. We also had a traditional Buddhist Sake ceremony which meant so much to my mother and brought tears to her eyes as she was not able to have one at her wedding due to religious differences between my father's side of the family. We also had our close friends and family come under the Chippah with us to recite the 7 blessings.
Biggest highlight of the reception was during dessert and dancing. My cousin is a break dancer and wow-ed everyone on the dance floor with his moves. At the end of the night he was teaching Rich's cousin his moves and the moment between the two of them was very symbolic of the joining of our families. Another highlight was passing gourmet jello shots during dancing made by our dear friend Elise Kanda, private Chef. It tied in the story of how we met on the 4th of July. The photo booth was a huge it as was the Band, Baby Soda Jazz Band and our DJ Mel DeBarge. So many highlights! Every moment was memorable.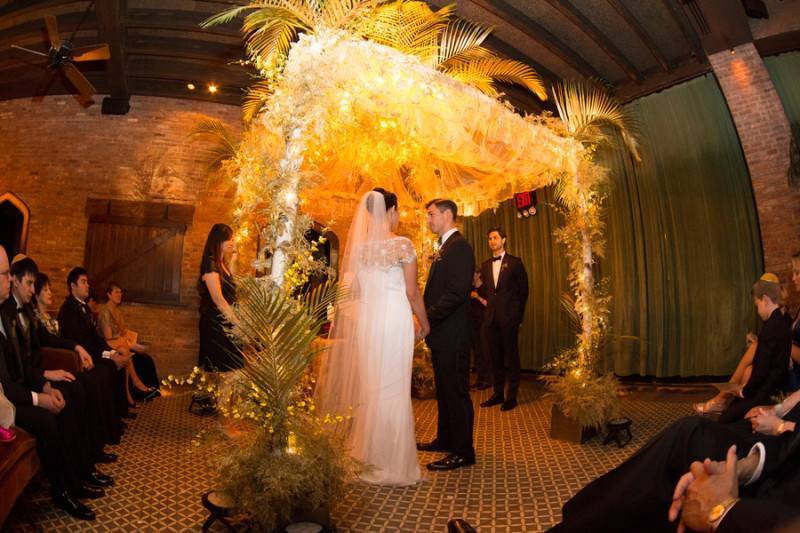 The Theme:
Christian named the ceremony area, "Palm Court" as beautiful gold sprayed palm leaves were placed on the existing chandeliers and the sconces within the rooms. The Chuppah itself was by far the most beautiful I have ever seen. I saw it for the first time as I walked down the aisle and had goosebumps and couldn't help but keep looking up at it during the ceremony.
The reception had a few areas: The Pumpkin Patch in the outdoor area as an ode to fall and the vines that run along the sides of the brick walls out there, The Antler Lodge in the area where the deer heads area had silver antler candle holders on the table surfaces, and the Garden of Eden for dinner which had statues of Adam and Even on the bistro tables, beautiful roses and food incorporated into the centerpieces. The Garden of Eden also had a beautiful tablescape with a taxidermy fox, red lobsters, ostrich eggs, starfish and other bright color elements mixed in with floral to convey the 'Post Hunt Renaissance Banquet" theme.
VENDORS
Photographer: 5th avenue digital
Reception Venue: The Bowery Hotel