Alexis, a smart bride, speaks these wise words. "I wanted to make sure the wedding was one we would think was beautiful even 50 years from now but was also distinctly ours." Something all future brides should bear in mind. The colors were inspired by Tyler's favorite football team — something personal for the groom, as well. They definitely achieved the wedding they wanted — elegant and timeless. Read on to know more on how this lovely bride planned her beautiful wedding.
Tyler and I met through a mutual friend; we dated briefly, but our lives were going in such different directions at the time that we chose to go our separate ways. A few years later we started talking again, and the rest is history. We both knew that this time would be for good.
Tyler proposed to me in our home. He had bought the ring after taking a snowboarding trip with his sister to Japan. While he was away, he realized how much he wished I was with him, and came home and bought the ring. He waited a while to actually propose, and the night he did we had gone on a date on Whyte Avenue, a popular Edmonton strip with restaurants, shops, and bars. He was really nervous, and I was sure I had seen a ring box in his pocket, but we left Whyte Avenue and nothing had happen so I figured I was mistaken. When we got home he proposed! It was perfect! I was surprised and our dog, Baloo, was jumping all over us. I couldn't have been happier.
I had always wanted a cooler weather wedding, so Tyler and I chose November. My mom and I are a great planning team together, so we chose not to hire a wedding planner but did hire Jennifer Bergman Weddings to coordinate our wedding. This was one of the best choices we made. They not only suggested wonderful vendors, but were so helpful and organized both leading up to the day, and the day of.
I have always loved weddings, and after attending many, and looking at tons online, I knew I wanted a wedding that would really show Tyler and my personal tastes and style. I wanted to make sure the wedding was one we would think was beautiful even 50 years from now, but was also distinctly ours. We wanted to make sure we hired vendors that would help us have not only a beautiful wedding, but an enjoyable one as well. The goal was that the day of the wedding our friends and families' only jobs would be to enjoy our day with us, and that they'd look back and remember our wedding as being "us."
I chose the colors hunter green and gold, with blush flowers. I was hoping for a romantic feel, but Tyler was thrilled because those are the team colors of his favorite football team, the Green Bay Packers. This inspired me to buy Tyler's cuff links that he wore on our big day. As a gift to the groomsmen, he also bought them custom cuff links. This made the guys get excited for the day because they got to wear something that represented them. I went to Laurel's on Whyte for the flowers on another friend's recommendation. I'd never really thought I'd want many flowers, other than the bouquets and boutonnieres, but after seeing John's ideas for those we ended up adding more flowers because they were so gorgeous and romantic.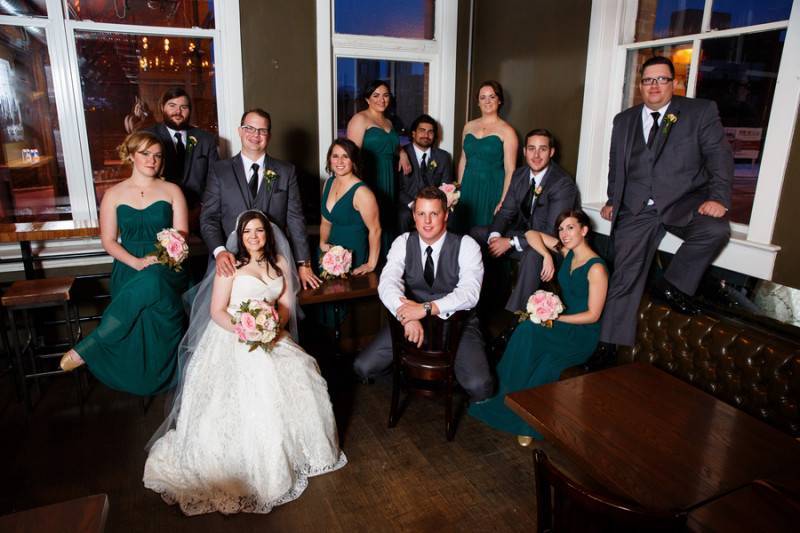 The venue and food were really important to us. I didn't want traditional wedding food, I wanted to serve food Tyler and I love to eat. On advice from a friend, we went to the Royal Glenora Club. Not only was the room beautiful, with an entire wall of windows and beautiful chandeliers, but they were willing to serve burgers as one of the food options, and let us choose pizza, chicken fingers, and subs as our late lunch. We also opted not to have a cake as neither of us really like it. Instead, we served donuts from the Italian Bakery, and a croquembouche (a traditional French dessert made of profiteroles covered in caramel) from Duchess Bakery. Our guests loved this change from what you usually expect at a wedding. People are still talking about the burger.
The day of the wedding was the first big snow of the year. Things fell a little behind because the roads were icy. Even so, I was fairly relaxed all morning. My bridesmaids and I got ready at my parent's home, and Tyler and his groomsmen got ready at his mom's. I remember the moment I put on my dress. I love my dress — it was simple, but stunning dress from Jim Hjelm's Blush line. I loved the lace skirt, and to make it seem more vintage, I wore my grandma's earrings and a Juliet cap style veil by Sara Gabriel. My mom helped me into it and helped me get all of my accessories on. Then my photographer, Haley Shandro from Shandro Photo, told me to wait and they called my dad in. It was his first time seeing my dress and he was so excited. One of the most memorable parts of the day was my dad, Tyler, and different groomsmen helping me carry my dress over the slush and snow.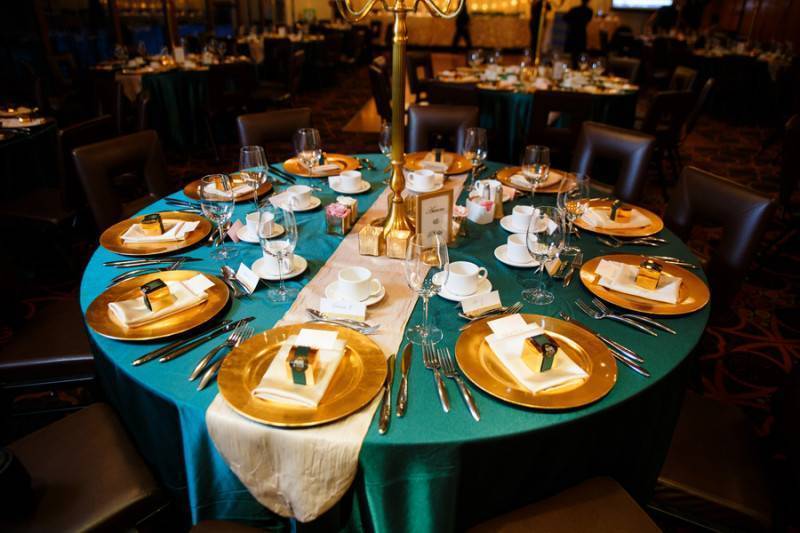 Our ceremony was both relaxed and hilarious. We were married in the church where my parents were married, and I was baptised. Our good friend, Jesse, played the guitar, and sometimes the harmonica, for our music. Tyler and I were both nervous at first, but then things started to happen. The lighter for the unity candle didn't work, a votive from a candelabra burst, then another fell. Apparently one candle even rolled across my dress! My maid of honor, Amy, scooped it up and had wax on her hand for the rest of the ceremony. I had no idea this part happened until later, and thanked her for saving my dress! This whole incident made everyone, including Tyler and I, full of laughter. I remember being grateful for this because I'd much rather be laughing on my wedding day than anything else. The best part were the photos that resulted. Having pictures of everyone with these huge genuine, laughter-filled smiles is something I am so grateful for.
The reception was full of laughter as well. We asked my sister's boyfriend, Sean, to emcee for us, and as a stand-up comedian and Improv actor he had everyone laughing again. He even performed a bit of Improv with another member of his group, Go 4 Broke. I swapped my veil for a crystal head band for the reception, and luckily nothing else went wrong. We ended up having the exact wedding we wanted. We got to celebrate our future together by laughing, dancing, and eating with our friends and family. Looking back on the day, I can't think of a better way to start our marriage.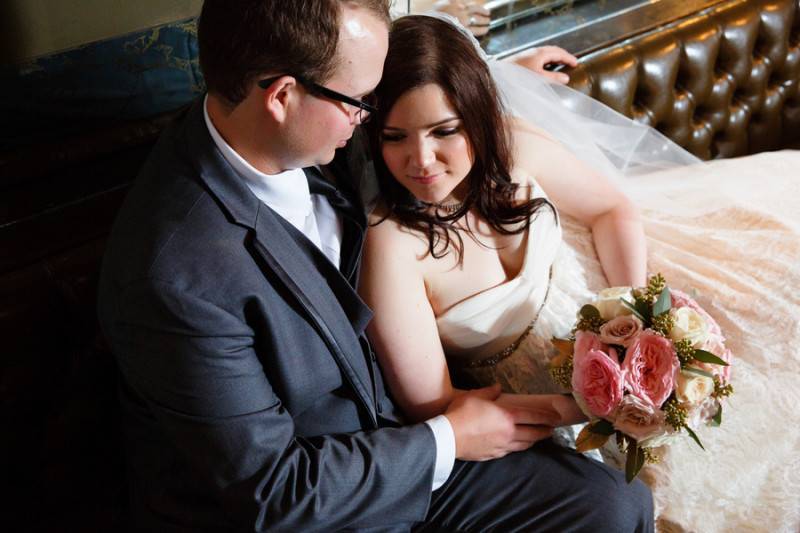 VENDORS
Photographer:  Shandro Photo
Apparel: Delicia Bridal
Cake Designer: Italian Bakery
Event Planner: Jennifer Bergman Weddings
Ceremony Location: Kirk United Church
Floral Designer: Laurel's On Whyte
Tuxedo and Men's Attire: Moore's Edmonton
Dress Store: Novelle Bridal
Reception Venue: Royal Glenora Club
Equipment Rentals: Special Event Rentals
Hair Stylist: Studio 107