The thick snow that capped Craig and Megan's wedding did not stop them from celebrating this important chapter of their lives. From sitting next to each other at a bar to saying I Do in front of important people in their lives, this couple surely came so far. They picked gold, silver, and blue as their motif that were perfect for a New Year's Eve party. I know such an amazing way to celebrate New Years right? Clearly Craig and Megan's love is much powerful than this snow storm. Congratulations you two! May your love grow and overcome any trial you may face!
Our Story:
Craig and I met the bar. Or as Craig likes to say "it was a restaurant, they serve food." Which yes, they do, but not at the hour that we met. I had been out celebrating a friends birthday, and Craig had been out at a wedding. My friends and I randomly went to a bar that we had never gone to before. It just so happened that Craig and I sat next to each other at that bar. He offered to buy me drink, however unbeknownst to him, he had lost his wallet. Fortunately for me, it was not a cheesy pickup line.
Unfortunately for Craig, he did lose his wallet, and we had ordered drinks that he had to get his friends to pay for. At the end of the night, we exchanged phone numbers and spent the next few weeks texting. About a month later, I finally got up the courage to "meet him" again and from there our relationship grew into what it is today.
We Are a Perfect Match:
Our personalities compliment each others, and we love spending time together, whether it's going out for drinks with friends or staying home and enjoying a bottle of wine together. Sharing and communication have been key in keeping our relationship strong throughout the years.
The Proposal:
Craig proposed to me in front of my family on Christmas Eve. This was a HUGE surprise because I never expected him to "pop" the question in front of a group of people and because I had it all set in my mind that he was going to ask me a couple days later when we celebrated "our Christmas" together. A family tradition of ours is to open one gift on Christmas Eve. I was the last to open a gift, which happened to be from Craig. I was expecting it to be a watch that I had asked for, but instead it was a beautiful round cut solitaire. With kids crying in the background, and family all around, Craig got down on one knee and asked "will you marry me?" I, of course, said yes! I never thought I would want to be proposed to in front of a bunch of people but it made it so special to have my family involved and as bonus we got it all on video!
Wedding Day Outfit Inspiration:
Both Craig and I were very easy going with what our wedding party wore and let them chose their outfits. My only wish was that my bridesmaids wore black. We wanted them to be comfortable in what they wore.
The Wedding Décor Inspiration:
Since we decided to get married on New Years Eve we wanted to make it a fun party yet still a classy wedding. We picked our colors of gold, silver and shades of blue and incorporated as much glitter and sparkle as we could. We tried to make it, so the first part of the reception was the usual wedding reception and then turned it into an NYE party around 10:30 pm with hats and party favors to ring in the new year!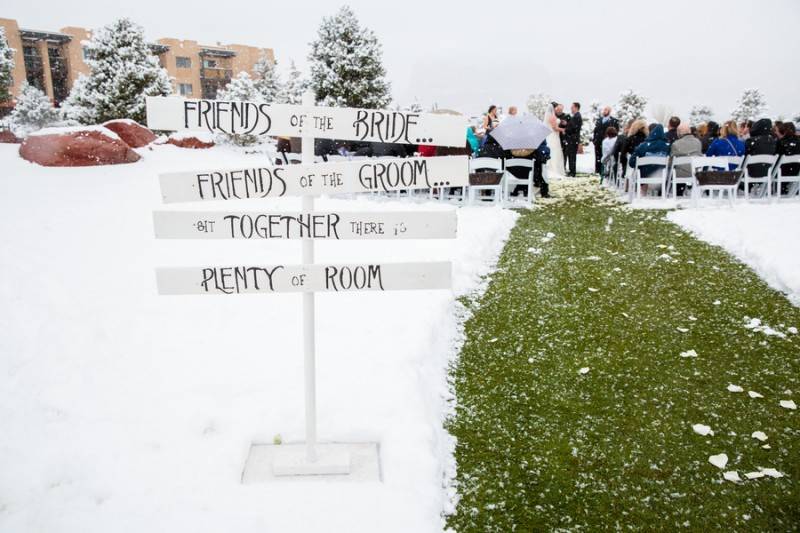 The Planning Process:
We got engaged on Christmas Eve 2014 and were married on New Years Eve 2015, giving us a year to plan. Considering we were planning a destination wedding, and I was knee deep in Nursing School, it was the perfect amount of time. We got all the big things (venue, DJ, photographer, florist) taken care of the right off the bat so I could focus on school until the Summer when I had more time to have fun with the smaller, more detailed items.
The Best Advice We Received:
The best advice I received when planning my wedding was to have fun! It can be a very stressful event, and you can get caught up in things that seem like they are so big but at the end of it all, the only thing that matters is the love and happiness you share your groom celebrating your marriage.
Tips & Tricks for Future Brides:
Try to remember that your wedding is, in fact, all about you and your partner! It can get difficult to remember that when planning the guest list and seating charts and all the little details that encompass planning a wedding, but don't sweat the small stuff! In the grand scheme of things, the little things won't matter, and you will have a perfect day.
Was there any Do-It-Yourself (DIY) Projects:
We had fun doing DIY stuff for the wedding!
I hand-stitched handkerchiefs for my Mother, Grandmother and Mother in law. -I made coffee mugs using stamps and permanent markers for my girlfriends getting ready with me.
My brothers, sister in law and dad helped make all the signs for around the ceremony and reception. (Friends of the bride, friends of the groom, sit together, there is plenty of room; Eat, Drink, Dance, We're Married!; Alcohol, because no great story ever began with salad, and Polaroid picture frames for picture taking)
My Mom and I created our centerpieces with a glittery vase, glittery sticks and beads and votive candles
I made our table numbers with simple frames, numbers and pictures of Craig and I at the age of the table number In addition to DIY stuff, we took advantage of Etsy :-)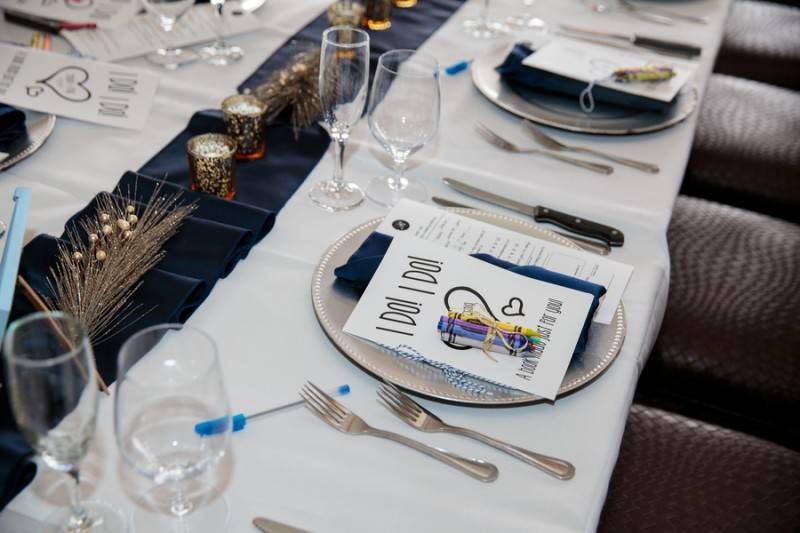 The Challenges We Faced:
One main challenge was being so far away from the venue location (we live in California and we got married in Sedona, Az). Thankfully, we had an amazing event coordinator who helped us out tremendously! I also had an issue with our florist. I wasn't very pleased with the way the responded to an email and didn't feel as though they were making me a top priority. Since we had already put a deposit down on their services, we decided to have them just do personal flowers, and we made homemade centerpieces that in the end saved us money and were fun to plan and make!
Lastly, a pleasant challenge that we faced was that it snowed on our wedding day! We were expecting sunny, 50degree weather with blue skies but woke up to a blanket of white snow with flurries! We planned an outdoor ceremony and were prepared with blankets in case it was chilly, but the snow was another thing. Thankfully, both Craig and I welcomed this beautiful challenge (so much better than rain!) and enjoyed the beauty and excitement of it all!
Money Matters:
Our Wedding budget was about $20,000
We decided just to do personal flowers (bouquets, boutonnieres, corsages and flower petals up our ceremony aisle) and saved money by making our centerpieces and reception decor.
Our biggest expense was the wedding venue. However, it also included our ceremony and reception site, food and alcohol.
The Guest List:
We invited 200 guests, and our final guest count was 104 people.
We were hoping for a small, intimate wedding, however, we both have large families and a lot of friends that we wanted to attend, so we planned for a destination wedding and asked for it to be an adult only event (with a few immediate family children as exceptions).
The Songs:
Our Honeymoon:
We spent a week in St. Lucia at the Sandals Grande St. Luicia Spa and Beach Resort! Beautiful beaches, great people and an amazing week together.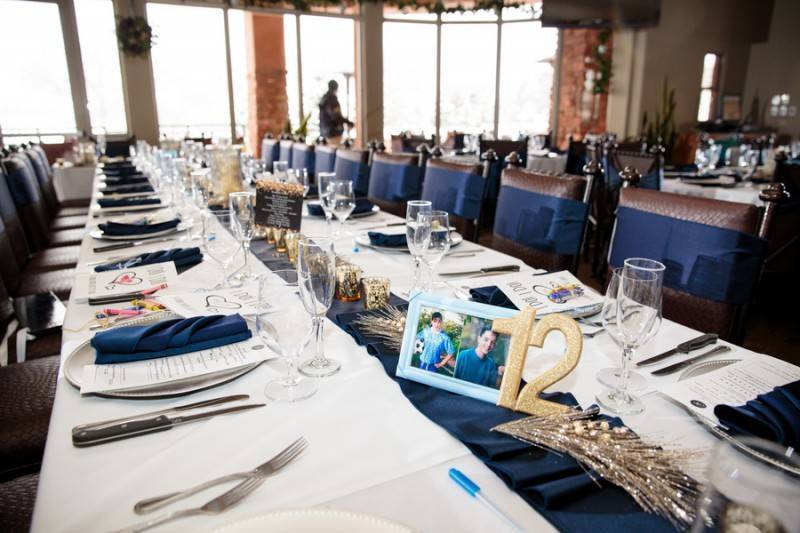 Planning Advice for Couples:
Hire a wedding planner! We were so fortunate to have an event coordinator included in our venue. She was amazing and referred all of our vendors to us including our amazing photographer Robert Godridge, who was so motivated and eager and captured our day so perfectly.
Favorite Part of the Day:
That's a tough question! But I think my overall favorite part of the day was taking first look pictures and seeing my groom for the first time. The snow was falling perfectly and all the stress and anxiety of the day just went away. We also went on a small "hike" to take more pictures together before the ceremony that was tough in the snow but so well worth it!
The Highlights From The Ceremony & Reception:
Ceremony highlights: Walking down the aisle with the snow falling perfectly around us and music in the background. Having all of our nieces and nephews as our flower girls and ring bearer. Having of our closest family and friends there to witness our love and commitment to each other (some who had traveled from across the country and across the world to be there with us). Having our ceremony conducted by my best friend's Father, who plays a very special role in my life.
Reception: Donuts and Pizza! In addition to a cake, we decided to have donuts too which were a huge hit! And we had Pizza delivered during the "NYE" portion of our reception that was just what everyone needed to keep them going to the ring in the new year.
The Theme:
We had an NYE theme for our ceremony and reception. Lots of gold, silver and sparkles!
Most Memorable Moment:
The snow! I don't believe anyone was expecting it to snow on our wedding day, especially because we were getting married in Arizona. A week before the wedding I looked at the weather report and saw rain scheduled for our wedding day and snow for the day after. With lots of good thoughts, we were so fortunate to wake up to what we both agree was the perfect kind of snowy day.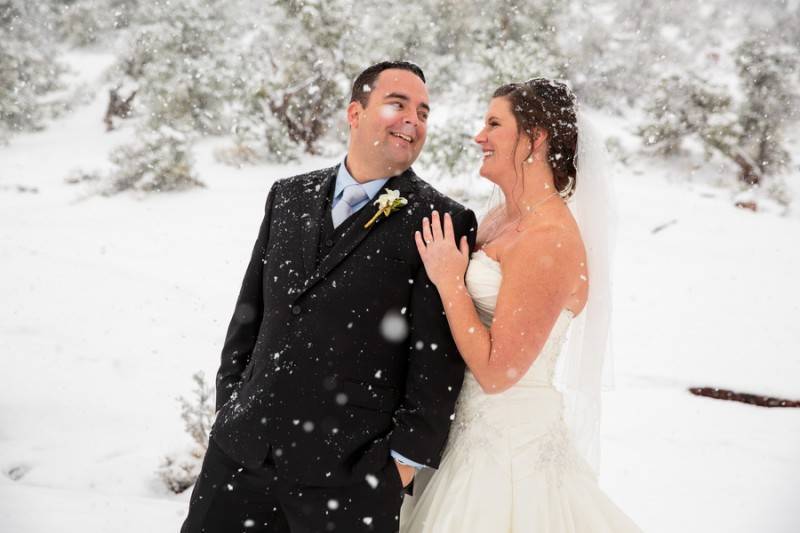 VENDORS
Photographer: Robert Godridge Photography
DJ: MT Sounds
Bakery: New York Bagels
Event Venue: Sedona Golf Resort