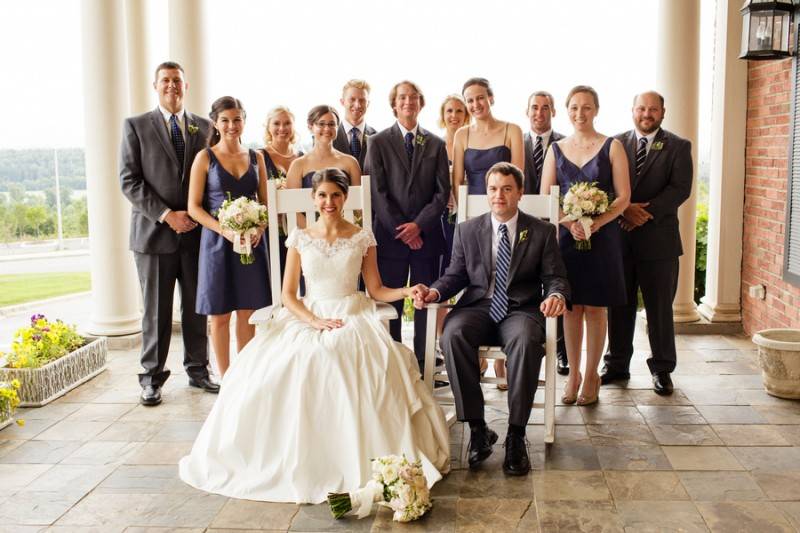 Looking at our couple's wedding photos and reading the bride's story on what happened before and during that day gave me this undeniable sense of happiness and satisfaction that everyone who was a part of it had fun memories to take home. You can totally see that the event was elegant and well-planned but that didn't compromise the fun-aspect of it. Sarah emphasized on how much she and her hubby had fun, and that's what really matters for any wedding.
Oh, and before you head on with the rest of the feature… I dare you to look at their wedding cakes (yes, cakes) and tell me that they do not look yummy. I double dare you. We're used to cakes having some accents and topper but theirs were so straightforward and simple that I'm pretty sure it only means one thing – it doesn't need fancy details because the taste is phenomenal.
Congratulations Sarah & Jacob!
What would you say, the overall story for this album?
Jacob and I not only wanted it to be a day about the two of us committing to one another, but also about all of the amazing people who love and support us. We were of the mindset, the more the merrier! The Catholic ceremony was important to me and it was made extra special by having Deacon Mike Zboyovski, a family friend from my Asheville Catholic School days, officiate. The reception that occurred later in the evening at the Broadway Arts Building was so much FUN! It was so wonderful to have so many family members and friends celebrating with us!
What inspired the wedding day outfits?
Regarding the wedding day outfits, I wanted to wear a dress that was classic and hopefully, somewhat timeless. I am a pretty practical person and bought the first dress I tried on, and had to be coaxed into trying on more. Jacob and his groomsmen wore suits from Joseph A. Banks. The bridesmaids wore dresses from J. Crew. We tried to pick wedding party attire that could be worn again. We also needed attire that was easy to purchase from a distance as very few of attendees were local.
What was your favorite part of the day?
Our favorite part of the wedding weekend, besides getting married of course, was celebrating with family and friends. We wanted a big party and with everyone having a good time, we accomplished just that! The entire weekend, I kept looking around and thinking, "Oh my goodness, all of these people came to celebrate with us!" We laughed, cried, ate, drank, and danced with loved ones – what could be better than that?
Was there any Do it Yourself (DIY) projects? If so, can you describe them in detail?
Jacob and I had one main DIY project. My mother, on the other hand, had many! Jacob and I painted old shutters blue, and then distressed them. We then put the place-cards on the shutters. It was fun to work a project together. It actually took us a while to strip the shutters, paint them, and distress them. It was good bonding time!
What were the highlights from the ceremony & reception?
My parents gave Jacob a rocking chair, a gift inspired by the rocking chairs my grandparents gave my parents when they bought their first house. My dad's toast was so very special – I am so glad someone took a cell phone video of it. My dad also made a very, very sweet slide show of Jacob and me through the years, which we played at the rehearsal dinner. We will treasure that forever. My mom was so supportive throughout the entire process she really planned the whole reception! Go mom! The whole weekend was just perfect!
Was there a theme for the ceremony and reception?
If I had to pick a theme for the rehearsal dinner and reception it would be "fun!" We had an incredible time celebrating with anyone, and I probably stayed out way too late the night before our wedding day, as well as the night of the wedding! I just didn't want it to end! The ceremony was more reserved, but we still had many personal elements, as we choose the readings and helped write the prayer of the faithful.
Vendors
Photographer:  Jen Yuson Photography DJ:  A Bride's DJ Ceremony Location:  Basilica of Saint Lawrence Hair Stylist:  Liz Tipsword at Lola Salon Event Planner:  Charity Honeycutt at Honeybee Events Tuxedo and Men's Attire:  Joseph A Banks Women's Attire: J. Crew Cake Designer:  magpies bakery Wedding Invitations:  Mink Letterpress Reception Venue: Celine's On Broadway Florist: Brinda Caldwell-Ramsey