It could never get better than this – a romantic engagement held at the best of San Francisco! Wei and Zi-Ling decided to spend their engagement shoot here not only for its sentimental worth but for the captivating warmth of glorious summer. A miracle as they would say, this lovely couple started from love at first sight! A long distance romance that bloomed towards marriage, their love story is definitely one with destiny. Now, let us journey through the photos of Pearl Hsieh Photography, LLC and enjoy the best of this San Francisco summer romance!
Extra Special Details
The future bride's dress.  Her laced gown and embroidered satin veil is gorgeously appealing with her bouquet of assorted chrysanthemum and orange roses.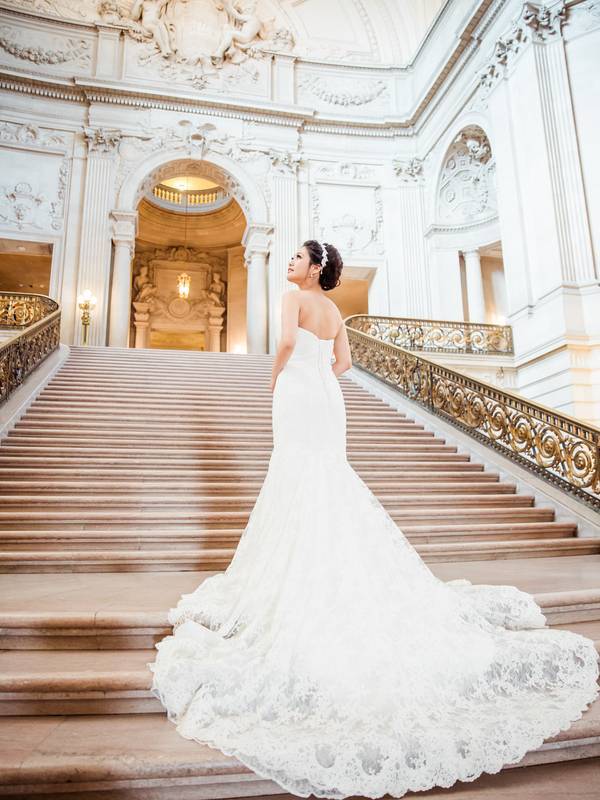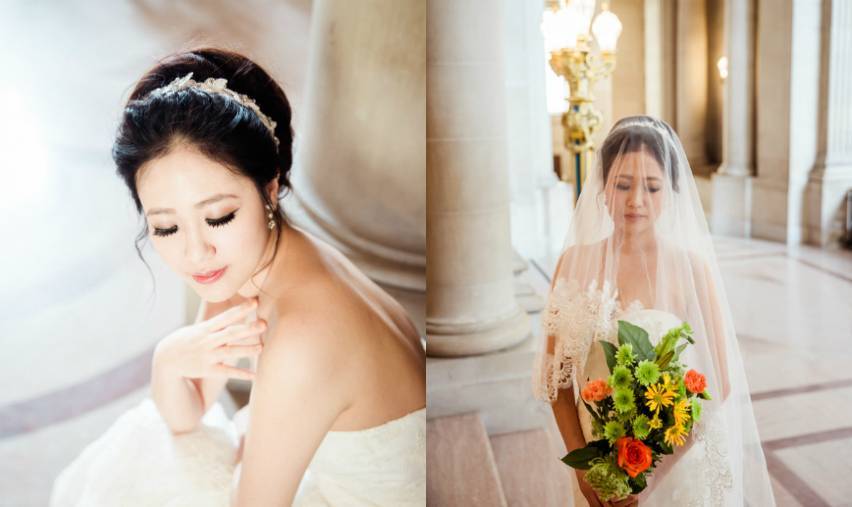 San Francisco City Hall. Often called as the seat of power, the San Francisco City Hall is truly magnificent in all its intricacy and architectural marvels. Rich in cultural history, this place is also significant to Wei and Zi-Ling's love story.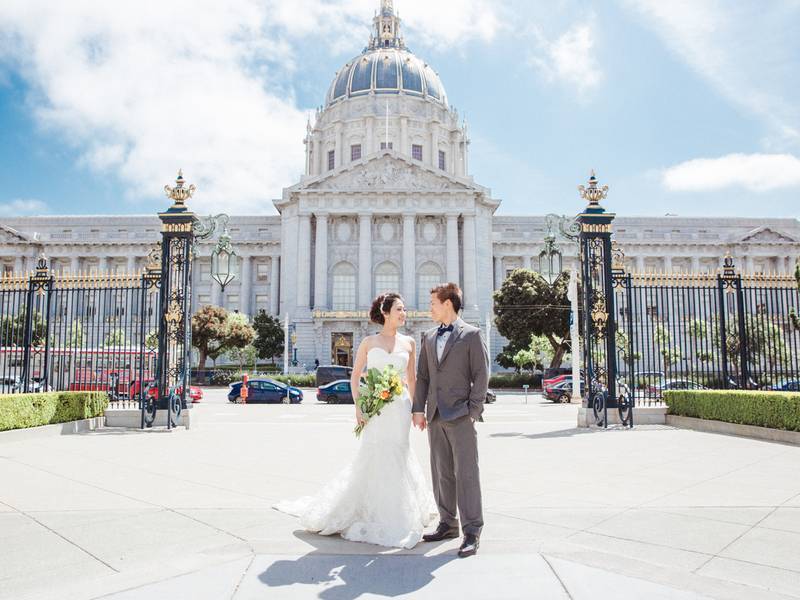 The Palace of Fine Arts.  Filled with grand designs the monumental columns, stairs and sculptures is simply sublime. The perfect place to have that elegant wide shots!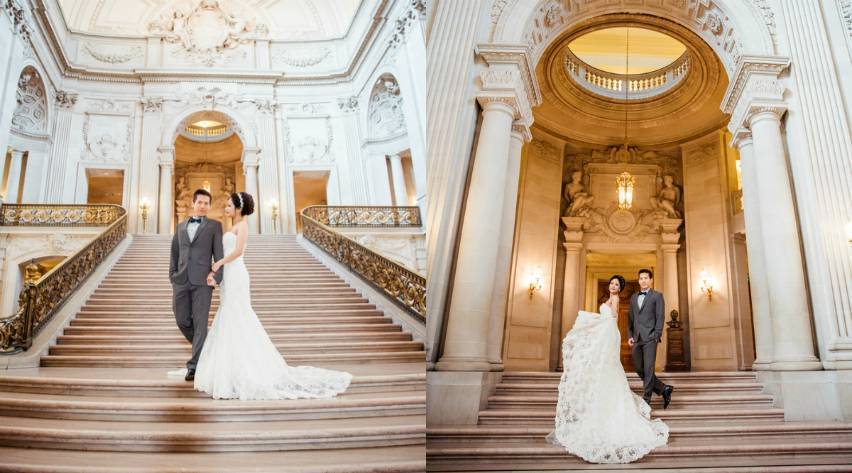 Bonus beach photos. This couple didn't want to miss doing a shoot in the beach so they went to  Baker Beach. The beach offers a gorgeous venue for romance and intimacy. What a bonus!
About the Photographer
As a photographer, I get to witness and hear firsthand stories of how couples meet. Wei and Zi-Ling's story is definitely one of destiny. They met in rare circumstances. Zi-Ling was from Taiwan and was traveling to northern California to meet up with friends. Wei was just starting his work in San Jose and decided to go camping with friends in Lake Tahoe. It was destiny that they shared common friends who planned to get together in Lake Tahoe. Zi-Ling first met Wei in Tahoe. They described their first glances at each other as romance at first sight! Because they lived in two different countries, they only got to go on two dates. They endured a long distance relationship between those two dates but they knew they were destined for each other. In this session, we went to SF city hall, Palace of Fine Art and Baker beach. While shooting Wei and Zi-Ling's engagement photo, I witnessed the loving glances they gave to one another, the jokes and secret laughs they shared with each other, and the childish playfulness they put on. Their love for each other was warm like the sun and made me smile and remember the stories of love in my own life. I hope that the love and happiness captured in their engagement photos will live on and be shared with their children and grandchildren and many generations to come. – Pei-Fen Juang
Vendors
Photographer:  Pearl Hsieh Photography, LLC
Reception/Venue: Palace of Fine Arts Theatre
Professional: Pearl Hsieh Photography LLC
Floral Designer: Safeway(Flowers purchased from market, arranged by bridal party)
Dress Store: Selina Bridal Shop
Makeup Artist:Selina Bridal Shop Makeup