Arianne and Michael had a classy rooftop wedding with a casino royale theme. The motif was very chic in black with pops of magenta and gold here and there. There was also a glamorous feel to how they added these magenta and gold accents. I particularly love their centerpieces and the idea for the well wishes and cards. And to stay with the glitz and glam of casino royale, they didn't have a formal dinner, but a cocktails set-up instead. Browse the gallery and read on to see how it all turned out. Best wishes, Arianne and Michael!
Our Story:
We met at a college alumni party where we were immediately drawn to one another. After a full evening of conversation and dancing, we continued dating long distance for over four years. It was a love that was so easy and felt right from the very beginning. We were finally able to be in one place after job changes and got engaged shortly after.
We Are A Perfect Match:
We were brought together not by looking for someone, but by stumbling upon the person that effortlessly completed the other. We have similar drives, goals and ultimately what we want out of this life.
The Proposal:
Our favorite weekend activity during good weather is to visit Arrington Vineyards in Arrington, TN. Michael decided that we should celebrate my birthday there with our closest friends and family. Little did I know, that he had quite the birthday present! We ate our lunch and began to open my gifts. The first gift I received from him was a ring pop. Michael made sure to point out that I had asked for a ring for my birthday! He then turned around, grabbed my "real" present out of his bag and got down on one knee.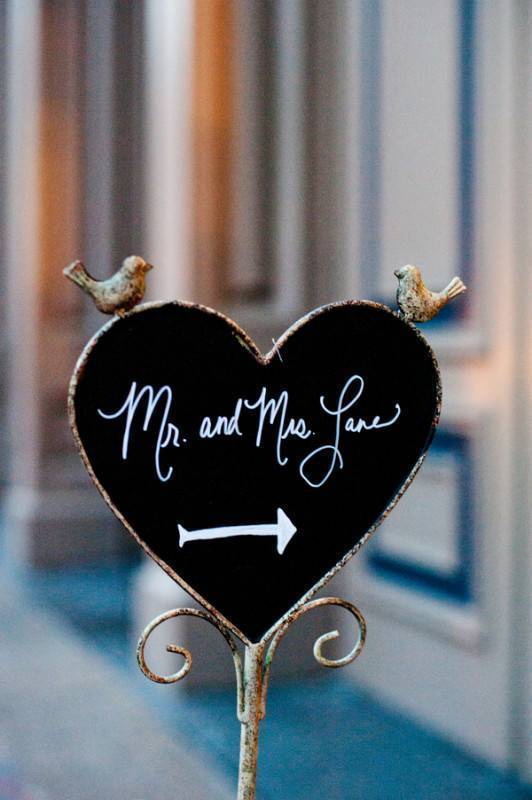 The Planning Process:
It was 10 months from proposal to wedding. I had worked as a bridal consultant for wedding gowns for 5 years, so I had most of what I wanted figured out and was familiar with the Nashville vendors and what they had to offer. With this previous experience, wedding planning came natural and was a perfect amount of time.
The Best Advice We Received:
RELAX. It is one day and it will not be perfect. But, if you focus on what the day is about, it will be perfect to you.
Tips & Tricks For Future Brides:
Stay organized. Keep a binder with receipts, price quotes, and email communication with vendors. Pinterest – use it for inspiration, try not to get carried away with projects. You will have enough on your plate. Don't be afraid to give away tasks to people that can be trusted to do them. I am a superwoman, but I couldn't physically do it all!
The Challenges We Faced:
Budget – we had a vision and finding where we could compromise to keep the budget in check was difficult.
Venue change – our original venue fell through and 5 months before the wedding we had to change. It ended up being a blessing in disguise because it was a much better space and truly made our day.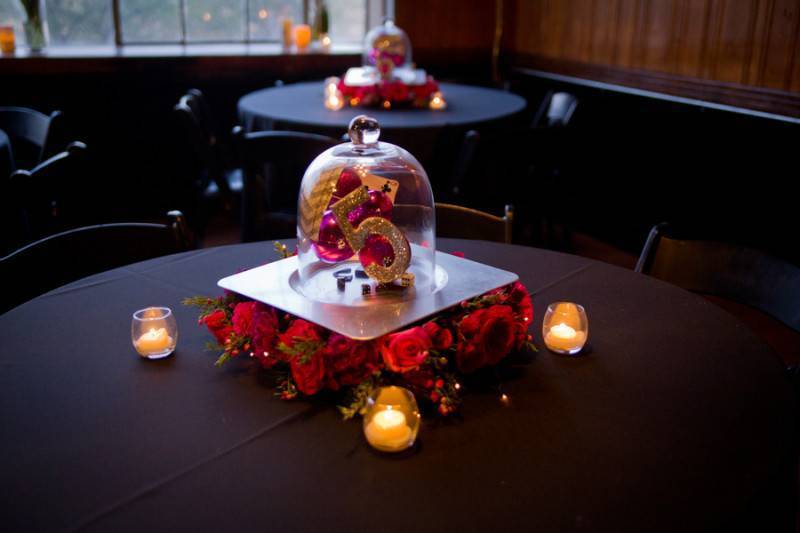 Wedding Décor Inspiration:
Casino Royale. We wanted a very black tie look, but with a party feel. Black tablecloths, a pop of color (magenta) and no formal sit down dinner. It left our guests with the ability to move around and mingle.
Money Matters:
We saved the most on my wedding gown. By working for a bridal boutique I was able to purchase a gorgeous sample gown and have it tailored to fit. We spent the most on our venue, including the space and alcohol.
You Are Cordially Invited:
160 invited and 120 attended. We narrowed down our list by excluding children because the event was intended for adults. There was a party atmosphere and we wanted our guests to feel free to enjoy themselves.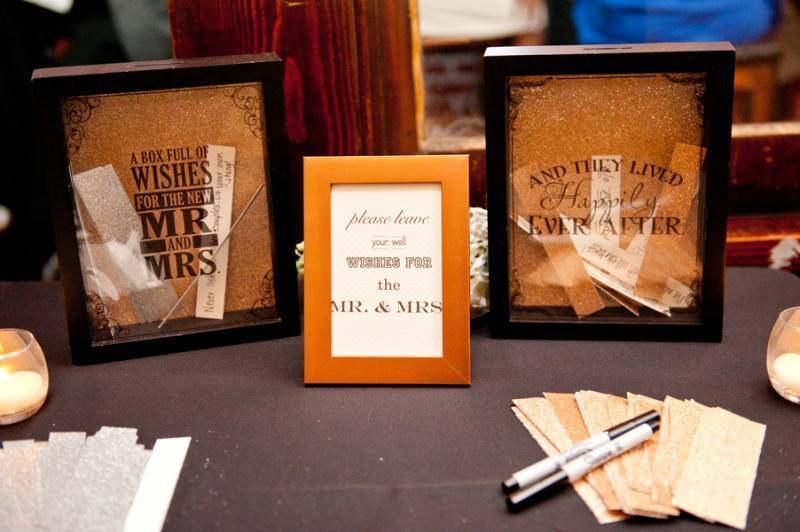 The Songs:
Michael's aunt blessed us with her voice to walk me down the aisle, singing Anita Baker's "Angel".
Our Do-It-Yourself (DIY) Projects:
Centerpieces. I took chargers, glued ornaments in our colors to them. Added a personal detail about the number represented inside. I finished by wrapping them with string lights and covered them with cloche jars.
Floral. My sister was the floral guru and spent many timeless hours arranging them – huge thanks to her!
The Honeymoon:
We are planning to take our honeymoon for our 1st Anniversary.
The Next Step:
We just recently purchased our first home together and that has been so exciting!

Planning Advice For Couples:
Keep each other first – without you together and on one accord, there wouldn't be a wedding!
Favorite Part of the Day:
My favorite part of the day was our First Look. Other highlights were walking down the aisle during the ceremony and our son dancing at the wedding reception and coming out of his shell!
A Memorable Moment:
The restaurant next to us also had a rooftop and all of the patrons cheered for us at the close of our ceremony. The dancing at our reception was one for the record books!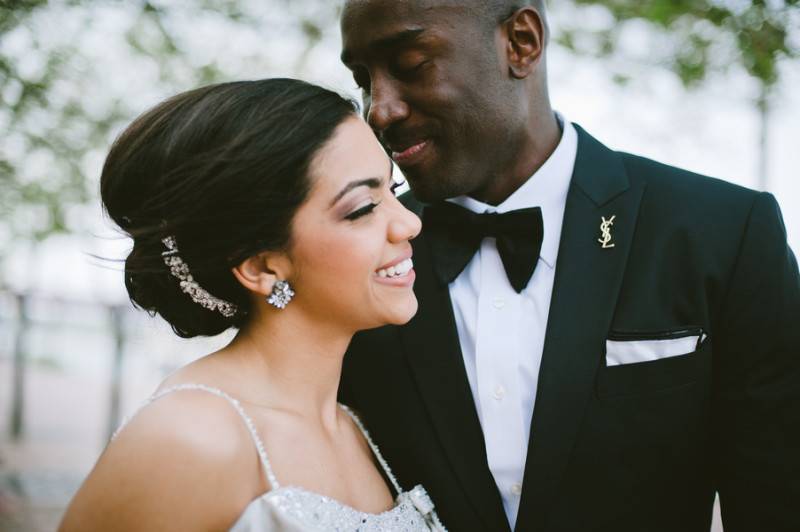 VENDORS
Photographer: Rae Marshall Weddings
Shoes: Betsey Johnson
Invitation Designer: Champagne Press
Band: Cord Martin
Ceremony Location: Cumberland Hospitality Group
DJ: DJ CLO
Equipment Rentals: Grand Central Party Rentals
Hair Stylist: Hyde Salon
Makeup Artist: J. Larae Beautiful
Dress Designer: Jasmine Bridal
Floral Designer: Jenni Smith
Bridesmaid Dresses: Jim Hjelm Occasions
Veils and Headpieces: Malis Henderson
Location: Market Street Emporium
Reception Venue: Nashville Event Space
Tuxedo and Men's Attire: World Of Alfa
Cake Designer: Dulce Desserts
Caterer: Savor the Flavor Catering, Inc
Dress Store: The White Room