A little warning before you look at the gallery; 1. You might see stunning and dreamy ball gowns; 2. You might want to get married ASAP; 3. You possibly couldn't stop gazing at them. Yes, that is how beautiful these winter wedding dresses are. From the fabrics used down to the design, everything screamed winter and romance. Also adore the accessories, like using coats instead of veils for the non-traditional brides. Be prepared to swoon and awe.
Click image to enlarge
Like. Click to Vote
>
I drew inspiration from the local setting of Ridgefield's own Garden of Ideas community garden as inspiration for this organic bridal shoot. Each of the three dresses had hints of the 'sauvage' that played off of the natural vegetation surrounding the model. These ideas were reflected in the accessories, hair, and make-up. There were also elements of fantasy, and so my goal was to frame Brooke, the model, in these mirage-like frames with the light in my camera. Every bride I photograph is usually living out some of her biggest dreams in some way on her wedding day, and so with this shoot I was accentuating a dreamlike state. I also wanted to experiment with an idea that when her groom first sees her, the bride is like a precious jewel in the wilderness.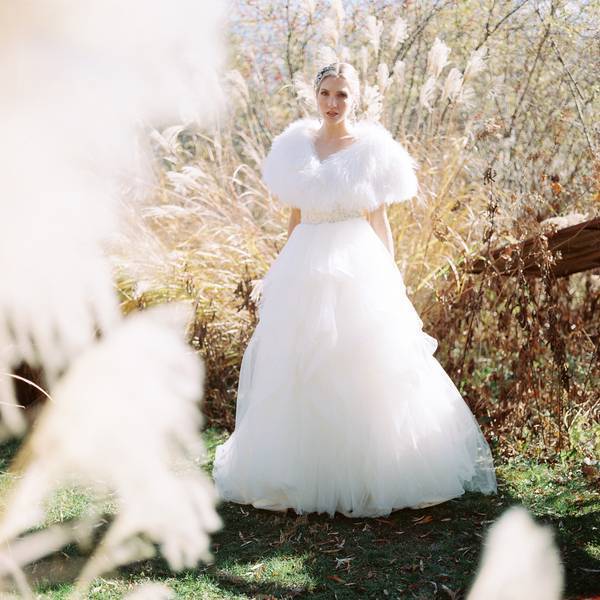 VENDORS
Photographer: Fabrice Tranzer
Model: Brooke Banker
MakeUp: Jennifer Kinford
Hair Stylist: Kelly Hart
Designers:
1) Pink Gown- Sareh Nouri
2) White Gown with Beading- Alvina Valenta
3) Gold Gown- Lian Carlo
The Veil: Toni Federici
Jewelry and headpieces:
1) A Little Something Borrowed, at A Little Something White
2) Erin Cole
3) Something Old, at A Little Something White
Venue: Gardens of Ideas