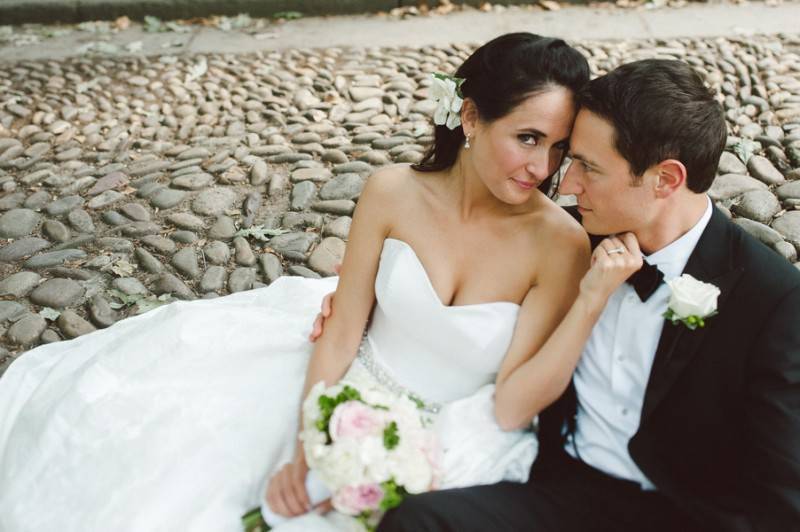 The word "bloom" perfectly describes our bride and her wedding day because both bloomed to become epitomes of utter beauty. But aside from that is the fact that the event was adorned with floral details such as the wedding gown's pattern, the bride's gardenia hair piece and the reception tables' focal point.
Everything was just so subtly elegant that all focus ended up being directed to our beautiful couple and they deserved every bit of that. They envisioned themselves as the classic bride and groom and that made everything look amazing for classic is nothing but timeless perfection. And we're lucky that the bride gave us the insight on how they ended up with such a lovely wedding. Congratulation to Rhea & Mark!
What would you say, the overall story for this album?
We wanted our photos to look like they were taken in a castle—with larger than life columns and classic architecture. To emulate this look, we selected Philadelphia's city hall for our starting point and first look. In so many ways our wedding story started with a romantic, intimate day with just Mark and I, then evolved into an all-out celebration including our closest friends and family. We hope our wedding story is timeless, elegant, and classic with thoughtful, personal touches throughout. More than anything, we hope that it is an expression of our love for one another and the promise we made to each other on this unbelievable day.

What inspired the wedding day outfits?
I am obsessed with the classic lady, Audrey Hepburn style appeal and this needed to be reflected in the bridesmaid's dresses. For this reason, I chose an illusion neckline, slate grey dress with a black tie belt from Vera Wang's White collection for the bridesmaids paired with Nina vintage chandelier earrings. As my bridesmaids' heights varied dramatically, I asked them to each choose black shoes that would be the best choice given their height and that they were comfortable in. Mark and I wanted to be able to look back at our wedding day photos for years to come and find them timeless. We envisioned ourselves looking like the classic bridal couple you'd see place on the top tier of a wedding cake—in a traditional A-line gown and a tuxedo.
For my gown, I had gone to a couple of bridal runway shows and fell in love with the idea of a jacquard gown. I had dreamt about 'the gown' for years and admittedly looked at gowns for years even prior to my engagement, but had never seen the jacquard fabric before. It had this way of adding richness, texture, and a unique personality to the gown while still maintaining a classic appeal. I ended up choosing a Martina Liana gown (Style 567) which was available in a high-low length and floor-length, of which I went for floor-length. In order to maintain a classic lady-like appearance, I wanted to have an A-line shape to the gown but show some flair with the flowered skirt to the gown. Mark tried on several tuxedos prior to ultimately choosing a Ralph Lauren Black Label Tuxedo. Though he had tried Armani, Hugo Boss, and several other designers; the Ralph Lauren Black Label Tuxedo was incredibly classic and sharp looking. I joked with him that he was very 'Pierce Brosnan from 007' in it.
What was your favorite part of the day?
My favorite part of the day was having time after our first look with just Mark. Mark and I decided we wanted to have an intimate first look without our bridal party. Mark and I can be private and were nervous about feeling awkward with an active audience watching and having it with just us two allowed us to express ourselves without stage fright. It felt incredible to get to share that once-in-a-lifetime moment, just the two of us, not worried about anybody or anything else. After the first look, we took some time to take photos as a couple and actually had some photos taken at the restaurant where we had our first date, Twenty Manning. Having this time with my soon-to-be-husband, just to enjoy, and not to entertain anyone but each other is one of my most treasured memories from our wedding.
Was there any Do it Yourself (DIY) projects? If so, can you describe them in detail?
• Mark and I strongly believe that our friends and family are who make us who we are. Many of our loved ones have been happily married for years and we wanted to draw from their advice. For this reason, we made our guestbook a compilation of vintage postcards. To do this, we ordered vintage postcards—they are available on Etsy or even Amazon. We also purchased a white standard size mailbox from Home Depot (we opted for a standard size so that we could use it for our first home; however many retailers have smaller mailboxes you can buy). We arranged the postcards next to the mailbox with a sign reading 'Pick a postcard and share your well wishes and advice with the new Mr. and Mrs. Goodman. Place postcards in the mailbox and the mother of the groom will mail them to Mark and Rhea for when they return from their honeymoon." We provided archival pens at the guestbook station to ensure that the well wishes wouldn't fade over time.
• We created welcome guest bags with a Philly theme: We purchased kraft canvas totes at a local craft store. To personalize each bag, we hand-tied a thick, pink and white striped bow on one handle and added a kraft gift tag. Each welcome bag contained items unique to Philadelphia: Herr's potato chips, Snyder's pretzels, a LOVE park pen, and Tasty Kakes.
• Our caterer requested that our escort cards indicate the guest's choice of entrée. It was very pricey to have our paperie customize each of the escort cards in this manner. Instead, we opted to hand super glue a tiny gem to each escort card to indicate the entrée choice—either a pearl or diamond.
• We wanted to have candles on the grand staircase that I entered from for our ceremony. However, we were concerned my dress might catch on fire, so we created faux candles by filling a frosted votive holder with an electric tea light topped off with fish bowl gems.
What were the highlights from the ceremony & reception?
Ceremony highlights:
-I didn't expect to cry during the ceremony but my emotions overcame me and I did lose it on my way down the aisle. I didn't expect Mark to tear up during the ceremony, but he did while reading his vows to me. Although Mark had insisted on not writing our vows, he did end up writing and delivering some vows he had written himself that day—much to my astonishment. Guests complimented how emotional and heart-felt our ceremony was.
-My godfather delivered one of the readings for the wedding day—what made it so special is that he is playwright and it was words from an upcoming play he had not yet shared with the public.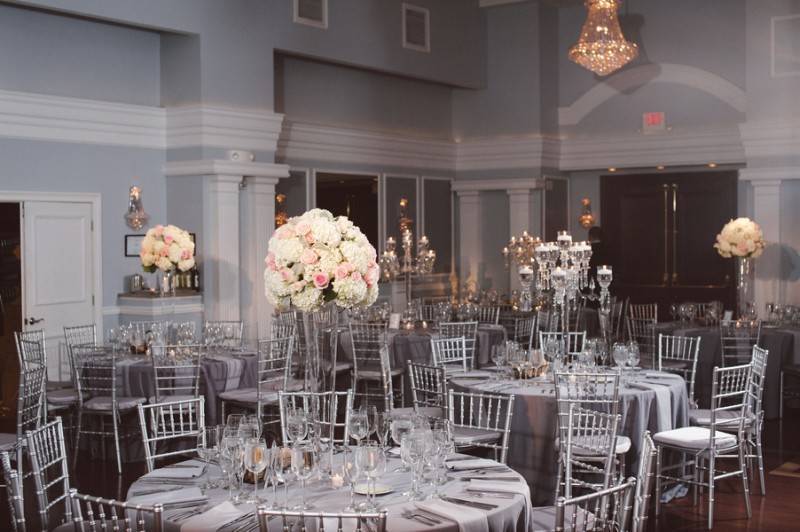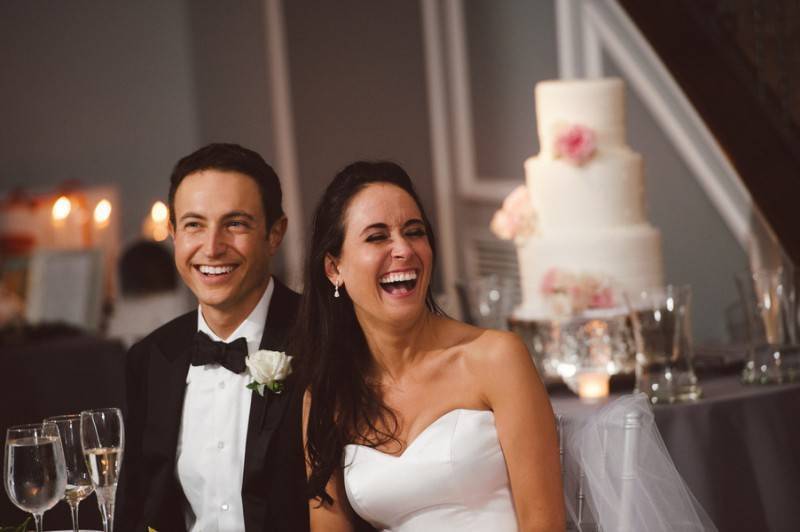 Reception highlights:
– My sister's wedding speech was so heartwarming that our videographer made it the backdrop for our entire wedding video.
– Mark's parents surprised us with an engraved heirloom cake knife with our names engraved as well as our relatives before us.
– One of my friends from college, an opera singer, dedicated and sang a song to Mark and I.
– We had the most magical end to our night—a sparkler send-off!
– One of my friends having a dance-off with my aunt on the dance floor.
– Friends surprised us with customized wine and champagne to drink at each of our life events: the wedding itself, 6 month anniversary, and one year anniversary.
– The band called Mark and I to the dance floor and played Michael Buble's "Save the Last Dance" for our last song before inviting our guests to join in.
– Guests were provided warm Philly pretzels in to-go boxes at the end of the night.
– Mark's grandfather, who has myastethenia gravis, was so excited that he managed to dance despite his tired muscles!
Was there a theme for the ceremony and reception?
Our theme was centered around the floral patterns in my dress. To stay within this floral theme, we sent floral, pink gardenia patterned invitations. In addition, I had a fresh gardenia within my hair throughout the day. We also placed floral arrangements at each of the focal points within the ballroom.
Wedding Video

Vendors
Photographer:  Tyler Boye Photography
Floral Designer:  Robertson's Flowers & Events
Band:  CTO Tribecca
Makeup Artist:  Julie Fischer makeup artistry
Apparel:  Philly Bride
Floral Designer:  Robertson's Flower
Caterer:  Steven Starr Events
DJ:  Synergetic Sound and Lighting