The abundance of purple flowers in the springtime was a head start in planning Dawn and Steven's wedding. In choosing the motif, this pair opted to go with the season and spared themselves from the struggle of choosing their motif. The upshot — an English Garden themed wedding so sublime and engaging. Encapsulated with the tall and lush forest trees of the Gramercy Mansion, the laces, rose petals, and carriage were a bull's-eye to everyone's heart. You can't escape the love arrow once you see their photos. Check out their fairytale below and tell us how you felt!
Our Story
We were both living in New York City and were pretty jaded by the dating scene up there. So neither one was really looking for a serious relationship, just someone to spend time with. We meet on OkCupid and started chatting. At that time, Steven was traveling to several shows for work and was heading to New Orleans where I sent a lot of time during my last few years in college. So we spent nights chatting and I sent him off to several different things in New Orleans.
When he got back for our 1st date, he got the VIP package for Sleep No More (a very unique play in NYC). Even after the after party, we went to the Art Bar till 4 am. After that, we both cancelled all our other dates and were together for everything until he had to travel for work. We both have a  love of theater and art and we have a passion for the outdoors. So we went on several hikes in the NYC area including Breakneck and did rock climbing at Otter Cliffs in Maine. He has tried riding horses a few times for me. Plus when I got to know him I could see he was childish in way like me and I think he will be an amazing father. Plus when it comes to intelligence he is amazing.

We Are A Perfect Match
We figured out how to negotiate before even the 1st date. Plus it feels like home when we are together.
The Proposal
Steven tried several times as he was on a time schedule to leave for 5 weeks. We went for a hike on Sugarloaf Mountain but my vendors from work kept calling and then he took me to the Brickridge. Our favorite restaurant and the 1st place we went too when we moved to Maryland, but the waitress spilled food on him. So when I was in my pjs and in bed he proposed since he was leaving in 2 days and needed time to tell the family together.
The Planning Process
We had 15 months and it seemed to be enough but as it comes down to the wire, there are always a thing you miss.
The Best Advice We Received
You can't do everything yourself and to trust the professionals. Enjoy your time as a bride it only happens once.
Plus one key thing if you have your puppies in it as we did, make sure you have a handler there to take them away as they are animals and may talk in the middle of the ceremony as our George did. But we could not imagine the day without George and Valentine as they are our kids.
Tips & Tricks For Future Brides
Figure out what are the key important things to you and prioritize your to do list. Plan on everything be done 3 months prior to the wedding as it will come down to the wire and you will realize there are small things you forgot. Always speak your mind to your vendors it's best to figure things out in the begin before it ruins your day.
The Challenges We Faced
Always speak your mind to your vendors it's best to figure things out in the begin before it ruins your day. Even though we address early, our Caterer still messed up the food on the day of the wedding and starting debating me in the middle of the reception so I had to ask the floor manager to leave and the night manager to take over. We are still in talks with the company to discuss refunds as we will never get the day back.
The Theme
English Garden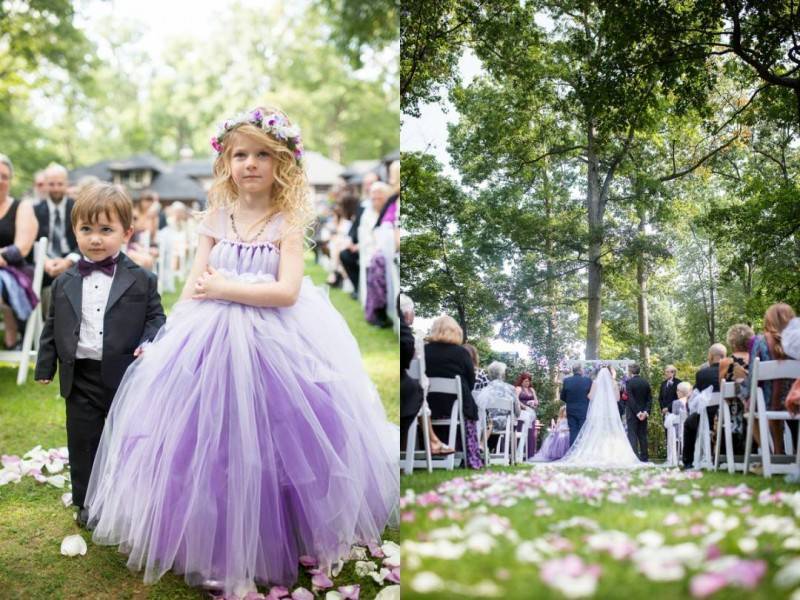 Wedding Decor Inspiration
My family was stationed in England and we lived at the Castle in Haughley England. The village was amazing. Plus we had perfect gardens inside our moat. Both Steve and I love the outdoors but wanted people comfortable so a total outdoor wedding was not an option. So the Gramercy was the perfect balance and the different shades of purple was something we both could agree on as it wasn't harsh and flowers in the colors were easy to locate that time of year.
Wedding Outfit Inspiration
Nothing really inspired the outfits but I wanted shoes to match both Steve and my girl's dresses so I designed my own with Shoes of Prey. The key thing was the amazing hand made veil that my friends from Texas made for me. Dizzy hand made every flower, leaf, and stem on my 13 foot veil. I would call and her and several of the other girls would be sitting around for a Stitch and Bitch session as the beaded and applied each little piece by hand. They said we may not be there but you will carry a piece of us with you down the isle with the veil. Steve made sure he bought his tux so it was tailored to fit him perfectly. Minus the button that popped off the jacket right before the ceremony.
Our Do-It-Yourself (DIY) Projects
I designed and made the Save-a-dates, invitations, and name cards.
Then I designed wisteria for the ceiling made of tissue paper, yarn, and beads.
Then I made prosecco and strawberry jam and then blue berry and lemon-cello jam as favors.
Money Matters
Wedding budget: $80,000
I designed and made our save-a-dates, invitations, name cards, table name. Steve made the giant Jenga. Then I made 120 jars of jam as favors. Then my mom and my maid of honor Ezrah, made wisteria for the ceiling in the terrace. The best thing was my veil that every stem, leaf, and flower was hand made and applied by my Texas friends with my other maid of honor Dizzy leading the project. It is now a family heirloom and called cthulhu.
The food and Steve's lighting design for the evening.
The Guest List
120 were invited but the final count was 96 in total.
The Songs
My friend Dawn played the violin and played songs from Cinderella the movie as I did not want traditional. My song was the Lavender's Blue Dilly Dilly. Since the music was not out yet she improvised most of it.
The Honeymoon
Steve took me on an amazing 3 week trip to Italy. We started in Agropoli with an amazing view of the Cilentan Coast and you could see Capri in the distance. It was so peaceful and our favorite part. Then he got me 2 nights in an Italian Villa at La Posta Vecchia and did chef tastings every night. During the day we went into Rome to see the Vatican.
Then we spent several days in the Tuscan countryside see small towns before heading to Florance for 4 days (get the Florance city card it helps beyond measure with lines). At this point we returned the rental car and hopped a train to Milan for our final days ending with a night at the Opera. On the way home we also spent a day in Iceland. Steven planned every last detail himself making the most amazing time ever.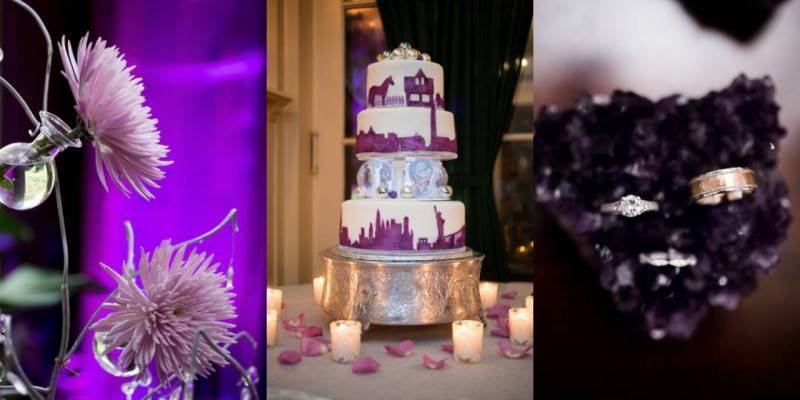 The Next Step
We are excited to find a place to call home for us and having a family.
Highlights from the Ceremony and the Reception
We had the cutest flower girl. But the best part was seeing my friends support me in my next adventure and Steve's expression seeing me. We laughed together so much that day.
Favorite Part of the Day
Being with friends and family to celebrate the start of my new family. It was amazing just seeing everyone one that loved us.
A Memorable Moment
Everyone loved Steven's lighting design through out the property and the games. The lighting included me out the night before with the lighting guys and the bridal party trying to set the perfect shade of purple for his design.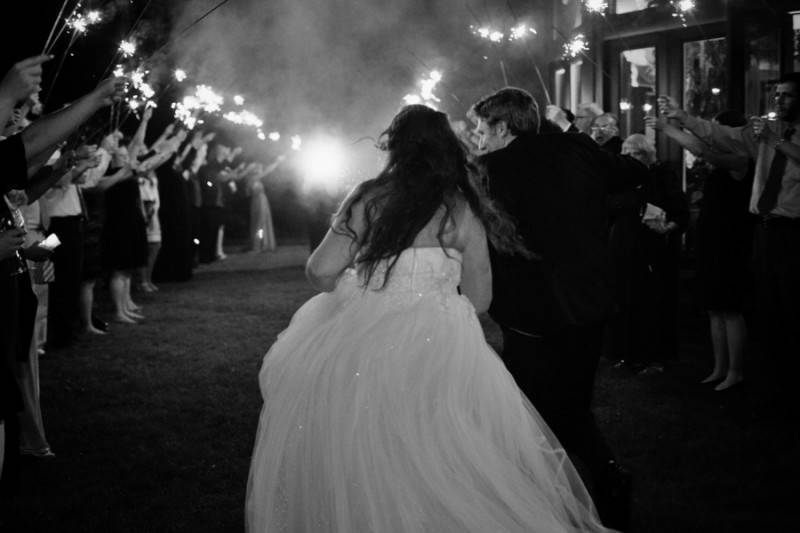 VENDORS
Photographer:  Lovesome Photography
Dress Designer: Betsy Robinson's Bridal Collection
Linens and Coverings: Capital Party Rentals
DJ: Event Solutions
Officiant: Goldsboro, NC First Baptist
Event Venue: Gramercy Mansion
Transportation: Hyatt Place Hotels
Floral Designer: Inspiration Floral Design Studio
Tuxedo and Mens Attire: Jos. A. Banks Columbia
Cake Designer: Kirsten's Cakery
Cake Designer: Linwoods
Makeup Artist: Made You Blush
Cinema and Video: NWR Photography
Other: Shenandoah Carriage Company
Shoes: Shoes of Prey
Hair Stylist: The Vanity Salon
Hair Stylist: Wedding Tresses