Steph and Stephen were determined to get hitched in a place where they would fall in love every time they look at their photos, even few years from now. The Wang Theatre's Grand Lobby is their choice. They felt that they do not need to put too much decors on the theatre since it is already brimmed with satisfactory gold interiors and pillars lit with purple neon lights. However, this did not stop them in doing their DIY hydrangea centerpieces, dinner place cards, and their candy bar! The whole entourage even swagged the aisle with their coral dresses and coral ties accented with golds. Their wedding felt like it was done in a French palace from centuries ago! What a grandiose wedding! Congratulations, Steph and Stephen!
Our Story
My wife and I had met online and our first date was dinner at the Cheesecake Factory restaurant. During our several fun dates such as winning alot of prize tickets together at a game at Dave and Busters and watching the Titanic in 3D, we got to know each other very well and just hit it off.
We Are A Perfect Match
We have many similarities and complement each other in several different ways. For example, I tend to be the indecisive one whereas Stephanie is able to make straight forward decisions to get things going. Both of us are able to make each other smile, laugh, and act silly whenever we feel like it.
The Proposal
I proposed by setting up a special gondola ride date on the Charles River. It was extremely difficult to time it exactly right considering that once booked, you could not cancel your time slot due to bad inclement weather and I had tried to time it during sunset and the days of sunlight kept get shorter. The gondola ride company had this option where you could write a custom letter and they'll discreetly toss this bottled letter on the river which is what I did and the plan worked great. Not only did I get a "yes", but was able to get the perfect sunset night with clear sky weather and beating all those variables.
The Planning Process
We started our wedding planning process in the beginning of October 2013 and eventually acted on our venue choice at around December 2013. We had decided to have our wedding held on Memorial Day weekend (May 24, 2014). Myself not knowing how much time we need to plan, I originally thought it was not going to be enough time, but after a lot of hard work, we were able to connect to the dots with all of our vendors and got everything to come together on time.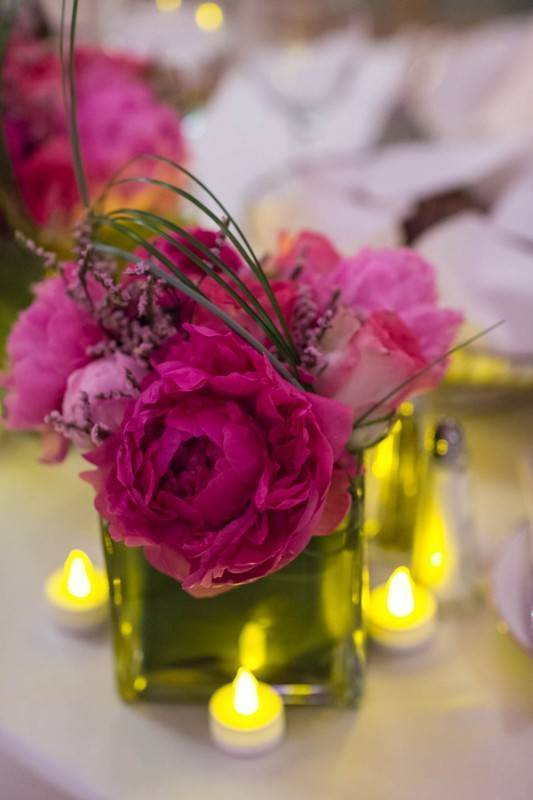 The Best Advice We Received
The best advice we received from friends and family is that despite how expensive the cost of wedding may be, you definitely want to make sure that you 100% love your venue selection and that is all that matters. It's going to be that place that always gives you that big "awe" feeling every time you go there rather than just settle for a different venue that could save you just a little money, but it is just mediocre venue.
Tips & Tricks For Future Brides
The tip that we can offer for future brides that we learned ourselves during and after the wedding is to simply relax, have fun and enjoy your wedding day as you'll notice how fast the time goes by and you'll realize, "wait a minute, it's already 11pm? how is that possible?". Also, I would try to not worry about the so many logistical things involved since you'll be more focused on that rather than actually having fun. Just go with the flow and even if there are mistakes or logistical issues, that's fine and the show will just go on as nothing ends up being perfect.
The Challenges We Faced
One of the challenges we faced was trying to decide between 2 different venues based on atmosphere and cost. One venue was priced a few thousand lower than the Wang Theatre and their open bar costs were at a fixed per person rate while the costs at the Wang Theatre venue were variable and could not be changed to a fixed rate per person. After much consideration in weighing the pros and cons of each, we went with the Wang Theatre and were able to address our concerns of high uncontrollable beverage costs by having a beer/wine menu.
The Theme
We can't say that there was an exact theme for the ceremony and reception, however, because of the way that the Wang Theatre Grand Lobby is decorated, we wanted to have it give off that elegant/formal vibe where it really does feel like one is in a French palace from centuries ago.
Wedding Decor Inspiration
There really wasn't much wedding decor needed at all since the venue itself had already a decor since the Grand Lobby is modeled after the Palace of Versailles and looks like a piece of artwork that you don't see in many places.
Wedding Outfit Inspiration
Originally, the wedding day outfits was going be a "Tiffany blue" color, but we had realized that the colors in the Wang Theatre tend to be "gold" and potentially may look odd. After looking at how other previous wedding couples had arranged their ceremony and reception at the theatre, we decided on a coral/gold theme where the bridesmaids would wear coral dresses, the groomsmen would wear coral ties, and the plate-ware and Chivari chairs would have a gold color/accents. It just seemed appropriate since the grand lobby of theatre has a lot of gold accent.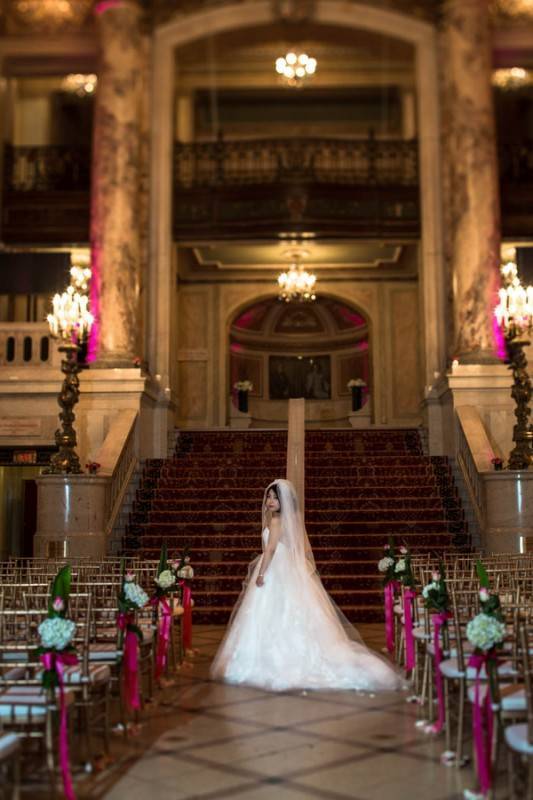 Our Do-It-Yourself (DIY) Projects
We had done several DIY projects that involve ourselves as well as friends and family.
Centerpieces with Hydrangeas and LED submersible lights in the water
Dinner menus were typed and printed with a custom template
Dinner placecards were typed and printed with a custom template
Candy Bar with several different selected apothecary jars.
Money Matters
After making many approximations on how much we would be spending, our wedding budget was to stay slightly below or slightly above $40k.
Even though there were some services like the DJ or caterer that could not be DIY, we were able to save some money here and there with projects that could be DIY with the help from family and friends. One of them especially was the flower centerpieces for the table where my family and friends spent a great amount of time arranging that together. We probably saved about $4k-5k just by doing the centerpieces ourselves.
The biggest wedding expense was the catering services and the venue.
The Guest List
We had invited approximately 120 people and the final guest count ended up being between 90 and 100.
It was quite difficult because we wanted to invite everyone we knew and unfortunately that was not possible. The family list was important and same with friends, however, we had to be pretty selective since we did not want to exceed our budget.
The Songs
For the processional, we used a "Legend of Zelda" fairy theme song that just sounded elegant with the acoustic guitar. The bride's entrance song was "A Thousand Years" which was played in piano by an artist named "The Piano Guys" and the recessional song was "Love Never Felt So Good" by Michael Jackson feat. Justin Timberlake.
The Honeymoon
We went to Alaska since we wanted to cross that off our bucket list out of the many places we want to travel to. It was perfect timing since most tourists will go during July/August and we missed that crowd which worked great in our favor
The Next Step
We're excited to plan our lives together as one and look forward to the many milestones we plan to achieve such as owning a single family home that we'll enjoy spending time in and raising a family in the near future.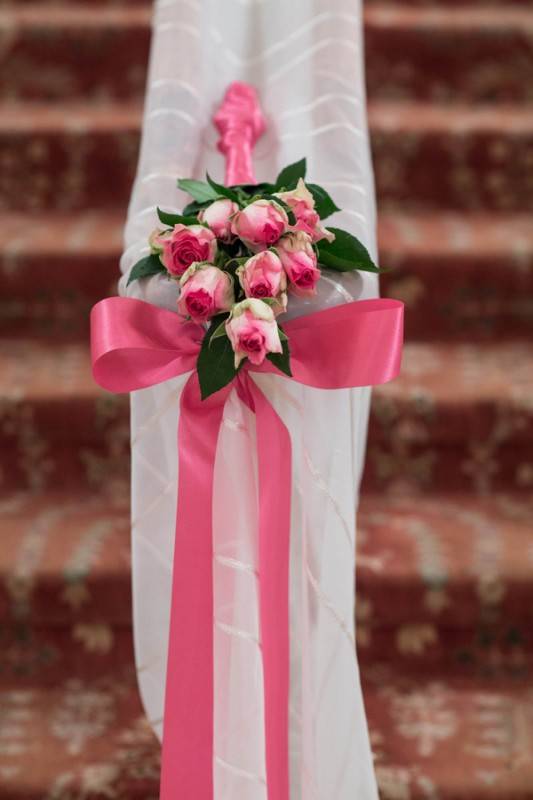 Planning Advice For Couples
Even though you'll run into roadblocks or aren't able to easily make a decision on a particular plan, don't give up and just keep going forward no matter what. You will get there and you'll realize, wow, we spent a good amount of planning time for this one special day of our lives and it truly ended up being one of the best days of our lives.
Favorite Part of the Day
My favorite part of the day was hearing the Best Man and Maid of Honor speeches since the things that were said were just funny and touching at the same time.
Highlights from the Ceremony and the Reception
It was definitely one of the best days of our lives where we could celebrate this special occasion with all the friends and family. The flow of the ceremony went well and transitioned perfectly to cocktail hour upstairs in the 2nd floor balcony and then to our reception (our caterer staff had to convert the ceremony space to a reception area where tables, chairs, and dinnerware had to be set up). The two highlights that I clearly remember consist of having guests to light up the glowsticks that we bought for EDM dancing and seeing my wife toss the flower bouquet from the balcony to the single ladies towards the end of the night.
A Memorable Moment
The part of the ceremony that was most memorable to me as well as the guests was my wife walking down the aisle for the very first time. I will never forget the feeling and moment of that time.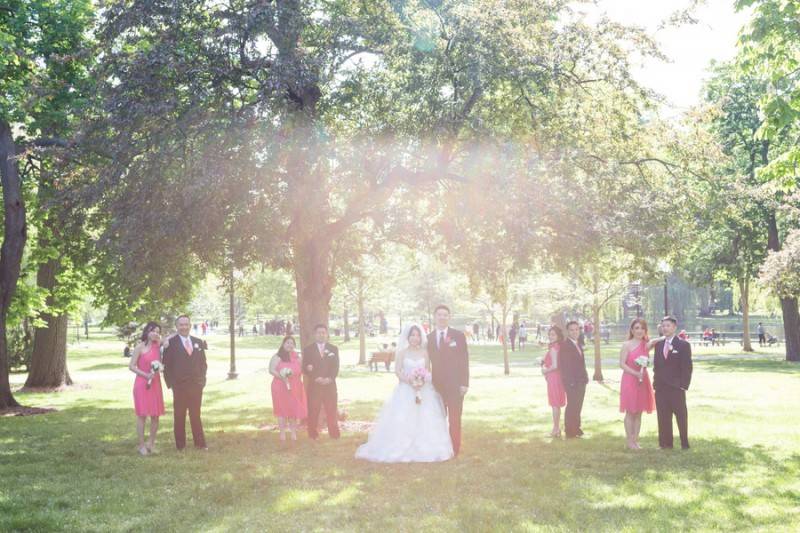 VENDORS
Photographer:  Whyman Studios
Caterer: Cuisine Chez Vous
Photo Booth Equipment: Elite Photobooth NE
DJ: Move It Music DJ and Lighting
Event Venue: Wang Theatre