When you look at this photo of the bride with her bridesmaids and see the lilac gowns, and pretty pastel flowers – you immediately think of spring! If you look through their wedding gallery, you would see that they also incorporated the same colors at the reception. I love how everything was feminine, subtle, and elegant. And here's an idea for your wedding: after the ceremony, the guests were given pale pink rose petals in a cone and bubbles to 'shower' the couple. It was a beautiful day. The couple who are very God-centered people sang worship songs along with their guests. May God bless your love more, Elise and Greg!
 What is the overall story for this album?
Elise and Greg were married on a rainy Saturday in June in Indianapolis, IN. Both seemed very excited to show up to the first look because it had been an entire day since they had seen each other. Greg's whole face was smiling, and he revealed to Elise that he thought she was the most beautiful woman he has ever seen. Their spiritual ceremony spilled over into their reception as friends toasted to their love for God and their love for one another. It was a beautiful ceremony and reception. Candy, Cake, and a wonderful meal kept the guests energized for a night full of dancing. Being surrounded by their friends and family created a night they'll never forget.
What inspired the wedding day outfits?
Elise is very feminine and elegant, so she chose a classic dress. Greg wore a tux and bow tie to match elegant Elise.
What was your favorite part of the day?
I loved the love and respect that all of their guest had for them. Their guest saw it as an honor to be there to see these two amazing people get married!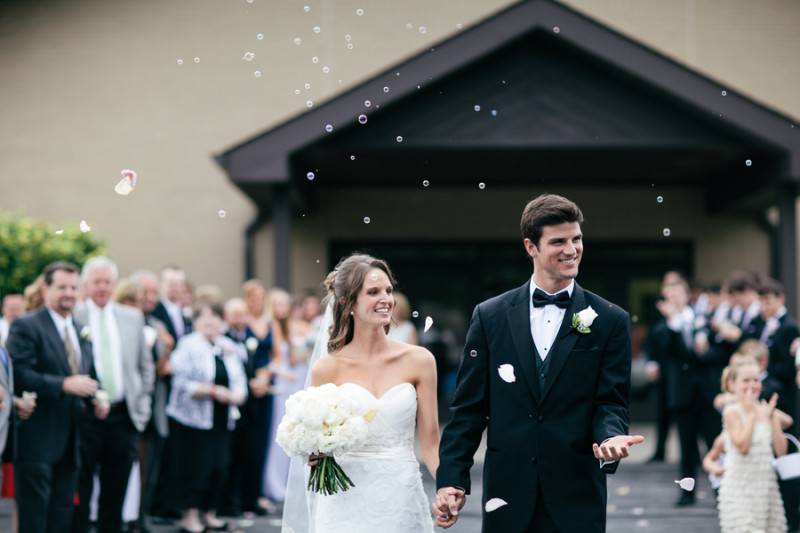 Was there any Do it Yourself (DIY) projects? If so, can you describe them in detail?
Elise prepared for the day in one of Greg's shirts embroidered with their wedding date. The bride helped design the centerpieces with her florist.
What were the highlights from the ceremony & reception?
Elise & Greg sang worship songs with their guest before finishing up their ceremony. The reception dance floor was full and guest enjoyed a lovely dinner with dessert cake balls, special requested by the bride and groom.
Was there a theme for the ceremony and reception?
Elegant, feminine, Spiritually-centered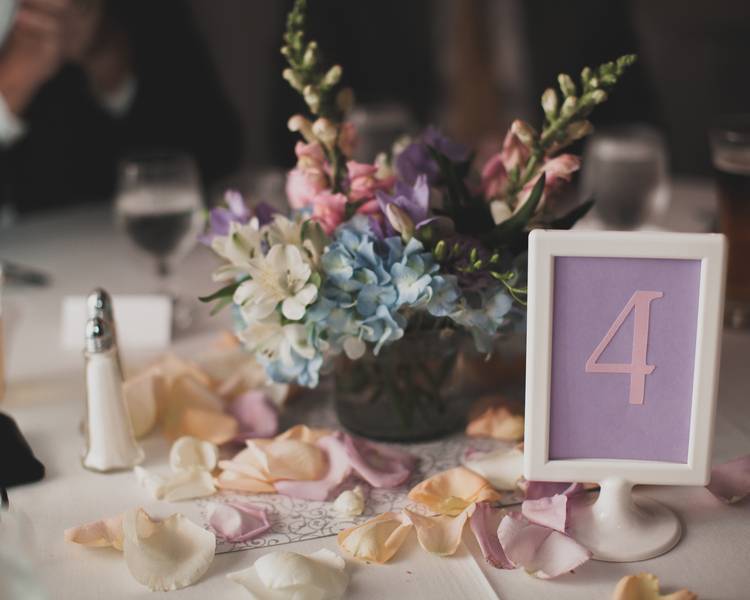 What part of the ceremonies do you think was the most memorable for the bride and groom?
They will ways remember what their relationship and love was founded on, a Christ-centered life. They won't forget the smiling faces and the happy tears of their family & friends. Those moments are always the ones that stay with us the longest.
Anything else you would like to add?
Elise and Greg are the definition of grace and elegance. There wedding wasn't over the top, but details were well planned. A wedding doesn't have to be full of crystal, guest in black tie, the most upscale ballroom, etc., and I think their wedding is a prime example of just that!
VENDORS
Photographer: Jennifer Van Elk Photography
Transportation: Advanced Limousines
Ceremony Location: Aldersgate Free Methodist Church
Floral Designer: Barnyard Elegance
Cake Designer: Classic Cakes
Cinema and Video: David Yan
Invitation Designer: Exclusively Weddings
DJ: MC Entertainment
Bridesmaid Dresses: Nancy's Bridal Boutique
Reception Venue: The Garrison
Makeup Artist: The Make-up Shop