From mermaid to tea-length, there are way too many gown types for brides to find that beautiful dress to walk down the aisle in. The easiest way to go about the search for "the one" is by shopping according to your body type, which is pretty much the cardinal rule when choosing your wardrobe, although you'll be surprised at how rare women do so, or even know which category or two they fall under. Some have been graced with body shapes that can virtually look good in any dress and neckline, but in reality, that's only a small percentage of us.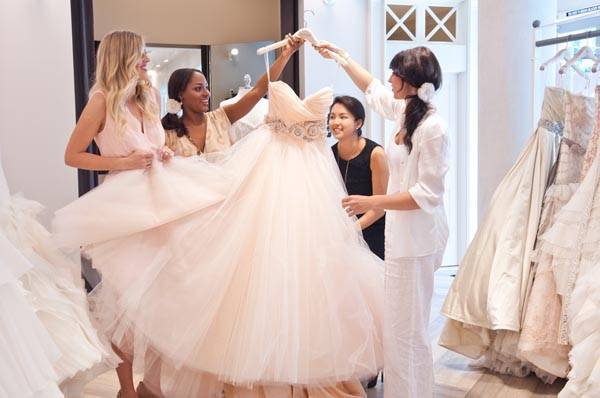 Here at Elegant Wedding, we previously introduced the different dress silhouettes and touched upon the shapes that each gown style would complement, and here we'll be discussing what you should specifically be looking for with your body type.
Petite
If you've got a smaller frame, you'll need a dress that will elongate your body, as anything body hugging will make you look leaner than you desire. Opt for toga-like sheaths with unbroken lines, as shown on Glamour, but if you want to accentuate your curves, go for a dress with a raised waist for more length.
Pear-Shaped
When in doubt, an A-line will trim the waist and dial back on the bottom heavy aspect. In order for the skirt to float away from your hips and thighs, you'll need to go for sturdier fabrics that won't cling onto your skin, such as taffeta.
Tall
In this case, you don't want to look larger than your actual height, or appear as though your dress was borrowed from someone shorter than you. Real Simple says that simplicity is key here in silhouette and embellishments, which can take away from the elegance of a longer dress.
Busty
Create a balance in curves by looking for a body-hugging bodice attached to a skirt that just skims the body. For extra security, a dress with boning and a dropped waist, like a corset, will give you the proper support and keep everything in place.
Apple-Shaped
You want to give the illusion of curves, so anything cinched at the waist and gradual transitions into an A-line silhouette will be best, avoiding any trumpet styles, as they will widen your bottom half. In terms of neckline, you should go for halter because it looks extra flattering with a gathered waist, examples of which can be seen on a variety of items put together by the style editors at Lyst, an online fashion retailer that also supplies alternative wedding dresses.