It was an elegant and romantic wedding for Yoni and Shira. The couple got married in Florida not only because of the weather but also it's where the bride, Shira, grew up. I like how they stayed within romantic earthy colors. Shira was so sweet to give her bridesmaids the freedom to pick their dresses as long as they stay true to the champagne color scheme. I love the idea of giving your entourage the chance to chose a dress that would be comfortable for them to wear. And it being mismatched gave it a more unique and classy look. The day was indeed classy and romantic. Congratulations!
Shira and Yoni met in 2005 on a Hillel organized trip to Israel. They remained close friends for several years until Shira started a consulting project in Minneapolis in 2011. Coincidentally, Yoni was living in Minneapolis at the time and they were able to reconnect and began dating. They continued a long distance relationship, Yoni had moved to Chicago in 2012 and Shira was still living in NYC (but traveling to Minneapolis for work – the joys of consulting life!), for a year before Shira moved to Chicago in 2013. Yoni proposed on March 27, 2014 with a surprise trip to Israel, returning to the very place they had originally met. The spot was well chosen, in the Old City of Yaffo overlooking Tel Aviv and the Sea.
I know that a lot of people say they married their best friend, but we had been best friends for 8 years (prior to dating) so we truly did marry our best friend! We chose the Eden Roc because it's right on the ocean :) I grew up in South Florida and wanted to have an outdoor weekend, specifically given that we live in Chicago now and it is already FREEZING in November there. The Eden Roc is a classic and iconic hotel in Miami Beach, that I remembered growing up with and even going to! We wanted an elegant and romantic themed wedding as well as something different our Midwest and Northeast friends would really appreciate. When we toured the hotel, we just fell in love with it all!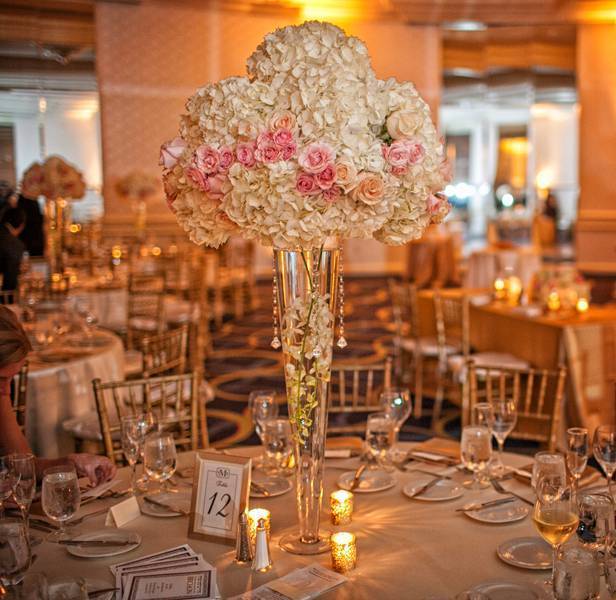 From the outdoor ceremony by the beach to the stunning art deco lobby to the magnificent ballroom it was everything we were looking! The Ballroom was simply fabulous and gorgeous – we wanted to show off the unique walls and wallpaper as well as the ceiling. Also having our reception where Elizabeth Taylor got married didn't hurt!
The bridesmaids dresses were intended to not match – I wanted all my bridesmaids to show off their unique style – I wanted them to be different. I told the girls Champagne, with a very broad spectrum for interpretation. I could not be happier with the way all the dresses came together. They were simply stunning!!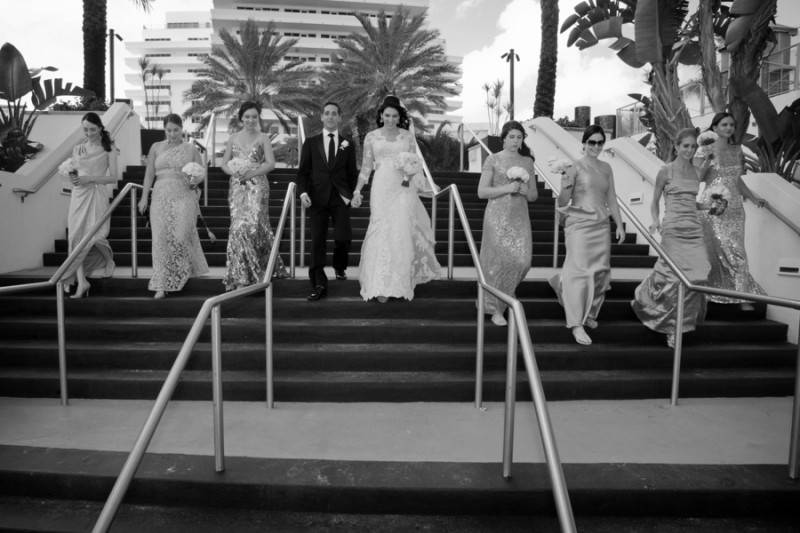 My dress was actually custom-made. The Martina Liana gown was originally strapless; however, because it was a modern orthodox wedding I wanted to create sleeves and do a build up on the dress with extra lace and appliques. I could not have been happier with the way my dress turned out, it was so unique and classic. I loved it!
The best part of the wedding: right after the ceremony, in traditional orthodox weddings, the bride and groom have about 10 minutes alone together, just them. No photographers, no videographers, no family/friends, just them. It was wonderful to have those first few minutes together as husband and wife, share a toast together and then go party with the rest of our family and friends!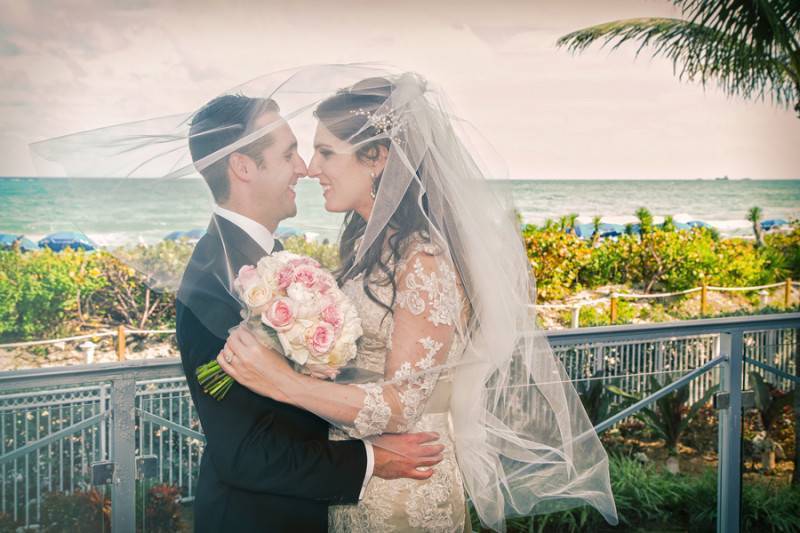 VENDORS
Photographer: Jeff Kolodny Photography, Inc
Cake Designer: Ana Paz Cakes
Shoes: Badgley Mishka
Photo Booth Equipment: Got Smiles
Dress Designer: Martina Liana
Dress Store: Boca Raton Bridal & Consultants
Tuxedo and Men's Attire: Calvin Klein
Makeup Artist: Chic Makeup by Aimee
Floral Designer: J Morgan Flowers
Cinema and Video: senderey video
Event Planner: TC Event Design
Reception Venue: The Eden Roc Hotel
Band: The Music Machine
Fashion Designer: Vera Wang