We may be late to the party but we're ecstatic to finally arrive and the fun can now begin. This New Year's Eve inspired styled shoot shouldn't just be reserved for that one day of the year. It's an equal part of glamour and playful that any energetic and fun couple will surely enjoy this reception style. You'd think that the gold, silver, and black will crash together and form an overzealous event but that's not what this feature did. It was tasteful and luxurious. Perfect for a party and a formal event.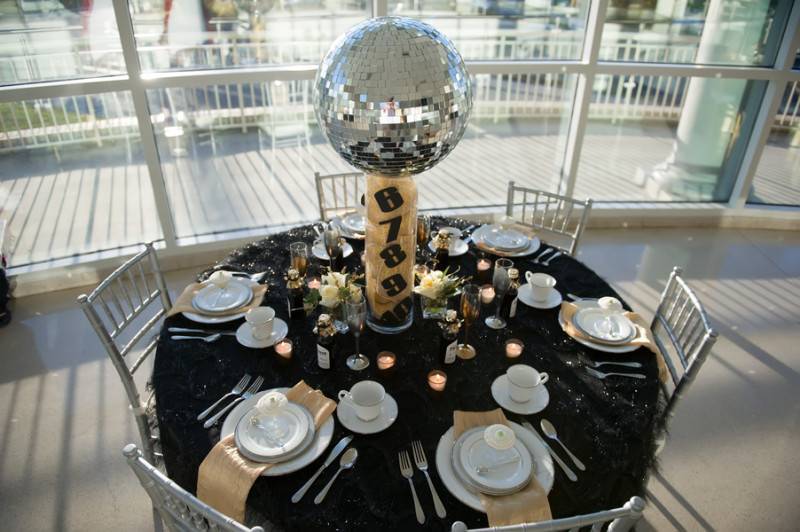 Coordinator:
What would you say, the overall story for this album?
For this inspiration shoot the designers at Custom Love Gifts wanted to showcase the glitz and glamour of New Years Eve decorations using three different budgets- one for a high end affair, one for a mid range party, and one for a low budget gathering.
What inspired the wedding day outfits?
To create the feel of a lux event with or without a lush budget, the DIY New Year's Eve décor focused on a mix of precious metal colors and a little dash of sparkly details on a black backdrop as dark as midnight.
What was your favorite part of the day?
Seeing the DIY projects turn into expensive looking details!
Was there any Do it Yourself (DIY) projects? If so, can you describe them in detail?
Glitter glasses were on of my favorite DIY projects. We used glitter glue and glitter to embellish the stems of martini glasses. We filled clear glass globes with glitter and made little tags for party favors. We also used sheet music and tinsel to decorate dollar store party hats and blowers and take them from cheap to chic.
Was there a theme for the ceremony and reception?
NYE Inspiration with black, gold and glitter

Vendors
Photographer:  Break The Mold Photo
Museum:  Women's Basketball Hall of Fame
Equipment Rentals:  Campbell Tent & Party Rentals
Favors and Gifts:  Custom Love Gifts
Bakery:  Gail's Custom Cakes
Floral Designer:  Melissa Timm Designs
Linens and Coverings:  White Table