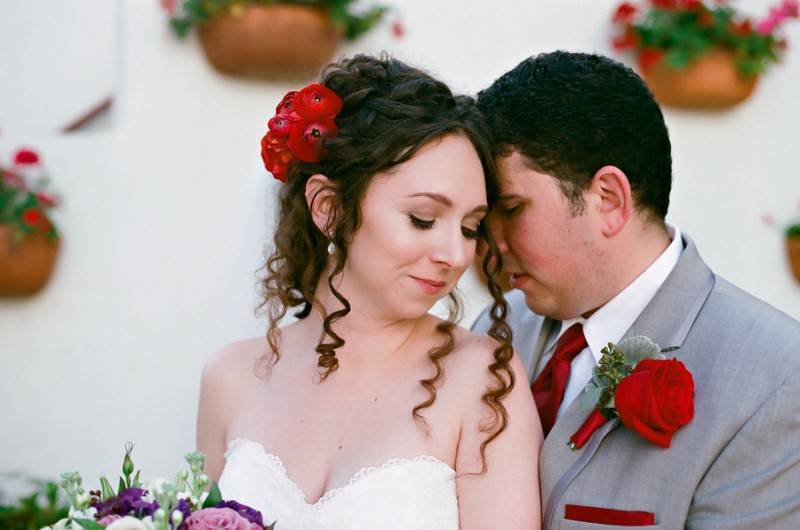 Our bride and groom's wedding color accents, red and purple, are actually their favorite colors. See, not only do they match as a couple (read: their love story) but their preferred colors match tastefully as well. Also, their compromise on this difference was done well – only the bride and groom were adorned with red accents but the rest of the event had purple ones. This is truly a lovely wedding.
Here is what our bride has to share about their wedding day…
What is your story as a couple, how did you meet & fall in love?
We met through mutual friends at Lisa's 21st birthday party. After that night we exchanged phone numbers and became very good friends. About 1 year later on St Patrick's Day, Moty invited Lisa over for late night dinner and they enjoyed their first kiss, this is when their relationship changed. Then Lisa moved away for Graduate School to Northern CA, Moty promised to visit every other weekend and he did!
What makes the two of you a perfect match?
We are a perfect match because we compliment each other. We are awesome at compromising and helping each other achieve their goals. Also we make the best team!
How did he (or you) propose?
Moty took me to Paris, France in September 2012 to explore the historical city and to meet the maternal side of his family. One day during the trip we went to the Pallace of Versailles, which is where royalty used to stay when they visited. There acres and acres of many different gardens behind the palace and in the middle of all these gardens is a large lake. On this particular day they were having a special event and there was classical music playing in the gardens and could be heard while out on the lake. Moty rented a row boat and took me out into the middle of the lake. While being careful to keep the boat stable he got on one knee, told me that he wanted to spend the rest of his life with me, and offered her the ring. Of course I said, "Yes!"
How long was the planning process? Did you think it was enough time?
We were engaged for 1 1/2 years, I think it was just the right amount of time. We spent the first few months just enjoying our new engagement. Then we spent about 1 year planning everything.
What was the best advice you received when you were planning your wedding?
The best advice I received was to focus on what my fiancé and I wanted for the wedding. Lots of people try to give their opinion, it's important to focus on what you want as a couple.
What tips & tricks ("hacks"?) can you share future brides that you yourself have learned during and after your wedding?
My best tip is to speak with other brides! The best way to find a vendor is from someone else who had a positive experience. Also some recent brides might be willing to give away decorations they only used once!
What were some challenges you faced planning your wedding & what would you have done differently to avoid them?
The main challenge we faced was planning the wedding from a distance. At the time we lived in Northern California yet we got married in Southern California. If I get redo things, I think I would enlist more help, to relieve some of the stress.
What inspired your wedding decor? Why did you choose the things that you did?
We wanted the wedding to have an overall romantic feeling while still encouraging everyone to have a great time. The centerpieces on the tables and candles helped reflect the romantic feel. We also had the beach setting in the background with the amazing sunset.
What songs did you use during the ceremony?
The wedding party came out to Treasure by Bruno Mars, it was fun and upbeat. I walked down the aisle to instrumental version of Here Comes The Sun by Beatles. The recessional song was You Are The Best Thing by Ray Lamontagne.
Where did you go on your honeymoon?
We wanted to go somewhere we could both relax and get away. So we chose Maui! It was my first time going and Moty hadn't been there in a long time. We turned off our cell phones and just enjoyed being newly weds!
Do you have advice for couples still in the planning process?
My advice is to not lose sight of the purpose. The wedding is meant for you as a couple to get married and share your love with family and friends. Don't forget to take some time to enjoy being engaged!
What inspired the wedding day outfits?
I wanted my dress to be lace with a little bit of sparkle, when I tried it on I knew it was perfect! Moty's only request for the wedding was that he wanted to wear red. If you notice Moty and myself are the only ones that have red. My favorite color is purple and the hints of silver and ivory complimented that perfectly!
What was your favorite part of the day?
One of my favorite moments was when I was about to walk down the aisle, I stood there on the end with my father. Everyone turned to look at me and let out a collective "awww" and then I walked down to my husband waiting at the end. I also loved being able to spend time with all my family and friends, it seemed like everyone was enjoying themselves which was great.
Was there any Do it Yourself (DIY) projects? If so, can you describe them in detail?
I made the favors and table numbers myself! The favors were bags of Hershey Kisses with personalized stickers on the bottom. Some stickers had our names, our date, just married, thank you, or some had images of hearts! The table numbers were made with frames spray painted silver. Inside were pictures and names of places we traveled as a couple.
Was there a theme for the ceremony and reception?
I wanted the wedding to have an overall romantic feeling while still encouraging everyone to have a great time. The centerpieces on the tables and candles helped reflect the romantic feel. We also had the beach setting in the background with the amazing sunset.
Moty + Lisa | Wedding Highlight Video from Video by Melissa on Vimeo.
Vendors
Photographer:  John Prado Photography
Caterer & Event Venue:  Hotel Laguna
Flowers:  The blooming bud
Cake:  It's All About the Cake
Entertainment:  Vox DJs
Videographer:  Video by Melissa