This is the perfect way to lead guests to the ceremony and reception halls or locations, and it's super easy to do. You can create hearts, footprints, or whatever else you want to do to help your guests get to the location and add a little décor love outside.
What You'll Need:
Large cardboard pattern.
Sidewalk chalk.
Ziploc bag.
Hammer.
Flour sifter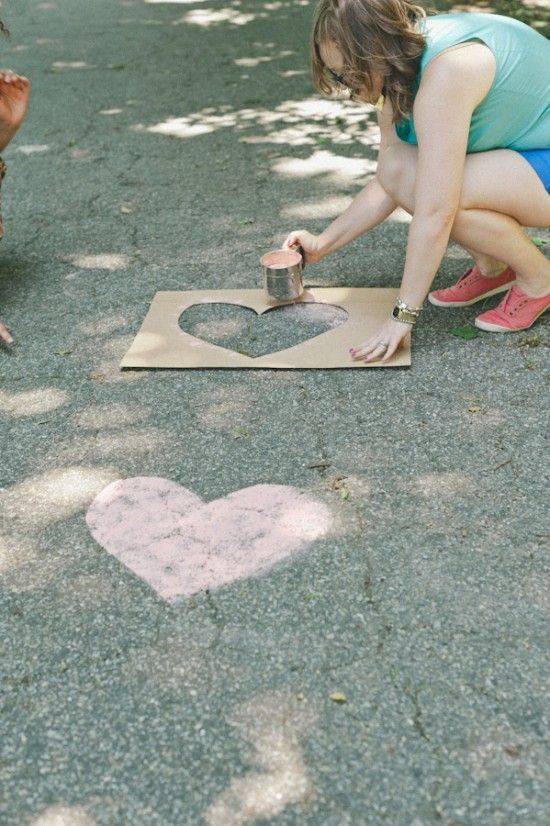 To create the pattern:
Start by drawing a large heart or whatever other shapes you want onto a piece of cardboard. You can use poster board for this as well. Using a box knife (carefully), cut out the shape so that you have a template to work with.
Making the chalk powder:
Next, place several pieces of sidewalk chalk into a Ziploc bag and carefully use the hammer to crush it up into a fine powder.
Creating the shapes:
At the venues, fill up your flour sifter with the chalk powder. Now, you will want to plan the places where the shapes will go. The natural path that your guests will take to get to the venues is the best place to put the shapes. Place the pattern on the ground and then use the sifter to apply the chalk powder to the ground. Use the pattern like a stencil so that the powder goes into the shape that you've cut in the cardboard.
Voila – beautiful and easy, and very impressive for your guests!