How many couples can say they first met in a wrestling ring? How many couples can say they learned to Samba just a few weeks before the wedding? And blew away their guests with that performance? Not very many, I reckon. These are some of the things that make Gizzelle and Jeff's relationship special. But you don't really need to have such one-in-a-million experiences to make yours a unique one. What's important is that you celebrate the things that make the two of you special because these are the things one can closely associate to the two of you not as individuals, but as a couple. Who cares about what others think as long as you're happy? The same goes for your wedding – make it special, make it yours. Gizzelle and Jeff, may you continue to cherish these special little things. Best wishes!
Click image to enlarge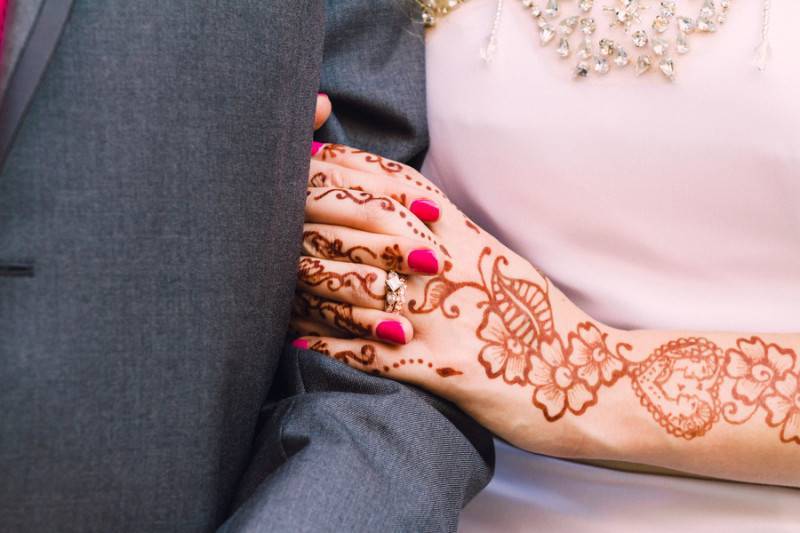 5

Like. Click to Vote
>
How They Fell In Love:
The first meeting occurred about 7 years prior to the first date when Gizzelle sang the National Anthem at one of Jeff's professional wrestling shows. Jeff held the ropes open for her as she entered the ring and had some brief conversation surrounding themselves, but neither one was very impressed with the other. Fast forward about 6.5 years and Gizzelle joined a local band as their keytar player and on the first rehearsal discovered that Jeff was the drummer of the band! After a few months of rehearsals and shows, they grew closer until one day Gizzelle asked Jeff to come over for a drink after rehearsal. From that moment on, they knew they needed to be together forever!
A Perfect Match:
Gizzelle and Jeff are perfect for each other because they enhance each other in all that we do in selfless harmony.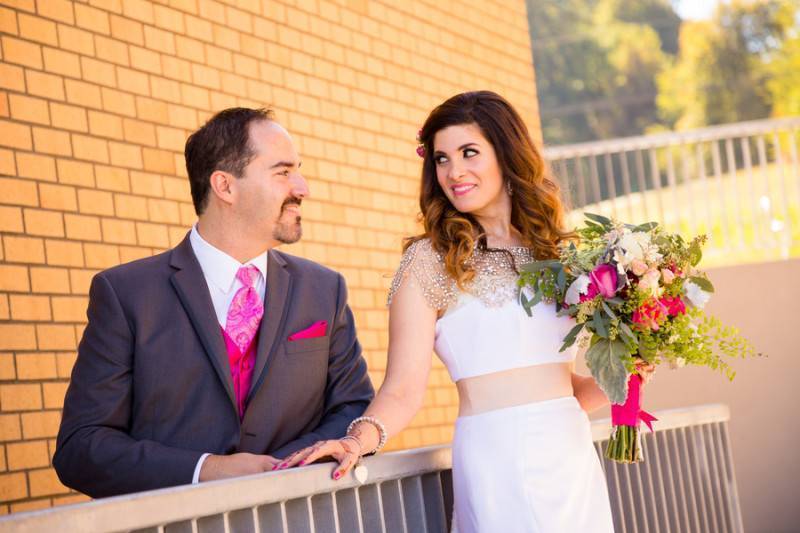 The Proposal:
They dated for just over a year and were getting ready for their second annual Holiday Party, when Jeff got the brilliant idea to propose. The planning began weeks before the event. It began with setting the stage. After rolling a few ideas and scenarios through his mind, Jeff eventually had the vision that would come to pass.
Step One: Mood. You pay $16 to sit through yet another romantic comedy. Not far from the end, the "gullible guy" gets it right – he drops to a knee, the soft music starts playing, and he professes his love, then asks for her to marry him. In the movies, it's perfect – she always says yes! How do we create the same mood and setting? MUSIC! Our friend happens to be the music director at our church. Jeff secretly met with Nichlas Schaal and arranged the details with him. Mood – check!
Step Two: Ring. Now this is where it got difficult. Here's a good idea – send a man to jewlery store and expect him to make the right choice. Yeah, right. So, Jeff marched into the Shane Co. and did exactly that! Without the help of Rochelle, he would have failed miserably… Thank goodness Jeff has a friend in the diamond business!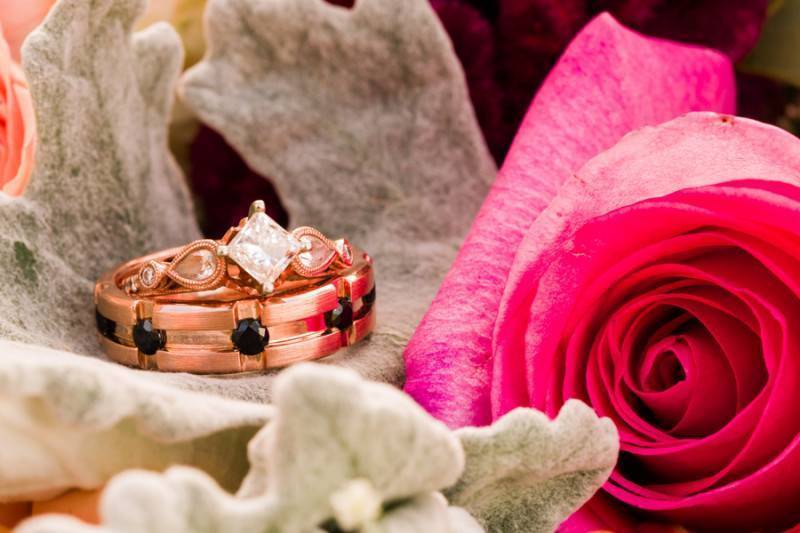 Step Three: Capture the Moment. Before the day of the event, Jeff pulled aside his friend, Shane, and told him the plan. Shane's response: "Yeah, we figured that was what you were doing." Hmm, all this time Jeff thought he was being so covert. I guess that says something about how well his friends know him. Shane agrees to tape the "moment." The big day comes. Party kicks off and everyone is having a great time. The yam balls are a hit and the wine is flowing. After about an hour, Jeff's nephew, Dylan, pulls him aside and asks, "When are you going to marry Gizzelle?" Jeff spills the beans and Dylan is the proudest kid in the world. As far as he's concerned, he just played master matchmaker!
It's time. Most of the guests have arrived and a few are packing the young children up to head home. Jeff silences the music and Nichlas takes his position at the piano. Jeff raises his glass and begins a toast, "I'd like to thank everyone for joining us tonight. It's so nice being surrounded by friends and family, some of whom have traveled halfway across the country! It's especially nice to be surrounded by friends on this day (Jeff begins walking towards Gizzelle – who is clueless at this point. Nichlas begins playing soft, swelling music) when I ask my best friend in the whole world, the woman I so deeply love (Jeff drops to one knee and presents the ring); Gizzelle, will you marry me?" What seemed an eternity later, she said "YES!" The music comes to a crescendo and everyone cheers!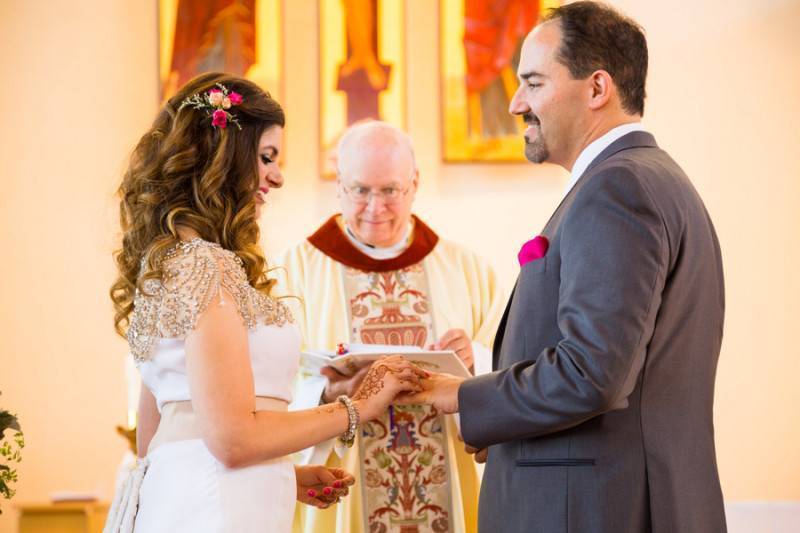 The Planning Process:
The planning process was 9.5 months and was completely enough time. Gizzelle was able to go crazy with excited planning for the month after the engagement, calm down when she realized how much longer there was to go and how many vendors didn't want to talk until 3 months prior, and then ramp back up for the final push in the last few months. Having vendors who were very flexible and prepared was amazing.
Wedding Décor Inspiration:
The church already had a style of it's own, so just a few bunches of flowers were necessary to make it the perfect venue. As far as the hall, many of the items were included with rental, so tables, silverware, tablecloths, chairs, were all chosen due to being free with rental. Table centerpieces were platters of donuts from our family donutshop and some flowers. Making the centerpiece a snack was a huge hit!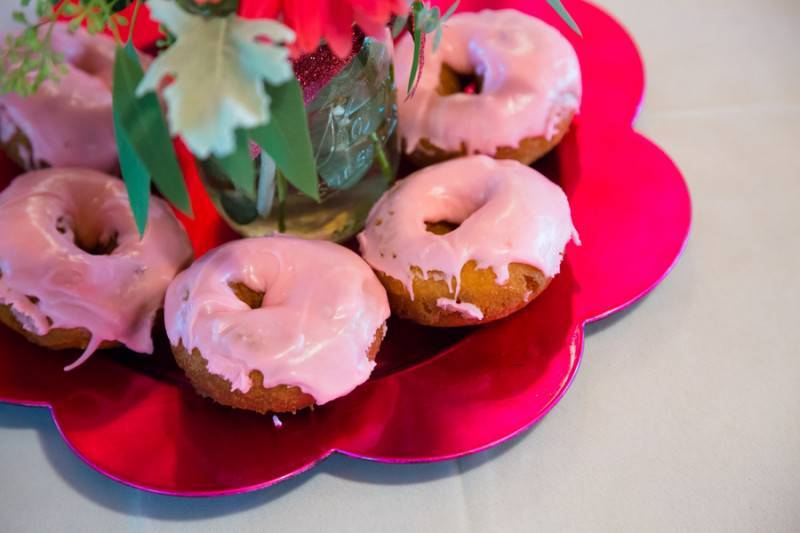 The Wedding Outfits:
The men had it very simple – Men's Wearhouse Tuxedos. Of course, Jeff had to spice it up with Versace underwear and crazy socks. Oh and his shoes! Jeff loves shoes, so wandering through the aisles at Nordstrom Rack can be very troublesome when you come across black satin loafers covered in silver rhinestones, especially when they are half a size too small! But Jeff being a tough man, decided, "Women wear uncomfortable shoes every day for fashion," and bought them anyway to wear at the wedding.
The bridal party found their dresses at Nordstrom, who was great to work with because they offered free alterations for card holders and also were able to get the dress in both petite and regular sizes. Plus, Nordstrom points! The worst part for the bridal party was finding pink shoes in the fall. The wedding dress was a collaboration between Gizzelle and Norbert Teston with an Art Deco twist. Making a custom dress was one of the highlights of the event.
A Challenge For the Bride:
While walking through the mall, Gizzelle saw a dress in the window catch her eye and had to try it on. It was amazing and there was only one left in her size. After talking the store down on price by over 50%, she walked out with a dress less than 2 weeks after being engaged. Then the hard part: Gizzelle got diagnosed with a variety of food allergies that caused a loss of about 50 pounds in a 6 month period of time, which meant the dress no longer fit!
After taking the dress to a friend (and designer to the stars) Norbert Teston, it was determined that the dress could not be saved as is and would have to be re-made. This opened the idea floodgates to create the most perfect dress ever! We took the salvageable pieces of the previous dress, our creativity, and a look book of runway styles to the fabric store and let our minds go wild! A couple months and a lot of hand sewn stones later, the perfect dress was created!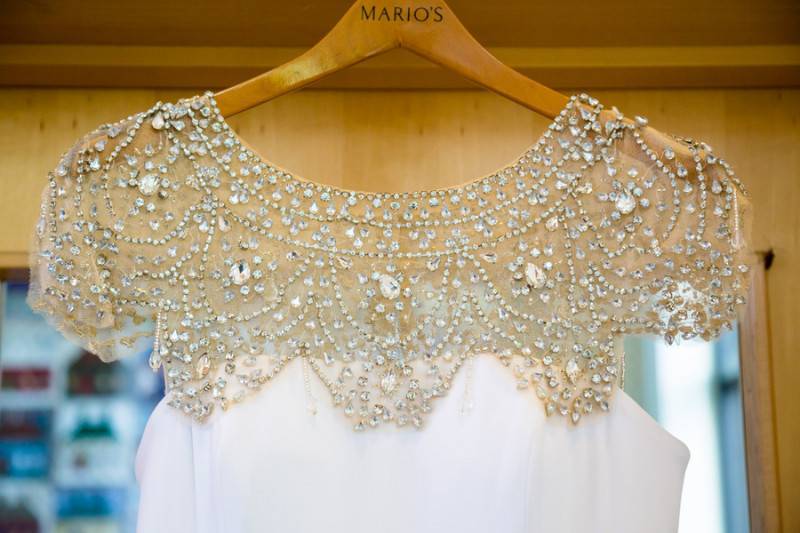 Money Matters:
$10,000 was the target number for the wedding and reception. It was rough to keep under that budget as everytime you mention the word "wedding" vendors increase their costs.
We didn't spend that much on food because an afternoon wedding was chosen so full dinner did not have to be provided. We worked with local restaurant, Off the Waffle, to create a Waffle Bar with a combination of their waffles and a variety of toppings we purchased at Costco. The food ended up being fabulous! There were also a ton of leftovers that went home with guests, which brightened their day. The wedding cake was also homemade by a friend which saved hundreds of dollars.
Our biggest expense was the Photographer, but Joshua Rainey was completely worth it! He was more than just a photographer as he helped ensure we were on-time, that the day went smoothly, and we got everything we desired accomplished. Even with it being our largest expense, his rates were extremely reasonable.
The Guest List:
About 160 invitations were sent, with near 125 people in attendance. The list was never narrowed. The church sat 800 people, so everyone was welcome!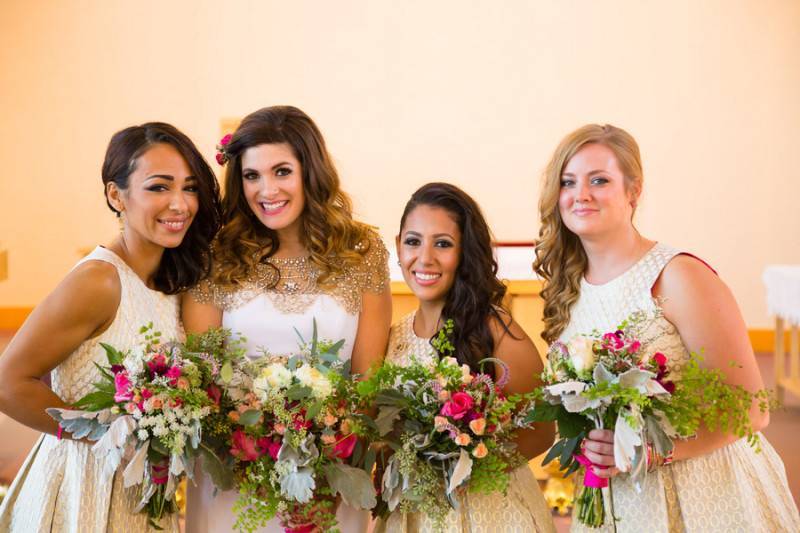 The Songs:
The Wedding Song (There is Love) – Paul Stookey
Yassouh Enta Eelahee – Maronite Hymn
Here I Am to Worship – Tim Hughes
Everlasting God – Brenton Brown/Ken Riley
The Honeymoon:
Jamaica! It was a better idea than actuality. The resort was beautiful, the weather was great, but for adventurous-types, it felt a bit restrictive since they heavily encourage tourists to not travel into the city or leave the resort.
The Best Advice The Couple Received:
"Remember, the wedding is about two people, Gizzelle and Jesus" – Church Sacristan to Jeff
Tips & Tricks For Future Brides:
On the day of the wedding, imagine the day as a party you are attending where you just happen to be the best dressed person there – it's much less stressful. Let everyone else handle the details.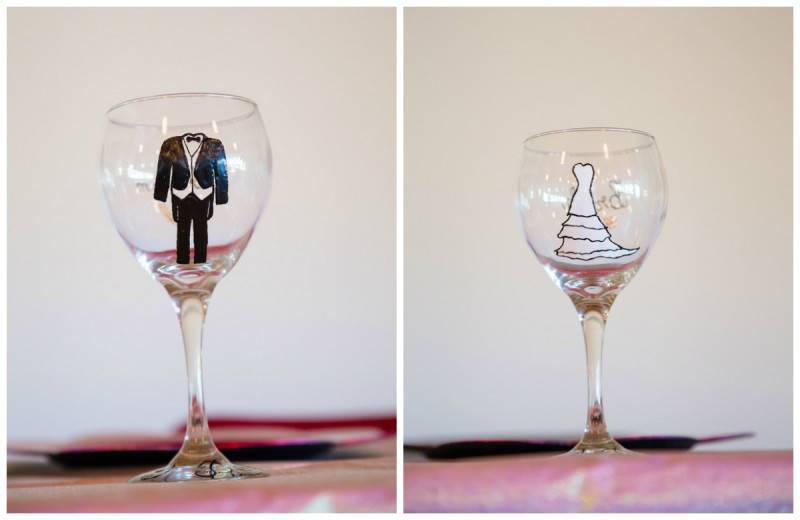 Wedding Day Highlight:
The highlight of the day would have to be the First Dance. Jeff and Gizzelle are both serious non-dancers, so the prospect of a First Dance in front of friends and family was terrifying! We quickly enlisted the help of Jess and Chad at Edge Movement Arts 7 months prior to the wedding to get their dancing skills to an adequate level and surprised all of the guests with a Samba performance that was jaw-dropping. Not even their parents believed what they were seeing!
Favorite Part of the Day:
During the toasts at the reception, the 4-year-old daughter of one of the bridesmaids took the microphone to attempt a toast like everyone else. It was the cutest thing ever!
A Memorable Moment:
One of the most talked about events at the wedding (and after) was all the non-middle eastern people who joined in on the traditional line dance, Dabke. It was incredible to watch!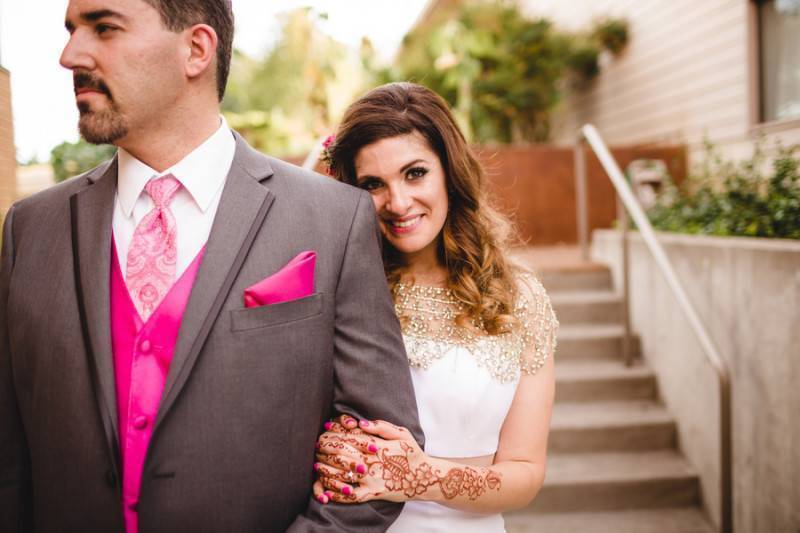 VENDORS:
Photographer: Joshua Rainey Photography
Hair Stylist: Bombshells Salon
Caterer: Off The Waffle
Event Venue: Resurrection Catholic Parish