Emily and George have a knack for arts. They wanted to show it on their wedding. The venue itself, an art museum, is already a massive giveaway as to what this wedding is themed. Emily and George are passionate about everything they do in life, work, or relationship and this wedding is definitely not an exception. It is their masterpiece –  combined to celebrate the love they have for each other.  Just like art, their love is something of their own. And most especially, it can never be wrong. Congratulations, Emily and George!
Our Story:
George and I met through my best friend, who had NO intentions of setting us up! I was looking to create a website for my side business and needed a web designer. George knew my best friend from grade school and recently reconnected with her on Facebook, and he had mentioned to her he was building websites for clients for extra money. So my friend put us both in touch so we could meet to discuss my future website. So we met for lunch, had a nice time talking and planning my web site, and kept in touch. After about a month of talking and meeting for "business" (which ended up more like mini-dates!), I started to realize I liked him more than a friend/co-worker. So one night I had a few too many drinks, got some liquid courage, and told George how I felt! Luckily he felt the same way and ever since that night we were boyfriend & girlfriend!
We Are A Perfect Match:
We both are very passionate when it comes to life, work, and our relationship. We support each other when needed, and give space when needed. We very much understand each other and want to see the other happy, more than ourselves. Plus it's all about having fun! We have a blast together, from vacationing in Vegas, to staying home with ice cream and a movie – doesn't matter what we do, as long as we are with each other :)
The Proposal:
We spent about a year of our relationship doing long-distance, from Boston to Los Angeles. George moved there for work, and I had to stay in Boston because I also started a new job. We both love going out to eat and we love Gordon Ramsay, so the very first time I went to visit him in LA we went to one of Gordon Ramsay's restaurants for dinner – and it was the most amazing experience we ever had at a restaurant, and we immediately wanted to go again! So fast forward a couple of years, George and I planned to go to New York for the weekend to celebrate our 4 year anniversary. I had an idea he might propose, but the day we left to drive to NY everything went wrong! My work called and I had to deal with an unexpected issue, George had an unexpected phone interview AND wasn't feeling well, which then put us on the road late, so I thought we were going to miss our dinner reservation – which was at Gordon's Ramseys restaurant!!!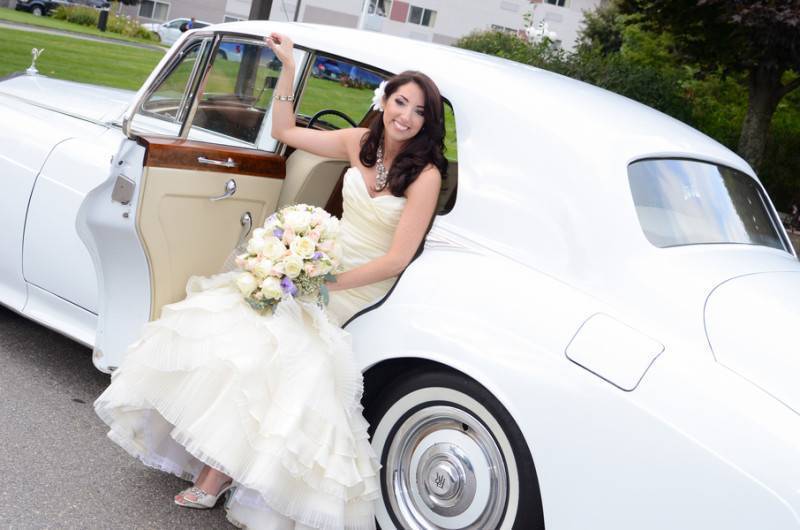 I was so excited to be going to that restaurant and almost cried thinking we were going to miss our reservation! So after our crazy day and with George not feeling well I figured he probably won't propose, but that's okay at least we made it to NY, and we will still have a great time. So we end getting to the restaurant, making our reservation, and as soon as we get sat at our table George had to go to the "bathroom." As soon as he comes back two glasses of champagne arrive and a waitress comes over with a covered appetizer platter. She presents the appetizer platter to me, uncovers it – and there is a RING!!!! And soon as that happened George walked to my side of the table and got down on his knee and proposed – right in the middle of the restaurant! It was such a blur! Everyone applauded, and we proceeded to have the most amazing night (and dinner) of my life. Turns out George had gone to NY to that restaurant a week before to have everything arranged with the manager – where we were to sit, how the ring was to be presented to me, and even us arriving late, was planned. The proposal was one of my top memories out of the whole wedding experience – it was magical.
The Theme:
It was all about art, our favorite artists, and the museum. We both went to school for art, and appreciate all things art-related, so it made complete sense to us to have an art-inspired wedding!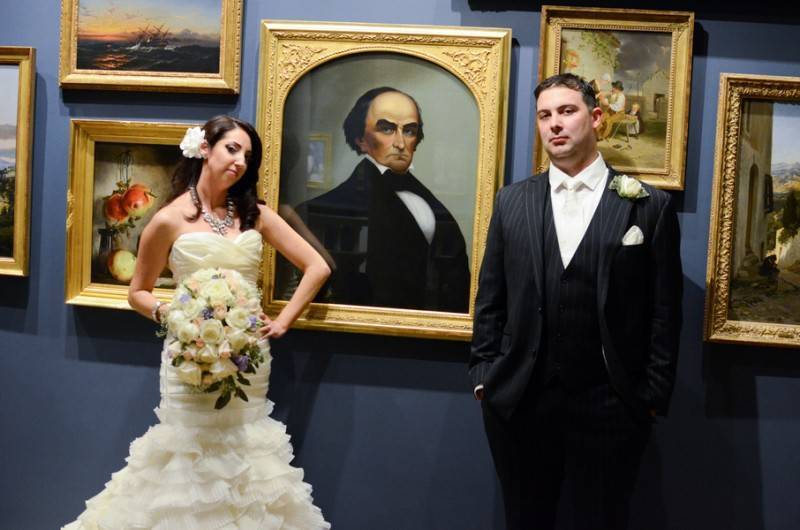 Wedding Décor Inspiration:
This was the hardest part for me since I am an artist, and I love the color! I knew from early on I loved the peach colored flowers but didn't want to go overboard with peach-colored dresses too. After seeing the museum, I thought gray and peach-theme would look very elegant. Any bright color next to gray just pops, and it worked perfectly with the Museum decor.
The Do-It-Yourself (DIY) Projects:
So much DIY!!! Since both George and I went to art school and did Graphic Design, we were able to handle a lot of the projects ourselves. George designed our wedding invitations, and I designed and printed all of our place cards, table names, menus, etc.! Since we are both very visual – I wanted our place cards to look like mini pieces of art, so each table was a name of a famous artist, and the place card had one of their signature paintings/drawings on it with our guests name. I also had the picture in a frame for the table names – so if our guest wasn't familiar with the artist – they just had to match pictures to know where they were sitting!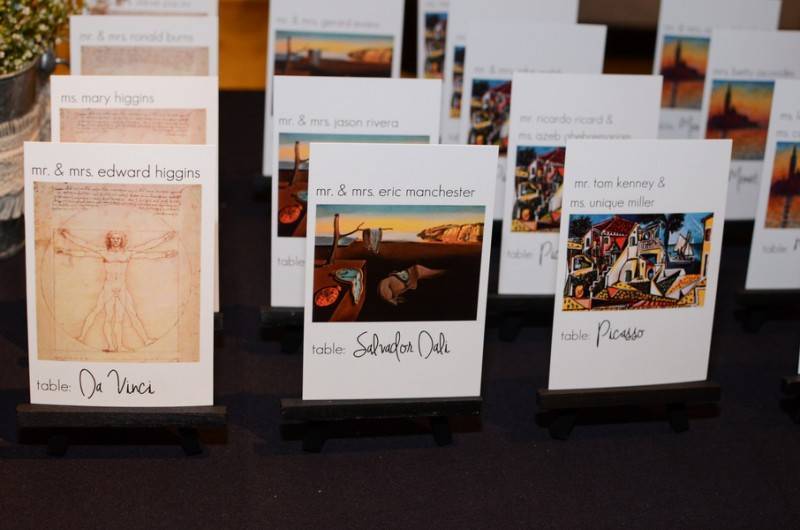 The Planning Process:
We got engaged in September and knew we wanted our wedding in September, preferably on our anniversary date. Our wedding venue, unfortunately, didn't have our date available, so we ended up getting married a week before the day of what would have been our five year anniversary. So we had one year to plan. You HAVE to be extremely organized to plan a wedding in a year or less. I had goals of what I wanted to achieve every month, right up until our wedding month. Looking back I wish I had an extra month or two so I didn't feel as rushed or stressed out. But everything worked out, and when in doubt – hire a planner!
Best Advice We Received:
I received two pieces of great advice. The first came from one of my bridesmaids who got married a year before I did. She said people are going to have opinions about your wedding, and the only one that matters is yours. Everything done for my wedding was approved by George and Me, and no one else. We knew we wanted to get married in a museum, and we weren't going to have it any other way. It took our parents some convincing, but it the end they knew it was our wedding and was going to make us happy, and in the end that is all that matters. The 2nd piece of advice comes from me! I am in the wedding business, and I always tell my brides that something will go wrong. No matter how much planning you do – something will not go smoothly, and it never fails. You have to recognize the issue and work it out. If you let it get to you, it will ruin your wedding experience – and nothing is worth that.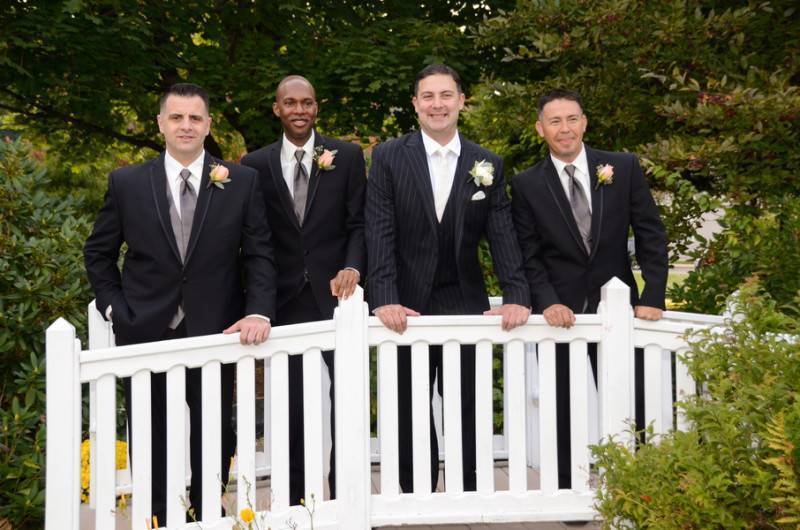 Tips & Tricks For Future Brides:
Pinterest. I found my wedding dress, wedding color scheme, and cake inspiration on Pinterest. It's a great starting point to compile your ideas in one place. Also ask around to see if anyone you know is in the wedding business, or find vendors trying to get into the business – so for them it's more exposure, but for you it's less $$. My cake decorator was actually in her first year of culinary school and wanted the practice – so we let her take charge of the cake, and it came out amazing.
Planning Advice For Couples:
Don't little details of wedding planning get you frustrated or get in the middle of your relationship? Your relationship is more important, not what color napkins you should have for the wedding. Always stay in reality, because in the end it's not about your dress, the venue, nothing…it's ALL about you marrying your soul mate :)
We Saved Money On:
We saved the most money on our Flowers and Food. I had two friends of mine handle my flower arrangements, and I got all my flowers at cost. As for food, we splurged on our passed appetizers but stayed frugal with the dinner entrees. For example, ordering filet mignon for everyone was $40 per plate, so instead we ordered a braised short rib that was much tastier and only costs $26 per plate!
We splurged on our LED light on the dance floor! Ever since we watched the movie Saturday Night Fever, we knew we wanted a light up the dance floor for our wedding! It was worth every penny!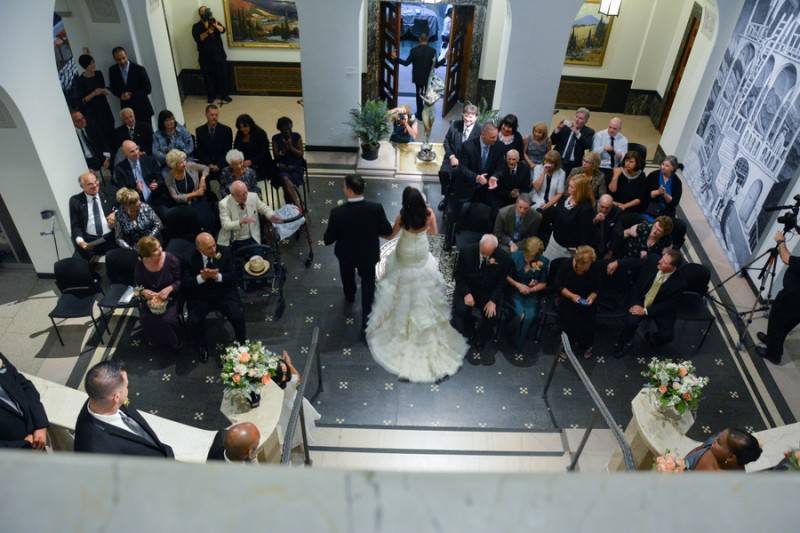 The Guest List:
We invited 130, and 100 showed.
Close family and friends. We both decided to not invite anyone from work. Plus I work remotely, so my coworkers live all over the US!
Our Honeymoon:
Greece and Italy! George is Greek, and I am Italian – and we have both never been to Europe, so it made sense!
Excited About:
Just experiencing life together. Fixing our house, going on vacations, owning a dog, maybe kids in the future….whatever life brings us will be exciting.
Favorite Part Of The Day:
Greek dancing with all of our family! It was so fun to not only have everyone on the dance floor but then to take part in a family tradition that I am now a part of. It was the point in the wedding festivities where I could finally let loose and party!
The Highlights From The Ceremony & Reception:
Our ceremony was right in the middle of the museum on a beautiful staircase that mimics the Italian Renaissance. It was the most elegant and beautiful ceremony – and what topped it off was having the String Trio play classical music that echoed in the museum beautifully. It made quite the grand entrance!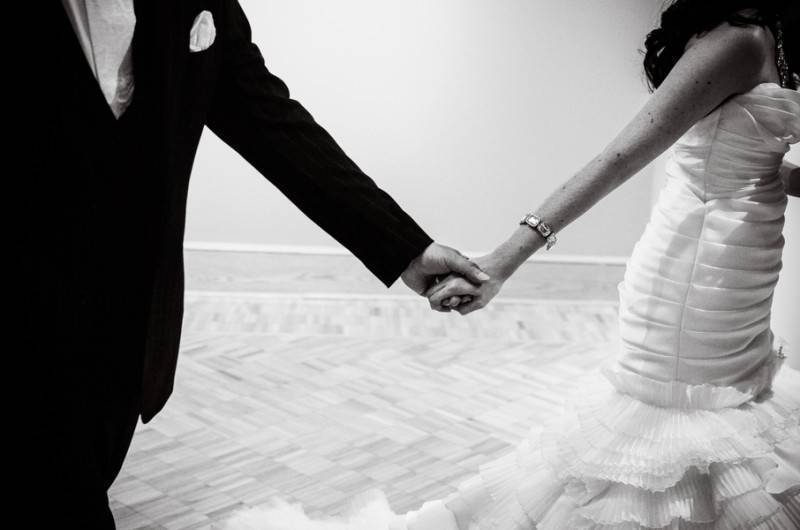 VENDORS
Photographer: Dragonflyshots
Tuxedo and Mens Attire: ARI Boston
Apparel: Cristina's Bridal
Hair Stylist: Drybar
Invitation Designer: Invited Design Studios
DJ: Pure Energy Entertainment
Museum: Currier Museum of Art