The best experience a couple can share with each other is having to grow up as individuals together. That led Kirk and Heather to finally tying the knot and moving forward to this journey. Today we are given a chance to witness their wedding and their love through the help of their brilliant photographer, Blendi. It was such a whimsical outdoor wedding it would make you think of a royal secret garden! Congratulations on finally unlocking this achievement as couples you Kirk and Heather!
Our Story:
We met freshmen year in college at Cal State University Channel Islands in 2005. We instantly became close friends and shared a lot of the-the same classes. Over a short time, our close friendship became something stronger, and we have been together since.
We Are A Perfect Match:
We share a lot of the same interests and both love exploring new things together. We understand each other and have grown up together into the people we are today.
The Proposal:
My husband and I planned a trip to visit Peru. We hiked up Machu Pichu and found the best spot overlooking the entire mountain. The next thing I know he got down on one knee and proposed. I was SO excited and screamed Yes! It was the most surreal experience being so high up in this incredible place and then having the man of my dreams ask me to marry him!! It was unbelievable.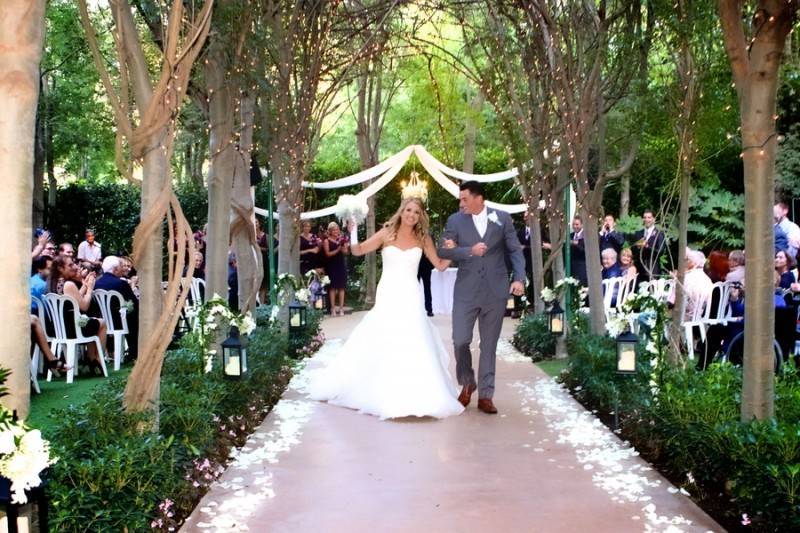 The Planning Process:
We got engaged September 16, 2013, and got married September 27, 2014. We had a good year to plan and think of what we visioned on our wedding day. We had enough time. I think one year is perfect!
Tips & Tricks For Future Brides:
Don't wait until the last minute to plan stuff. When planning a wedding you can only do so much yourself. So much of it relies on other people to pull through and make sure they are going to be available for your day. Ex. Photographer, DJ, Florist, Videographer. Once the Big day arrives take a deep breath and whatever happens, happens at that point. You did your part, and it is time just to enjoy the day! Don't sweat the small stuff. Nobody cares what type of chair you are going to be sitting in!! Pinterest has GREAT ideas! What were some challenges you faced while planning your wedding & what did you do to address them? Some challenges for us were trying to stay in our budget. You see so many beautiful things, and it's hard to not be able to have that on your BIG day. Another challenge was the guest list and seating chart to be prepared for.
Money Matter:
We saved money by making a lot of the decorations ourselves. I'm really into arts and crafts and felt it would be more meaningful if we could do things ourselves. For example the table numbers, escort cards, votive candles, DIY photobooth, etc.
The biggest expensive aside from the venue were the flowers for us, which I didn't expect. However, you have to take into consideration it's not just the bouquets and bouts you have to think about. It's the centerpieces, rose petals down the aisle, corsages, etc. if all of that stuff is important to you. Also, the type of flowers you also use contribute to the price.
The Guest List:
We had about 185 guests invited to the wedding, and the final count was 167. How did you narrow down your list? All Family and close friends.
The Songs:
We had a lot of wedding classics and oldies in the beginning, but we had an awesome DJ, who kept the party going after dinner and got everybody out on the dance floor. Where did you go on your honeymoon? We went to Bali, Indonesia for 15 days!! It was SO amazing, and I highly recommend it.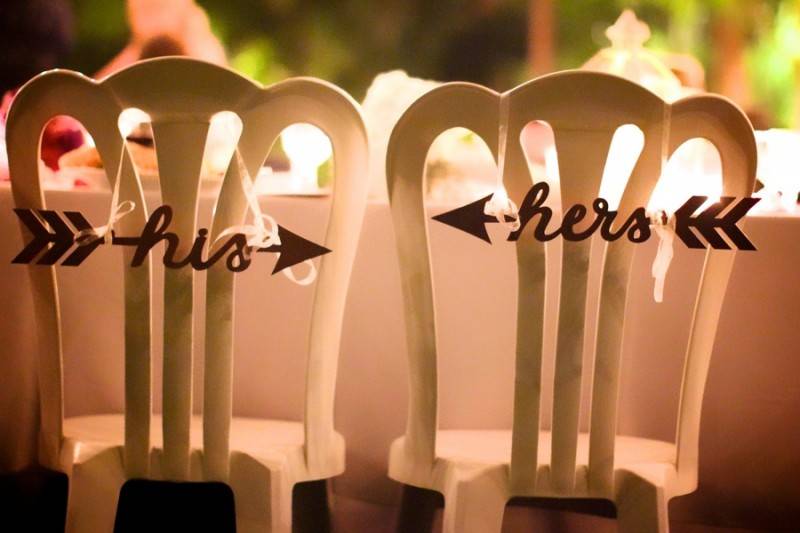 Excited About:
I'm most excited that I get to go through life's journey with my best friend. I'm looking forward to enjoying married life and traveling out of the country. Also, having kids and living in our dream house.
Planning Advice For Couples:
Keep going, the planning stage ends I promise and sometimes are more stressful than others, but just keep in mind the result and how perfect and memorable your special day will be.
Favorite Part of the Day:
My favorite part of the day was walking down the aisle with my dad and looking straight into my husband's eyes. I also really enjoyed the dancing and celebrating with family and friends.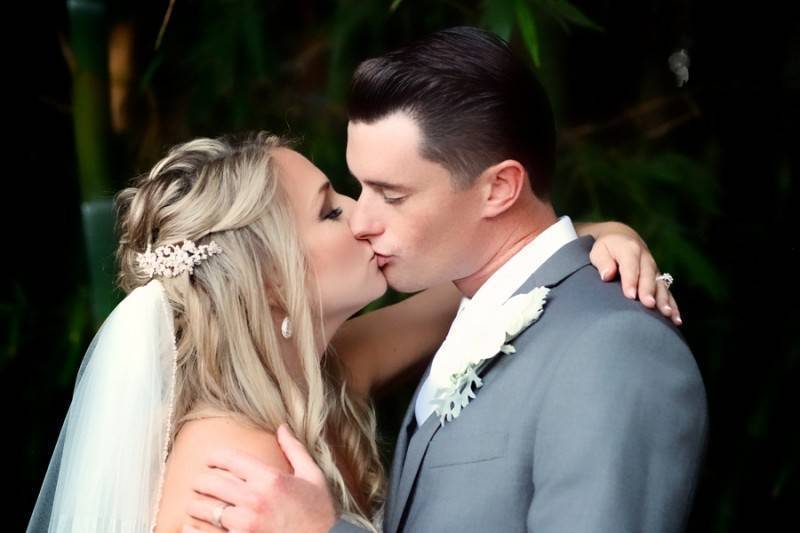 VENDORS
Photographer: sun-dance photography
Caterer & Venue: Hartley Botanica