Mary and Michael were married at Grace Baptist Church, with a reception following at the historic O'Donnell House, in Sumter SC. Their impeccable, classic style was evident in every piece of this wedding, from the elegant stationary to the timeless beauty of their wedding cake and their departure in an old vintage car. These two were surrounded by amazing friends and family, and it was truly a day of celebration.
The Beginning of It All
Mary had all but accepted the fact that she was going to be single forever. Then she met Michael. Well, actually, they had known each other vaguely from church. In fact, Mary's step father once told Mary's mother one Sunday- "Wouldn't it be nice if Mary and Michael start dating?" And yes, they did! How happy would he be! They were engaged within 6 months of dating. The girl who could find something wrong with ANY guy had finally met someone who, in her eyes, had no faults.
Special Wedding Details
Two daddies' girl. Mary's father died when she was in high school. Her step father died the year before Mary and Michael were married. Her mother walked her down the aisle. On mary's bouquet were pictures of 'both' of her fathers.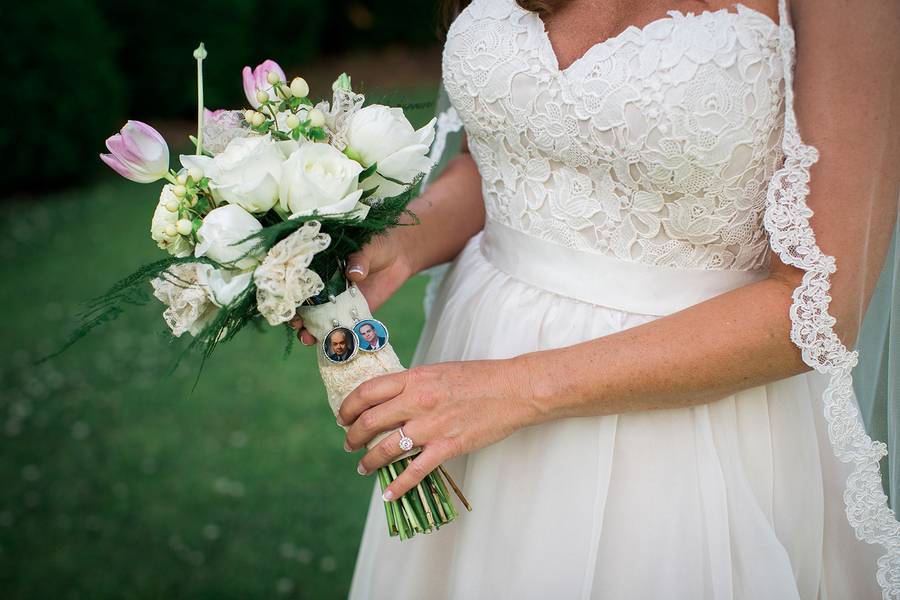 The Photographer's Advice
Hire a wedding planner or at least a day-of coordinator. You don't want to be running around worrying about every little detail on your wedding day. Be on time- have a wedding day timeline. You don't want to be a 'stressed' bride or groom. enjoy the day that you've spent months planning. I guarantee it will go by in a flash. — Megan Manus
Money Matters
$10,000 – $20,000
VENDORS
Photographer: Megan Manus Photography
Cake Designer: Elaine Byrd
Dress Store: Evelyn's Bridal & Formal Wear
Tuxedo and Mens Attire: James Formal Wear
Equipment Rentals: Party Reflections
Band: The Footnotes
Event Venue: The O'Donnell House