Heads and hearts were stuck in cloud-9 at the Meridian Hills where Kate and Henry timelessly solemnized their whirlwind romance. The place was already beautiful as it was with the high ceilings, stained glass windows, and colonial staircase, these two still added more beauty to it but kept it minimal. Garden roses, hydrangeas, and peonies perfectly fitted their chosen motif of neutral undertones — pink and gold. See how beauty unfolded on this day by browsing the gallery below and let us know what you think. Have fun!
Our Story
We met online! Henry at first liked to tell people (his friends and family) that we met at a coffee shop, but after our relationship had started to get serious he came clean– it was pretty funny to watch his some of his siblings reaction. It was after our second date that he invited me home for a weekend in Indianapolis to meet his family. I didn't hesitate at all to say "yes." I didn't hesitate one bit because I was very confident that I had found my husband.
After meeting his family (Henry is one of eight kids) it was game over, and I knew that they would eventually become my family as well. What sealed the deal was after he met my family (I'm only one of three) and my parents both told me that was the man that I had been looking for all of my life. We dated for a quick seven months and then Henry proposed, and shortly after that we took our first trip together to Costa Rica. That was a wonderful trip and perfect timing to celebrate our engagement with his family.
We Are A Perfect Match
I would say that we balance each other out very well. Henry is the most laid back person that I've ever met. I, on the other hand, am very particular and very much a "type a" sort of gal, so whenever I stress out over the tiniest thing he is always there to make me laugh and to calm me down.
We both enjoy traveling, whether it be to Ole Miss where he went to school or the desert in Chile, we both enjoy a good adventure. We are also big into our Catholic faith, which I think is what makes us such a strong couple. We have both found that whenever we are going through hard times that we have each other, but we also have our faith to keep us strong and to always help us continue in our great journey of life!
The Proposal
Henry and I love to take walks in various parks and gardens around town, so it was the perfect spot for him to get down on one knee. It was Saturday, June 21, 2014 (first day of summer) and he asked if I wanted to take a stroll in the park and then head to our favorite restaurant for dinner, I happily accepted that offer! So we both got a little more dressed up for a walk than normal and headed to the park. After about twenty minutes, he took me to a part of the park that we had never been to before, very secluded from where most people walk. He was trying to distract me as he switched the ring from one pocket to the next and asked "which color flower over there is your favorite color?". That was such an odd question for him to ask me, but I answered and took the time to admire the flowers.
It was right as I turned around towards him that he took my hand, and walked a few more feet, before getting on one knee and proposing. It was so romantic and such a beautiful moment, one that neither of us will ever forget. I think one of the best things about that day was that Henry had a surprise engagement party planned for us at your favorite restaurant in town, full of our family and friends!
The Planning Process
We planned our wedding in exactly one year. I thought the time in which it took to plan our wedding was the perfect amount of time for us. We lived about two hours away from where we got married, so we needed to have time to travel there and meet with vendors on the weekends.
The Best Advice We Received
Some of the best advice I received was to: "do what YOU want". I had a few people remind me always that it wasn't my best friend's wedding, it was my mom's wedding, it was our wedding, and we should do what best fits our personalities and our relationship.
Tips & Tricks For Future Brides
I found a fair amount of my wedding items from Etsy that site is amazing! Instead of trying to DIY I opted to purchase exactly what it was that I was wanting. Everything from the flower girl baskets to the card box at the wedding reception to my garter, it was all found on Etsy, and I don't regret spending a little extra money on those items.
One tip: read every detail of every contract that you sign. I found that I saved myself a few headaches by reading every line of every contract before I signed it. Don't be afraid to ask a vendor to specify what something may mean if you don't understand it, you probably aren't the first person to ask that question!
The Challenges We Faced
A few challenges I faced when planning was making sure that items I purchased, whether through Etsy or another company was going to arrive on time. Planning ahead is KEY when buying things offline– most people don't think about the delivery time!
Another challenge I faced were some of the logistics of where the band would set up at our reception since it was an eight-piece band they needed a little extra space. I put them in contact with my coordinator, and they, fortunately, worked everything out, but I think with every other small challenge that I faced I always made sure to be polite about everything. No vendor wants to deal with Bridezilla, and that is something I always kept in the back of my mind.
The Theme
The only true theme for the reception was an elegant and romantic atmosphere.
Wedding Decor Inspiration
I've always been a passionate person, my maid of honor even said in her speech, "Kate is in love with love." So it wasn't difficult for me to figure out exactly the color pallet that I wanted (making sure it was never too girly from my groom).
We both chose soft hues of pink, gold and neutral undertones as our color scheme. Garden roses, hydrangeas, and a few peonies composed our floral arrangements both at the church and the country club. We chose all of these things because we wanted to create a romantic and intimate atmosphere for our guests. We were also in an older country club, and the colors that we chose went very well with the vibe of Meridian Hills.
Wedding Outfit Inspiration
We wanted our day to be classic and timeless, and the wedding outfits, I believe helped set the tone for the day. For the men, we had them in a Vera Wang tux, with champagne colored vests and ties. The groom was fitted into a classic black and white tux by Vera Wang as well.
The inspiration for the dresses came from the romantic themes we wanted to keep throughout the day. They wore a beautiful satin champagne colored gown. The wedding gown was an off-white, trumpet styled dress, which had a sheer overlay and a capped sleeve. The lace was very soft and intricate covering the entire dress, and the back of the dress had buttons from the neckline down to the middle back of the gown. The inspiration for the gown came from wanting to have a Grace Kelly or an Audrey Hepburn type of feel, very classic and timeless.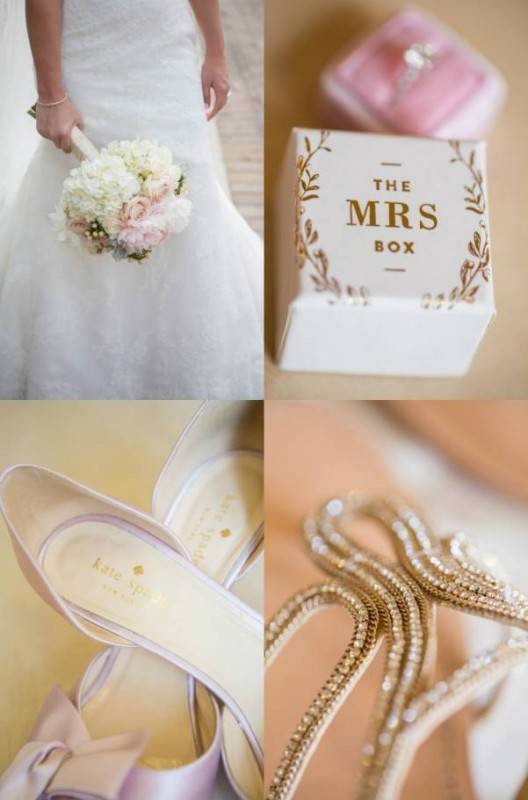 Money Matters
Budget: $50,000
I think we saved the most money on our flowers, our florist did a great job making sure that we didn't use too many flowers that weren't in season. The biggest expense was most certainly the catering at the country club.
The Guest List
We invited 315 guests, and our final count was exactly 200. We narrowed it down by figuring out who we truly still kept in touch with (basically friends) and went from there.
The Songs
The Honeymoon
We went to Florence, Italy! It was so incredibly romantic.
The Next Step
I am most excited to continue to watch our family grow, and see where our journey takes us. I cannot wait to travel more of the world with him, and to make new friends as a married couple now!
Planning Advice For Couples
My advice to couples who are still planning is to RELAX! I was told this 100 times by my now husband, as well as my parents (oops). Whether you have three months or over a year, just relax. You've hired your professional vendors to do what they are good at, so do your best to check those vendors off of your list, and move on. Try not to micromanage them, and if you can't help but to micromanage, do it in a very nice, polite way. Also, if you have a budget, do everything possible at the beginning of your planning process to allocate the money properly (don't forget about tipping your vendors)!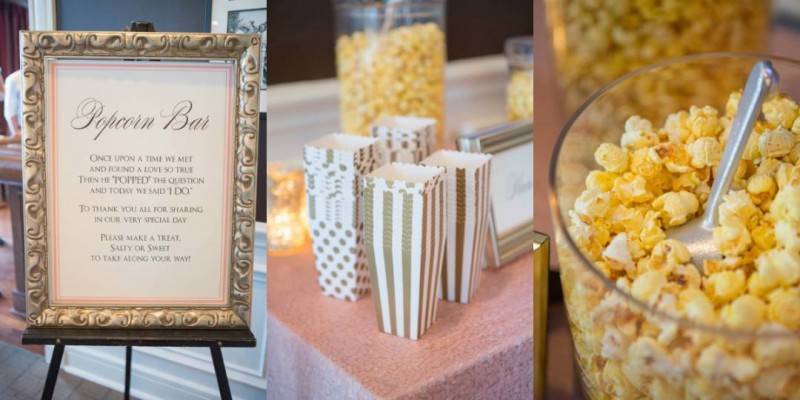 The Album Story
When I met Henry on November 15, 2013, his inescapable smile captured my gaze, and his laugh melted my heart. Behind his relaxed personality is a man with sincere priorities, and he wasted no time in telling me his hopes and dreams. He said that he is Catholic, came from a family of eight and wanted to carry on the tradition of having a big family. Wanting the same, I instantly knew I had found my husband. That next June we were engaged, and one short year later, on June 6, 2015, we were married.
Truly a whirlwind romance! We are both romantics at heart and knew that we wanted our wedding to reflect a timeless and elegant romantic theme. We chose soft hues of pink, gold and neutral undertones as our color scheme. Garden roses, hydrangeas and a few peonies composed our floral arrangements both at the church and the reception. The church's beautiful natural lighting, high ceilings, and stained glass windows left little to be desired, so we chose minimal decor, with hydrangeas hanging from the pews and two urns overflowing with flowers on either side of the altar. We wanted to keep the focus on our nuptials, not the décor; we saved that for our reception at Meridian Hills Country Club.
Walking into Meridian Hills is like taking a step back in time, and when we first stepped foot in the club, we were sold. The stately colonial staircase that leads to an open foyer warmed by a cozy fireplace, an exquisite balcony view of the lush greens and meticulously kept landscape, and the timeless beauty of the ballroom perfectly fit our chosen motif.
Mercury glass votives filled the ballroom along with floral arrangements draped in pearls creating an intimate, romantic atmosphere. Our kings' table was filled with verdant green garland accompanied by cream colored hydrangeas and soft pink and lilac roses, making for an elegant bridal party setting.
Our 200 close family and friends brought in all of the love, joy and happiness that put the final touches to our ballroom's bliss. But most important, they brought their dancing shoes.
We were fortunate enough to snatch up a merry eight-piece band, Cashaé, that had everyone flocking to the dance floor. Playing everything from Earth, Wind, and Fire to Bruno Mars, I'm fairly certain that our guests wore a hole in the floor.
To top off the evening, we had a local Indianapolis vendor, Just Pop In, provide our guests with the perfect popcorn bar for a parting snack.
At the end of the night, much to my surprise, Henry and I were greeted by a classic 1938 Cadillac Model 75 to whisk us away. A classic early 20th-century country club with the car to match! As we entered the car, love, happiness and laughter exuded from our guests as they wished us a good night. It was truly a magical day, and we couldn't have dreamt of a perfect way to begin the rest of our lives together.
Highlights from the Ceremony and the Reception
A few highlights for both us were praying together before the ceremony (we stood on either side of a door so we wouldn't see each other) and I think that when we had a few brief minutes taking our flowers to Mary (Catholic tradition) was a special moment.
My dad and I did a fun dance that started out with us dancing to Stevie Wonder's "Isn't She Lovely" and then we mixed it up and danced to K.C. and the Sunshine Band's "Boogie Shoes" as well as Bruno Mars' "Uptown Funk". The twist to our father/daughter dance was the fact that it became a "family dance". We finished the dance with my brother's and mother adding into the mix and we all danced to Uptown Funk (a total crowd pleaser). Another highlight would be our live band, Cashae, they were fantastic! We also had a fun popcorn bar for our guests to snack on towards the end of the evening.
Favorite Part of the Day
There are just too many moments to say that I have just one favorite, but if I must, I would say that my favorite part of the day was me and my husband's first dance together. We had been practicing our dance for about a month, in the basement, in the garage, in the kitchen, you name a space, and we were probably practicing in it! We danced to Harry Connick Jr.'s "It Had To Be You." The dance was just such a special moment for both of us that even now we will still play the song and dance to it in the kitchen.
A Memorable Moment
I think for any ceremony when the bride and groom see each other for the first time (if you don't do a first look) is always memorable for both the guests and the bride & groom. We had a fun bubble exit after the ceremony concluded, and everyone from our flower girls to our grandparents enjoyed that!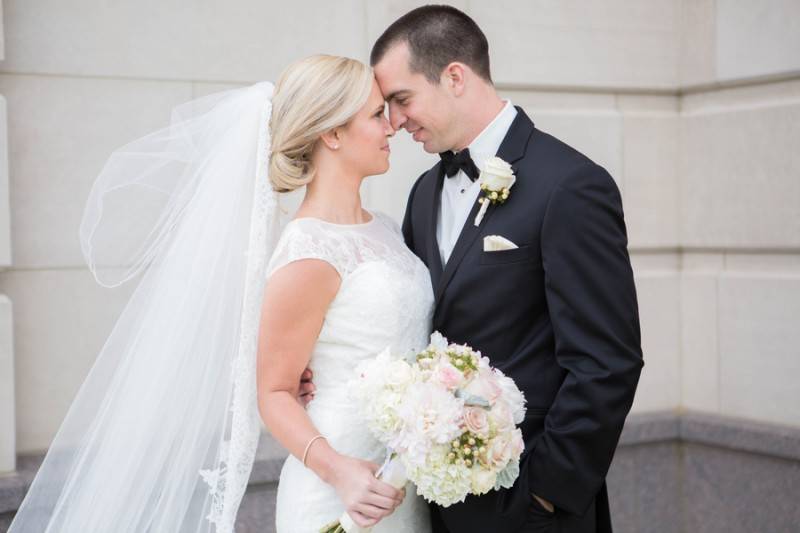 VENDORS
Photographer:  Conforti Photography LLC
Tuxedo and Mens Attire: BLACK by Vera Wang
Dress Store: Blue House Bridal
Band: Cashae
Dress Store: Elite Bridal
Shoes: Kate Spade
Dress Designer: La Sposa
Makeup Artist: MakeUp By Sparkle
Groomsman Attire: Men's Wearhouse
Location: Meridian Hills Country Club
Jewelry: Reis Nichols
Ceremony Location: St. Maria Goretti
Shoes: Stuart Weitzman
Hair Stylist: Studio 31
Event Planner: Boldly Chic Events
Invitation Designer: Card Ink
Floral Designer: Graceful Hands Floral Design
Cake Designer: Heavenly Sweets
Favors and Gifts: Just Pop In
Second Shooter: Teresa Schmidt Photography
Cinema and Video: Unique Heart Productions
Reception Venue: Meridian Hills Country Club