Rachel got the proposal she wanted and a wedding fit for a beautiful bride like her. The wedding was an inspiration from their prom; she wished to relive that memory and impart that milestone as newlyweds. Navy and white neatly adorned the venue. The venue was so organized and neat — perfect for that fine dining! It's so adorable that these two wanted to bring a bit of their past to the present.
Our Story:
We met in high school. We were both working at Target and became friends. We started hanging out of the weekends and spending time with each other. Our first official "date" was to dinner and a movie, "Friday the 13th." While I hated the movie, I enjoyed spending time with Oleg.
We went on more dates and continued dating through college even though we went to schools 4 hours apart. After graduating, life put us back in the same city, and we were able to spend more time with each other and our love continued to grow. We were engaged about six months later.
We Are A Perfect Match:
We are both highly motivated, career driven individuals. We see eye-to-eye on many issues and have many of the same hobbies. There is never a dull moment around the two of us. We are always on the go and love experiencing new things together. We can always make each other laugh and know how to be there when things don't go as planned.
The Proposal:
I had always wanted to go on a carriage ride, and Oleg proposed in the perfect way! He convinced me that we were going to meet a few friends for dinner on a Saturday evening. As we arrived at the restaurant, there was a horse drawn carriage waiting out front. In the biggest and happiest surprise of my life, he got down on one knee and proposed. Through a few tears of joy, I said YES! I then got the carriage ride I had been waiting for after five years of dating. We celebrated with champagne and chocolates. Our friends did meet up with us for dinner, just after the carriage ride proposal.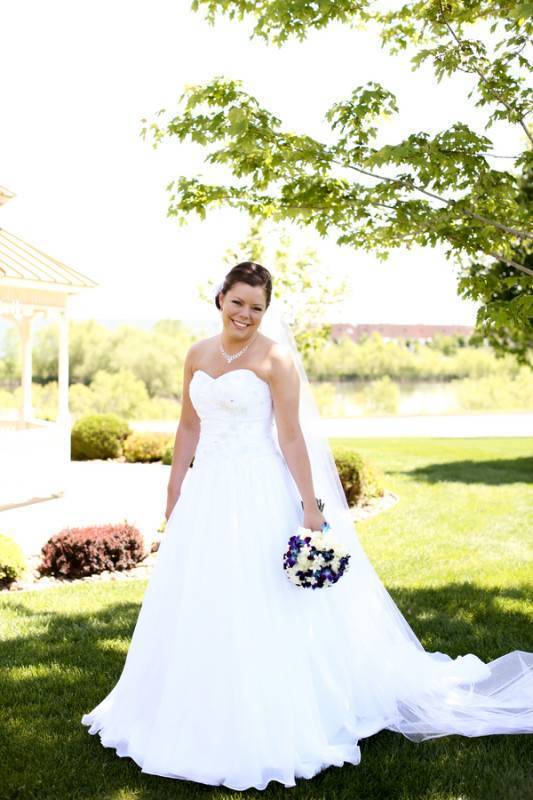 Tips & Tricks For Future Brides:
Keep a wedding binder/bag. Seriously! We received so many contracts, quotes, notes, etc and it would have been impossible to keep track of everything. It was also really nice to have it all in one place so we could take it from one appointment to the next. We even kept things like color swatches in there so we could coordinate details between vendors. Also, we never lost anything because it was all in one place!
The Theme:
Our theme was just to have a fun classic wedding. We really wanted to focus on making sure that all of our guests had a great time!
Wedding Décor Inspiration:
Our prom! That was one of our first real "dates." I wanted to tie that first memory to what would become another important memory. I wore a royal blue dress to our senior prom, and the bridesmaid dresses were the same royal blue. We even used the same blue dendrobium orchids that were in our prom corsages in many of our flower arrangements. We then accented with hot pink because that is my favorite color.
Wedding Outfit Inspiration:
We wanted to have a classic and polished look. Something that would be as timeless as possible while still being fun and unique.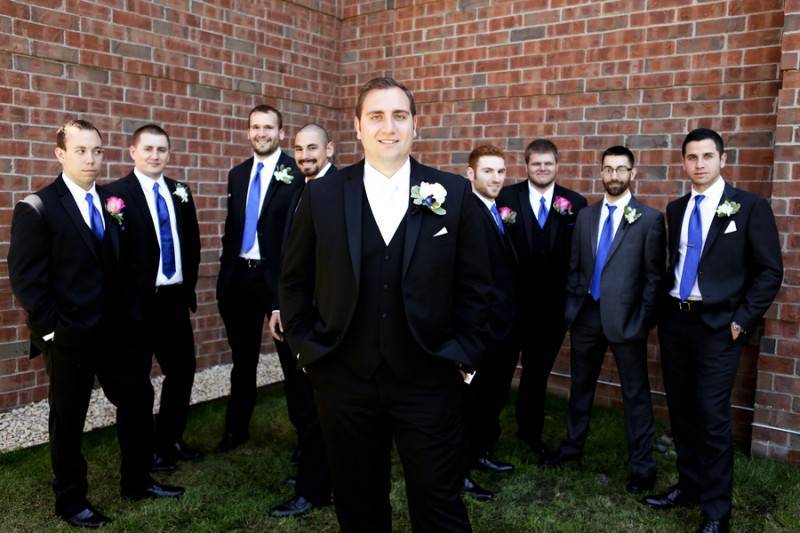 The Planning Process:
We planned our wedding for approximately 18 months. I really think that was the perfect amount of time. It allowed us to take things one step at a time. It also allowed us to relax and enjoy being engaged instead of having to worry about always planning our big day.
Best Advice We Received:
The week of our wedding, our reception coordinator sat us down and went through the final details of our big day. After that, she told us that the day would fly by (and it did). She said "during dinner, take 1 minute, hold hands, and just take in each other and the day; look around at all you have been blessed with." It is so easy to get caught up in the details, the planning, and the emotions, but it was so great just to stop for 1 minute and really look at all that you have been blessed with. I remember that minute more than any other from our day.
Planning Advice For Couples:
Just take it one thing at a time. It is so overwhelming to try to do everything at once. We would break down our planning and make goals for each month. For example, one month our goal was the finalize tuxes and dresses for the attendants. Once that was done, we could relax for the rest of the month.
The Challenges We Faced:
One of the biggest challenges we had was trying to handle all of the opinions and input from our friends and family. We became frustrated at times that there were so many people giving us different and contradicting opinion. It was important to remember that they were all just trying to help. They only wanted the best for us.
We always considered each option and kept each other grounded. It was only one day and while it was important to make sure, that we had a fun, it was also important that we had friends and family that still loved us the day after the wedding. Finding the balance is key.
Money Matters:
$30,000
The biggest expense was food and drinks for our guests.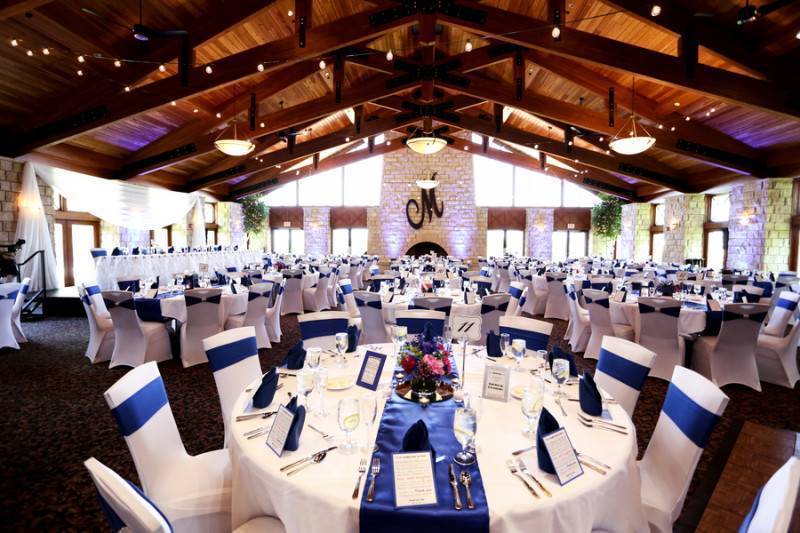 The Guest List:
We invited 280 and had 230 attend
We had been dating for 6 years, so if my husband or I had not met the person, they were not invited. However, we did end up making a few exceptions for out of town (or out of country) guests.
The Songs:
Our Honeymoon:
We went to Ocho Rios in Jamaica. It was so nice to get away just the two of us. We enjoyed 10 beautiful days of beaches and sunshine!
Excited About:
We are excited to spend time just the two of us. We are hoping to work on DIY home improvement projects and traveling the world together.
Favorite Part Of The Day:
The favorite part of our day was when we were getting ready and everyone was just relaxing and enjoying the moments. It was really special to have that time with our close family and friends.
The Highlights From The Ceremony & Reception:
The highlights of the reception was our kissing game. Whenever guests clinked their glasses, the DJ would select a couple from the list we gave him of all of the couples in attendance. They would come up in from of the head table and kiss. We then had to copy their kiss. Our guests were very creative and fun!
Most Memorable Moment:
The most memorable part for me was the exchanging of vows. That is really what the wedding is all about. I hope to remember and live out those vows for the rest of my life. It was great to have our family and friends there to hear our commitment.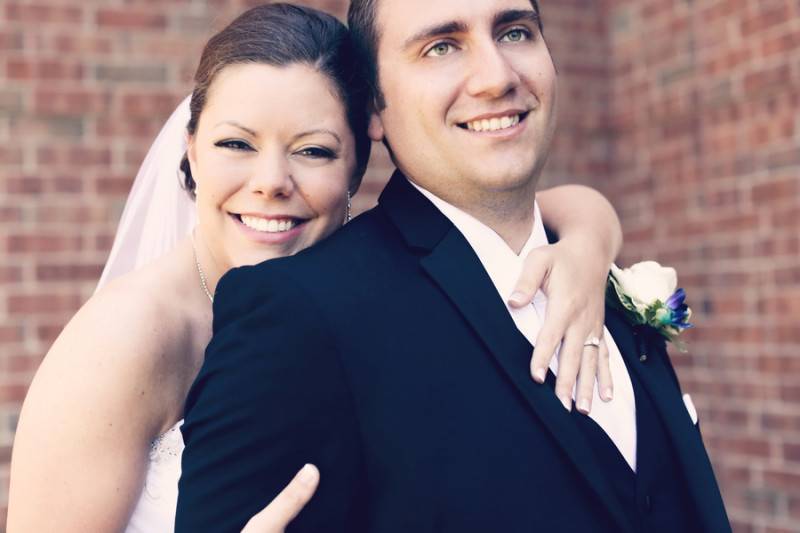 VENDORS
Photographer: Kate Wenzel Photography
DJ: Bellagala
Floral Designer: Bloom by Design
Ceremony Location: Lord of Life Church
Reception Venue: Wellstead of Rogers – The Crown Room Banquet Center