If there is one thing we know about brides, it's that they come in a massive variety of tastes and personal styles. The last thing a bride wants is to be without options when it comes to any aspect of her wedding, and that includes her wedding website. Nearlyweds provides a host of wedding website template options, enabling every bride to find something perfect, no matter her style or tastes. We've chosen some of our favorites to showcase to you.
1. Luscious Lacing by Wedding Paper Divas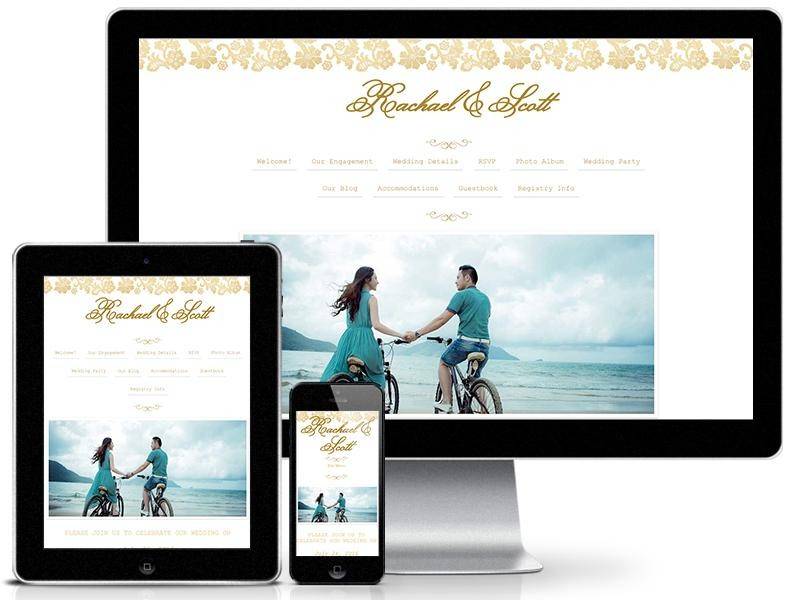 This beautiful template is perfect for the sentimental, romantic bride. It's clean and beautiful, with an umber lacing embellishment along the top and beautiful script font showcasing the names of the bride and groom. It also has a beautiful matching invite.
2. Art Deco Scallops by Merrymint Designs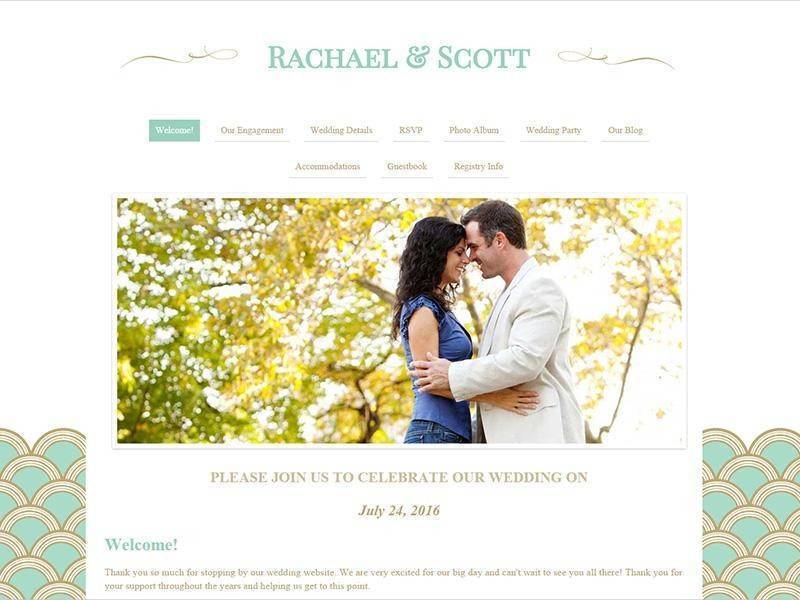 This gorgeous template appeals to brides who fall somewhere between the classic and modern taste; it is a clean, light design featuring very little embellishment, with a gorgeous teal repeating scalloped pattern. This one also has a gorgeous matching invitation.
3. Picture Perfect by Nearlyweds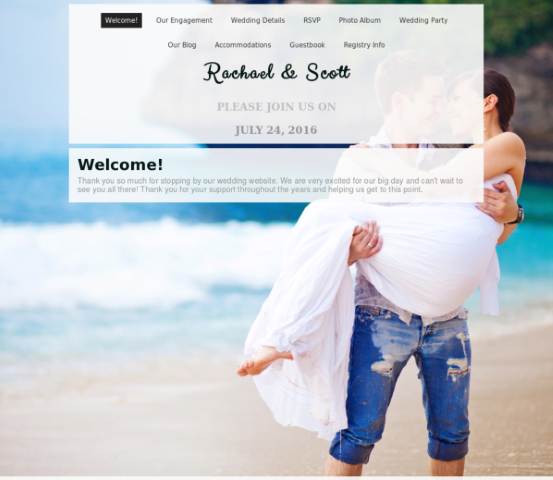 For brides who are modern and streamlined, this beautiful template allows them to display their favorite engagement photo as the background of the website. The font combines a playful black script showcasing the names as well as a standard gray text
4. Modern Elegance by Nearlyweds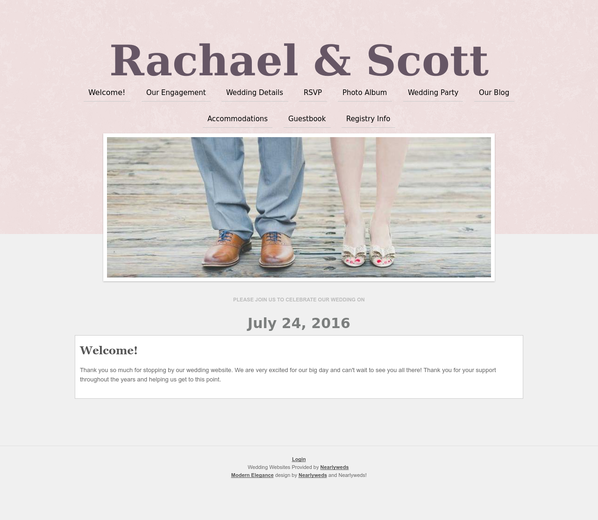 This one is without a doubt perfect for the modern bride; the girl who has a Pinterest account and stays up to date on the latest wedding trends. It's subtle and beautiful, but also very sleek and streamlined.
5. The Charleston by Merrymint Designs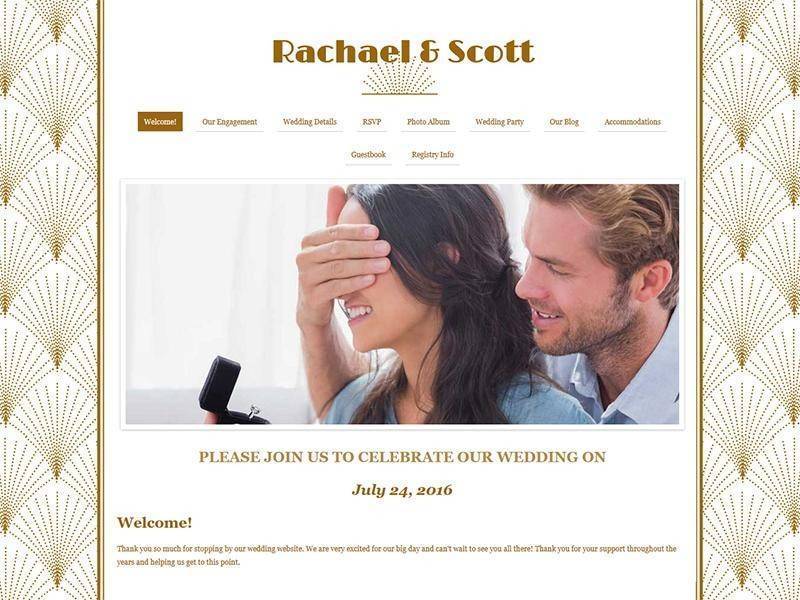 For the bride who loves all things Hollywood vintage, The Charleston is perfect. It features beautiful art deco designs inspired by the 1920's, and a stunning art deco font in gold. It is very Great-Gatsby. The matching invitation is equally as beautiful.
6. Effervescent Sparkle by Wedding Paper Divas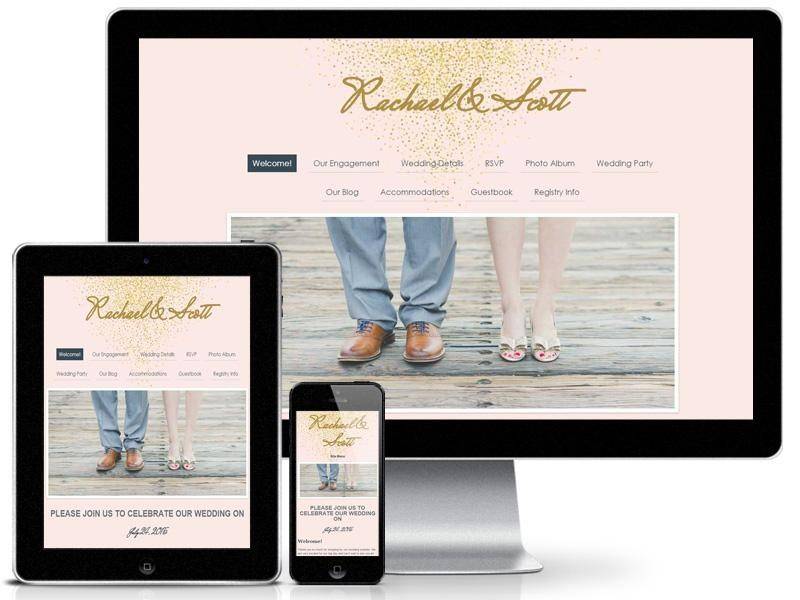 For the bride who loves all things pink and sparkling, Effervescent Sparkle is perfect. It's a very feminine design, featuring a pretty pink background and gold sparkles. The names are displayed in a curling and pretty golden script.
7. Rustic Wreaths by Wedding Paper Divas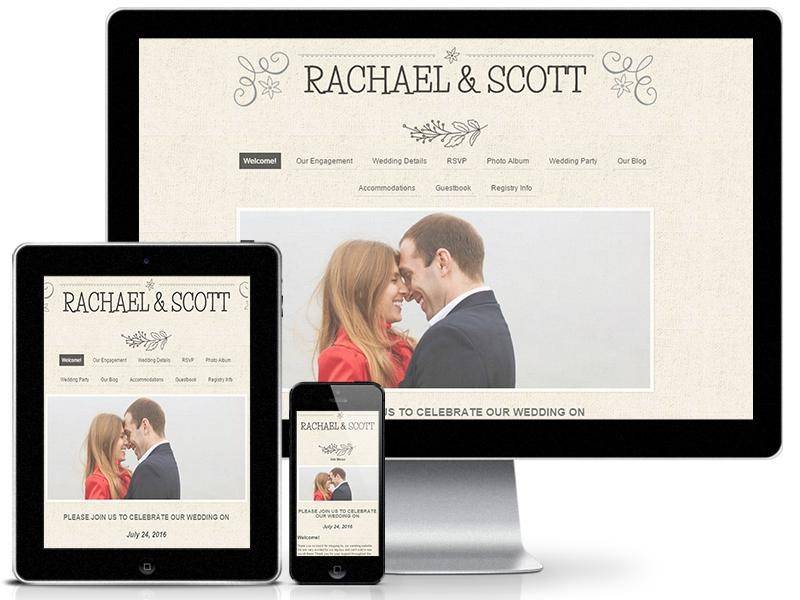 The bride who thinks country weddings are perfect, wants her venue to be a renovated barn and loves the idea of burlap and lace will adore the Rustic Wreaths template. It's a beautiful and subtle design, with a background color of sand and playful embellishments in charcoal gray. This sweet template comes with a matching invitation as well.
These are just a few of the hundreds of template types available to brides who choose Nearlyweds as their wedding website service. They certainly get options, not just for templates but for the way the website is designed, items that are displayed to the public and to guests and much more.