Chris and Megan were illuminated with the flickering fire of the candles at their wedding. They wanted something romantic and intimate that would go with that timeless tale. The ambiance of their white and navy blue wedding exuded elegance. The romantic outdoor ceremony made me feel sentimental all of a sudden. Curious on how they put together this intimate affair? Then get the details below!
Not only did we get to witness a beautiful wedding and celebration but, more importantly, two families literally became one. I loved watching Megan & Chris' families embrace one another as their own and really love one another.Megan's father gave a touching speech toward the end of the night that summed up the wedding day so well. He started "Mark Twain said, 'the two most important days in a person's life, is the day they are born; and they day they find out why.'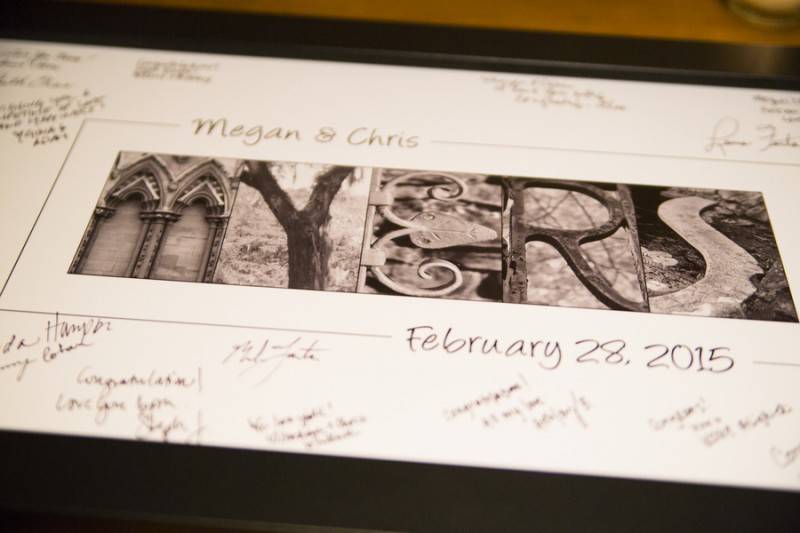 So Chris and Megan, many years from now, when you look back on your life together, I hope that today, this day, is that second day; the day when your union began in the eyes of God and you began the blending of these two wonderful families. I hope today is that second most important day.' Mike continued, 'Every father's hope is that when their daughter grow up, that they meet a man that will cherish them and love them, protect them and provide for them; and Bob and Gina, we are so grateful that you raised Chris to be that type of man.'
Our Story:
Chris and I met while I was interning with his company. We clicked immediately and went on our first date a month after I had started my internship (we were in different departments, so it was ok!). We've been together ever since!
We Are A Perfect Match:
Chris and I are a perfect match because we compliment one another. We had different strengths and can challenge the other to be their best possible self.
The Proposal:
Chris proposed to me on his 30th birthday. After his birthday dinner he took me to his office's patio, which overlooks Old Town Scottsdale, which as decorated with a pergola wrapped in white lights, which extended over a carpet walkway lined with rose petals and votives. He had decorated a table with wine, roses, and candles and with music playing in the background (and some of our closest friends hiding inside!) proposed.
The Theme:
Our theme was simple romance. We left a lot of the decor up to the beauty of the venue and highlighted all of the ceremony and reception spaces with candles and white lights to create a personal, romantic atmosphere.
The Wedding Décor Inspiration:
Our decor was inspired by the romance of candles and white lights that Chris created during our engagement. From the ceremony and cocktail hour to reception, candles, and white string lights were everywhere. You can never have too many candles!
The Do-It-Yourself (DIY) Projects:
We had a few DIY projects. We made centerpieces for the cocktail hour that were small votives with wine corks glued to the outside and wrapped in navy blue ribbon. We also made a sign for the reception room fireplace that spelled out our last name and was decorated in navy, silver, and white embellishments. I also made the bridesmaids bouquets! I bought silk pomander balls (also known as kissing balls) and made "stems" for them so the girls could carry them down the aisle.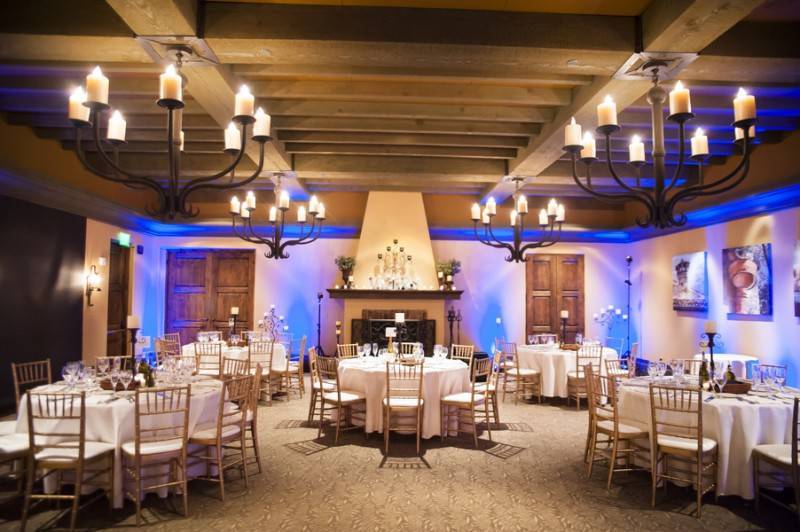 The Planning Process:
Chris and I were engaged for 15 months, which was more than enough time to plan the perfect wedding. We spent the first 2-3 months securing vendors and venues, then were able to enjoy being engaged before picking up wedding plans the last seven months before the big day. I was glad we had a longer engagement than some of our friends because it made the entire wedding planning process less stressful.
Best Advice We Received:
The best advice we received was to enjoy every minute. The wedding day goes by so quickly and is only one day in a lifetime of days together, so we were told to enjoy the time leading up to marriage and really embrace how fun and exciting being engaged and planning a wedding is.
Tips & Tricks For Future Bride:
The biggest tip I can share is to write thank-you cards as you receive gifts. We had custom wedding cards made using our wedding pictures, which I love and don't regret, but it took forever to write our thank you's and get them out timely. If you don't care to have a fancy, thank you card made I would find a pattern you like and get them early so you can write and mail them as gifts are received.
The Challenges We Faced:
One big challenge I faced was finding too many DIY projects. I wanted to make the wedding very personal, but it was overwhelming with the number of projects I wanted to accomplish. I had to sit down and decide what I had to make, and what I could live without. This helped me prioritize what was most important, and reduced a lot of stress!
Money Matter:
Our wedding budget was $30,000.
We saved a lot of money by not using flower bouquets and centerpieces. I'm not a big flower person, so it was the perfect way to save money.
The wedding venue, which was used for both the wedding ceremony and reception, was the biggest expense. However, we did save some since we were getting married during the "off season."
The Guest List:
We invited 135 guests and had 100 guests attend the wedding.
We wanted a smaller, more intimate wedding. Luckily, both of our families are small, so we were able to invite all of our closest family and friends.
Wedding Outfit Inspiration:
I wanted a clean, simple, and classic wedding look. The groomsmen wore matching charcoal gray tuxedos, and the bridesmaid wore matching chiffon, floor length navy blue dresses.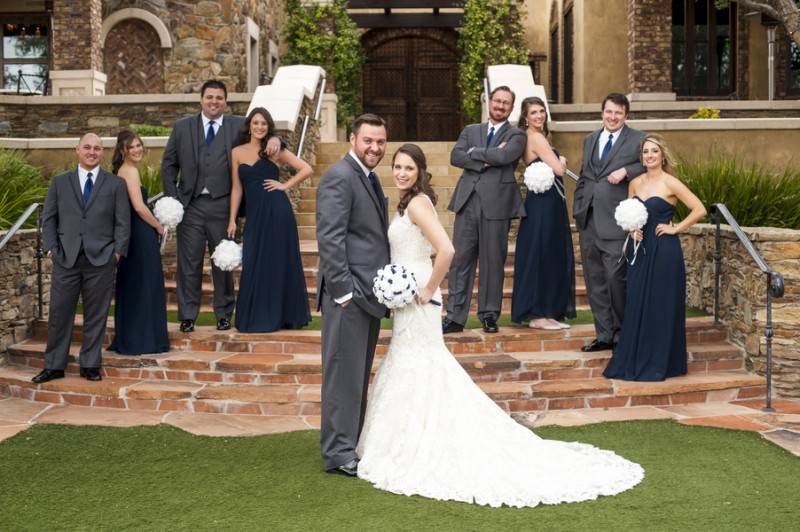 The Songs:
We had a guitarist play during the ceremony. The wedding party walked down the aisle to "Just The Way You Are" by Bruno Mars, I walked down to "All of Me" by John Legend, during the unity candle "Wonderwall" by Oasis was played, and Chris and I walked out to "You and Me" by Dave Matthews Band.
Our Honeymoon:
Chris and I went to Sandals Grand Antigua for our honeymoon. The weather was perfect, and we had a great view of the beach from our room.
Excited About:
I am most excited about spending the rest of my life with my best friend. I have no idea what the future holds, but knowing I get to experience it with the person that means the most to me in this world is all I could ever ask for.
Planning Advice For Couples:
My advice is the same advice we received… enjoy every minute. I still miss wedding planning but have so many wonderful memories that I will cherish forever.
Favorite Part of the Day:
My favorite part of the wedding day was reciting our vows. Although we did not write them ourselves, they were unique and meant a lot for me to say out loud. Also the dancing!
The Highlights From The Ceremony & Reception:
Other than it almost raining during the ceremony, one of the memories that sticks out to me is the quick game we played during dinner. Chris and I sat back-to-back on the dance floor and had to answer questions by raising either his shoe or my shoe. The answers (such as the brides side of the family being most likely to get into trouble!) got all of the guests laughing and engaged them. They all probably learned something about us that they didn't know before, too!
Most Memorable Moment:
Our officiant did a fantastic job telling our story to our guests. If you didn't know any better, you would have thought it was one of our closest friends officiating the wedding. He not only made our guests laugh but shared with them a more intimate side of Chris and I's relationship. He told stories from our past and shared our hopes for the future. His words are one thing I will never forget.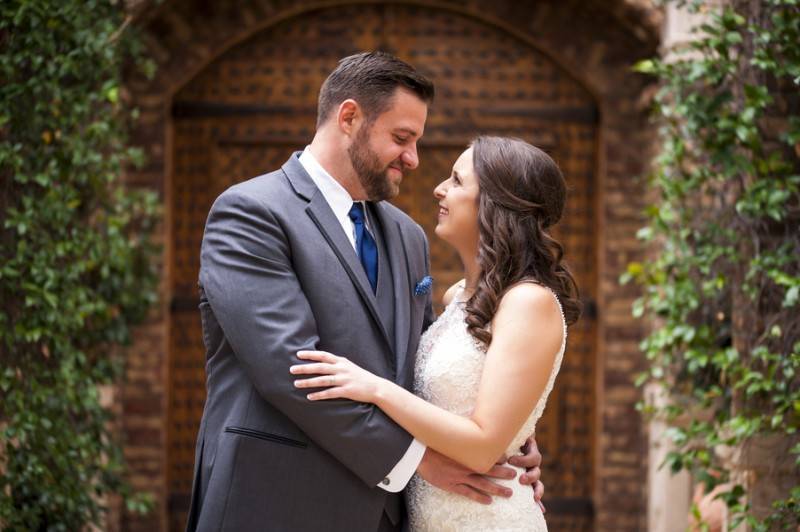 VENDORS
Photographer: Drew Brashler Photography
Cake Designer: Let Them Eat Cake
Officiant: 1st Officiant
Jewelry: Albert's Jewlers
Dress Store: Allure Bridals
DJ: Bolt Entertainment
Makeup & Hair Stylist: Kensington Makeup Artists
Dress Store: Lillian Lottie Couture
Invitation Designer: Magnet Street
Tuxedo and Men's Attire: Men's Wearhouse
Shoes: Nina Shoes
Reception Venue: sassi
Location: Sassi
Bridesmaid Dresses: Weddington Way