I've always admired Hindu weddings, it's not only rich in culture but also with vibrant colors. They incorporate a lot of art in their weddings which make it lovely and amazing. Raina and Sanjay's wedding is not an exemption. Their wedding was held at The Hamptons (Yes, the wedding is by the beach!) Even though it was traditional, the couple wanted it to be modern as well. Let me just mention Raina's stunning jewelry/accessory and her dress, I mean, WOW! And to stay true to their beach wedding, the couple served Fresh oysters, lobsters, and shrimps (now I'm starving!). On behalf of Elegant Wedding, I would like to congratulate Raina and Sanjay for nailing such beautiful event and for having their first baby!
Sanjay and I are non stop! We met and were engaged in 8 months, then we planned this insane wedding over the next 8. Now, we are expecting our first child less than a year later! The most brilliant part of all this change is that nothing was planned. We weren't looking for anything the night we met, and our child was also one of those pleasant surprises that crop up and give a complete shock.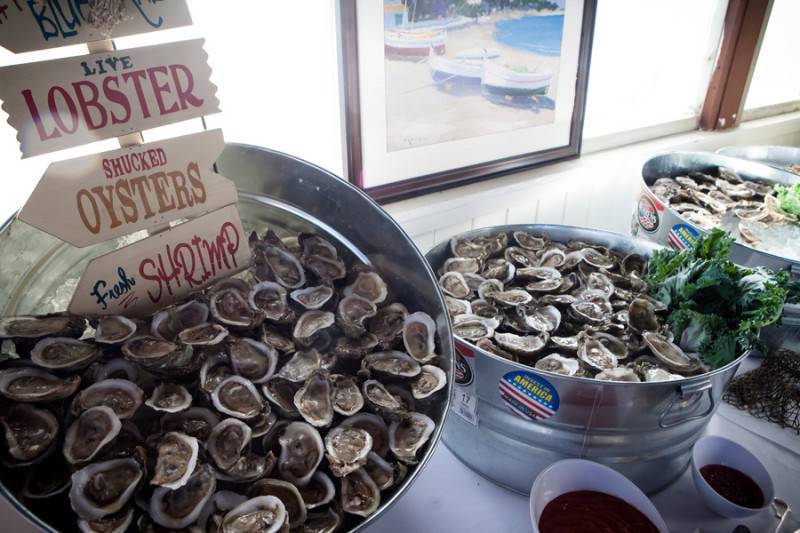 What prompted the decision to have the wedding at this particular venue?
Sanjay and I were not sure if we wanted to travel too far for our Destination Wedding. While we wanted to be in a magical exotic place, we also wanted all our family and friends present. Well, the Hamptons was the perfect fit. It felt new and fresh, but was not that hard to get to. Oceanbleu, in particular, has a lovely beachfront and a formal sophisticated ballroom – a combination not so easy to find.
What was the 'inspiration' for your wedding style, wedding colors, etc.?
Modern Indian. I wanted to incorporate my heritage with today's modern look. I chose to keep the night before Sangeet Party very colorful and traditional and took over a local Vineyard on the North Fork of Long island. The wedding day and night was more modern and clean. I used only Red and White with clean designs for the most part on the day I got married. This mix kept everyone satisfied.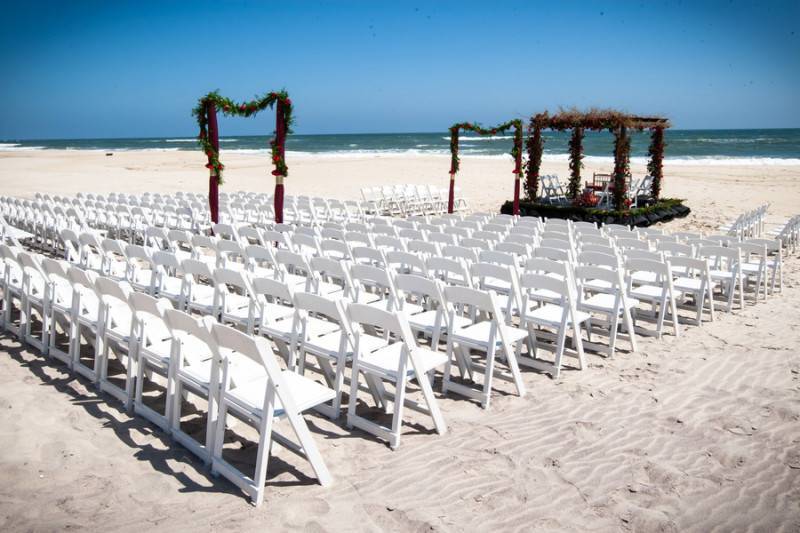 Did you have any special touches/traditions that you incorporated into your ceremony/reception?
1, 000 Roses covered every inch of the alter where we wed on the beach. I felt this contrasted and created a beautiful juxtaposition that I hope was appreciated and will be remembered by my guests.
What are your most vivid memories from the wedding day? Favorite photos?
The cold! It was a cold sunny day in May. One that I will never forget. My guests were wrapped in blankets and towels on the beach creating a hilarious, but delightful afternoon.
Wedding favors?
Wine glasses with the Wedding Date.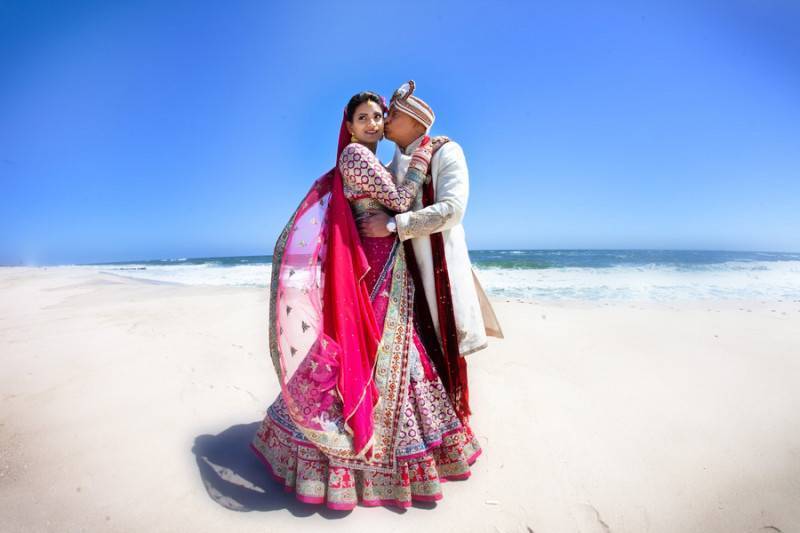 VENDORS
Photographer: 4Eyes Photography
Event Planner: Elegant Occasions
Floral Designer: Jim and Kim Auriemma Designs LLC
Reception Venue: Ocean Bleu
Invitation Designer: The Village Invites