Holly and Mike know how to throw a black tie wedding. Not only did they look good, but everything else was also so glamorous – from the fabulous dresses and suits up to the breathtaking venue. I mean, just look at that lovely setting; don't you just want to fall in love and throw a gorgeous wedding like this? If you're going to get married, then get married like a champion! Congratulations, Holly and Mike! You are both winners for having each other.
Holly and Mike wanted their black tie wedding and reception to be in one location while still having spectacular scenic areas for their photos, Bella Collina was their dream venue! The groom in his custom fitted black tie tux and the bride was so glamorous in her Calvet Couture, Alvina Valenta gown, and her silver jeweled encrusted Kate Spade shoes.
The outdoor ceremony included church pews, elaborate floral décor and a custom wooden cross at the altar. The choreographed ceremony to reception flip including custom monogram dance floor, three exquisite chandeliers over the dance floor, a lounge area, grand piano and so much more! The only way to end such a beautiful evening was to depart in an antique vintage Cadillac. Their dream for a perfect wedding came true!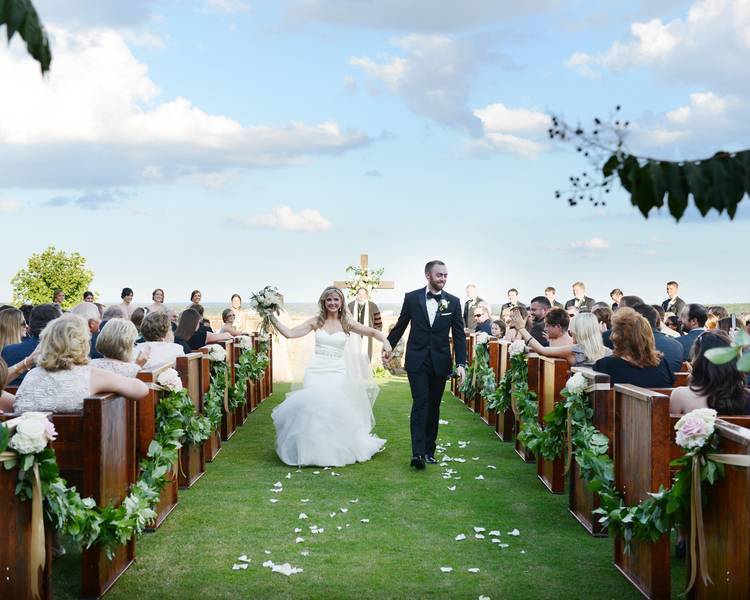 The Theme:
We wanted to play off the Italian style of the venue and create an experience centered on family and togetherness while still creating a glamorous affair for us to remember.
Wedding Décor Inspiration:
We wanted to create a look that was timeless but in a modern color scheme. We used gold, champagne, silver and ivory as our primary palette and incorporated rosemary and other Italian elements as inspired by our venue.
The Do-It-Yourself (DIY) Projects:
I did not want to do any DIY projects but sometimes when you're as picky as I am, it becomes necessary to create if you want something specific. We printed and cut the escort cards ourselves using my sister-in-laws Cricket machine. This was very tedious and time-consuming, but the result was exactly what I'd wanted. Then, we used crystals from a chandelier that used to hang in my mom's house and strung them to each escort card. These were suspended on a trellis at the venue and created the most beautiful display I could imagine. And our only cost was about $10 for paper and $4 for ribbon!
Wedding Day Outfit Inspiration:
For the ladies, we wanted everyone to feel like the most beautiful, fabulous versions of themselves. I didn't want the fact that they were bridesmaids to take away from their style for the day. We shopped for varying designed evening gowns to create a collection that looked cohesive and styled. For the men, we wanted classic tuxedos. We added some style with the suspenders and opted for a modern, slim fit to make the look contemporary.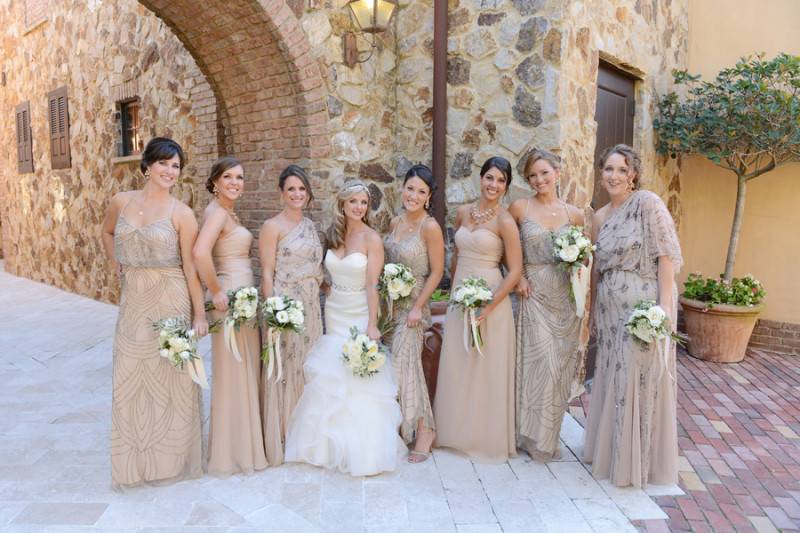 The Planning Process:
We were engaged for 13 months. As long as you get to select the venue and a date right away, this was a perfect amount of time.
Tips & Tricks For Future Brides:
Be careful using those auto budget calculators that are online. They are a great place to start, but they are not detailed enough to prepare you for some supplier meetings. When it offers a line of bride attire at, say, $2,000.00 – this is not your dress budget. That is to cover the dress, alterations, undergarments (you probably don't already own this!), garter, shoes, bracelet, necklace, earrings, veil, headpiece, purse, and possible sash or belt. Sit with bridesmaids who have been married and ask for their advice in unexpected costs so that you can do your best to budget correctly from the beginning.
The Challenges We Faced:
As a designer, I can picture the whole event and understand how each element will contribute to the overall look. But planning a wedding is like a team sport and everyone (Moms, bridesmaids, groom, etc.in order to) need to see to support each decision. Create mood boards (not Pinterest boards) that show the selections you're making so other people and suppliers can get a sense of the vision.
Money Matters:
$45,000
We saved on stationary – we printed the programs, menu cards, escort cards and favor tags ourselves. We also did the envelope liners ourselves and they were a great touch.
The biggest expense was food. We had a salad, soup and entree in addition to appetizer displays and passed hors d'oeuvres during the cocktail hour. We served wedding cake along with Italian macaroons and ended the night by Butler passing flatbreads around the dance floor.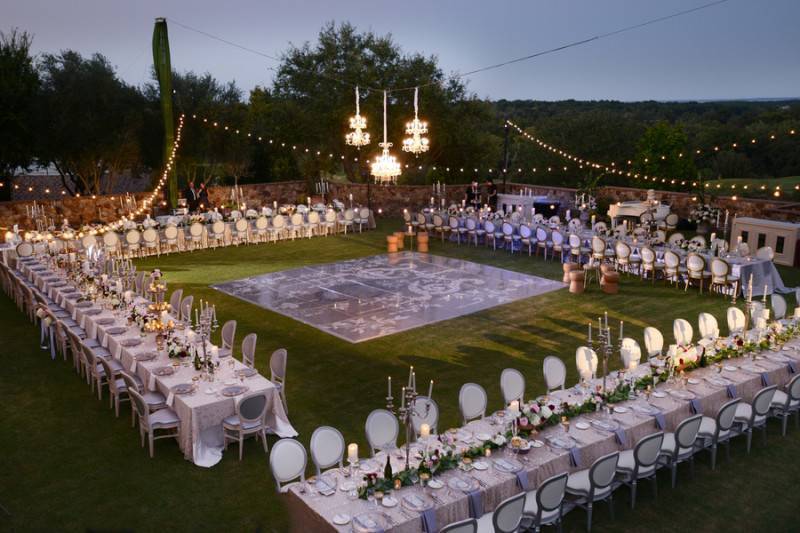 The Guest List:
160 were invited; 132 was our final count.
Narrowing down the list was hard. I read something that said if you haven't had dinner with them in the past year, or you don't plan on having dinner with them this coming year, then they don't make the list. But the reality was that we wanted it to be very intimate.
The Songs:
Seating of the Mothers: It is Well (With my Soul)
Groom & Bridal Party: Great is Thy Faithfulness
Bride: How Great Thou Art
Recessional: Stand By Me
The Honeymoon:
Italy's Amalfi Coast & Tuscany
Something We're Excited About:
Spending it with my best friend. We are a just great company to each other, whether we are traveling the world or sitting on our balcony.
Planning Advice For Couples:
Be prepared that you love your wedding more than anyone else. It's probably true that you care more about the details than your groom or maid of honor. But that's ok! Enjoy taking the time to be detailed and add those extra special touches. This is what will make the day unique to you and more interesting to your guests.
Favorite Part Of The Day:
My favorite part of the day was a moment when we were sitting at the dinner table. Everyone was relaxed and enjoying themselves, including us. I looked up at the chandeliers, down at the dance floor, and left and right down the dining table, and everything looked exactly the way I had hoped. Hearing the live piano and vocals, it was a moment of pure joy and fulfillment in a dream.
The Highlights From The Ceremony & Reception:
The highlights of the ceremony included the church pews, a cross made by the bride's brother, and live music of old hymns sung by the bride's cousin for the professional. Highlights of the reception included the custom monogram on the chargers, personalized menu cards for each guest, custom dance floor, and baby grand piano for jazz duo to provide live music for dinner and the couple's first dance.
Most Memorable Moment:
For us, during the ceremony, there was a moment when we were all praying, but the two of us were "glistening" from the sun beaming on us. I quickly swiped Michael's pocket square and dabbed his forehead, folded it, and stuck it back in his pocket before the officiant said "Amen". It was a sweet little moment that made us both smile.
For our guests, I think they were most impressed with how quickly the reception was set up. They could see some of the crew taking down the ceremony and replacing it with our dinner decor. 3 Crystal chandeliers suspended in mid-air along with 40 person dining tables and many other elegant details, the reception looked as if you'd had all day to design and set it up, when really, it was done in 45 minutes!
https://vimeo.com/112092198
VENDORS
Photographer: Rhodes Studios photography and video
Equipment Rentals: A Chair Affair, Inc., AFR, Great Hire
Bridesmaid Dresses: Adrianna Papell
Dress Designer: Alvina Valenta
Reception Venue: The Club at Bella Collina
Floral Designer: Botanica
Dress Store: calvet couture bridal
Other: Caricature Connection
Linens and Coverings: Connie Duglin Linens, Over The Top Linen Inc, Panache Party Rentals
Musicians: DC Moore
Officiant: First Presbyterian Church Orlando
Musicians: Heather Friedman
Specialty Foods: Ice Pro
Lighting: Kaleidoscope Event Lighting
Shoes: Kate Spade
Makeup Artist: LeJeune Artistry
Design and Decor: Letz Dance on It
DJ: Logan Mania
Cake Designer: Party Flavors Custom Cakes
Veils and headpieces: Sara Gabriel Veiling & Headpieces